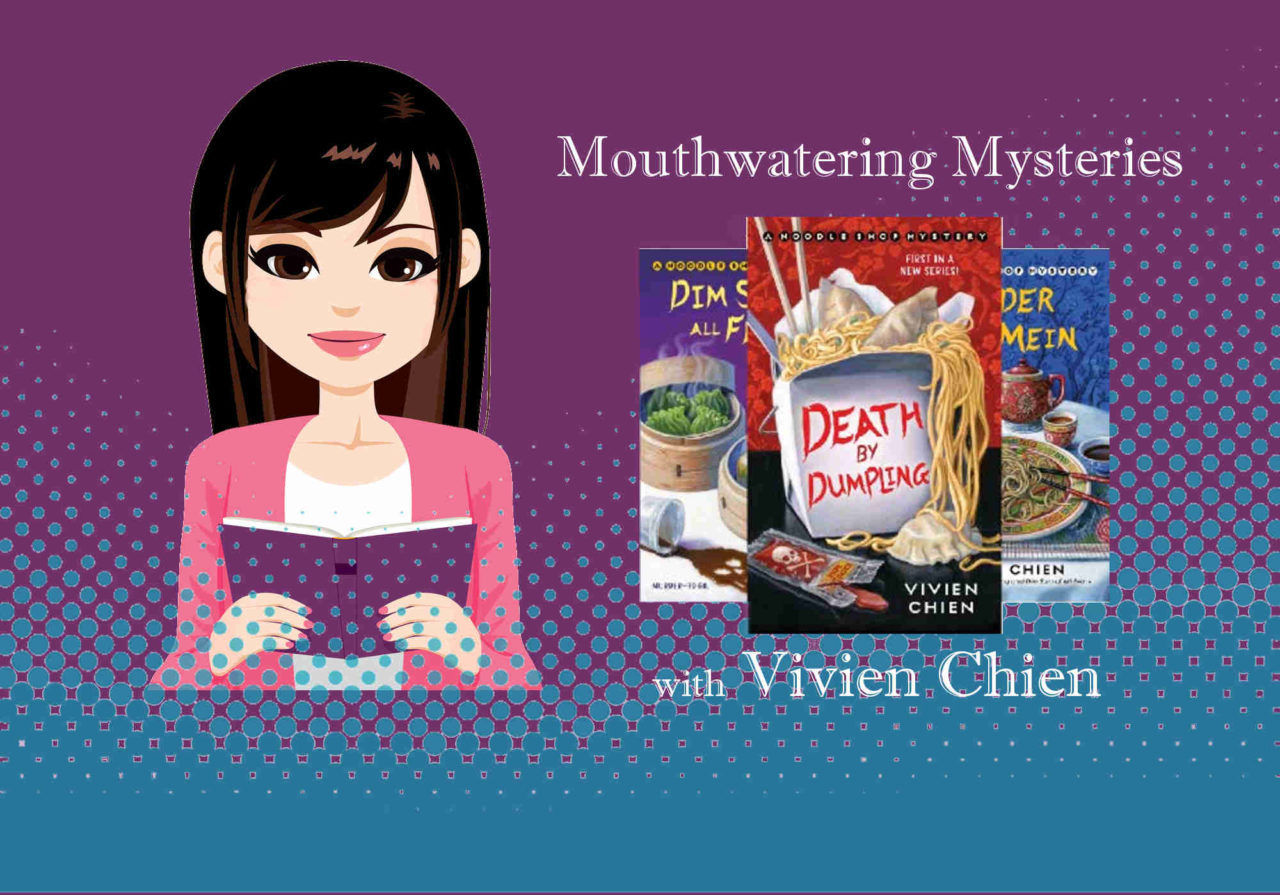 Vivien Chien is the author of the cozy culinary series A Noodle Shop Mystery. She will chat about how she landed a publishing deal with St. Martin's, how she came up with the idea for her clever series, and how she incorporates her rich cultural background into her stories.
---
Q. I think it was fitting that I had chow mein noodles from my favorite restaurant today. Considering I am doing a Q&A with an author whose cozy mystery covers feature delicious Chinese cuisine. How are you doing?
A. Haha, that is definitely fitting! I'm doing really good today. How about you?
Q. Great!! So outside of your job as an author, you also work full-time somewhere else? Can you tell me what it is you do?
A. Yes, I work at a business to business magazine publisher. We specialize in trade publications – Pest Control Technology, Lawn and Landscape, Cannabis Business Times, etc. We have close to 20 magazines in various fields. I'm the receptionist and also handle our online bookstore for Pest Control Technology.
Q. Whoa! That sounds interesting. Must be a fun environment surrounded by creatives.
A. It is very interesting. And the two worlds of publishing are completely different, so that makes it nice.
Q. Yeah, I can see that. Speaking of creatives, tell me about your creative journey as an author. When did you get started writing and how did you get published with St. Martin's?
A. My journey as an author has been an interesting one. I first started writing when I real young. My first attempt, I was maybe in 2nd grade and wrote little stories about my classmates to bring to show and tell. I loved it. But then it kind of faded away, being fickle as kids often are. But I always loved reading. Then when I was in my early teens, I read Interview with the Vampire and it changed everything. I knew then that's what I wanted to do with my life.
Of course I never thought at that time it would happen, but I just kept writing. It's always been a dream of mine and I always held onto it.
I got involved with St. Martins about five years ago. They were looking for a story that involved Asian culture and I felt I could really meet that need. So I submitted concepts for the Noodle Shop mysteries and away we went!
Q. I devoured Anne Rice novels too when my children were younger. She had a way of making history come alive in a relatable way.
A. Yes! She totally makes history come alive! I think I learned more about history in her books than I did in school!
Q. I love that about your series, having such a unique cultural setting. As a Filipino-American, I am always trying to think of ways to write about my culture in a mainstream way. How did you come up with your series concept?
A. Well at first I struggled with how I wanted to present my story. My first inclination was to make it as Asian as possible. But then I realized that's not realistic to my life. I'm half Italian as well. And then I realized that had always been missing for me when I was younger. Mixed characters were very hard to come by. And that's when I knew – I wanted to make this story something I felt was missing.
Q. Oh, that is right. I remember now the combination of the two cultures. So your mom is Italian and your dad is Chinese, or….?
A. Reverse. Lol. My mom is Taiwanese and my dad is Italian.
Q. Ha ha ha, I had a 50/50 chance of getting that.
A. True true.
Q. Where is your series set, and why?
A. It's set in a suburb of Cleveland called Fairview Park. I chose Cleveland because I love this city and I feel like it doesn't get enough love in the fictional world. Fairview is a lovely area and it felt like the perfect setting for this story.
We also have a lot of Asian history here that people don't realize. And I wanted to showcase that in my books.
Q. Cleveland! I have passed that area as I have visited the region. It is a beautiful place. So green. I didn't know about Chinese history there.
A. Yes, and I didn't realize how much history was here until I started writing this series. It's amazing to me. I've really enjoyed the learning process.
Q. Is this series your first published work? Because I think it is impressive to bust out of the gates with St. Martin's from the get-go.
A. And yes, this is my first published work. I am so fortunate to have St. Martin's supporting me and publishing my work. I can't even express how thankful I am for it. When I received my first contract, I literally told my editor thank you to her and the publisher for making my dreams come true!
Q. Dial back for a minute and peel back that layer of publishing process for us. How did you connect with St. Martin's to begin with? Did you get an agent? And then did you already have the first book of the series written, or…?
A. Ok, so I belong to Sisters In Crime which is a national organization that promotes women in the mystery writing field. Along with belonging to the national portion, I also belong to our local chapter of Northeast Ohio. And it was absolutely pivotal in connecting me with the right people.
My agent was scouting for an author and my name came up in conversation with a woman in my group whom I call my "fairy godmother". She connected me with my agent. My agent asked me to submit writing samples. So I sent her 50 pages of the two books I had tucked away (which I still hope to publish). She ended up really liking my work and agreed to take me on as her client.
We then began with the Noodle Shop series. I came up with a proposal for the first 3 books. All I had written at the time were the first 3 chapters of Death by Dumpling and concepts for books 2 and 3.
Q. Wow, that is amazing. So obviously, you had been interested in mystery writing from the get-go. What attracted you to that genre?
A. Partially, I'm attracted to the puzzle. I like to pick things apart and try figuring them out. There is nothing more appealing than "whodunit". And also because justice is given 99.9% of the time. Its satisfying to read the "baddie" get their dues.
Q. How did you plan your series? Your books are on my TBR pile, but basing on your blurbs, I imagine there's an arc for the romance too? How do you keep that aspect from going stale?
A. First rule of Vivien's world, there is no plan. Lol. I am what they call a Pantser. I write by the seat of my pants. Granted, I do have to give my publisher concepts. So I outline the general layouts of the book and go from there. I try and base each book around a different set of characters from the shopping plaza that it's set in to keep things moving around.
As far as the romance aspects, I try to think how to keep it interesting for myself as a modern woman. What I like to see in other forms of media. I have also studied the "slow burn" from so many of my favorite shows and books to help things move at a reasonable pace between Adam and Lana. You want to drag it out a little bit, but you don't want to totally enrage your audience.
Q. You might not be from the Remington Steele generation, but there was a detective duo in the 80s who did slow burn well.
A. I am familiar with the reference, but never watched it. I'll have to check it out!
Q. I absolutely love your covers. That's what drew me to your books in the first place. Do you know if your artist does them from scratch or stock?
A. She does them completely from scratch. Such an amazing artist. One cover I was lucky enough to see the sketch done in pencil. It was truly mind blowing. I can barely draw a stick figure. lol.
Q. That is amazing. Your titles are so fun. Clever and perfect for the genre. Do you or your publisher come up with those? Before or after you draft the story?
A. Sadly I can't take credit for them. The publisher has a team that comes up with them. Then they pass them along to me and I pick out which one I want to use for which book. They're always created before the story.
Q. No way!! Well, they are brilliant. What advice would you give to an author who wants to showcase their own culture in their books?
A. Do it from the heart. And don't be afraid. I think all of us, no matter what race have been teased about something. I know I have. I like to have fun with it and throw people for a loop. But also remember to be respectful to your culture. Be proud of who you are and your differences, and it will show in your writing.
Q. Vivien, I love that. By the way, I adore your first name. I have always loved Vivien Leigh, the actress who played Scarlett in Gone with the Wind. I wish we could keep going but our time is up.
A. I know! This has been so fun and thank you so much for interviewing me!
Q. Any parting words for an aspiring author of cozy mysteries?
A. Hmmm…I guess my advice would be to make sure you read the genre and truly enjoy it. As most genres have rules, so do cozies. It's ok to break those rules (I have on a few occasions) , but make sure to keep the baselines there. When readers are searching for cozies it's like going home – they want some familiarity mixed in with your own touch of flavor.
Q. Fantastic! Thanks Vivien for chatting with me. I loved getting to know you better. And congratulations on your well-deserved success.
A. Thank you so much!! And truly – I really enjoyed this!!
---
Check out Vivien Chien's books and website.
Subscribe to my newsletter for Q&A alerts, writing tips and publishing news. Check out my books.