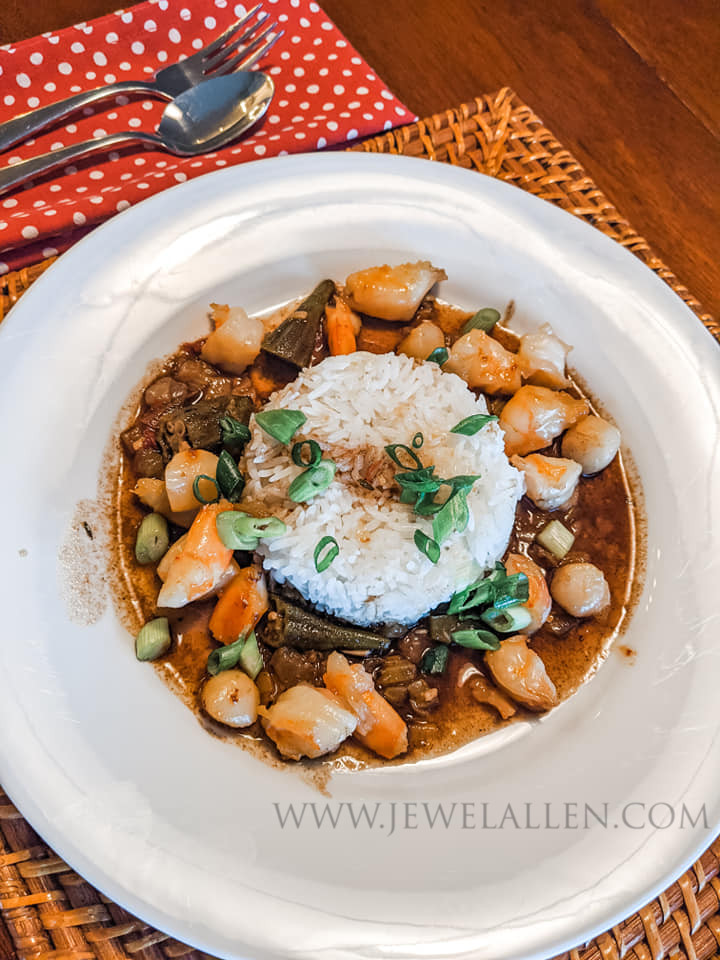 My cooking under quarantine has a domino effect. When I ended up with leftover fresh okra the other day, I needed to figure out how I can use it.
At first, I was leaning toward making a gumbo, but I settled on an etouffee because A) it's quicker and B) it's pretty. Purists will say you can only have one type of seafood in it, but I added scallops to this. And, you guessed it, okra. I also served it with Red Lobster biscuits from a mix. This is a longish recipe, but I whipped it up pretty quickly.
Now I have a half bag of shrimp and a half bag of scallops, and I am trying to think of a new way to use them in a future recipe…
---
Self-Isolating Shrimp & Scallop Etouffee
Broth:

4 tbsps butter
4 tbsps flour
1/2 lb frozen cooked shrimp (16-20 piece)
1/2 package frozen scallops
Thick slice of lemon
2 cups chicken broth
Ends of an onion, cut off and peeled
2 bottom pieces of celery stalks

Sear the shrimp in a hot pan to thaw. When thawed but still cold, drain the shrimp and save the juice. Carefully take the shrimp tails off and add them to the veggies in the pan. Add the chicken broth and bring to a boil, then lower to a simmer for 20 minutes. Pour broth through sieve and save. Discard solids.

Roux:

4 tbsps butter
4 tbsps flour
4 tsps garlic, minced
1 onion, diced
1 cup bell pepper, diced
1 cup okra, stemmed and cut in thirds (optional)
1 tsp dried thyme
14 oz can diced tomato or 2 fresh tomatoes, chopped
1 tbsp Creole or Cajun seasoning (I used Cajun sparingly)
salt to taste
2 stalks green onion, sliced thinly for garnish

Saute garlic in butter for a couple of minutes until garlic is golden. Add the flour and stir briskly, then simmer for 10 minutes or until brown, watching it close so it doesn't burn. Saute the bell pepper, onion and thyme for 8 minutes. Mix broth in until smooth. Add the tomatoes and choice of seasoning. Simmer for 20 minutes.

Cut the shrimp in thirds. Sear it and scallops in hot pan until golden charred, adding resulting juices into the roux. Set aside.
Mold a ramekin of rice in middle of a plate. Pour the roux around it and a little over the rice. Top with shrimp and scallops. Garnish with green onions. Makes 4 servings.