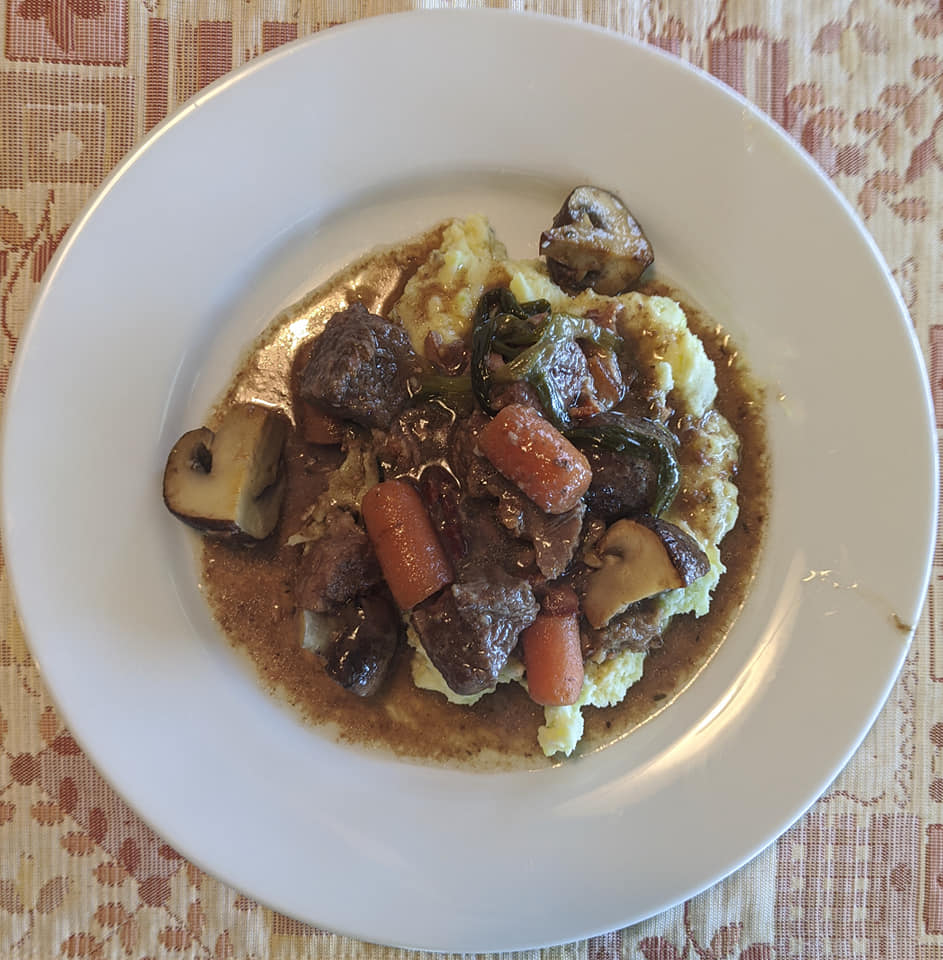 Tonight's dinner was French-inspired. ♥️ Hors d'oeuvre of cheesy garlic shrimp on baguette slices. French onion soup (Drew's favorite). Slow-cooked Boeuf Bourgignon (boor-geeg-nyon) on Buttery mashed golden potatoes (Drew's specialty). Mousse au Chocolat Blanc (white chocolate mousse) for dessert.
On July 9, 2014, my husband Drew and I celebrated our 22nd anniversary a couple of days early by spending the day in Paris. We used to tease each other that we should do something insanely romantic like eat lunch in Paris. And so we did…in the middle of a visit to my sister in Ireland.
Read more about our day in Paris.
Cook bacon and reserve drippings. Cut in coarse pieces and set aside.

Trim green onions, slice in half and quickly sautée in a tsp of bacon drippings until just wilted. Set aside.

Cut the beef in two-inch chunks. Season with salt and pepper and dredge in flour.

Sautée garlic in drippings until fragrant. Brown beef chunks separately on all sides, adding more fat as needed.

Put beef in crockpot. Pour 1/4 cup of red cooking wine to deglaze the bottom of the pan and scrape all this goodness onto the beef. Cover with bacon, carrots, spices, broth and remaining cooking wine. Slow cook for 8 hours on low.

At end of 8 hours, gently stir dijon mustard in crockpot. Sautée mushrooms in butter and 1/2 teaspoon of garlic until golden brown and add to dish. Depending on how much liquid is produced, you might want to take off 2-3 cups of liquid so that the consistency is more of a stew rather than soup.

Serve hot over mashed potatoes or egg noodles. Or simply eat with French bread slices.