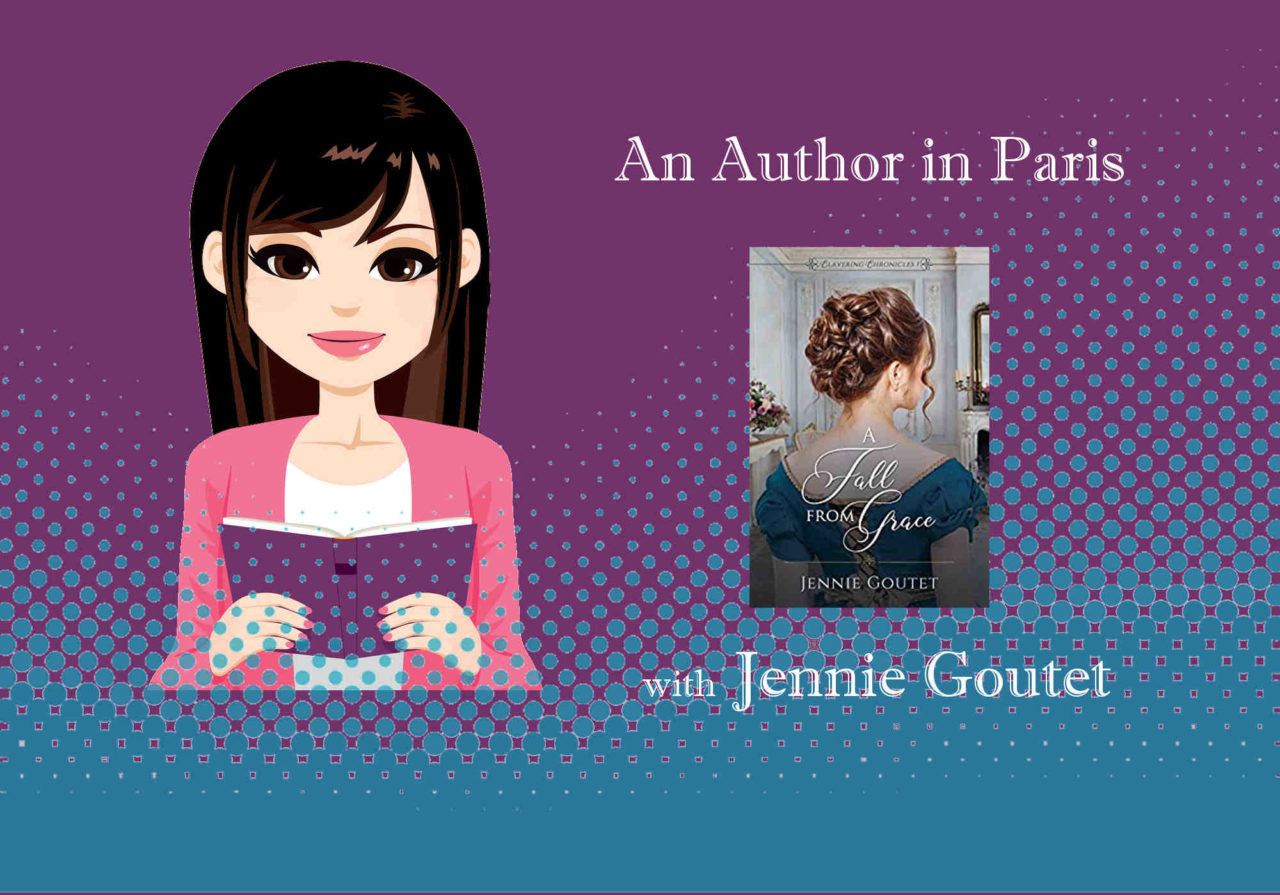 Jennie Goutet is the author of Regency romances. She will chat about how she wrote her memoir of her life in Paris, Africa, and then back in Paris; what it's like living in the City of Lights; and how she pivoted successfully to writing Regencies.
---
Q. It's not often that I interview a fiction author whose memoir I have read and enjoyed…in one sitting.
A. Oh, have you read it? There is so little crossover in my audience for both books (or "the two genres" I should say).
Q. Yes, I did. I also write memoir and enjoy travel, so I was very interested in reading your story of how you ended up in Paris. I was wondering how you remembered all those details. Did you keep a journal? And how long did it take you to write it?
A. The initial draft was very fast – something like 2 months. It was much quicker than my fiction books. I don't keep a journal, but memories impress themselves on me and it's like watching a movie when I remember them.
Q. That's amazing. Well, I appreciated your raw honesty about your challenges and also the strength of your Christian faith. What is the significance of the title, Stars Upside Down?
A. Thank you. ❤ The title comes from one of the chapters when I was flying over Singapore and looking at the lights on the fishing boats scattered on the black sea below me. It looked like an upside down sky – a sea of stars – and that's how I envisioned God looking at those of us who love goodness and mercy. We're bright stars shining in a world of darkness.
Q. That's beautiful. I think it's most people's fantasy to live in Paris. Could you share a photo or two?
A.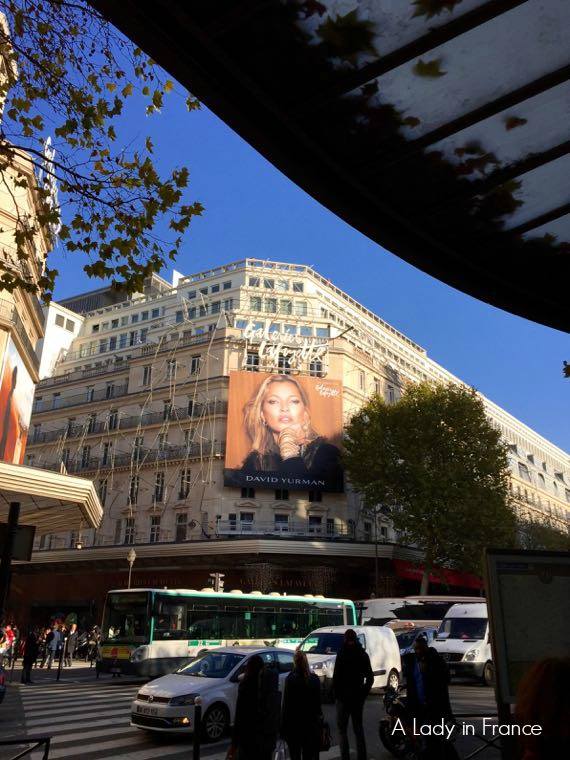 Q. Thanks! That is fun. How long have you lived there now with your French husband? And what are some of your favorite things about it?
A. I've been here for fifteen years and now have dual citizenship. It's hard to say because I've brought much of my own culture with me, and much of what I appreciate are things like my garden, my friends, and my church (which could be anywhere). But if I have to find something France-specific, it would be the rich history and the good food. We've inherited some really old furniture from my husband's side, and I live within an easy drive of the Château of Monte Cristo and the House where Napoleon stayed with his wife Josephine (among other things). And, of course, the food is so fresh and the recipes so good.
Q. And is that Monte Cristo as in the setting for Count of Monte Cristo? Because I love that book.
A. Yup! It shares a parking lot with a medical centre I go to frequently (x-ray bones, etc.). Not so romantic, but cool in a way.
Q. LOL Remind me what you consider your hometown.
A. I grew up in Upstate New York (Syracuse), but I spent much of my early adult life in Manhattan, and it's where I became a Christian, so I suppose NYC is what comes to mind first.
Q. Let's talk a bit about your publishing journey. How did you get started as a writer? Did you study for it and did the memoir come first, or fiction.
A. My career as an author is a bumpy road. I started a blog on a whim. (A Lady in France). I still try to keep it up and get new subscribers all the time, but unfortunately do not have the time I need to write in it. I wrote the memoir first after a 2nd-term miscarriage. People who read my blog would tell me I should write one, but I didn't think I had it in me to write a complete book. When I did, I found I still wanted to focus on books, but my story was told. So I wrote contemporary romance, and then Regency, which is my current focus (and my love).
I thought I should explain that the miscarriage prompted one of the themes in my memoir. At first I thought my life experiences were too varied to make sense of them. It was only after the miscarriage that I realized the themes were travel, grief, and faith.
Q. Yes, I can see that. And I definitely will be asking you more about your Regency. Before I forget…you mentioned good food in France. I love to cook. What recipes off your blog do you recommend I try that would be good for me to try?
A. I think you should definitely make the Dijon mustard tart. Also, ratatouille is a good one. And maybe the creamy tarragon chicken (which will use more of the Dijon mustard). And top it off with the gluten-free chocolate fondant.
Q. Thank you! I was hoping for a full menu! You recently posted on Facebook that you went from a traditional publishing contract to, six years later, your success as an indie publisher of Regency romances. Is that correct about trad? And if so, what do you think were the key things that contributed to your success now?
A. It's not completely correct. I started indie with my memoir and the first two contemporary romances – and my Regency novella, which I use as a reader magnet. I went traditional with my first full-length Regency novel and the sequel a year later. My latest Regency is indie again, and I will finish the series with the traditional company, but will then likely stick to indie.
Q. Ah, okay, thanks for clarifying. Why Regency and how did you prepare to write it?
A. I absolutely adore historical English literature. Before I was busy with kids, I used to read Dickens, Austen, Hardy, Glaskell, Trollope, etc. for fun. When I became a mom, a British friend introduced me to Georgette Heyer, and I fell in love. That's when I discovered the Regency era with its culture and slang. All those years of reading historical literature stood in good stead because when I went to write a Regency (I was sad Georgette Heyer hadn't written more books so I wrote what I wanted to read) the language came easily. I had grown up reading it.
Q. Your most recent launch is A Fall From Grace, correct?
A. Yes.
Q. Is that indie or trad? And how has the launch been? (If you are comfortable in sharing) What kind of revenue can you get in the genre nowadays?
A. That one is indie. The launch has been amazing. To be quite honest, I've never had a remarkable launch despite the fact that most of my reviews are good. I've just never hit the sweet spot of the perfect title and cover, I suppose. But this one closed with a million and a half KU page reads last month, and 10 days into this month, I'm at nearly 500,000 page reads. I would say you can earn upwards of $100,000 a year writing regency, if it's your love and you know the era and you write fairly quickly. I don't write all that fast, though.
Q. Wow, those are amazing numbers. Did you do any paid advertising at all? If not, what promo did you do?
A. I only turned on Amazon ads for A Fall from Grace less than a week ago. (And I'm not that great at ads, so I'm not sure if it's affecting page reads – it certainly isn't bringing me enough sales to make it worth it). Other than that, I did newsletter swaps with authors in my genre – between 20 and 30. I also ran a .99 promotion for five days and paid to appear in RobinReads, E-Reader News Today, and My Book Cave. That is the extent of my promotion.
Q. Who is your cover designer? I am noticing a trend in a softer style, where there is a beautiful lady in a lovely setting. Kind of a BBC movie still. 🙂 Is that right?
A. Yes. My cover designer for A Fall from Grace is Shaela Odd from Blue Water Books. She is clearly amazing, and I credit much of this book's success to her. It has such an eye-catching cover, which is what sparks people to buy my book who have never heard of me.
Q. Agreed! She's so talented. What is your indie process and timeline from draft to published? And how many words are your Regencies on average?
A. I've been decreasing my word count as I get better at writing. I had to fight to get A Regrettable Proposal to under 100,000 words, whereas A Fall from Grace is under 80,000. But my Regencies will never be far under 80,000 because they have more elements to deal with than contemporary. I am also decreasing the time spent writing. A Regrettable Proposal took me about a year to write, have beta read, and edit – and then another year to be published traditionally. A Fall from Grace was under 6 months from start to finish. I should add that the book was published two months after the sequel to A Regrettable Proposal came out with my publisher. That surely helped the rank to stay high.
Q. Wow, that's some serious word count. Do you plot out your stories? And how much research do you do with each book? Have you been to England, for instance, and steeped yourself in ALL THE PLACES?
A. I do tons of research with each book. Tons. I research many of the words I use to make sure they were in use at that time. I research the type of colors that were in vogue, the weather in a particular year, what they ate for dinner, the rules of inheritance, titles, the restrictions of men and women interacting in the country vs London, tea, waltzes, calling hours, meals times. I research the war with Napoleon, naval battles, etc. I only have a vague plot for my story. I usually write a third of it, then stop and reassess where the story is going, get advice, then pick it back up again. I have only been to London once briefly. I am so close, but I've never gone for research. I really want to, though. $
Q. What they ate for dinner…what would be a fun Regency menu? 🙂 And all that research is impressive by the way, and one I can relate to when I wrote my historical novels.
A. It depends on how formal or informal it was. If it was informal, they would have one course with several "removes" (replacing one dish for another). A more formal dinner would include a few courses with soups, and different kinds of meats, jellies, meringues for dessert… The most impressive menu I've seen was one the Prince Regent served, I think for his coronation? I'd have to research it to be sure. This is the problem – I don't always retain all the facts and have to re-check each time.
Q. I shall google that too. Jennie! Unfortunately, we have reached our hour. I have really enjoyed chatting with you. (Do you have time for one more question? If not, it's okay!)
A. Sure!
Q. Great. So looking back now, what advice would you say to someone who is aspiring to level up their author career?
A. To clarify, do you mean someone who is an author but wants to take it higher and earn more? Or someone not yet published that wants to jump in with two feet and start publishing?
Q. Mmm, gosh, you pick. 🙂
A. Okay. Well I suppose this advice works for both. Absolutely write what you love. Then you'll still be happy when you get glowing reviews and new fans even if it's not yet paying the bills. Also, take advice and be humble. Be willing to look seriously at what's not working and change what's needed (including your writing style). Eventually those things will pay off.
Q. Fantastic. That does work for both. Best wishes to you on your books and thanks again! Could you please share a pic or two with me to add to the blog post of something pretty from Paris–scenery or city life or anything you fancy?
A. Thanks for interviewing me. It has been an honour.
---
Check out Jennie Goutet's books.
Subscribe to my newsletter for Q&A alerts, writing tips and publishing news. Check out my Rapid Release publishing series.