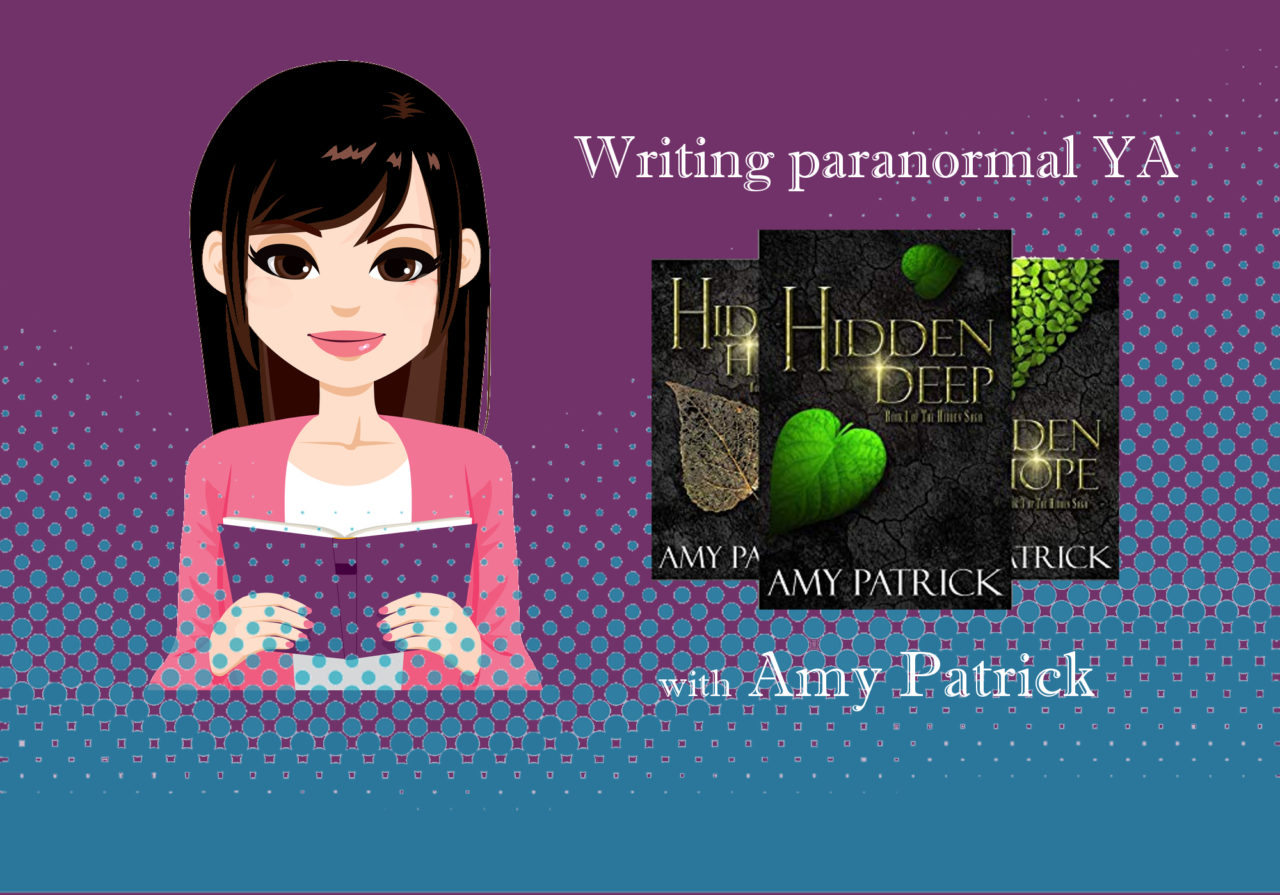 Amy Patrick is the pen name of Amy DeLuca, an award-winning, bestselling novelist who writes captivating Paranormal romance and Urban Fantasy novels. In this Q&A, she will share what makes a series emotionally compelling, what makes a swoony hero, and how she got over 900 reviews on the first book of her YA series, Hidden.
---
Q. We first connected when I shared my billionaire beast cover… do you remember that? Because I believe you have a beast series, too?
A. Yes I do! I mentioned I'd also be releasing a sweet billionaire Beauty and the Beast story soon– it's part of a series of billionaire fairy tale retellings.
Q . Has it come out?
A. Not yet! I'm planning to do a rapid release strategy with this series, releasing them a month apart. But I wanted to have at least 3 ready to go before I put the first one out. Two are done, 75% through book 3, so I'll be announcing a release date for book 1 soon. I'm anticipating late July.
Q. Perfect. Let's start with the basics. Do you go by a pen name that you care to share?
A. I have a 10-book YA paranormal/urban fantasy series out under the name Amy Patrick. I don't keep it a secret that my real name is Amy DeLuca, and I plan to release my sweet contemporary books under my real name in order to keep my also-boughts separated. I may get a bit of crossover from my existing readers, but I don't actually want it right at first.
Q. How long have you been publishing as Amy Patrick? And how did that get started?
A. I published my first books under Amy Patrick in August 2014– it was a four book sweet New Adult series about girls just getting out of college, starting their careers in TV news and having exciting love lives. (I used to be a news anchor.) I came to find out that "sweet" New Adult wasn't a thing at the time, LOL. 🙂 I'd had a friend warn me that to readers, the term New Adult came with the expectations of steamy sex scenes, which my books did NOT have. So they found some readers and got great reviews, but didn't have amazing sales. Luckily, I followed them up the next spring with the first book of my YA (young adult) series, which really took off.
Q. Your covers have a magical quality to them. Seem to fit the genre. Are those your original covers from when you started in 2015?
A. Thank you! I really love my covers and have been amazed at my cover designer's talent. Those are the original covers– I just can't part with them. I did lots of research on the type of covers I wanted, and I settled on the "icon" instead of covers featuring people– mainly because I wanted my readers to be able to picture themselves in the role of my MC. I gave VERY little description of her appearance, and I've been thrilled to hear from girls (and women) over every race and ethnicity over the years, telling me how they felt like they were IN the story, living the life of the main character. That thrilled me!
Q. News anchor. How fascinating. I come from a journalism background, too. How has your background come into play in your storytelling?
A. I think as writers we use so many of our life experiences in our work, adapting experiences we may have had or things we've learned, and I definitely use things I saw and learned over my 13 years as a news anchor and reporter. It's a great career because it exposes you to so many people from so many walks of life and you never stop learning.
Q. I hadn't thought about that of reporting, but that is so true! Let's talk for a bit about your YA books. Holy cow, you have 949 reviews on your book 1. What accounts for that? Did you do certain promos or…?
A. Yes! I've been so happy that so many people felt compelled to review Hidden Deep. 🙂 I have a page in my books, just after The End where I thank people for reading it and asking them to leave an honest review if they wouldn't mind. I give them the link to the books' page on the retailer to make it easy. I think having Hidden Deep free for several years as a loss leader may account for the sheer number of reviews– literally hundreds of thousands of readers have downloaded the book. As we know, only a tiny percentage of people write reviews. It used to be wide and had hundreds of reviews on Apple and Google as well!
Q. Ah, I see. How many books do you have now in that series?
A. There are 10 plus a connected novella. It started as a trilogy, but it was selling really well, readers were writing me begging for more, and I loved the world and the characters, so I added more books. The later books have different main characters, though.
Q. Am I right in assuming that since you wrote sweet New Adult, this is a sweet YA series, too?
A. It is. There is no sex (that's part of the mythology of the non-human characters– they mate for life, so they don't take it lightly), and there is no language, apart from one or two instances in Book 6 with minor swearing by a particular character in a moment of great distress. It was so in keeping with his character, I left it in there.
Q. I don't read a ton of YA, but my impression is that sweet is the exception rather than the norm? Is that right? And if so, how do you market sweet YA?
A. Hmmmm… I think it's a real mixed bag. There is certainly YA fiction out there that is not sweet/clean at ALL, and then I've also read plenty that is. I really have not marketed it that way. I just wrote it the way I wanted it to be and hoped readers would like it. I don't mention "sweet" or "clean" in my ads or promo. There have been a few reviewers who've complained about the lack of sex (very few thankfully) no one had complained about the lack of language as far as I can remember. Many do comment on how refreshing it is to read something completely romantic that doesn't have those elements. Many adult readers say it takes them back to the feelz of their first love, high school, etc.
Q. What have you learned since writing YA four years ago? What are readers looking for in a compelling series?
A. Definitely EMOTION. They want to be taken on an emotional journey. I am big on plot, I take time to develop characters before I get started, but I think one of the most important things I've gotten right in my books is doing a revision pass strictly for the emotional journey, looking for moments that will make the reader really feel what the characters are feeling.
I think they also want a swoony hero and a female MC they can relate to, just like readers of adult romance.
Q. Great tips. What makes for a swoony hero, in your opinion?
A. His love for the heroine, his protectiveness of her, his utter inability to resist her, even if he may want to at first (because he is damaged, it is forbidden, etc.) And my heroes all tend to be really tall LOL. I always give them beautiful eyes and yummy voices as well. I'm a sucker for voices.
Q. Your heroes do sound swoony. What do you think prepped you to write YA?
A. Thank you! ❤ I fall in love with each of them a little bit. (my grown up ones, too!) As far as writing YA, my husband jokes that I'm still a "tween" LOL! I still really enjoy TV shows, movies, and music that are targeted at teens. And I still remember really well many of the experiences I had at that age and the feelings that went with them. I also have two teenagers at home, which helps! Of course, I love reading adult romance as well, and I'm having a ball writing it. It's a nice break to move back and forth between the two.
Q. I'm going to ask you to brag a bit. Can you tell me some "bests of"? Like, best rank. Best monthly income. Maybe an award. From your YA.
A. Okay, well, my best ever monthly income was 20k. I had a Bookbub feature than month. When I was releasing a new book every 3 months, my average income varied between 10k and 15k. It has been lower since I entered this slower period, averaging between 5-10k BUT… the good news (for those who are building a backlist) is that is basically all backlist income. I released only 1 book in 2018– the day after Thanksgiving, and I've released only 1 book so far in 2019. The last 5 months of this year, though, will be crazy busy with releases!
Q. Wow, that is fantastic. Congratulations.
A. Before my books were published, I entered quite a few RWA chapter contests, and the big one, the Golden Heart awards, which are like the Oscars for romance writing. I was a Golden Heart finalist twice, which was thrilling. And I placed first in many of the chapter contests, including the Georgia Romance Writer's Maggie contest and the Chicago RWA's Fire and Ice award. Those finals and wins gave me the confidence (and the feedback from judges!) to go ahead and publish my work.
Q. Impressive.
A. As far as rank, I have never really focused on it very much. All I really cared about was earning a steady income to help my family–and to justify all the time and effort I was putting into writing. I've had many books make the top 20 and even reach #1 in their categories, but I think in the overall Amazon store, my highest rank was something like barely in the top 50. it goes to show you that you don't have to have the "bestseller" label to make a really nice income from your writing.
Q. Was that with paid advertising? If so, what per cent of your income do you use to advertise? And, has the advertising landscape changed in YA or in general, and how?
A. Yes– I do use paid ads, mostly Facebook, a teensy bit of AMS ads, though I'll do more of those when I release my new series. I've also used things like Robin Reads and ENT a few times, though not regularly. I've had 3 Bookbub features over the years, which helped so much. The advertising landscape has definitely changed, and not for the better. There's just a LOT of competition out there. That said, paid ads are really the only thing I've ever seen consistently move the needle, and I tried it ALL at first– blog tours, marketing companies, etc. I have spent at times up to 30% of my income on ads, especially when I was trying to establish myself. I like to keep it less than that, though.
Q. Great perspective. It's been so fun chatting you up, Amy. I think we have time for one more question. Why did you decide to go from writing YA to billionaire romance?
A. It's been so much fun for me, too! I love your FB groups (Clean Heartthrob Hero Romance, Clean Billionaire Romance – Authors Only) — such a great, supportive, positive environment. Thank you for having me!
While I still love writing YA and will do it again, I felt a creative need to take a break and do something different for a while. As I mentioned, I love reading adult romance. I read that more than YA, actually. Billionaire (or millionaire) romance has been around forever, and who doesn't love the fantasy of the wealthy, powerful hero and all that goes with it? (Two of my sweet New Adult books actually had billionaire heroes.) I decided to specifically write clean/sweet billionaire romance for this new series and market it that way because it's really my first concerted effort to write to market, and I wanted to offer something enjoyable to a hungry audience that is (hopefully) not oversaturated in Kindle Unlimited. I've already planned a spinoff series about royals that I'll be writing after completing 5 billionaire books! So thank you for expanding your awesome reader group to include Heartthrob Heroes of all kinds. Hopefully I'll be bringing lots of new readers to that group in the very near future!
Q. I love having you in the group, too. You are always so encouraging and I love that you share your tips so freely. I can't wait to see your new series. Best of luck!
A. Thank you Jewel! I'm happy to answer questions and help if I can!
---
Visit Amy Patrick on her website.
Subscribe to my newsletter to get alerts on my author Q&A's and books. Check out my latest novel, Her Billionaire Sheikh.