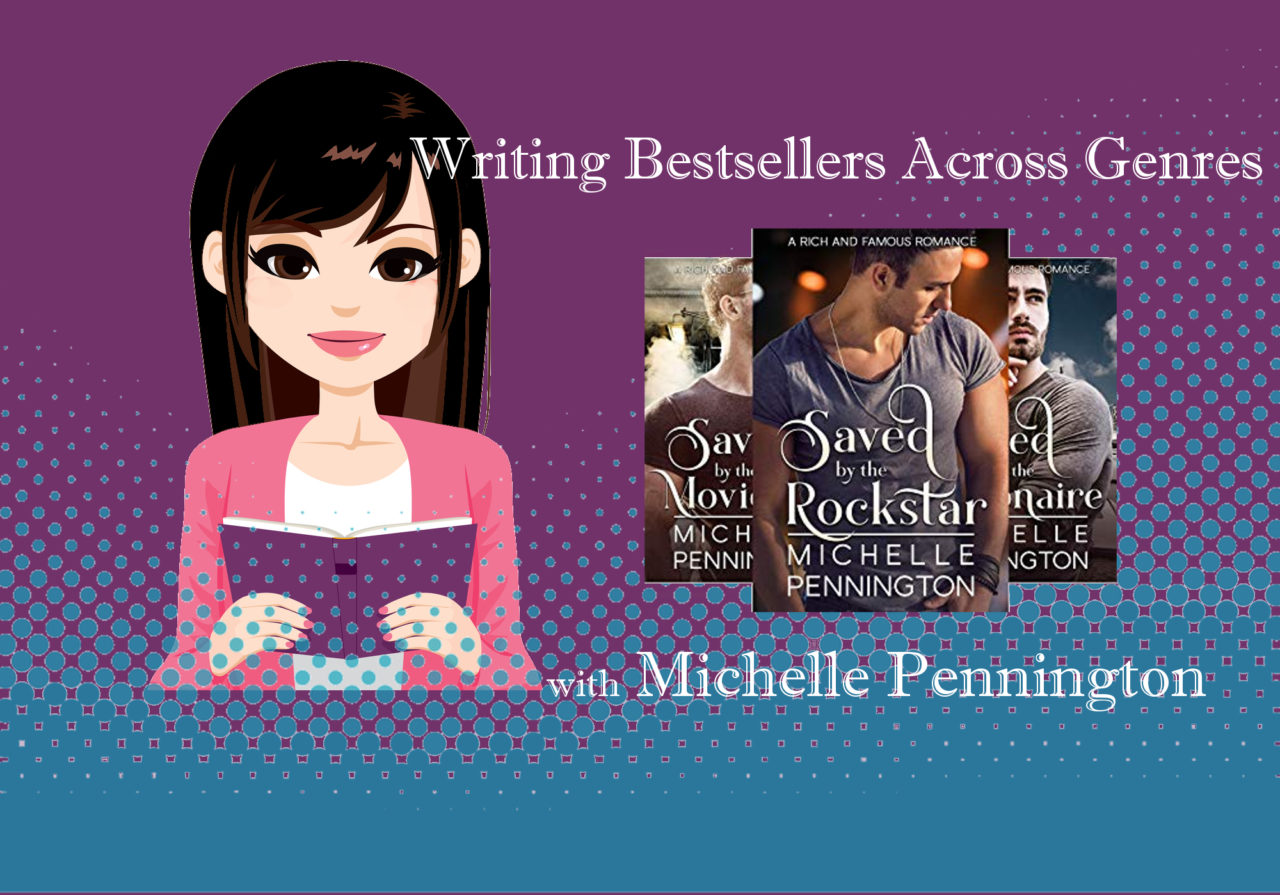 Michelle Pennington writes clean, heart-pounding, sigh-inducing romance across multiple genres. She is one of The Writing Gals, a popular YouTube channel for authors. Today she will chat about how she writes bestsellers across several romance genres, how she achieved her top 100 author ranking (with little paid advertising), and how she rapid released 3 books in 30 days.
---
Q. Happy birthday!
A. Thank you! It has been so far!
Q. Fantastic. Any fun plans?
A. My hubby and I are going to see the new MIB movie (Men In Black: International). He says he'll enjoy his nap as much as I will enjoy Chris Hemsworth. Then dinner and cheesecake with the whole family.
Q. Nice! Sounds fun. Okay, so Michelle, I'm gonna jump into the meat of this chat. When I first approached you about this Q&A, you had made the top 10 authors in Clean and Wholesome in K-lytics. Is that the first time you'd made it there?
A. I think it is the first time I made top ten. I believe I was in the top 25 last year.
Q. That is amazing. For those not familiar with K-lytics, it is a report that comes out sharing details about top-selling books and authors in genres, showing trends. How long have you been at this publishing game?
A. I have been publishing since 2011. In those early years, I had a lot of small kids at home with me and a lot to learn about writing and publishing. (I still do of course, but I was just starting my climb up the mountain.) Eight years later, I'm thrilled with my growth and in August, my youngest will be starting kindergarten. It's been quite the journey.
Q. What was your first book and how did you end up deciding to publish?
A. My first book was a Christmas Romance titled, Aglow. I have been an indie author from the beginning. After a lot of research, I knew that self-publishing was the right choice for my career goals, so I have never even submitted to an agent or publisher.
Q. So now eight years later, here you are on bestseller lists. I noticed that you have a coveted Amazon author rank in Romantic Suspense. In the 90s, as of yesterday, I believe. Which means you are in the top 100 of all Amazon authors in that category. Congratulations. What do you think got you there?
A. Since I write in several romance categories, it's always interesting to watch my Author ranks change. That ranking is due to the success of my recent series, Rich and Famous Romance. I like to call them rom-spense because they are more romance than suspense. I've been slowly introducing more suspense into each book that comes out to judge my fans' interest in it. It has surprised me how much they have loved it since my other series have been straight romance. I will definitely be writing more romantic suspense, so hopefully it won't be the last time I can grab a Top 100 ranking there.
Q. Rom-spense. Love it. Looking at your Amazon author page, I'm struck with how you are doing well in so many genres. Right now, you have Regency, Billionaires, and Romantic Suspense. How do you write it all? What kind of writing background or training or lucky juju do you have? Oh and I forgot… Paranormal Fantasy, too.
A. It all comes down to how eclectic my reading choices have always been. I'll read anything that has even a hint of romance in it. I heard over and over that if you wanted to be a successful author, you needed to stick to one genre until you build up your audience, and at the very least, you needed to use pen names so your audience doesn't get confused. I would never be happy restricting myself, so I have been working hard to build my author brand—"Clean Romance Across Genres". It takes different skills to write in every one of them, and I adjust my writing for each. I admit, it's a lot of work. I have released books in three romance categories in thirty days and it has been a crazy ride.
Q. Wow 3 in 30! What kind of timeline did that require?
A. An insane one.
Q. Ha ha ha. Give us a peek at insanity.
A. I began writing Saved by the Prince the beginning of May, published it May 28th, started The Vexatious Widow in earnest as soon as that one was off to the editor and published it by my preorder deadline by the skin of my teeth (June 7th) on June 11th, and only then did I start writing my new YA romance, Before We Say Goodbye– which just went live today actually. I also got sick in there and went on a two week (working) family vacation. Will I ever do that again? Not if I can help it. It was all sort of accidental anyway.
Q. Can't blame you. What do you mean "accidental"?
A. Well, I have what is known in the ADHD world as "time blindness" and I am overly optimistic. I had made plans to rapid release a YA series over the summer and set up a preorder for the first book. The Regency was a collaboration with other authors and I had a preorder set up for that as well. So I was tied in with those. But since my Romantic Suspense series was doing so well, I looked at the calendar and thought "I can't wait four more months to release the next book. I think I'll just wedge it into May." A chain reaction of craziness ensued.
Q. Those pre-orders sure light a fire under you. I'm gonna invite you to be real here … you had written about rapid release burnout and needing to take care of yourself. What happened and how did you improve things?
A. Yes, I did go a period of burn out in mid-May. Once I recognized that was the reason that I couldn't get words down the way I wanted to, I stepped back and took a break. Luckily, I paid attention to what my brain was telling me and didn't push through it. I think that's important. Amazingly, after some mental rest and time spent filling my creative well with good books, movies, crafting, and art, I was ready to go again. In about a week, I was able to get back to it and finish that book, then write my next two immediately after. Now, they have all been novellas, ranging from 25K-38K, but the real work for me is not about actual word count, but crafting characters, plot, and story. I am glad to say that I am still going strong and anxious to start drafting another story tomorrow.
Authors need to keep a close eye on their mental health and creative reservoirs. It's best to do something positive for them everyday, but don't hesitate to stop and spend more time on them as needed. Don't push through. I've heard of authors who have impacted their health to the point that they've had to take off months.
Q. Thank you for those words of wisdom. The hard thing about being an author is that we only have ourselves to control our pace. Let's talk for a minute about the upsides. Feel free to decline if you'd rather, but what kind of income can one expect with a rank like yours? Best month, annual net/gross, that kind of thing.
A. You know I never mind talking numbers. I love for other authors to have real information about this industry.
My income is a bit lower at my ranks than others would enjoy since I'm writing novellas, but they are still great. My best month this year was in April at $13,900. With editing, covers, and one promotion, my profit that month was still over $13,000. After a few lower months in the beginning of the year, I have made $51,000 at the half-way point. Since I made $50,000 in all of 2018, that means I am on track to double my income and become a six-figure author this year, which was my goal.
My monthly income has averaged $11,000 this last quarter, and I intend to maintain or increase that through the end of the year. On novella length books!
Q. That is great. So, just to clarify, how much do you spend on advertising? Say, a percentage of your monthly income, or…?
A. I don't do any paid advertising unless I pay for a newsletter service like Robin Reads for a free day promotion.
Q. No kidding, wow. Of all the genres you have published in, what do you think has been the most successful, income-wise? And are you seeing any trends as far as what genres are good to jump into in clean romance?
A. I feel like I don't yet have enough data to say what is most profitable for me since I am a newbie in so many categories. If I had to guess, I would say that Regency (surprisingly to me) carries the best promise of profitability. If you asked me again in a year after I've gotten a whole series out in that genre, I would have better information. I don't yet know about YA since I am just starting my rapid-released series there.
I will say this… I think any sub-category of Romance can be profitable. The same things apply—you have to understand the readers of that category and give them what they want. You have to brand it right with your covers, taglines, and blurbs. And you need to write in series and release as quickly as you can if you want to be profitable.
Q. Mmm, I am not surprised about Regency in some ways. It was my go-to escape as a young mom. We'll close with this last question related to that. To a contemporary author wanting to break into Regency, what is your best advice?
A. I would say don't do it unless you are also a Regency reader. You have to know what you're doing or the audience will chew you up and spit you out. There is a whole different skill set required with the research you have to do, the language you must use, and the knowledge of a society two hundred years removed from our own. The trickiest part, however, is presenting it in an approachable but still challenging way for modern audiences. It's a constant give and take between historical accuracy and the modern reader's palette. So, read a lot. And then read some more.
The truth is, I am not a contemporary author moving into Regency. Indeed, Regency was always my first love, but it intimidated me. I have spent the last eight years growing as a writer before I trusted myself to tackle a genre I cared so much about that I wanted to give it my best.
Q. Thank you so much Michelle! I had a lot of fun learning from you and getting to know you better. Congratulations on all your well-deserved success and have a fun rest of your birthday!
A. Thank you so much, Jewel. It has been a delight!
---
Check out Michelle Pennington's books on her Amazon author page. Watch The Writing Gals here.
To learn more about how to write and publish fast for profit, check out my book Rapid Release or the series I rapid released. To get alerts on my weekly author Q&A's and a FREE book, subscribe to my newsletter.