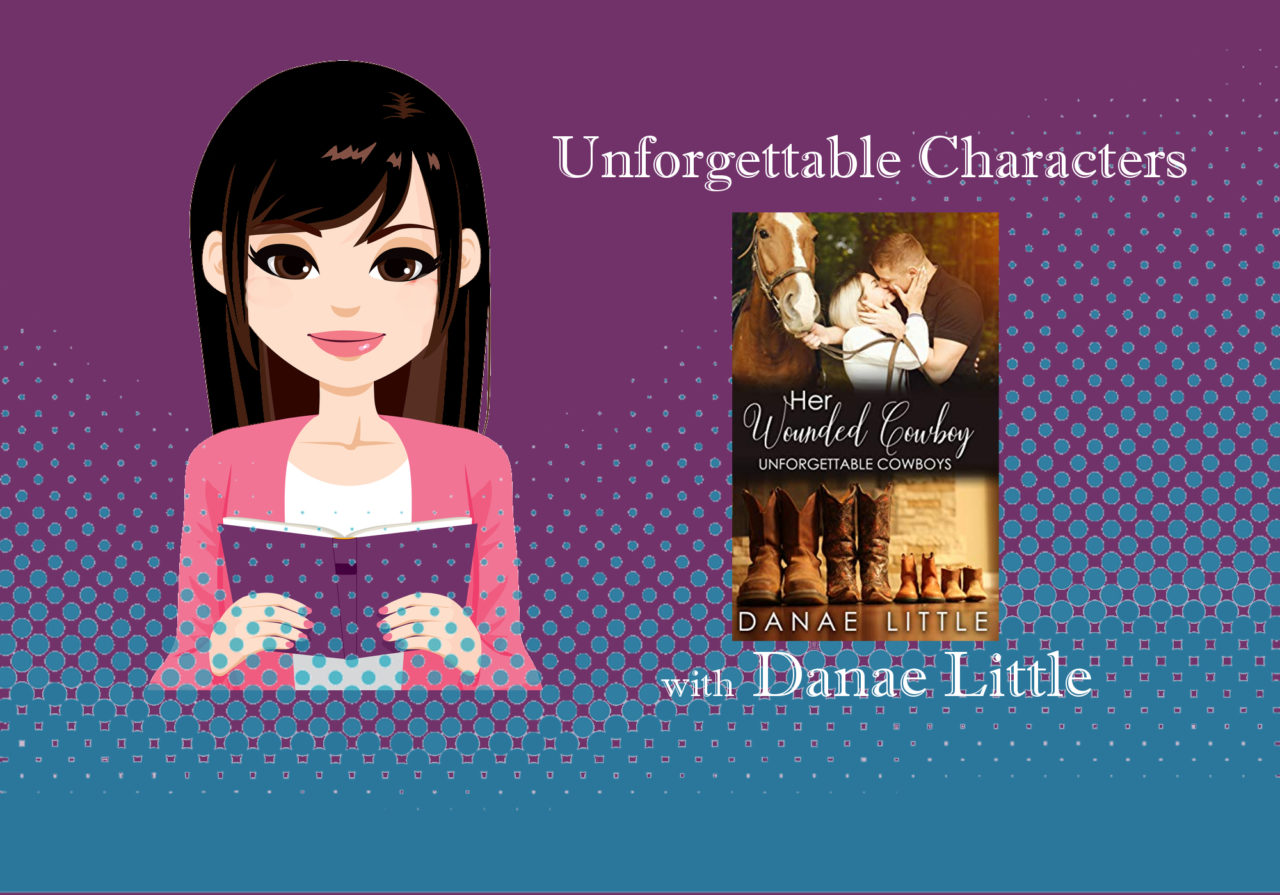 Danae Little writes contemporary romances and other stories that inspire and give the reader hope. In today's Q&A, she chats about how she wrote to market, what makes her cowboy characters unforgettable, and where she gets her story ideas.
---
Q. I just read the first in your Unforgettable Cowboys series, The Unexpected Cowboy, and loved it.
A. Oh wow! Thank you! That means a lot coming from you. It has been a fun series to write!
Q. What I enjoyed most was how you fleshed out your main characters and the constant romantic tension between them. Can you tell me how that series came about?
A. The first novel I ever finished centered on a woman who was lost and took a trip to find herself…only she lost everything in a car accident, including her memory. A cowboy rescued her and of course the story unfolded with an abundance of romantic tension.
When I began publishing in Clean and Wholesome last fall I wanted to revamp this book and create a series from it. That book ended up being my second in this series. The first came from a dream I had and built from there. I hadn't planned on the suspense, but it worked out so well that I decided to give the whole series a touch of suspense.
Q. Wow, that is amazing. Let's go back a little to the beginning. How long have you been writing and how did you prepare to write novels?
A. I have been writing my whole life! When I was a child, I wanted to be the youngest novelist! Well, that didn't happen, but I continued writing. It has brought me healing in so many ways. In fact, the first book I ever published, Carson's Gifts, is a memoir taken directly from my journal during the most difficult time in my life when I lost my first son, Carson.
The first novel I published centered on a woman who had lost a child and tried to escape the pain only to find herself in a small town that made her face it, and herself. Warning though…I was new to publishing and it is not squeaky clean, though many said it was considered a sweet romance.
Last year I found The Writing Gals and learned about to-market writing. It has changed my writing career. I've been publishing Clean and Wholesome romances ever since, and loving it!
Q. I just read your Amazon bio where it mentions about Carson's Gifts and also your guided journals. I am just amazed at your creativity. Let's go back to writing about amnesia and cowboys. I just recently asked about amnesia stories in my reader group, and you had mentioned your book (that's why I read it, thanks!). How did you research about amnesia, law enforcement and cowboys?
A. You have such amazing groups! When I began writing that first novel years ago, I started researching about amnesia. Our brains have always been so interesting to me and how we can lose some memories and not others. Anyway, I actually got to talk to a neurologist who was wonderful and patient. I learned a lot from him.
I had an uncle in law enforcement and, well, I've always had a thing for cowboys. When in doubt, though, there is so much information out there now that I can research just about anything!
Q. In the book I read, the male MC was very convincing as law enforcement. Your thing for cowboys…do you own horses, live in a small town, or…?
A. Thank you! Sometimes my characters just take over, but it sure helps when you have life experiences with those type of people.
I went to school in a very small town, and have since moved to a slightly larger small town. I love the small-town community and seeing people you know when you go shopping. It's such a great feeling.
I started riding horses as a young child. I never have been able to own one myself, but I vaulted as a child and continue to ride as much as possible. I have always felt a connection with those majestic creatures!
Q. Vaulting is such a beautiful sport. How fun! How do you draft your stories? Do you outline or not? How long are your cowboy stories and how long does it take you to write them?
A. I am a panster by nature. I have since tried outlining but very loosely as my characters always seem to take over.
My Unforgettable Cowboy series are all around 50k words. I have been publishing them about two months apart…only because I haven't had much time to devote to writing. Summers are very busy for my family.
My little guy has just started kindergarten so I have some big plans for rapid releasing my new rodeo series while keeping the two month schedule for Unforgettable Cowboys.
When I do get time to write, I can produce quite quickly. Though not as fast as you! I can usually get in about 5k in three hours or so.
Q. Hey, that is fast! A rodeo series sounds exciting. Since writing to market, what's been your experience writing in different clean and wholesome genres? For example, how do billionaire romances stack up against cowboy stories in terms of sales and/or fanbase? Did I miss any other contemporary romance genres? (I will ask you about your post-apoc books in a bit.)
A. My first series is a hodge-podge of genres all centered around Friends to Lovers. I started that series with a billionaire just to see how it went. It is still my biggest seller in that series. I definitely think there is something about billionaires that is selling like hot cakes right now. That series really gave me a taste of success. I had stock-piled them and was able to rapid release them and saw a huge benefit in sales with that strategy. I didn't spend much money at all on them and they still produced quite a bit.
I have had more success with my cowboys, though. It might be because I am learning more and more as time goes. This last launch I actually spent a little money on promos and ended up with my first best seller tag! That was super exciting!
So as far as billionaires vs cowboys, I think they are both hot genres. Sales and fan base increase with time and hitting those mile-markers, I think. Though, I'm a newbie and don't know much! I try to learn from other's experiences and navigate my own way through this awesome career!
Q. What promos have you done and recommend? What per cent of your monthly income is profit and ad spend?
A. And that is fab about your bestseller tag!
On all my previous releases I spent less than a tenth of my income on promos and ads. I have played with AMS a bit, but really don't know what I'm doing.
In this release I spent $100 stacking promos with My Book Cave, ENT, and Faithful Reads. That boosted me to 360#1 best seller in four of my categories. I just started my first real FB ad for this release last week so I really don't have any data on that yet. I do believe ads would have kept that really high rank sticking for longer. I'm still learning.
I haven't had the budget for spending before now, though. The thing I tell newer authors than me is to not let a low budget hold you back. You can make it work without much money spent. Then invest it back into your books.
Plus having so many fabulous authors coaching and supporting me this experience has been such a blessing!
Q. How do you price your books at release and later?
A. I used to price at 99c for launch and until my next release. This last book I launched at full price which is 2.99. Then on my promo day, I put it down to 99c.
Q. You mentioned Amazon categories. How do you determine which ones to put them in? For example, it makes complete sense, but it's the first time I've seen "Rodeos" as a category.
A. LOL…it was a difficult one to find! I research like crazy. I find books like mine and see what they are categorized as and then search those best sellers. I try to find the categories that my book fits into with the least competition. Clean and Wholesome is difficult to break into a number one spot. I got to number four which is huge for me, but those orange tags are so pretty! I feel the right category helps our readers find us as well. Yes, my books are clean and wholesome, but they are also a lot more.
Q. That is great. Going back to your 2nd to last comment, how did your 99c launch do compared to your full price?
A. I was worried about this launch, but because I spent a little more on promos it actually launched better than my other cowboy books. Now with the first series, I think it was the rapid release that helped them sell.
Q. What is your editing/revision process?
A. My first draft is pretty clean. I always do another read through and edit where I search for repeated words and too many "thoughs" etc. Then I send it off to my betas, from there it goes to my editor. After those revisions I send it on to my ARCs. I try to get as many eyes on it as possible.
Q. Last question…I need to know about your post-apoc. Just a little teaser about that and why you are writing in that genre…
A. Yes, my post-apocalyptic! I love adventure, natural disasters, and being prepared for just about anything. My family and I are adventure enthusiasts and pretty much live for that play time. While out in the wilderness it's difficult to not wonder what it would be like if civilization broke apart. My husband and I played around with that thinking and then my mind, as many of you know, writer minds never stop, created story after story.
Anyway, this book started from a repetitive dream I had and grew from there. Grant Us Mercy is a serial novel that follows an estranged family that pulls together to survive a solar storm and the subsequent black out, forest fires, and societal collapse. I am really enjoying writing it and watching the husband/wife rediscovering their love for each other. Plus, the little boy Tucker is based off of my son, so I can't help but love him!
Oh…I should mention my post-apocalyptic is considered clean…no swearing or more than kissing. Got to have those.
Q. Thank you so much Danae! I really, really appreciate your time. You are such an inspiration to me and congratulations on your well-deserved success! P.S. I love the premise of your new series! Best of luck with it.
A. Thank you so much for this wonderful opportunity. I was floored and ecstatic when you asked me to do this!
---
Check out Danae Little's Amazon page here.
Subscribe to my newsletter for Q&As, writing tips and publishing alerts. Check out my books here.