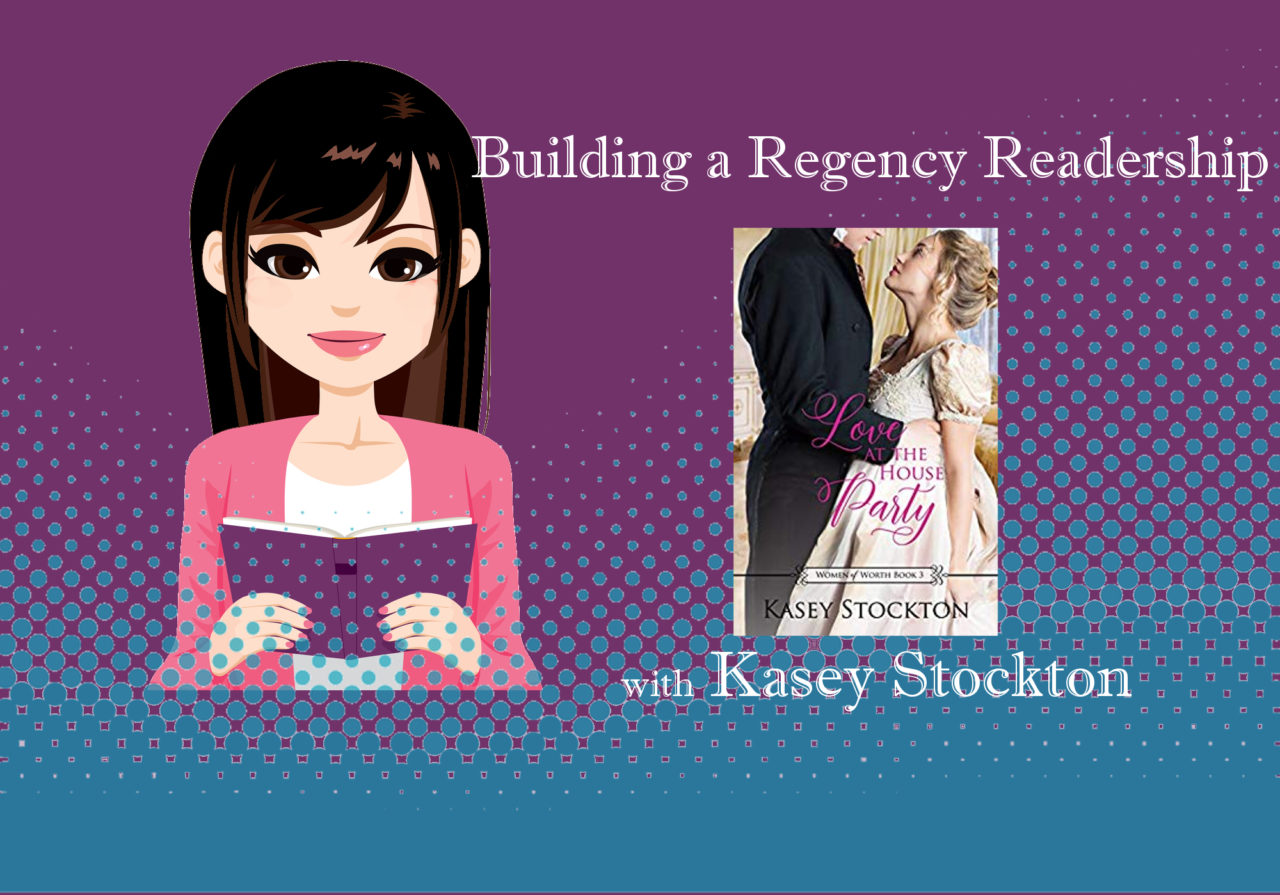 Regency romance author Kasey Stockton was drawn to the period at a young age when she was gifted a copy of Sense and Sensibility by her grandmother. In today's Q&A, she will share how she organizes a custom cover photo shoot, how she writes 900 words in 20-minute sprints, and how she reached a 5k monthly income within two months of publishing Regency romances.
---
Q. I am looking at your Amazon page, with the Regency titles and I have to say, I love your covers. Who does them?
A. Thank you! Shaela Odd is my designer. Her company is called Blue Water Books.
Q. Ah, yes. She is a very talented designer. So which comes first, your covers and then you write the story, or vice versa?
A. I've written my stories first for the most part. But then Shaela messaged me recently that I had booked an additional cover and I had to come up with a concept within a few days so I didn't waste the spot. But I am looking forward to writing that one.
Q. I guess the reason I ask that is because from my experience, it is super hard to find stock models for contemporary but seems even harder for historical. Has that been true for you?
A. Yes. My options for accurate photos are either super inexpensive photos that are used over and over again, or VERY expensive photos that are less common, but still found on other covers. Or, I can take my own.
Q. Take your own? Ooh, that sounds fun. How do you do that?
A. Find a few models, rent a few dresses. I have an author friend who is a photographer to take the pictures, and I am a hairdresser by trade or I do their hair. We are setting up a shoot now, actually, and I am really excited about it!
Q. Cool. So I have thought about doing that myself for certain covers. How do you compensate models? It sounds pricey, or is it?
A. According to my photographer friend, there are people willing to do it for free because the idea of being on a book cover is incentive enough. I have found a few local college students and am compensating them for gas, but that is all.
Q. That works! And of course they sign a release form, correct?
A. Yes!
Q. Do any of your covers have custom photos you have done?
A. Not anything that is online, yet 😉 But they will soon.
Q. Looking forward to it. So let's get back to your Amazon page. How many books have you published now? Are you indie or traditional or both?
A. I'm totally Indie. I have three full-length novels and one novella live, a box set, and a preorder.
Q. How did you get started writing novels and putting that first one up for sale?
A. I've been writing almost my whole life. But I didn't begin to consider publishing until about five years ago, and even then I hoped to be traditional. It wasn't until last December that I met a favorite author of mine and when I asked her for advice, she had me join a Facebook group geared toward helping Indie authors right then. I read all about the success Indie authors were having and decided that I wanted to go that direction instead.
Q. Wow, that sounds life-changing. What had you hoped for? And have you exceeded your hopes? Because you recently had an Amazon author ranking which means you were in the top 100 of sales in historical fiction.
A. Yes! I have definitely exceeded my expectations. I had goals I wanted to accomplish within my first 12 months and I hit all of them two months in. I am fortunate to be in a genre of voracious readers, but I know that my covers and proper editing have a lot to do with my success. I've tried to put out a quality product and I believe that pays off.
Q. Can you expound on what goals you've hit by sharing numbers? Sales, best month, ranking…?
A. My only concrete goal when I set out was to make 5k in sales monthly by the end of the year, and I reached it two months in. I've kept it up, and I'm on track to continue making over 5k. Now my goal is to reach 10k within a month.
Q. Wow, that is fantastic! Is that with paid or without paid advertising? If so, what per cent was ads?
A. I messed around with AMS and FB ads, but not enough for them to make any difference. Most of my marketing has been newsletter swaps and the occasional promo. I had a BookBub in July, but aside from that I've spend around $200/month on promos.
I stack promos in my second week of release with various newsletter promo companies. MyBookCave, FussyLibrarian, ChoosyBookworm, and BargainBooksy are my go-to's. I've done Robin Reads once, and it gave me a really good return but it's more expensive. And I'm not counting the BookBub in that $200.
Q. That is great. You kind of already answered the following, but what do you think did you do right before, or in those first two months, other than covers and proper editing? How did a new author like you get the word out about your novels?
A. I made connections with other authors on Facebook and set up newsletter swaps. I put my novella out there for free as a magnet for the first month and got 1,000 subscribers, which gave me a foundation of readers to tell when I had a new release. I had around 15 swaps set up during my first few weeks, which was free advertising, and that author who told me to check out indie marketing also shared my book on her Facebook page. And then I've put a book out every month, which has kept up my ranks and visibility.
Q. Nice! How many words is your magnet and is it a full story related to your series?
A. It's around 23k and not related to my other series at all, but I've had a lot of requests to write more books connected to it. I don't offer it free anymore because I want organic subscribers, and I sell it on Amazon.
Q. I know you from being sprinting buddies on a Facebook group, and I know you are super speedy. What's been your highest wordcount in 20 minutes?
A. I don't have an exact number, but its above 900. My goal is to beat 1,000 but I haven't yet!
Q. And that is without dictation, correct?
A. Yes, that is just typing.
Q. Yowza. Okay. "How does she do it?!" I mean, we are talking Regency here.
A. Yes…I am very, very personally competitive. Not against other people, but against myself. I'm always trying to beat my previous best so I push myself.
Q. Ha! When Kasey comes on, I know I gotta get my game on. * evil laugh * So walk me through how you get good words down that fast in a Regency Romance. What is going through your head? Do you outline, etc.?
A. I've recently begun to try outlining, but I think I do better when it's a loose idea. I see my story like a movie in my head, and I feel like I am just writing the transcript of my movie, if that makes sense? So it's easy to go fast, but I often have to go back through and add details because my first draft is mostly talking and blocking.
Q. How long typically are your novels? And do you use a content editor or only a proofreader?
A. My regencies range between 65k and 92k, but I'm writing some contemporaries that have settled closer to 50. I use a deep line/copy and a proofreader currently, but I rely heavily on beta readers. I'm going to begin using a developmental editor to speed up the process.
Q. Walk me through your beta process. How many do you use. How long do you give them?
A. I use around ten and give them two weeks. And I usually get around 6 people who read the whole thing and give me feedback
Q. You find betas off of your newsletter? Do you put a call out there or…?
A. Facebook beta groups, a few from my newsletter, and this last time I put a call out to my personal FB page.
Q. Describe your monthly timeline, more or less, for a book. Do you stockpile manuscripts and work ahead, for instance? Or…?
A. I write the first draft in about 3 weeks, let it breathe, and then go back and edit it before sending it to betas. The whole process from start to polished is 2 months, but I work on multiple projects at a time. I stockpiled before publishing my first book, though.
Q. Sounds more sane than trying to finish books within the same publishing month. You said you plot loosely. Do you find yourself revising a lot, or do you write pretty clean from the get-go?
A. I write pretty clean, but I also have a horrible memory. So by the time I get to the end, I forget about things I've written along the way. I have to go through it at least three times to make sure I've wrapped everything up. And even then…well, I'm not perfect.
Q. Ha ha, I hear you. How did you prepare yourself to write Regency romances? What is your writing background or training in general? In the genre?
A. I'm a stay at home mom who cuts hair, so I've had no training beyond reading a lot and watching a lot of period dramas. But I love the Regency era and am fascinated by the history of it, so research is not a chore.
Q. Wow, you cut hair too? And you have little kiddos, right? How do you balance publishing with everything else?
A. Balance! My kids are great at giving me time to write. And I try really hard to give them more attention than I give my computer. But it will be a lot easier once school starts again.
Q. Once they go back to school, we can all binge on period dramas. Name your top three that you think can give an author inspiration when writing Regency romances.
A. Colin Firth's Pride and Prejudice, because it is so long and captivating. (The actors really make that one for me). Then Matthew Macfayden's Pride and Prejudice, because he really is the best Darcy. And Sense and Sensibility with Emma Thompson.
Q. Good ones! You have been publishing since April of 2019. Five months. What have you learned since then as far as what Regency readers are looking for? (Btw Matthew is my favorite Darcy too!! The rain scene!)
A. I've actually been publishing since April, but I've learned a lot in my reviews and personal emails from readers. First, that I do not write enough romance into my books, and my focus is too heavy on the side plots. These readers want to read about love, so I've tried to make that more central to my books recently. (And yes! The first proposal scene is 😍😍)
Q. It's a good thing you type super fast, because you have been so great at answering all of the questions and I feel like I can actually say, here is the last one. Well, two. Will you be using a pen name for the contemporaries? And what made you interested branching out into it?
A. That's my other favorite genre to read so I think it was natural to want to write it. And I have decided not to use a pen name, so everything can be found in one place. It was a difficult decision, but ultimately I write sweet romances in varying time periods, but they are all sweet romances.
Q. Kasey! Thank you so much for chatting with me. It's been fun and I'm glad to get to know my sprinting competitor, er, buddy better. 🙂 Really, you are awesome, and congrats on your well-deserved success.
A. Ha ha it was fun. And maybe I will hit 1K now that I've said it out loud. Thanks!
---
Check out Kasey Stockton's Amazon page.
Subscribe to my newsletter for Q&As, writing tips and publishing alerts. Check out my books here.