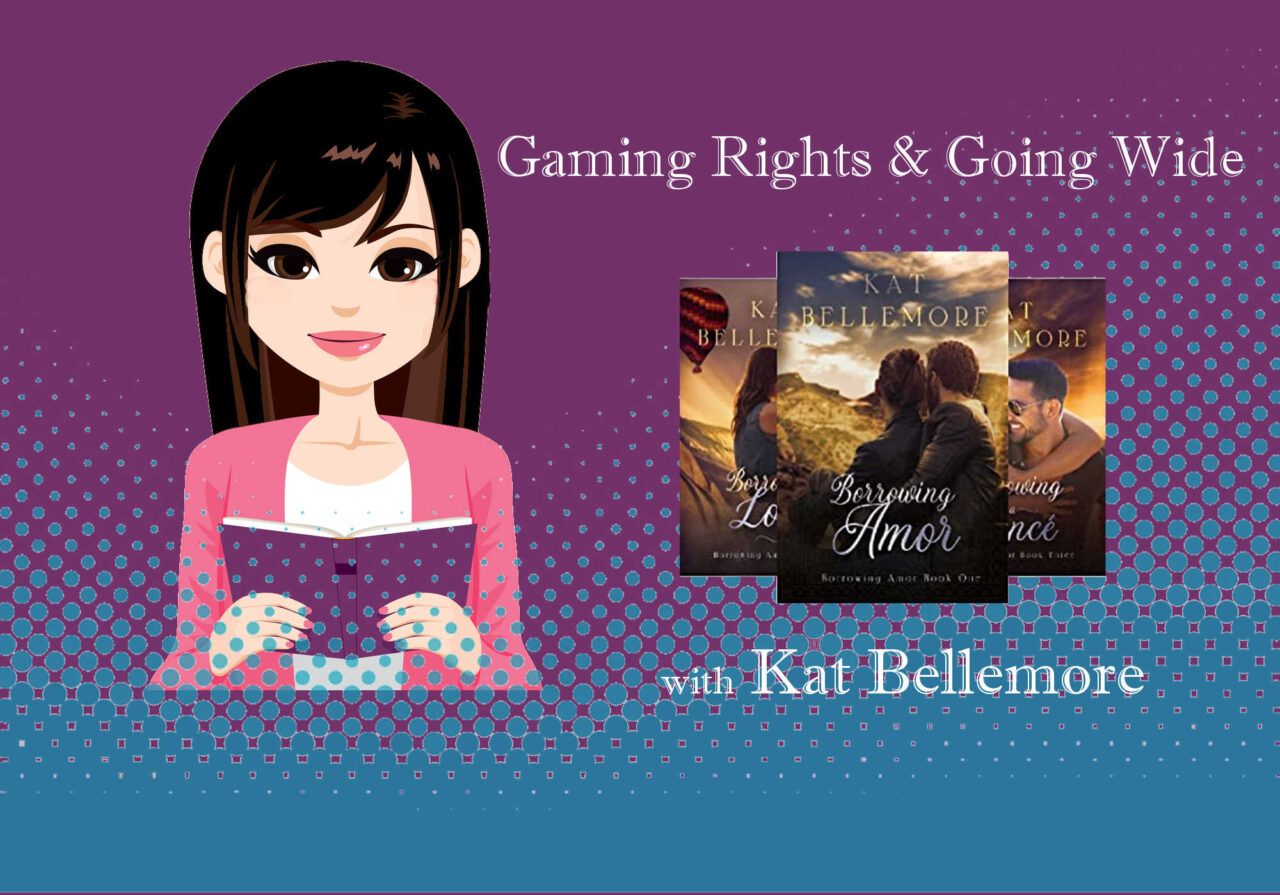 Kat Bellemore is the author of sweet small-town romances and young-adult novels. She will chat about gaming rights for authors, going wide from Kindle Unlimited to other publishing platforms, and the Bookbub effect.
Q. Thanks so much for chatting with me today! I reached out to you in December 2020 because I saw your post about gaming rights. Do you remember that?
A. Yes, I do remember. Thanks for the invite!
Q. Can you tell me more about that?
A. Sure! In the fall of this past year I was able to sell gaming rights for one of my series, where they basically pay me for the right to turn my books into an interactive experience through their app. There are a lot of different apps like this now, so it's always good to do your homework and read the contract thoroughly.
Q. Nice! Which series is this?
A. My Borrowing Amor small-town romance series. They don't seem to be interested in YA at this time, but I do have another series that I will likely approach them with once I have another book out.
Q. I think that is why I did a double-take. When I think "gaming rights," I think of sci-fi or fantasy. But romance?! How did you know how to do this?
A: I am currently in a couple of Facebook groups where we share experiences with these little-known companies that serialize books, purchasing gaming rights, translations, etc. I recommend Writing and Selling on Fiction Apps.
When I went wide with my books a little more than a year ago, my whole mindset shifted and I saw how many different ways there were to make money on the same books. Some of these sites turn out to be not worth the time, and many try to get more rights than they are entitled. But that's why it's good to be in these groups, so we can figure out which ones are legitimate, and which ones to stay away from.
Q. Before we dive deep into going wide and other topics, tell me a bit about your background. How long have you been publishing, what got you started, and in what genre/s?
A. I actually had a YA historical fantasy that was published with a small publisher back in 2016, but I quickly realized that it was glorified self-publishing. And I got almost nothing in return.
I took a break from writing for a quite a while after that, but started hearing about people being really successful writing romance, and publishing it themselves. This was in 2018. I had never read a romance novel, but had seen rom-coms and Hallmark movies. So, I sat down and read a bunch as research, joined Facebook groups, and jumped in with both feet. My first book came out in November of 2018 and I was in Kindle Unlimited (KU) for nearly a year before switching wide towards the end of 2019. I write sweet small-town romance, and love it. Which is something I never thought I'd say.
Q. I feel that 2018 was a watershed moment for a lot of authors, and that you and I were kind of in that "Class of 2018". 🙂 That is awesome. Many authors are comfortable staying with KU (like me). The thought of switching wide sounds exciting but overwhelming.
What was your experience going wide? How did you do the transition? How did it affect your revenue? Wide, for definitive purposes, being that your books are available in platforms other than Amazon.
A.Yes, it can totally be overwhelming. I don't know if I could have done it without Erin Wright and her Facebook group, Wide for the Win. Her group has absolutely exploded since then, and there are a lot of sub-groups, like Sweet and Wide. The best way to do wide is one step at a time, adding one thing at a time. When I was doing my taxes it was crazy to see how many different places I was receiving income from.
Because I wasn't ever a big fish in the KU pond, my income actually improved. I'm still not a big fish as it takes time to get established wide, however I will say that I doubled my income last year. I expect things are just going to build on each other on a fabulous foundation. So far this month, my Amazon income is 60% of my total income. Last month is was only 49% because of a Bookbub featured deal. I will say that read-through is a lot better on the other platforms. And they offer in-house promotions
Q. That is great to hear! Good for you. I saw that you had been chosen in 2020 as a recipient of the Self-Publishing Formula (SPF) Foundation Scholarship. How has that changed the way you've been publishing? I know it's a broad question, so maybe your top takeaways.
A. Yes, January of 2020. It was a shock and an honor. I immediately knew what I wanted to use the Reedsy scholarship for, and that was to re-cover my Borrowing Amor series so it would be more in line with wide romance books. I feel like it has directly contributed to my receiving Bookbub featured deals.
I then decided to start SPF CEO Mark Dawson's 101 course, rather than the ads course, because as much as we think we know, it's always good to go back to the basics. It was very helpful. I tweaked my blurbs, really looked at the nit and gritty of how I was presenting my books.
Since then I've done some experimenting with the ads course but have been leery about Facebook ads with so many getting their accounts closed. I'm looking forward to doing the AMS and Bookbub ads course this year though. I'm hoping that can be just another layer to the foundation I'm building.
Q. Fantastic. What do you think tipped the odds in your favor of receiving that Scholarship? It is quite the package, worth thousands of dollars.
A. I had good reviews, so maybe that made them take a closer look? I know that they read a book of mine as part of it near the end, or at least a portion of one of my books, and Lucy Dawson (Mark's wife) said they'd been blown away by my writing. I almost wanted to ask her, "Are you sure it's me you're talking about?" Not everyone shares their sentiment, ha ha. But ever since then, when I get discouraged, I remember that someone of Mark's caliber believed in me, so maybe I should too.
Q. That is great! Certainly the highest compliment. What kind of writing training did you have prior to publishing that first book?
A. Honestly, I'd never written for pleasure until I was out of college. It was something that seemed to come naturally to me in school, but not something I did for fun. Of course, writing fiction isn't the same as writing papers, so my first stuff was complete crap. I went through the hard knocks of re-writing the same book a billion times, submitting it to places, re-writing based on their feedback, etc. You know…the hard way, ha ha.
Q. Dang, one of those simply talented writers. LOL I just downloaded Borrowing Amor, which is free on Amazon (thank you!). I noticed that it's set at Christmas time. But the cover doesn't showcase that. Was that part of your marketing strategy for that book?
A.Initially it was titled Borrowing Christmas, and looked it (you know, as much as Christmas in New Mexico can), but I realized after it's successful debut, that that sucks to have a Christmas book as a first-in-series. So, the title and cover got changed to make advertising (and my life) easier.
Q. Ha ha, I get you. One of my best-selling series has a Christmas as a first-in-series. You have over 400 reviews on it. Well done. Were they mostly from the Bookbub, do you think?
A. I had over 200 reviews before the bookbub, but that was probably mostly due to a bookbub on the third book a few months ago. Also, it's a perma-free, so lots of people are downloading it throughout the year.
Q. Yes, I noticed book 3 has over 600! What is your advice to someone who wants to dip their toes in Bookbub Featured Deals?
A. I never had a featured deal before going wide. I know that many KU authors have, but I firmly believe that going wide helped me. Also the cover changes. There are some books you'll never get a Bookbub on. Like my YA romance. Every single featured deal in YA seems to have a paranormal/sci-fi/dystopian feel to them. I've accepted it (and still try anyway.)
But really, keep trying. You never know when you'll get one. But covers, reviews, and that kind of thing really do help. I also mention in the comments if a book was chosen as a Barnes and Noble top indie book or something like that. Any little bit helps.
Q. And it looks like you write rom-com, too? Is your Off-limits series YA or Adult?
A. YA
Q. How does your book get chosen as a B&N top indie book? Which one/s?
A. My Starlight Ridge books have all been chosen as a B&N top indie favorite upon their release. Applying to promotions before their release help make their team aware of the book, which is why I think they've been chosen. Barnes and Noble has real people looking at the books, not an algorithm.
Q. Can you share with me, more or less, the power of Bookbub in numbers? Approximately how much spend for what kind of revenue can it bring? And when did you run yours?
A. This can vary between each promotion, but I generally get close to 3x my investment. Bookbub doesn't carry the power it used to, and the tail usually lasts about a month it seems. I had three last year and have had one so far this year. There is also a difference between .99 and free bookbub deals.
Q. Which one is better?
A. The free one for sure, at least for me. It's less expensive and you have thousands of people downloading your book. Even though read-through is super low for these kind of promotions, there is power in numbers, you know? Only one of mine last year was a free one, and I plan on only doing free for now on. Unless it's a boxed set, maybe.
Q. Argh, so many questions, so little time. It's been so great chatting, but time's up, so I'll let you go. Any parting words of wisdom for a fellow author wanting to up their game?
A. It's okay to be slow. Focus on nailing down one thing, then move on to the next. Don't compare, just focus on running your business in the way that makes you happy, and the rest will come.
Q. I love that. Thank you so much for your time! It's been a pleasure. Congrats on your well-deserved success!
A. Thank you Jewel!
---
Check out Kat Bellemore's website and her books on Amazon.
Get the tools you need to write and publish fast for profit through my Rapid Release series for authors. Read my novels here.