As it was Sunday, we tuned in to our church's Zoom meeting at 7:30 a.m. (10:30 a.m. Utah time) and then set off on the Road to Hana. It's true what they say about that highway–it is both a pretty drive, and harrowing too, with single-lane bridges and turns with blind curves. Amazingly, we did not witness a single accident. Drew handled the roads like a pro.
There were waterfalls galore–all that water! To a desert dweller like me, so unfathomable!
We stopped at numerous overlooks, including one at Honopou Point. The wind was so brisk it blew my mask away. (People here mostly social distance, but on trails and such, not so much.)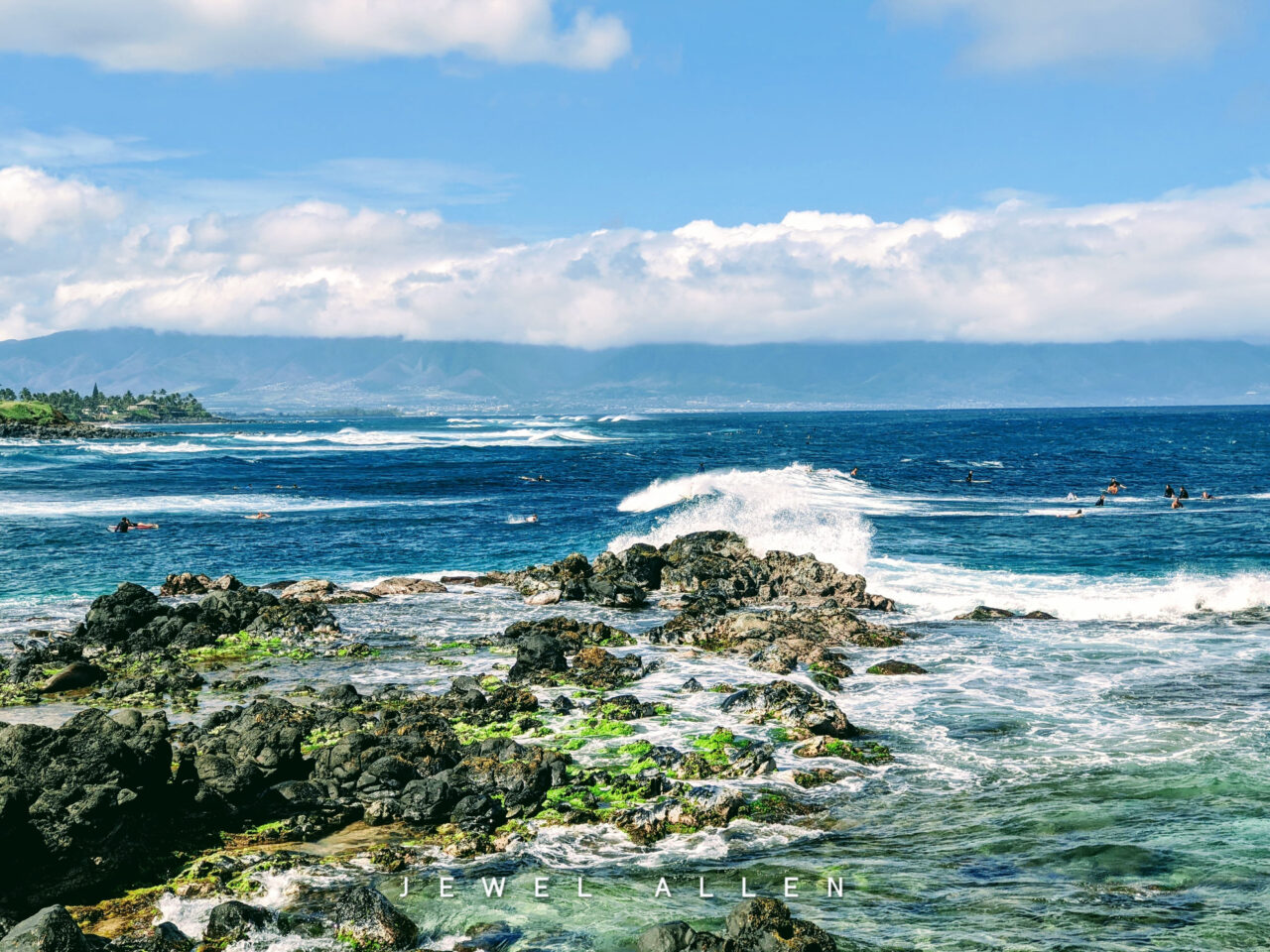 In the distance, surfers waited in the blindingly blue waters for the perfect wave. Numerous signs warned against the undertow.
I made my hubby stop a couple of times so I could take a picture of surf boards. I have this thing for them, apparently.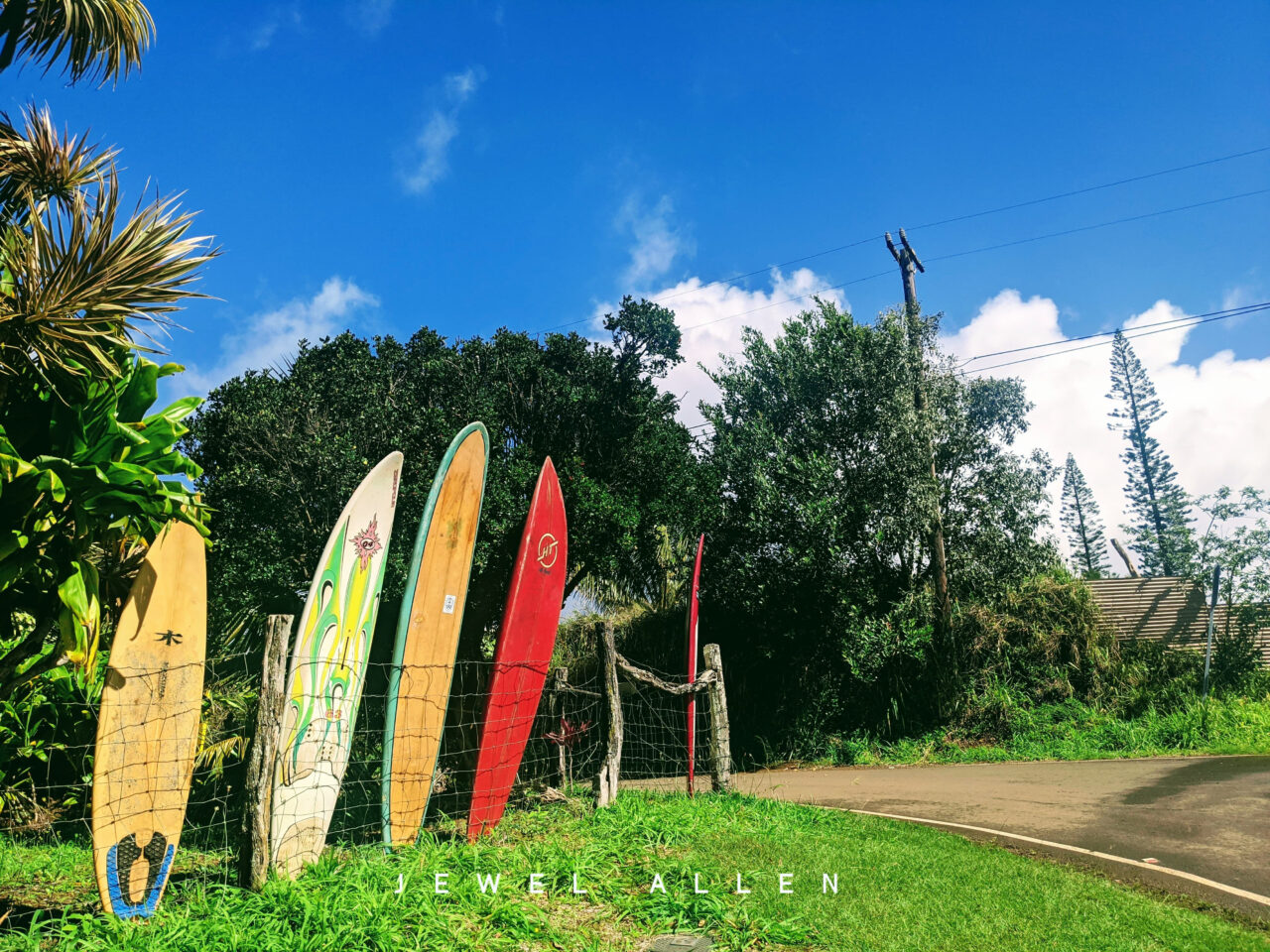 And another, at a store called Jaws. A fence is a great way to repurpose surf boards.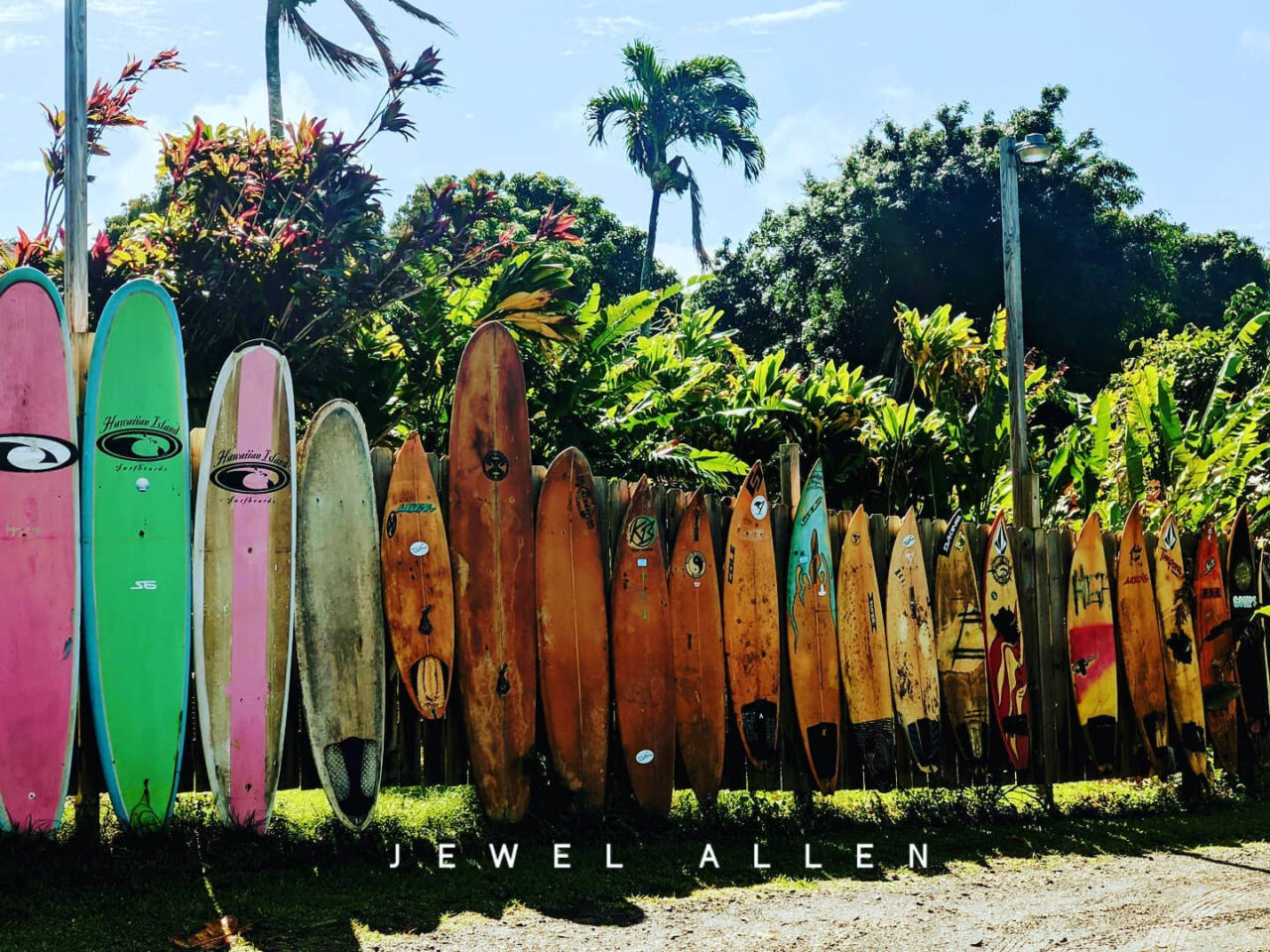 The road to Hana is dotted with several waterfalls. We hiked to one called Twin Falls. Along the hike, we passed ancient trees covered with moss and vines.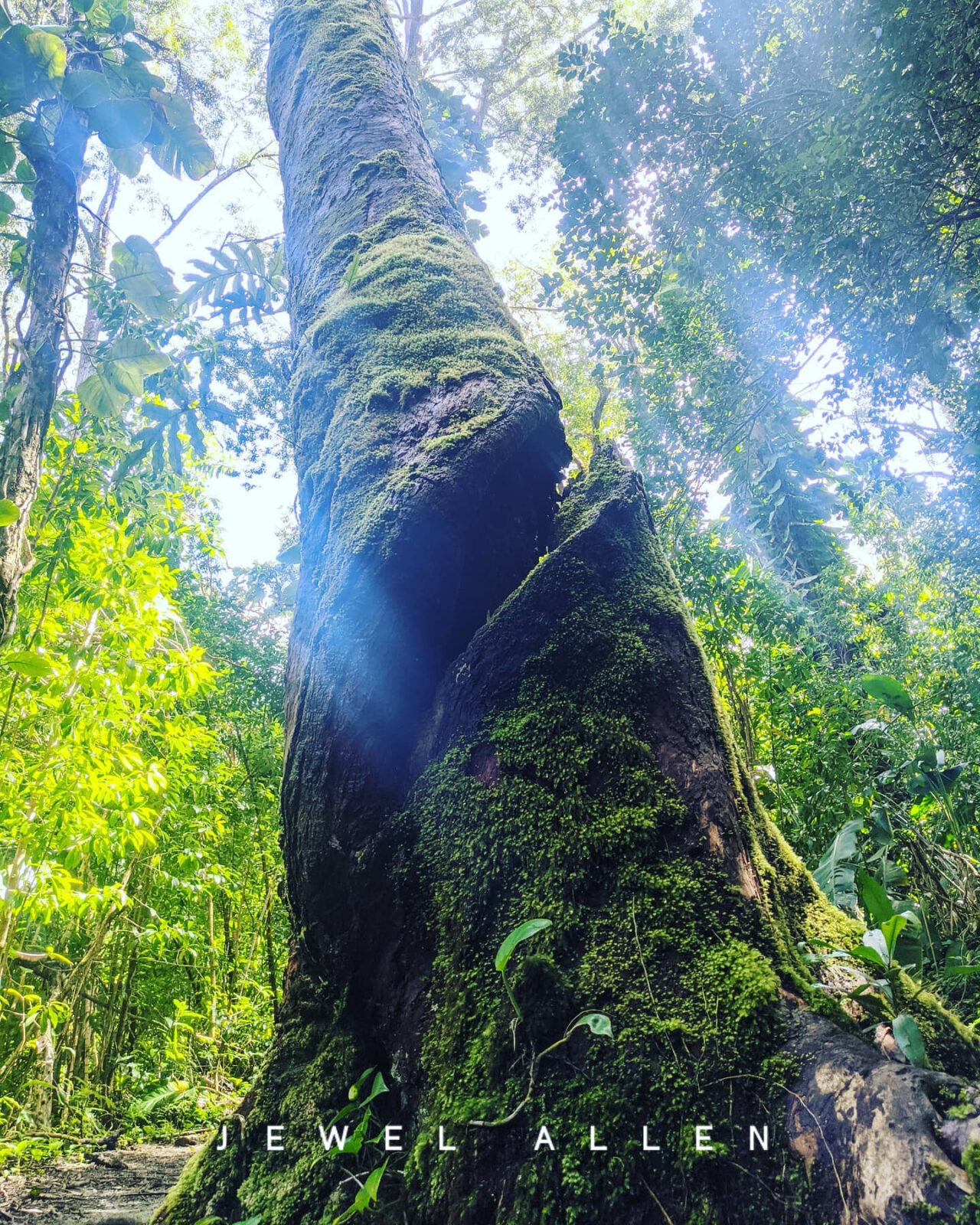 Hana waterfall hiking tip: sports sandals are way better than actual hiking boots. You will cross at least one stream and will get very muddy. Mine are Bedrock Cairns (highly recommend!) and Drew's are Teva's.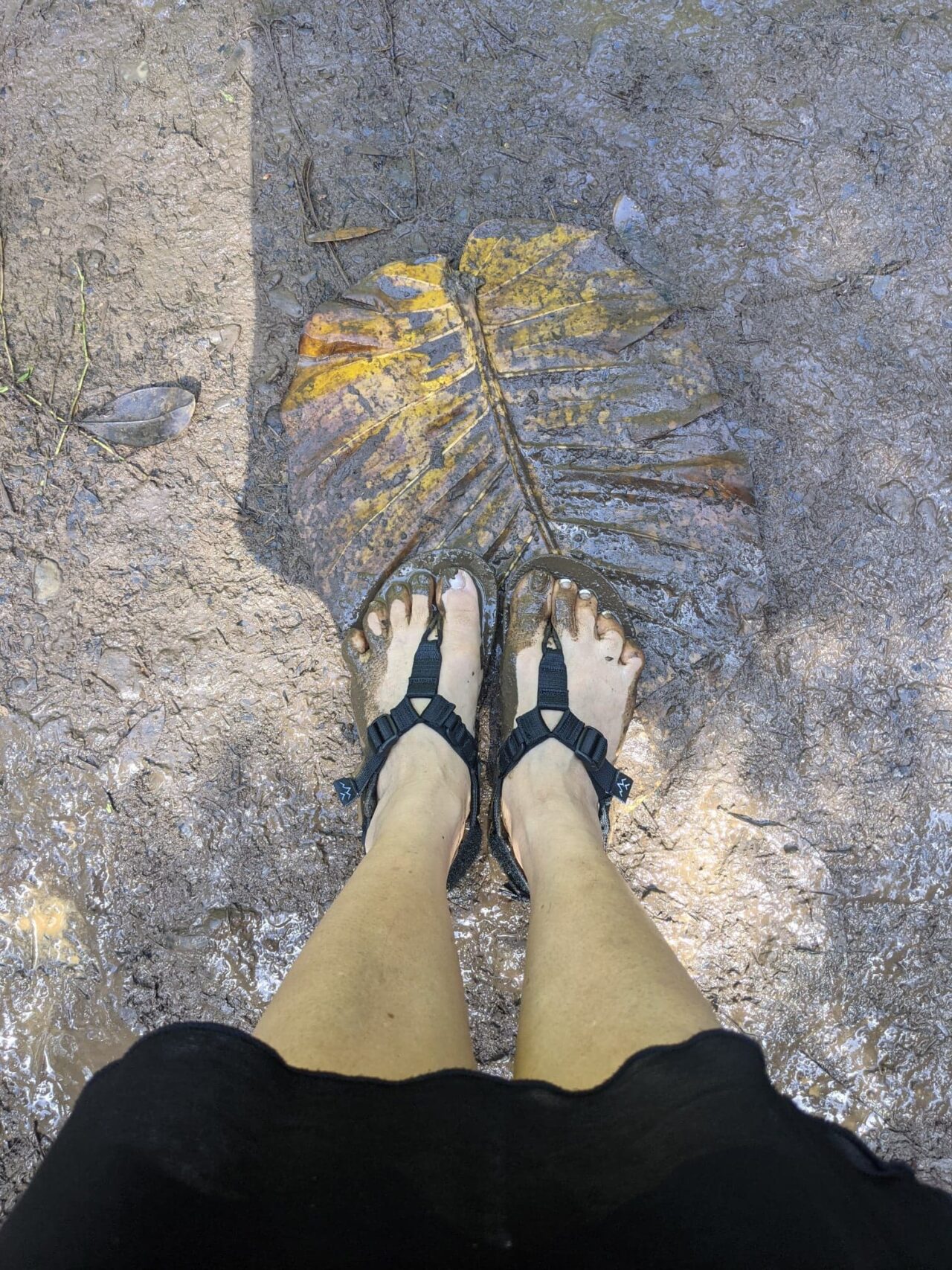 I love this pic below, of a leaf in the stream, with the reflection of the sun in motion.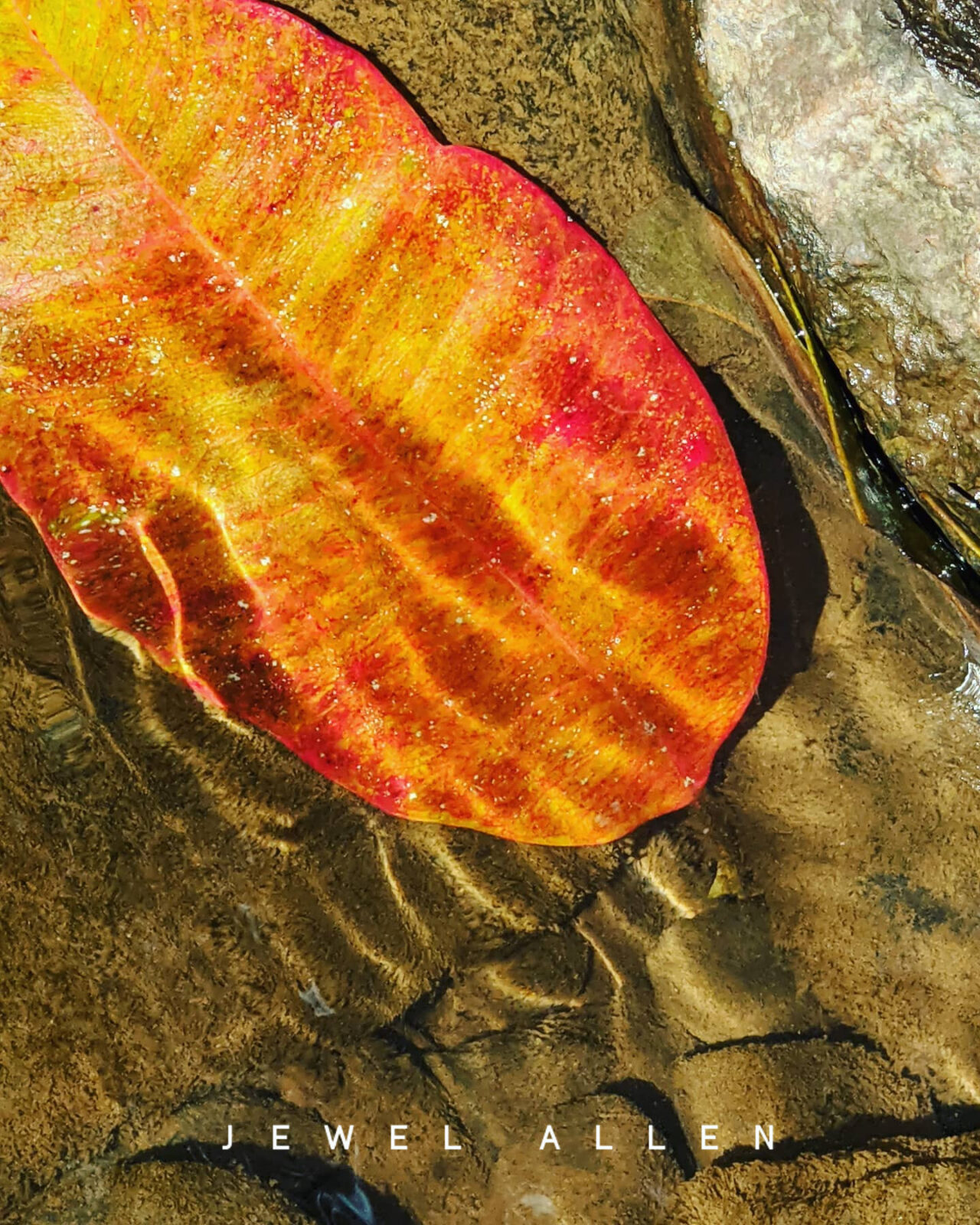 Finally, we reached the waterfall. Being at sea level after coming from Grantsville's altitude (4,300 feet) made hiking to the falls a piece of cake.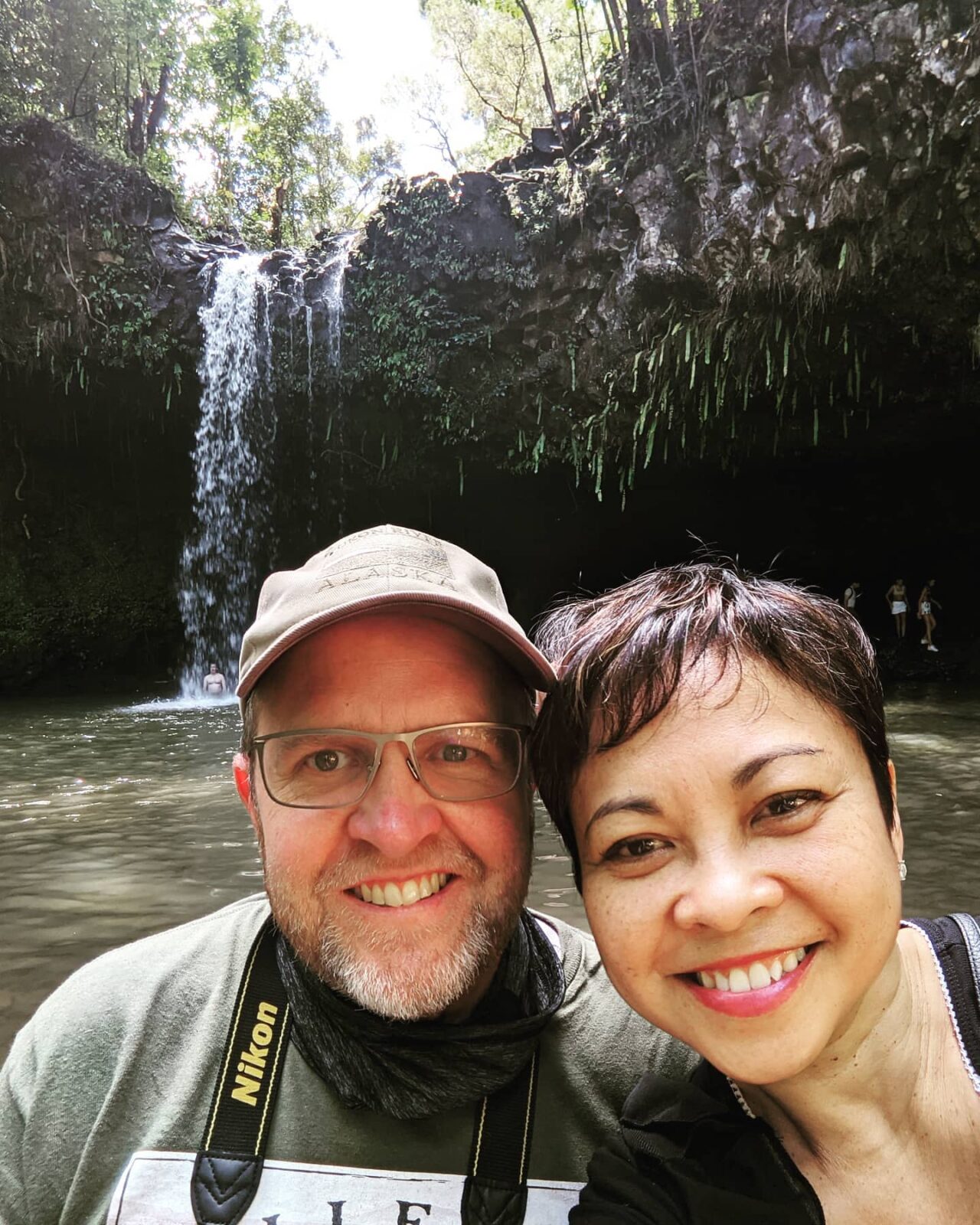 Other highlights of the drive to Hana: Mongoose darted across the road. Bright red birds flew from branch to branch. Narrow, towering pines flanked the roads.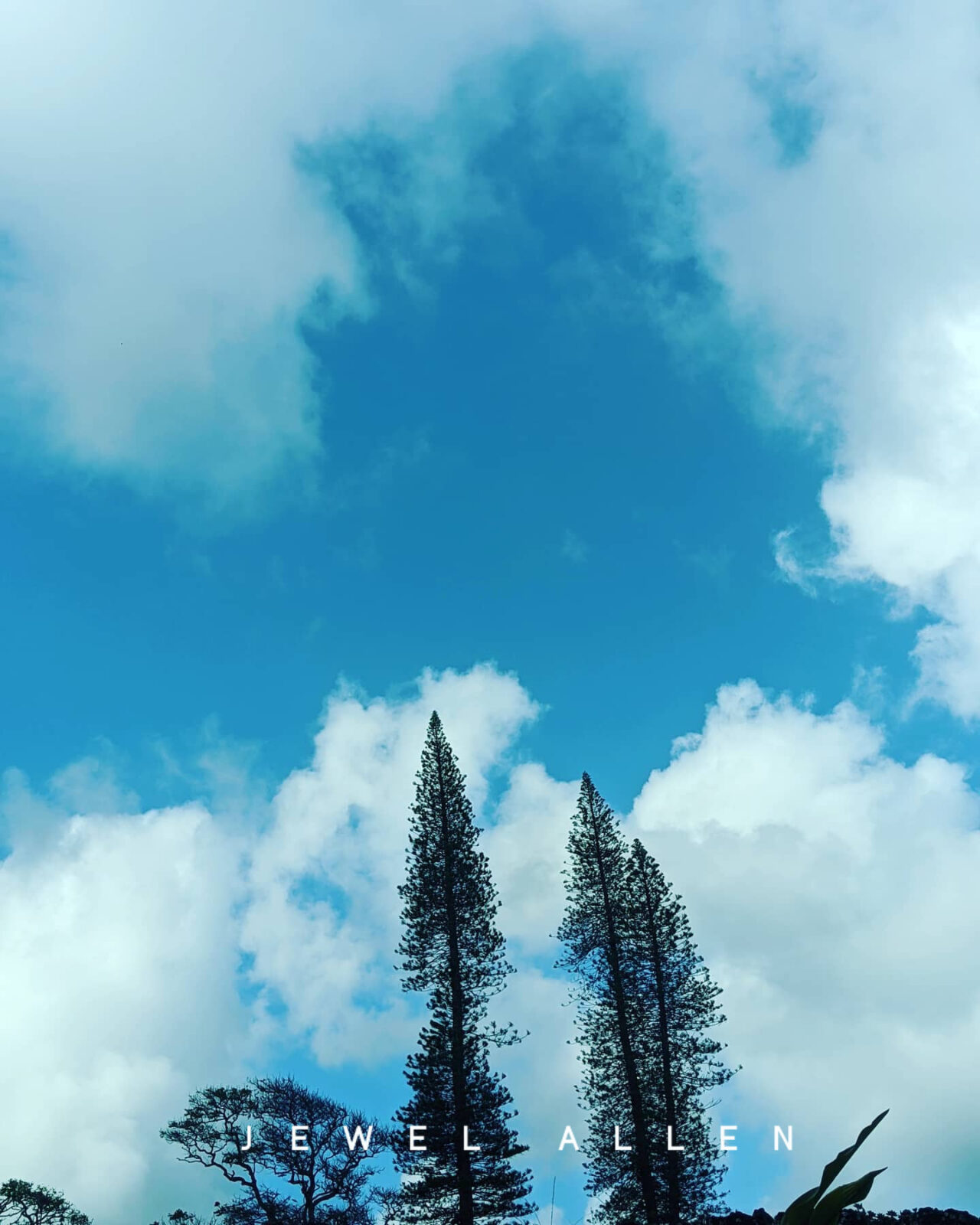 At the start of the Road, we discovered that we couldn't get a signal. So any of the websites we were going to rely on were no longer accessible. We went ahead and simply drove to see who was open (not very many are, on Sundays, and we could not fault them). I passed on coconut juice early on because I wasn't hungry yet.
But later, Halfway to Hana (also the name of the store), we stopped for banana bread and pineapple. Drew had a Kahlua pork sandwich. I got guava jam as a souvenir. It drizzled while we ate at our car. It rained on and off all day, just enought to be refreshing. A quick little shower, and then it was over. The pineapple was surprisingly bland, even though I could smell the ripeness of the unopened ones.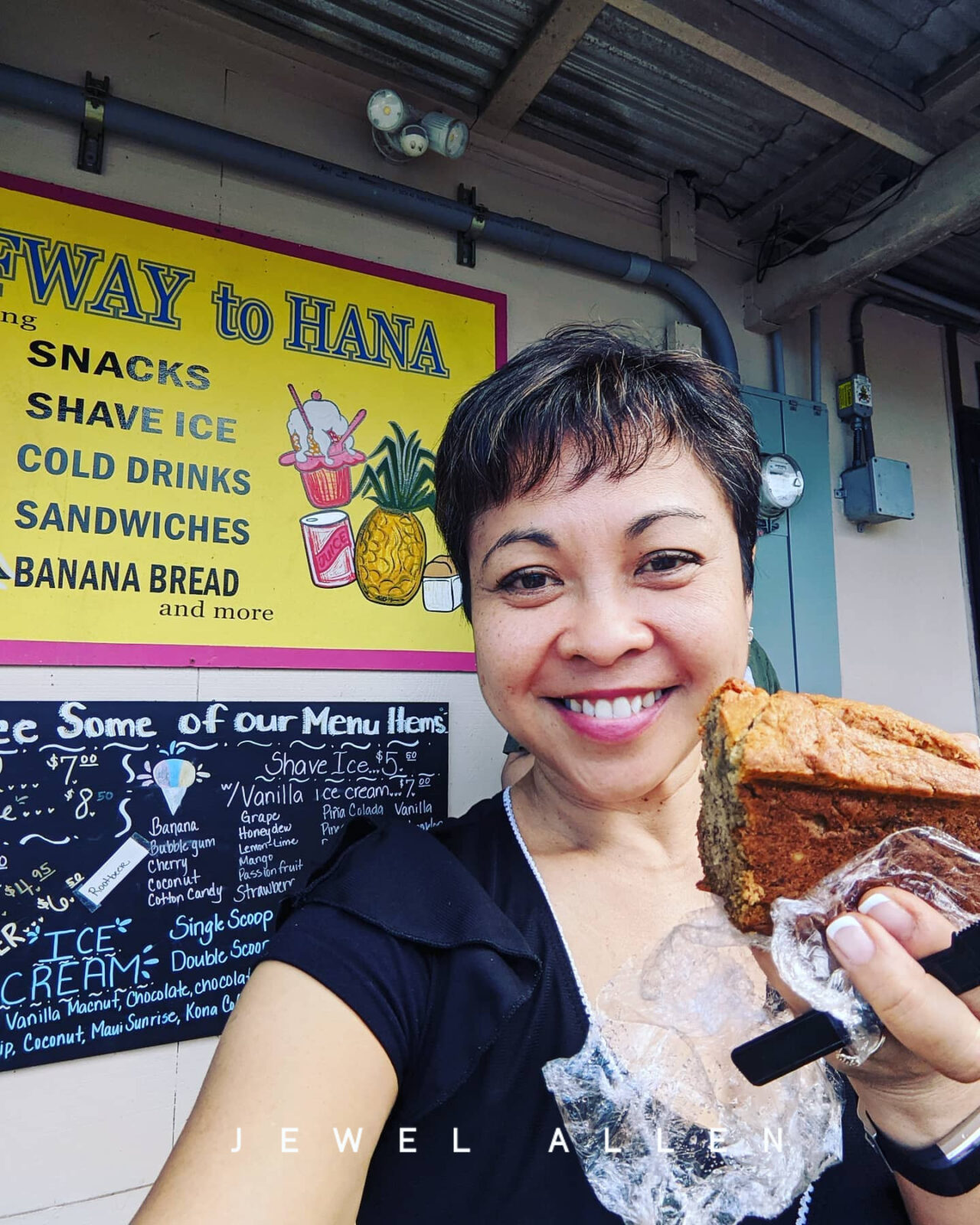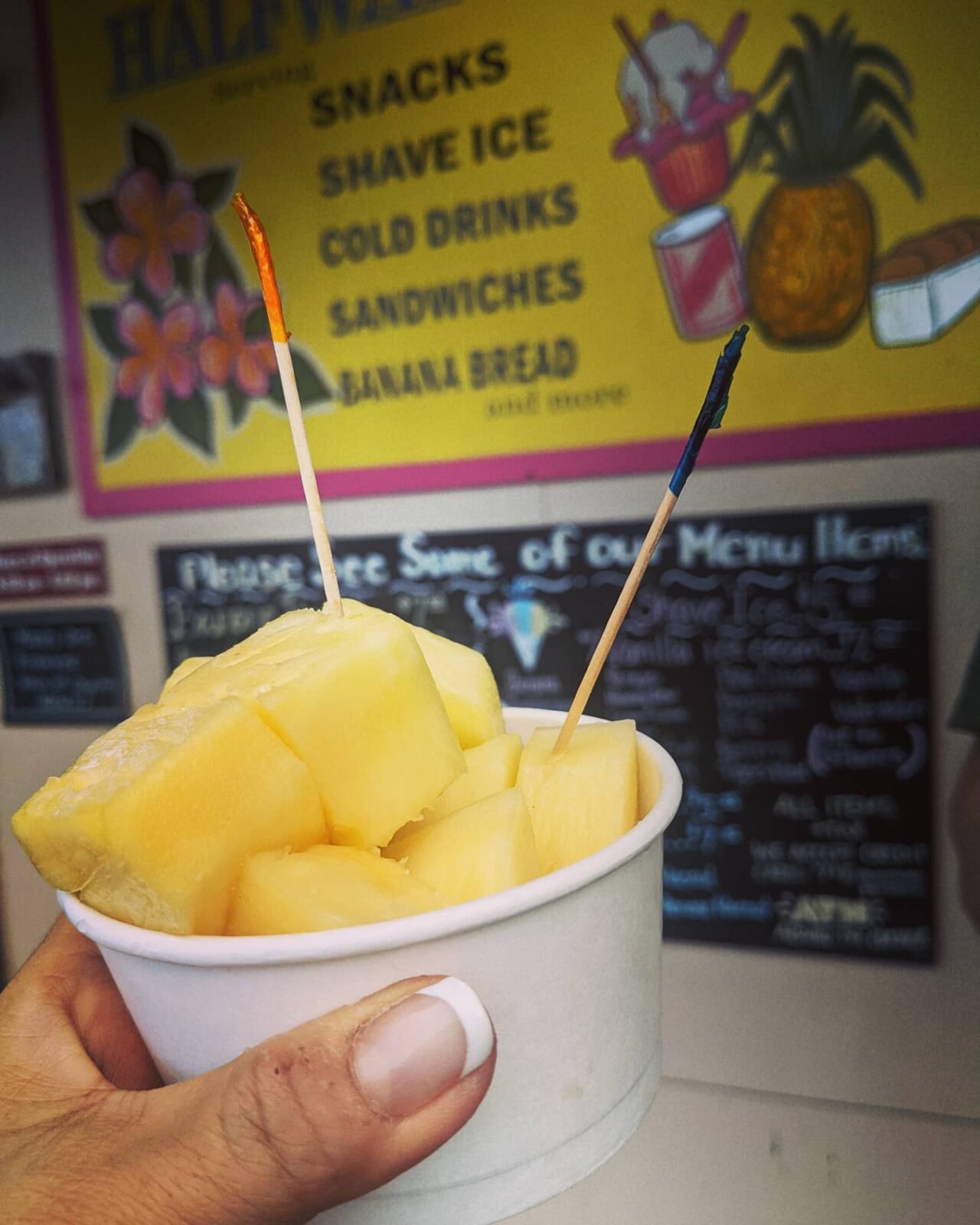 Such pretty countryside. Low walls made of black volcanic rock delineated some of the pasture, reminding me of the winding little roads in Ireland when we visited my sister there in 2014. The picture below was one particular scene. I could imagine a Hawaiian cowboy living out his dream here.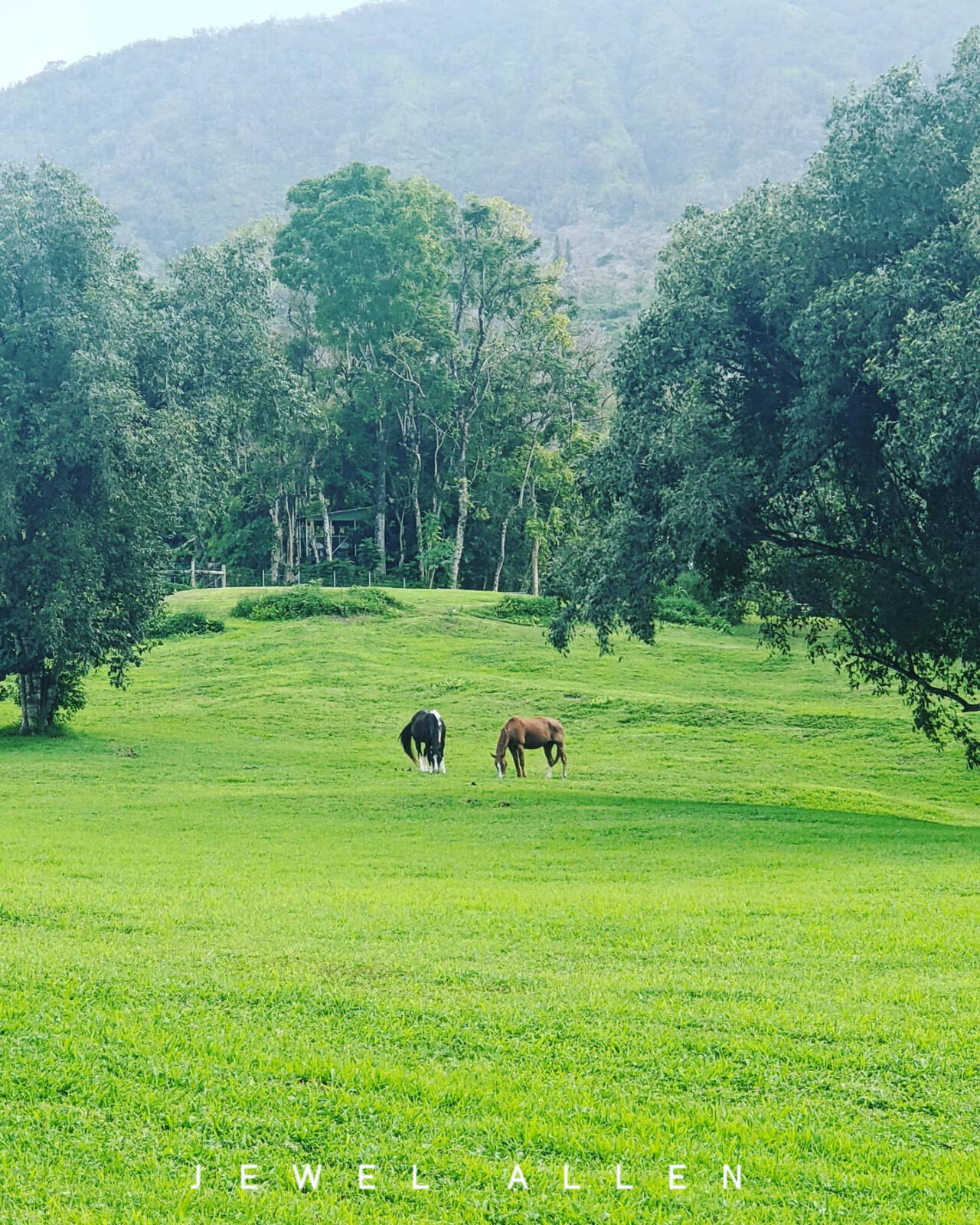 By four p.m., we entered the small city of Hana, population 782. There are two main roads, and our B&B, Hana Inn (formerly Joe's), was on the bay side. Air-conditioning, with the ocean breeze, was unnecessary.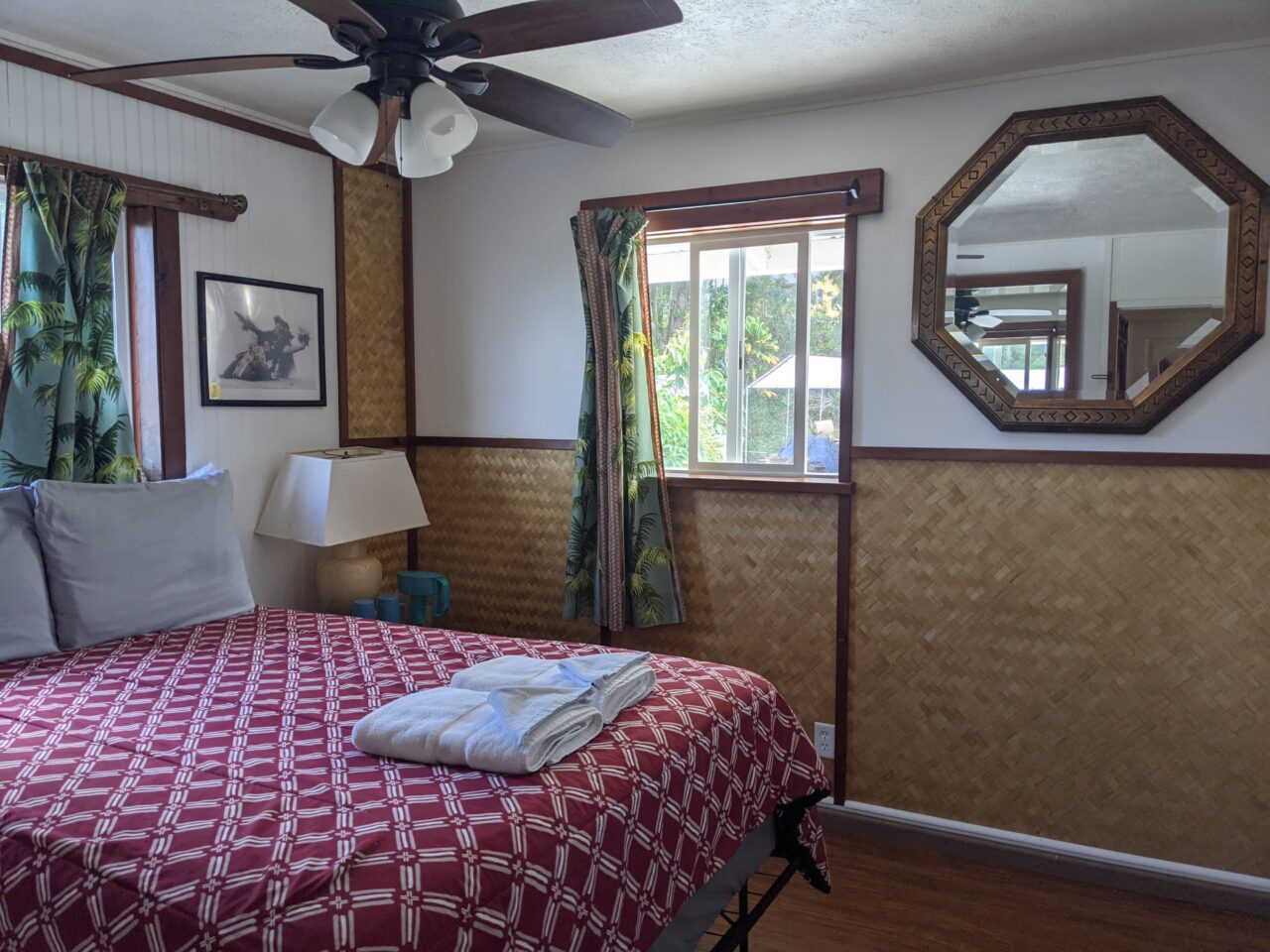 We drove around to find places to eat and came upon Koki Beach, where Huli-Huli chicken (roasted over a wood fire, I believe), unfortunately, was closed. Further down, a group of twenty-somethings were out carousing while a few intrepid souls braved the crashing waves.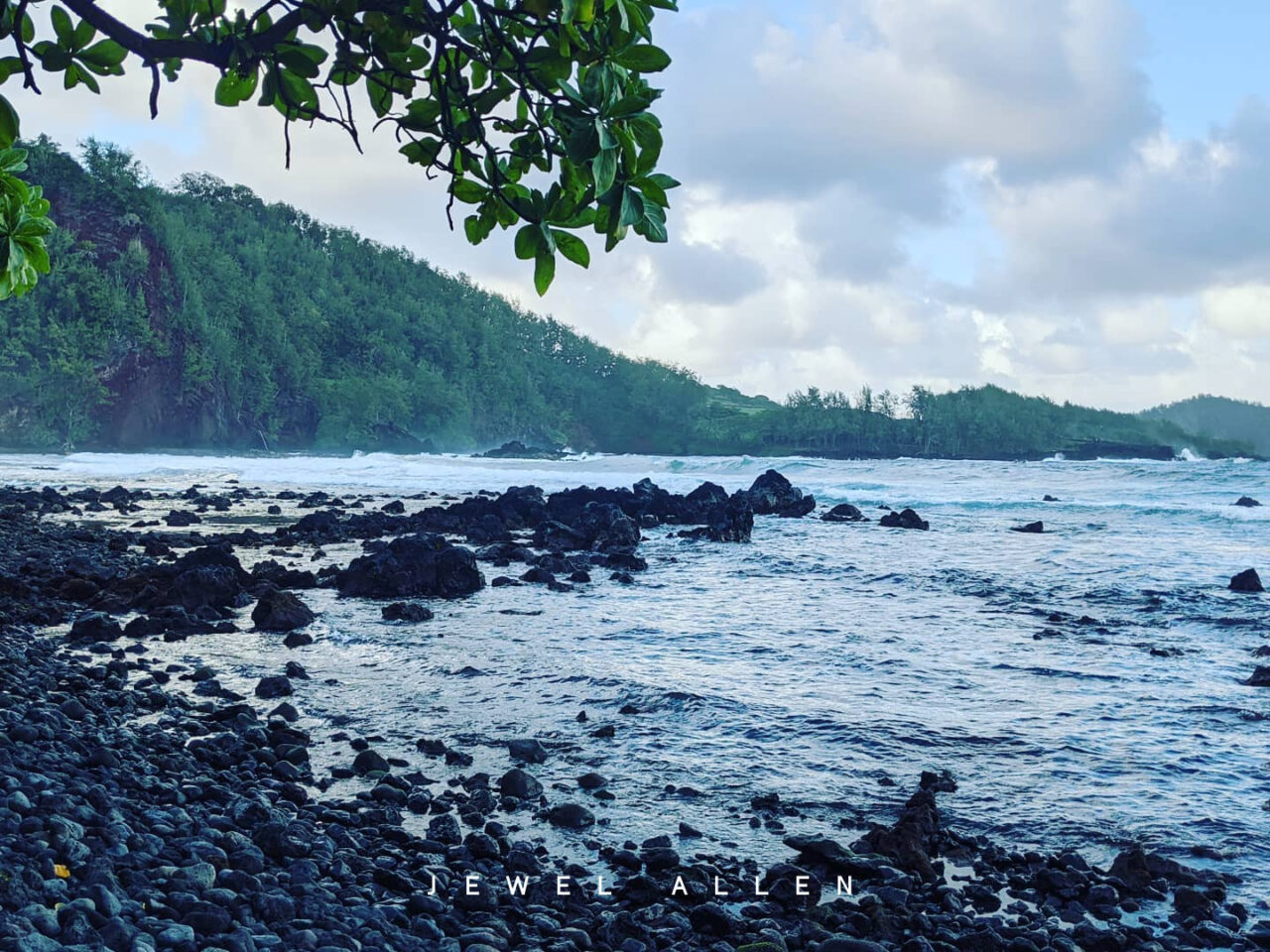 Like most, many restaurants here are closed on Sunday, so good for them. We were able to get dinner near the general store, where food trucks were set up. I had a wonderfully light papaya salad and pork belly from a Thai food truck. Drew had chicken enchiladas. We also shared a dessert of banana rolls (fried turon).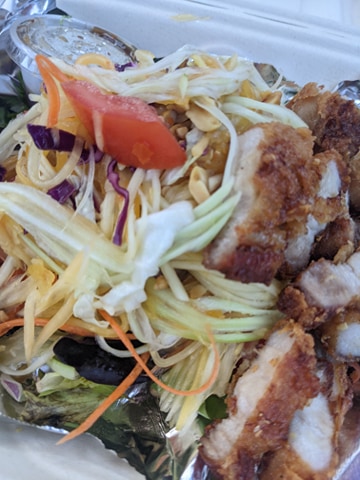 We took our meal and finished it at Hana Beach. For this trip I had gotten a beach mat (more like a tarp for tents) from Amazon. We sat there in companionable silence as the setting sun from across the island reflected off the clouds. Curious about the water, we waded for a bit. I expected the water to be tropical warm but it was not. With the colors fading, and the park officially closing, it was time to head back to our B&B.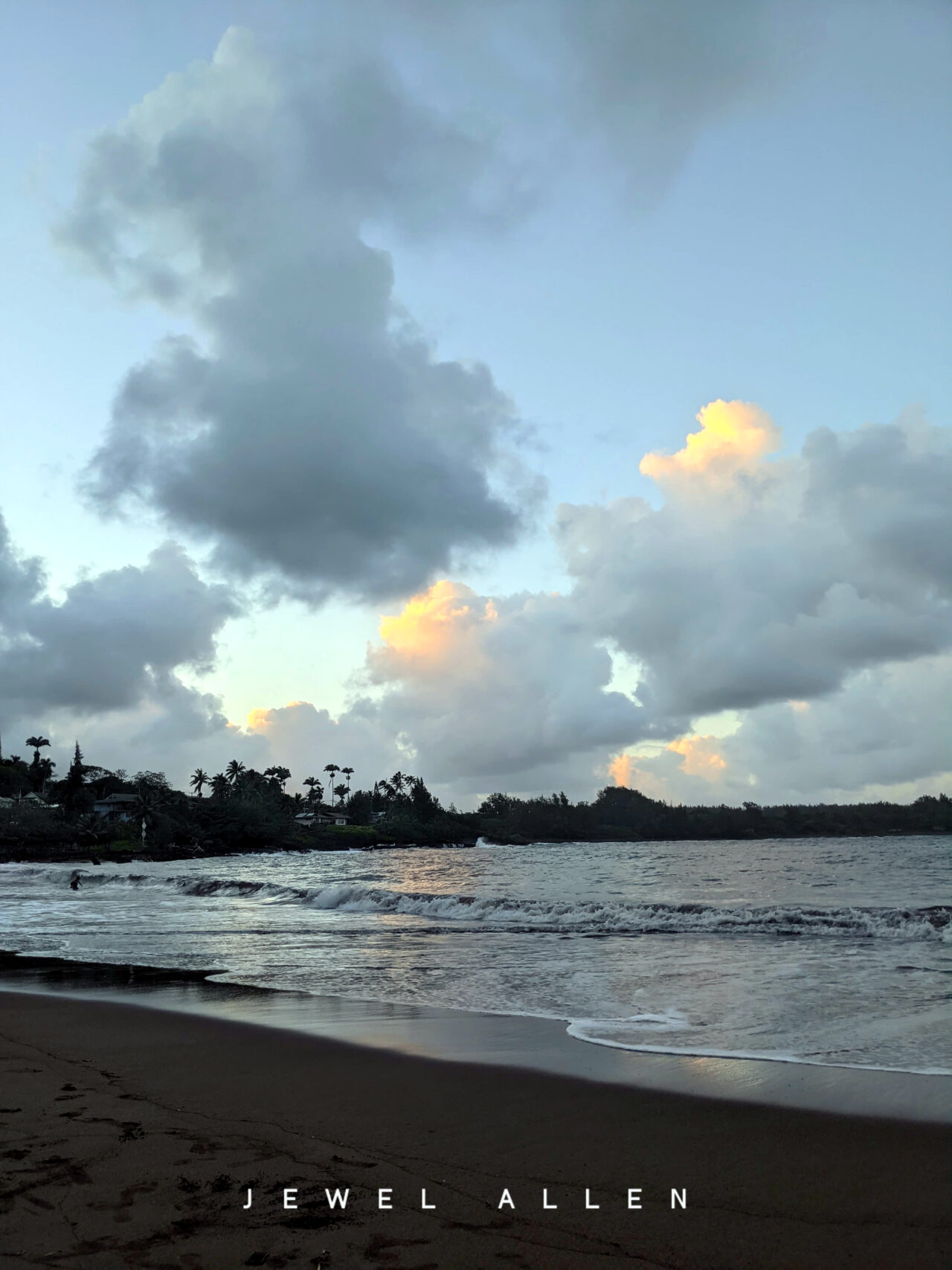 It was only 7, but the city was pretty much done for the day. Not much night life in Hana, which is just the way we like it. I wanted to walk, so we did it for a little ways but there aren't very many sidewalks to speak of.
After scaring myself silly that Drew sounded like a vampire, me jumping at the sound of a flier flapping in the wind, and, after turning on my phone flashlight and discovering that it was a flier for a missing person, we burst out in hysterical giggles and hightailed it back. As though to provide a little antidote, we gravitated towards a pretty, white building and discovered it was a Church of Jesus Christ of Latter Day Saints building!
Tomorrow would have been skydiving, but the company postponed due to the wind. So we are rescheduled for a later day this week. Crossing our fingers. Perhaps tomorrow we will actually spend some time catching rays at the beach.
---
Jewel Allen is the author of Travel Journals. She also writes novels.