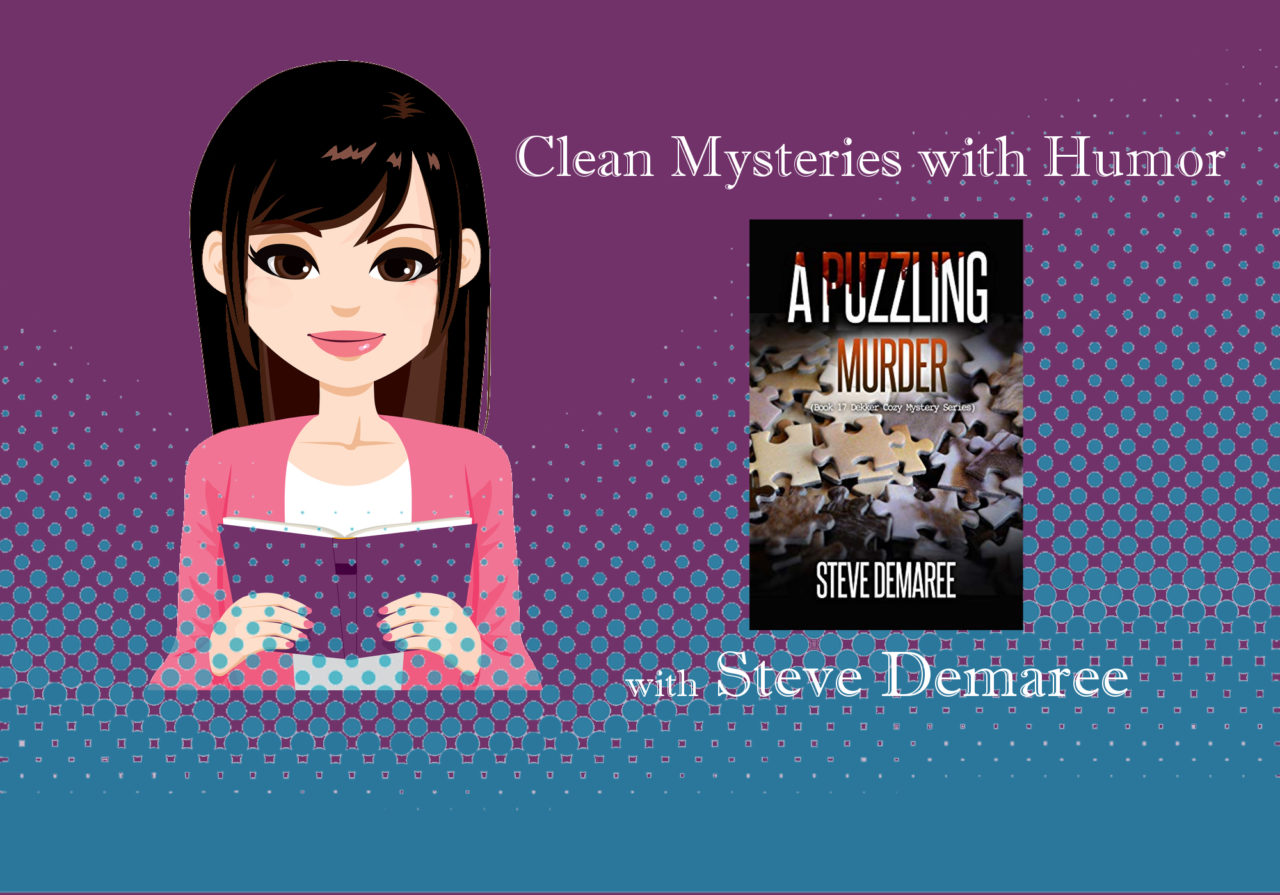 Steve Demaree is the author of clean mysteries with humor. He will chat about his experience advertising on BookBub (and snagging 700+ reviews over the years on at least one book), how he drafts & revises his mysteries, and how to write funny.
---
Q. Thanks for chatting with me today, Steve! How is your BookBub promo day going so far?
A. Not as well as I'd like, but I'm sure a lot of people would be satisfied with these numbers. It's just that I've had better, but I've given away this book several times before.
Q. Which book is this?
A. Murder in the Winter, the second book in my Dekker Cozy Mystery Series. The problem is that around 300,000 people already have this book, and the e-mail only goes out to 900,000 people.
Q. 300K! That's quite a few people. That number is an accumulation of how many other BookBubs?
A. 3 or 4, plus the people who have bought the book as an e-book or in paperback. One time over 70,000 people downloaded it.
Q. Whoa. What month/year and what promo was that?
A. I believe it was a BookBub in February or March of 2014.
Q. What kind of read-through/sales did you get from that? And what do you think has changed with BookBub promos since?
A. I sold over 300 of my other books that day and good sales continued for a while. There are more books and more authors competing for readers attention now than there were then. Plus, like I said before, so many people already have the book, and many of my other books, or they aren't interested in them. I had a new book come out on Saturday and it has sold well.
Q. Yeah I saw that, congrats! We shall chat about that in a minute. So for the BB newbie… how much did your ad cost, and what kind of ad have you tried with this book? And what is the secret to getting a BookBub slot?
A. The one for the free book, Murder in the Winter, cost $290. It didn't cost anything for BB to let my followers know that I had a new book. I don't think anyone knows the secret of getting a BB slot. You need a good book and a good cover. That's for sure. And you have to be flexible with your dates. But some of it is luck. You hope you don't submit when everyone else is submitting. BB seems to like some of my books, but not others. I'm changing the cover on one book they have never taken, which is actually one of my better books, to see if they will take it with a new cover.
Q. Great advice. How many books have you published, and since when? How did you get started as a published author?
A. I have published 31 books and have two more I plan to publish in the next three months. My first book came out in 2000. When I wrote my first book, I asked four authors if I should self-publish or submit it to a publisher. Thee of the four told me to self-publish and I have never regretted that.
Q. Cool. I am looking at A Puzzling Murder, Book #17 of your Dekker series. Is that your latest one?
A. Yes.
Q. I read the blurb and immediately glommed on to the word "hilarious". How would you describe your cozy mysteries in a sentence?
A. They are clean mysteries with humor. I have had women tell me they can't read my books in bed because their laughter would wake up their husbands.
Q. Ha ha ha. That is a hoot. In your series, do you use the same amateur sleuth? If not, how are they connected?
A. I have two detectives who are more messed up than I am.
Q. LOL What is your process in writing a series? By the book and by the series? How often do you publish?
A. If you mean by process, how do I write. I sit down at my desktop computer five days a week. I usually finish a first draft in three or four weeks, let it set for a while, then do a few edits before anyone else sees it. I usually write two Dekker books a year, but last year I released only one. This year I will have two Dekker books and two stand-alone mysteries that are nothing alike. I might even have another book that is not a mystery, a fifth book in another series. I wrote a lot last year, even though I released only one book.
Q. So you are writing multiple series at a time? Or you did the one book in all your series?
A. I don't usually work on two books at one time, but last year I did. Surprisingly, I feel it easy to keep them separate. Most of what I have written lately though is the Dekker series. My Dekker books have been what has paid the bills. I don't like to brag, but I've sold enough of some of my other books to be able to go to McDonald's for breakfast once a month.
Q. Do you stockpile manuscripts? Is that what you mean by "writing a lot last year, even though I released only one book"?
A. No. They just needed more editing and I wasn't about to release them in November or December.
Q. Ah, okay. So…what is the recipe for a humorous cozy mystery that sells?
A. I believe that God gave me a vivid imagination and a sense of humor. My readers, most of whom are women forty and over, love the humor in my books more than anything else. They also love my main characters and the fact that my whodunits are hard to figure out.
Q. Do you plot out the mystery portion before you draft, or…?
A. I did enough outlining in high school. I usually know a little before I start, but not much. I begin to write and trust God that the book will be a good one. I have found a certain segment of the population who enjoy my books. I have never had writer's block.
Q. That sounds fun! I wish every book for me was that way. Is author your only gig or do have another job alongside it?
A. Well, I do take a couple of naps a day. I'm the only person left in the world who exercises on a Wii, and I've been known to eat. But I don't do anything else to make money. And I try not to get on my wife's nerves too much. Somehow, she has put up with me for fifty years.
Q. Naps sound good. Do you have a favorite setting for your cozies and why?
A. Most of mine are set in a fictitious town, but sometimes my guys solve a murder in a town that people know about. They have been set in a couple of different places where people in the eastern part of the U.S. are known to vacation. I've picked up some new readers that way, and most of readers have tried those places on vacation.
Q. Tell me about your covers. Who does them? If not you, do you give any input at all? Great branding, btw.
A. Actually, I pick out the picture and the font, and a guy in Spain puts them together for me. My wife and I usually choose a picture we both agree on. At least, that has been the case lately. In the beginning, an author/photographer friend did my covers, but he got too busy to do them.
Q. What is your revision process like? Is it easier or harder than drafting?
A. All of them are easier except the last one. My final edit and formatting the book is always very stressful because I know so little about computers. My wife does my formatting for me, but she doesn't know as much as she should. The first few edits are actually a lot of fun. And of course, I'm always afraid my proofreaders and editor (and me) won't catch all the mistakes.
Q. Looking at your backlist, I believe you have written nonfiction too? Do you write in other genres, and what?
A. I have two nonfiction books, an autobiography and a Christian daily devotional. Those are the books that don't sell well, even though I think they are two of my best-written book. I wrote some books of inspirational short stories to start with, which is definitely my worst writing. I have a series of four books that I can't describe. All I can say is it is about a neighborhood that everyone says they would love to live in. It is kind of a feel-good, humorous series, with a little romance. Some people love it. Some won't touch it. Almost every month, all of the Dekker books are my top-selling books. Seldom do any of the other books outsell any of the Dekker books.
Q. I love your descriptions. Your Amazon categories mention animals. Do most of your books have them (which kind?) and do you have pets in real life (what kind?)?
A. In the last two Dekker books, a dog becomes a major character. I'm allergic to dogs and cats, so we don't have any pets. My wife would love to have a dog.
Q. Aww. My husband wants one too. We've had them before but I am kind of taking a break right now. What percentage of your author income a year do you spend on advertising? What has been the best bang for the buck in cozies?
A. I don't spend a lot, except when I can get something with BookBub, which is by far the best. But I will probably do more this year with Freebooksy and Robin Reads. I don't know enough to do ads, and a lot of people don't find them profitable. I stay in touch with my readers on Facebook and on my Author Page, and I think that helps.
Q. You do a newsletter too?
A. I've never done one. I had a website once for six months and didn't sell a single book. Of course, that was before I had e-books.
Q. Last question…what is your advice to an author who wants to put more humor in their books?
A. Make sure it sounds normal and not forced. Get feedback from people who don't know you. Do they think it's funny? It has to add to the the book, not take away from the book. I'm sure that the fact that my stand-alones don't have humor and the Dekkers do, keeps some people from reading those other books. But I know there are people out there who don't like my humor. The thing is, people need to try things. The only way to fail is to fail to try. Some people go to their graves with their music still inside them because they think that people won't like the tune. Somewhere out there, there are people who will want to read what you write if you have a talent for writing, but not everyone is going to like it. Even those who make a lot of money have their critics. Be yourself, but don't waste time!
Q. I love your advice on the music still inside them!
A. Every now and then I come up with something good. You just have to sift through all the other stuff until you get to it.
Q. Thanks so much Steve! It's been fun chatting with you. Best wishes to you on your BookBub and new cozy!
A. I've enjoyed this.
---
Check out Steve Demaree's Amazon page.
Subscribe to my newsletter for Q&A alerts, writing tips and publishing news. Check out my books.