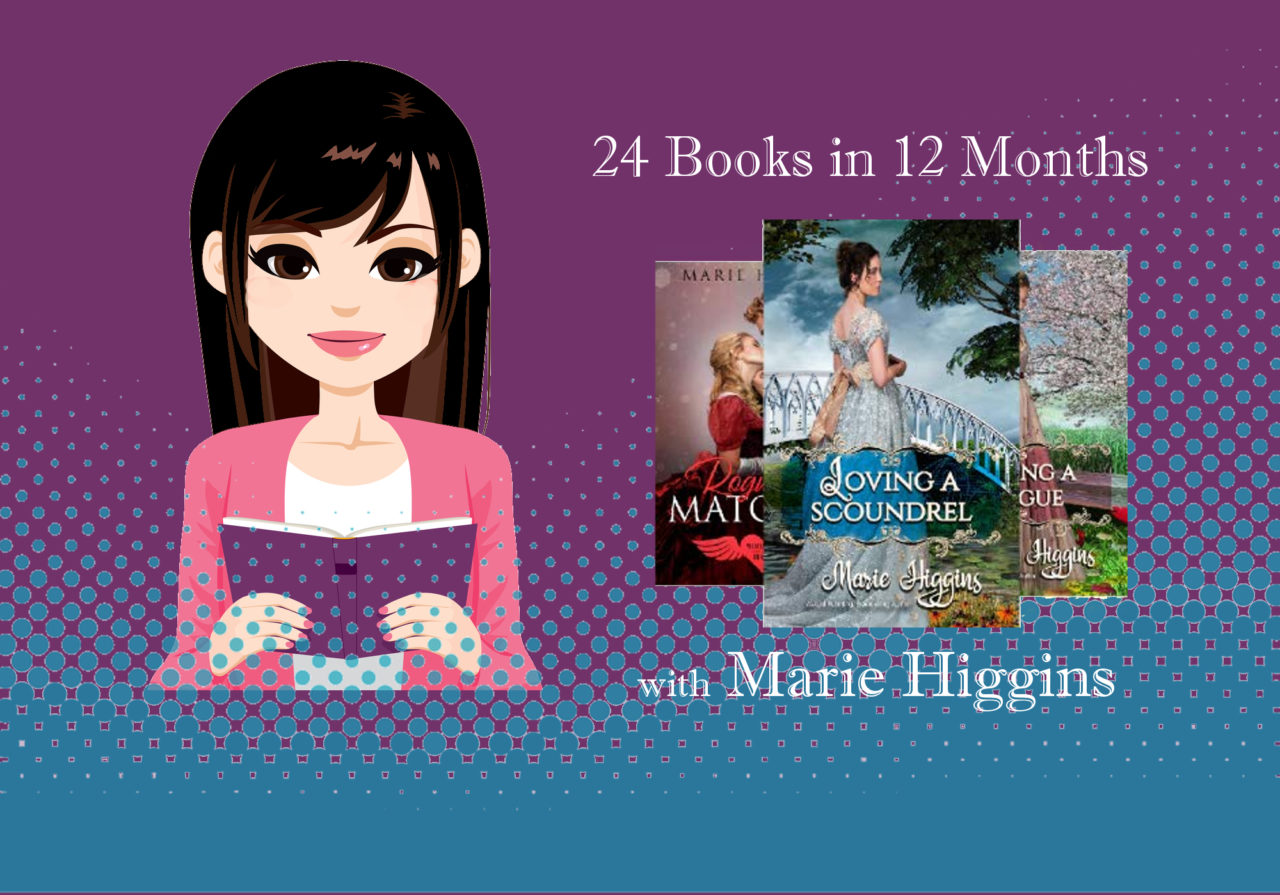 Marie Higgins is the author of over 70 historical western, Regency, and contemporary romances. She will chat about how she published 24 books in 12 months, how she maintains this publishing schedule on top of another full-time job, and how screenwriting is different from novel-writing.
---
Q. Hi Marie! Thanks for getting with me at the end of what was probably a busy day. What is something interesting that happened to you today?
A. I found myself hooked on a TV series on Netflix – not good – and today I forced myself to have a free day from that addicting show. The TV series is "Haven" – and I don't even like Sci-Fi. Go figure! So… I have been writing my romantic suspense movie-script.
Q. What the– a movie script! Tell me more, if you are at liberty to say.
A. A few years ago I decided to learn how to script write after being on the set of Jenni James' movie and I was interviewing the cast and crew of the movie and it got me excited to try it myself. 2020 is the year I'm going to do more and get my scripts in front of movie producers. I'm determined!!
Q. Yep! I saw that blog post of you being on that movie set….fun! We will go back to that soon. But first, I wanted to ask you about a post of yours that piqued my interest…and that was, you had published 24 books in 12 months. Correct?
A. Yes!
Q. The calendar year of 2019 or…?
A. Yes. I have a spreadsheet of all the stories I had published and on what dates, and I had counted 24 from Jan – Dec 2019.
Q. Congratulations! Was that the first time you have ever published that many in a year? Was that a record for you?
A. That was a record… and I'm still alive to talk about it. AND… I still have many more ideas in my head.
Q. For comparison, how many had you published other years?
A. In 2017 I had published 11 books. I thought that was my record. Before that, I think if I published 8 a year, I was on fire.
Q. No kidding. What year did you start publishing, and what got you into it?
A. I have been writing since 2005, but my first big break was in 2010 when I signed on with a Christian publisher who had four of my stories. In 2012, I started hearing about how indie-publishing was on the rise, so I decided to hop on the ride, and I haven't regretted it.
I've always loved romance and because I had 'movie-like' dreams, I decided to put them into stories.
Q. The 24 books you published in 2019… what kinds of books were they? Looking at your Amazon page, I suspect they were different genres?
A. Yes – different genres. I published a few Regency, many billionaires, and many historical westerns. Oh, and one ghost romance.
Q. That is fun! I'm super interested in writing Regency. Had you written it before 2019? And how did you prepare to write it well?
A. I loved reading Regency and Victorian stories before I started writing. Historical is my first love. So yes, I had written Regency before – like back in 2012 or 2013.
Q. How do you write historical and contemporary without mixing up the language/style? Because to me they seem really different.
A. They are very different. And sometimes I do mix them up. That's what my editors and BETA readers are for. But most of my readers know that I'm not a history book – so my stories aren't going to sound 100% authentic. But the readers definitely feel like they are in that timeframe.
Q. Ha ha, good idea using betas/editors. Do you have any rituals or a special place or something that you do to prepare for either type of writing?
A. I write at my desk on the computer. I can't write anywhere else. I take down notes on a notepad, but I write either at home on my PC or at work on my computer. No rituals, though.
Q. Ha ha, no sacrificing a Hershey's chocolate bar?
A. I eat that all the time (Hershey's Kisses with Almonds) so it's nothing special for me. lol
Q. Speaking of work…one of the things that floored me about your productivity is that you have another job besides author. Tell me about that.
A. I'm a secretary in an office full-time, Mon-Friday, 8-5. Our office is small and we have two counselors and one supervisor and me. Sometimes I'm caught up with my work and the office is slow, so then I'll write until more work comes in.
Q. Nice! So when do you write at home? How many words are your books on average and how fast do you draft them?
A. I write in the evenings at home, after dinner. My books will range anywhere from 25,000 words to 70,000 words. Most of the books last year were between 25,000 and 40,000 words. If nothing interrupts me, and my characters are talking non-stop, I can write a book within a week – while working. lol My record, though, was my Christmas Regency which I finished in TWO days. Thankfully, it was the weekend. lol
Q. That is amazing. 24 covers is a lot in a year. Who does them for you, and how far out do you plan them?
A. Most of them were done by Virginia McKevitt. She makes the covers for a lot of multi-author series groups. Some covers were made by Sheri McGathy, and some were made by Got You Covered. Oh, and some were made by LMD Graphics.
Q. Do you write the story first or have the cover first?
A. I usually have the cover first. I'm a book cover addict. lol
Q. I can totally relate! Your publishing lineup in 2019…did that happen like magic, or was that all planned? Did you do pre-orders? Do you publish the same days of the month?
A. In Jan 2019, I had like 15 or 16 already planned to write. Over the months, I kept adding more. I'm in several multi-author series, so it was easy to add more. I always try to stay at least two months ahead of my schedule so that I can have pre-orders.
No, I don't publish the same days each month.
Q. What have you learned as you have rapid released that many books in the last year?
A. I learned that sales and KU reads climb during the first week, but then decline over the next few weeks… which means, I'd better have at least two books a month to release or I won't have many sales. I also realized that adding books to an already existing series doesn't always work as well as I would like.
I should add – an already existing OLDER series. Not my new series.
Q. What kind of income has that kind of production brought you? Annual, or record month or Amazon rank?
A. I try not to compare myself with other authors, but as you know, it's hard. I'm not going to give a $$ amount, but I feel that for having written 76 books since 2010, I should be making more. However, since 2015, marketing has changed drastically. I never used to promote my books and yet, I made $3000-$5000 a month back in 2012-2014… and I had only like 20 books. lol Let me also say that I don't pay hardly anything for promotion (mainly because hubby and I are focusing on getting out of debt). BUT… I can say that I'm earning enough each month to pay the house payment with a little extra left over. And right now, I thank the Lord for that!
Q. I hear you! Yes, competition has definitely gotten stiffer! What do you dream about being able to pay for with your author royalties?
A. I've always wanted to do a European tour. When I finally get the money, I'm going to Europe!
Q. You definitely should! Which country would you visit first?
A. ENGLAND!!! I need to go to visit places I've only written about. After that, I want to go to Italy.
Q. ❤ ❤ Which genre has generated the most sales for you in the past year? Through your career?
A. Historical Western!! At first, my billionaires were bringing in the money, but then my Pinkerton Agents passed them up and were ahead in the race. They have been my biggest sellers.
Q. Do you write contemporary western too? How does that compare with historical?
A. Believe it or not, I haven't. I think I've written about two contemporaries where the guys were cowboys, but they weren't really, so I didn't consider it a western. Lol I'm hoping to change that in 2020. <crossing fingers>
Q. Really? That is surprising to me. I am going to go back to the screen writing. Are you writing a script based on one of your books? If so, which one?
A. All my scripts so far are based on my books. The one I'll be finishing this weekend is a romantic suspense – Dangerously Close. I've won an award on my book, and it's been a best seller.
Q. Awesome! What have you learned writing scripts that you could apply to novel writing and vice versa?
A. I've learned that I can't follow my books. lol So like the book starts out with one scene… but in a script, another scene later in the story might work better for the starting of a script. In my script Ten Ways to Get a Man (based on one of my romantic comedies) I realized I had to write a different scene at the very beginning of the script. I also learned that I have to cut out a lot of my story for the script. Darn!
I also learned that after writing a script, it's hard for me to get back in the right 'tense' when I'm writing my novel. Thank goodness for my editors!
Q. Yeah, I can see that. Any tips for writing rom-coms?
A. Tips for rom-coms? I really don't know. I've been a silly woman all my life, so to me, writing comedy in a story comes natural.
Q. With your long history publishing, what would you advice a new author to do as they launch their career?
A. My advice would be – DON'T GIVE UP!!! There are so many authors out there who want to tear you down and make you feel like you're not good enough. I've had my share over the years, and I had wanted to quit so many times. But I love writing. I love falling in love over and over again. So if you love doing that, too – then don't give up. Another bit of advice I'd give is don't stop learning about writing. Once you stop, you won't be able to progress. And always – FOLLOW YOUR DREAMS!
Q. I love love love that. One last question…What do you think accounts for you being a stick-to-it kind of person from your childhood?
A. hahahaha My childhood, huh? Well, I was the middle child and I was shy up until I was 16 yrs old. I was a nobody in school and I always wanted to be noticed. I think when I started writing stories, I realized this was my childhood dream – to be noticed. For people to like me for what I've done. And… silly as it seems, my sister and I were always playing Barbies, and we made up stories while we played. Both my sister and I love to write as adults. I think our childhood helped with that, too.
Q. Marie, thank you so much for chatting with me. You are simply amazing, and I really appreciate your inspiring words. I wish you the best in 2020!!
A. Thank you, my friend.
---
Visit Marie Higgins' Amazon page.
Subscribe to my newsletter for Q&A alerts, writing tips and publishing news. Check out my books.