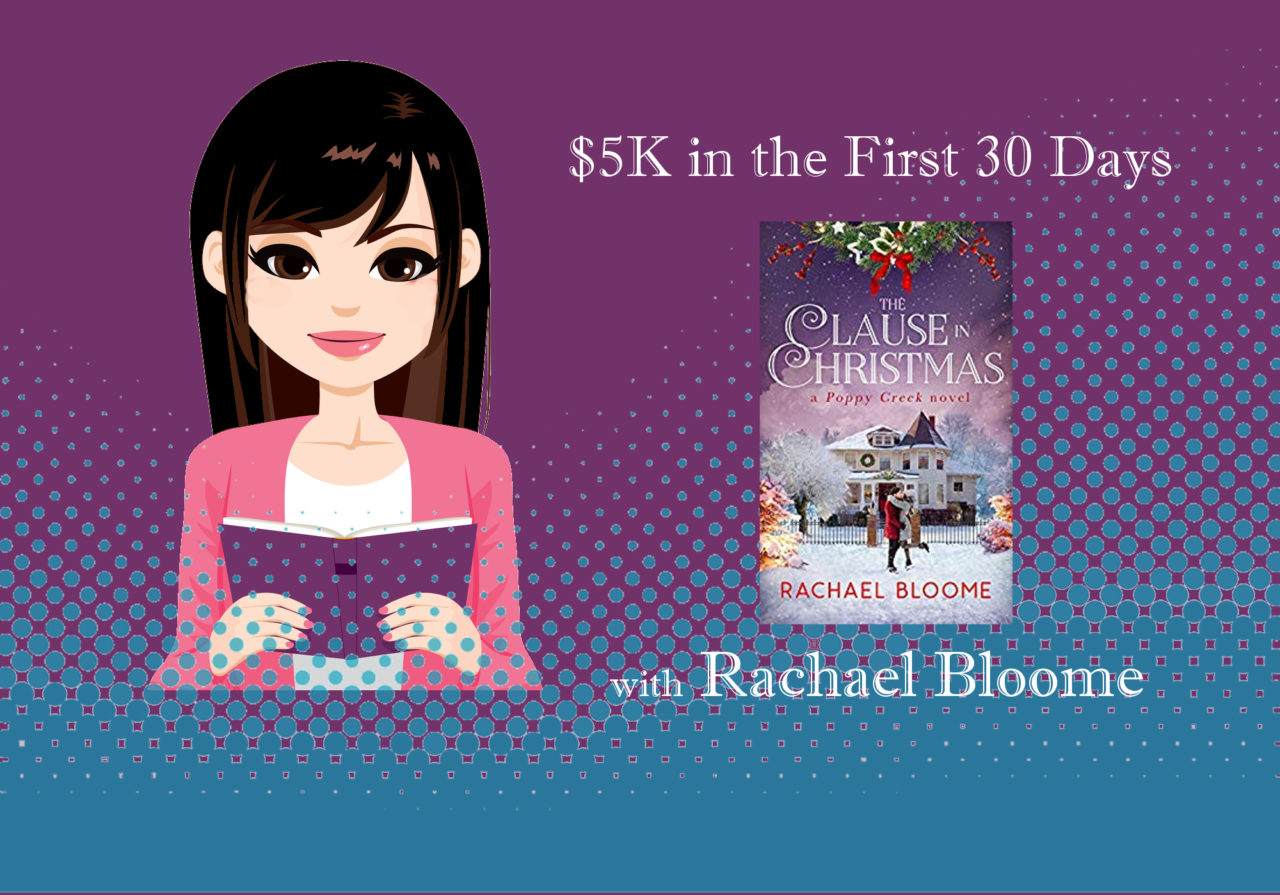 Rachael Bloome is the author of small-town contemporary romance novels.
She will chat about how she grossed $5K her first month with her debut book, how she launched her publishing career with a Christmas novel, and how she wrote a blurb that sells.
Q. Thanks for chatting with me, Rachael! How has your day been so far?
A. My day has been great! I was able to take the day off from my day job ~ working with the family coffee roasting business ~ to focus on writing. I edited three chapters this morning, dove into Bryan Cohen's Amazon ad challenge, and now I get to chat with you!
Q. Sounds intriguing. I did read about the coffee roasting business on your bio. Can you tell me more about that?
A. Absolutely! My dad started the company almost 30 years ago, so I grew up around coffee. Last year, my husband joined the business and learned my dad's roasting process, so now we all get to work together. I love it! And I'm really proud of what my dad created, which is why I wrote his process into my debut novel. 🙂
Plus, most writers live off of coffee, so it's a perfect fit. LOL
Q. LOL I personally do not drink coffee, but I think it's cool that your dad started the business and now you are doing it. What is your debut novel called and how did it come about?
A. Haha Oh, now it's a challenge! I'll have to send you some of ours. LOL My debut novel is called The Clause in Christmas. And the premise came to me almost two years ago and wouldn't leave me alone. LOL The ideas kept snowballing until I finally sat down to write and it poured out of me. Of course, it's evolved a lot since that first draft. But I love how many personal touches I was able to add. It really is "the novel of my heart" in a lot of ways.
Q. 😀 I love that about your debut novel. Without giving away your plot, what other touches did you add to The Clause in Christmas?
A. Oh, so many! The town of Poppy Creek is loosely based on my hometown, as well as a few other towns nestled in the gold rush area of Northern California. My main character, Cassie, has to carry out 25 days of Christmassy activities, and almost every single one is something my husband and I do every year. We're a bit obsessed with Christmas. LOL I also wove in a lot of personal details from people in my life. Like, one of my favorite characters is Dolores, and the story of how she met her late husband, Arthur, is stolen from the story of how my grandparents met.
Q. I love it! Name your top three Christmas activities.
A. Goodness! It's so hard to choose. Every year we attend something called Pajama Christmas, where we get together with other people in town for live music, cookies and hot chocolate, etc., and everyone comes wearing festive pajamas.
Q. Aww…fun!
A. We also read A Christmas Carol every year and decorate the Christmas tree with sentimental ornaments we've collected.
Q. Nice! Okay…I'm gonna drill down to publishing details here, because that is how you first came into my Q&A radar. I had seen your post on Facebook, where you said you had earned about $5,600 that first month, correct?
A. Yes, although I cleared a little less than 5K after ad spend.
Q. So roughly what per cent was ads, and where did you advertise?
A. I spent $700 on Amazon ads in December, which was the only paid advertising I did.
Q. What did you learn through your Amazon ad experience? What would you do again? Avoid?
A. I learned I hate having to pay Amazon more money. LOL But ads are definitely effective and I plan to continue using them going forward.
Q. It seems like Christmas is a particularly competitive time for ads. Is that what you saw, and do you have recommendations of how to float to the top?
A. Personally, I like manually targeted ads more than auto, but auto can be a good place to start if you're nervous. My best advice is to do the research. Know who to target, experiment with ad copy, and don't be afraid to learn new things.
Christmas is a tough time since competition increases. Honestly, I credit my cover designer for a lot of my success. General wisdom for indies is to blend in with other indies rather than traditionally published authors. However, I did the opposite. And I think it helped since trad publishers push their holiday books and mine resembled a lot of well-known authors. I also have a wonderful ARC team who got the ball rolling on reviews, which I think helped attract a lot of new readers. Oh, and I also worked on my book description, which is also a critical component.
Q. For sure! I wonder if Christmas book covers with landscape also do well. I have one that shows a cowboy on a horse in a winterscape, and it is one of my best sellers.
Your cover is lovely and your books are well-branded across your series. They almost look like paintings. Are they? Did you pick the stock?
A.I agree! For Christmas books, a lot of readers want to see the snow, etc. I picked the image of the house since it plays a huge role in the story. But my designer is incredibly talented and blended the elements to look more like an illustration. And hand "painted" (in photoshop) certain details like the wreath on top.
Q. I read your post where you had shared your cover artist info with others and so she was inundated with inquiries. But you sweetly posted that you were okay with that. So I guess I will ask you here: who is your cover designer?
A. Yes, I did have to learn how to share. LOL Her name is Ana with Books-design and I adore her work.
Q. I won't quote your blurb here, but I do encourage readers to check out your book on Amazon to read it. And yes, it is fun and compelling. It reads like a rom-com description. How did you learn how to write such a good blurb? What do you think works in your blurb, if you were to pick it apart?
A. Thank you! I studied a lot of other blurbs and asked for help in The Writing Gals Critique Group on Facebook. Honestly, I think I still have a long way to go (and I got How to Write a Sizzling Synopsis for Christmas!), but I think my current blurb sets the tone for the story pretty well. And it has a lot of elements readers look for in a Christmas story.
Q. On a side note, I noticed that your blurb was on the longish side, but obviously it still worked!
A. Haha Yes, you're right! Which is why mine might not be the best one to emulate. I think readers might have forgiven the length if they liked my voice/tone. LOL
Q. So the cover pulls you in. The blurb is pitch perfect. And then your sample reads pretty uniquely. I love the shorter sentences right off. The sensory details. The sly humor. How did you learn to write like that?!
A. Thank you so much! And that's a great question… I've heard writers talk about "finding your voice," and I think my voice found me. LOL I'm still a new author, so I think as time goes on, I'll be able to discern and articulate what exactly my voice "is." I will say, I write as though I'm watching my story unfold like a movie.
Q. Did you train to be a writer? Did you aspire to be an author?
A. I've always loved reading, but I didn't grow up dreaming about becoming an author one day. I did study screenwriting for a blip in my early twenties, but "real life" always seemed to crowd out any dreams of making a living doing something creative.
Q. We talk about humor, fun, light-heartedness…but you were in a challenging place a few years ago. On your website, you talk candidly about how your first marriage ended in divorce. I wondered how you were able to pick the pieces up and go on, and not just survive, but thrive as an author.
A. Yes, it was certainly a difficult time in my life. And it took a few years for me to deal with the grief and come running back to the Lord. But He's given me such a different perspective on love. And it was only after falling in love with my Heavenly Father, and allowing Him to rebuild my brokenness, that I could even think about romance. Now, my story is such a huge part of who I am as an author. And I think people who read my stories will notice there's something different about them. It's my desire with each book I write to point people toward Hope and a deeper kind of love.
I tell my husband he's my greatest earthly blessing. And a daily reminder of God's grace.
Q. Wow, that is beautiful, Rachael. Your website prominently mentions 1 Corinthians 13:4-8 and that is admirable.
I seem to remember, you have an amazing amount of pre-orders at full-price ($3.99). How many have you gotten so far for The Truth in Tiramisu and did you do any extra marketing to get those numbers? How long do you have it up for pre-order and how did you determine how far out to schedule the pre-order?
A.Thank you! I'm very grateful to be approaching 700 preorders on the second book in the series. They've all been from the link in the back of book # 1, which was released at the very end of October. So, I've definitely had a lot of time to reach that number. I set the preorder for April 6th because I'm a slow writer and didn't want the stress of a deadline looming over me. Honestly, I thought the long preorder would hurt sales or wouldn't amount to many since most of my readers are in Kindle Unlimited. So, I don't take a single one for granted.
But I do plan to start running a few Amazon ads to the preorder to see how high I can go before release.
Q. Wow, congratulations! Time has just flown…it's been so fun to get to know you and your process better. So now I must wrap up and ask you one last question. What kind of schedule does an author/coffee roaster keep during the week…month…to meet her pre-order deadlines?
A. Not a very good one. LOL I squeeze in time every second I can. Usually, I get up early before work to get a few words in. I also type a few paragraphs here and there in my Notes app throughout the day. In the evenings, I work on marketing and reading books on publishing, craft, and other novels in my genre. Keeping up with everything was a little overwhelming last year, so for 2020, my family is letting me take Mondays off to focus on my author career. I feel very blessed to have this extra time and I hope it will help increase my workflow. I'm currently logging everything I do that's writing-related so I can learn to be more efficient.
Q. Your family sounds wonderful. Good for you…and them! And you are smart to continue learning and to record your journey. Thanks so much, Rachael. It's been a pleasure. Congratulations on your well-deserved success!
A. Thank you so much for your time! I enjoyed the chat and hope my journey can inspire and/or encourage someone else. Writing really is one of the greatest jobs in the world.
---
Check out Rachael Bloome's Amazon author page.
Subscribe to my newsletter for Q&A alerts, writing tips and publishing news. Check out my books.