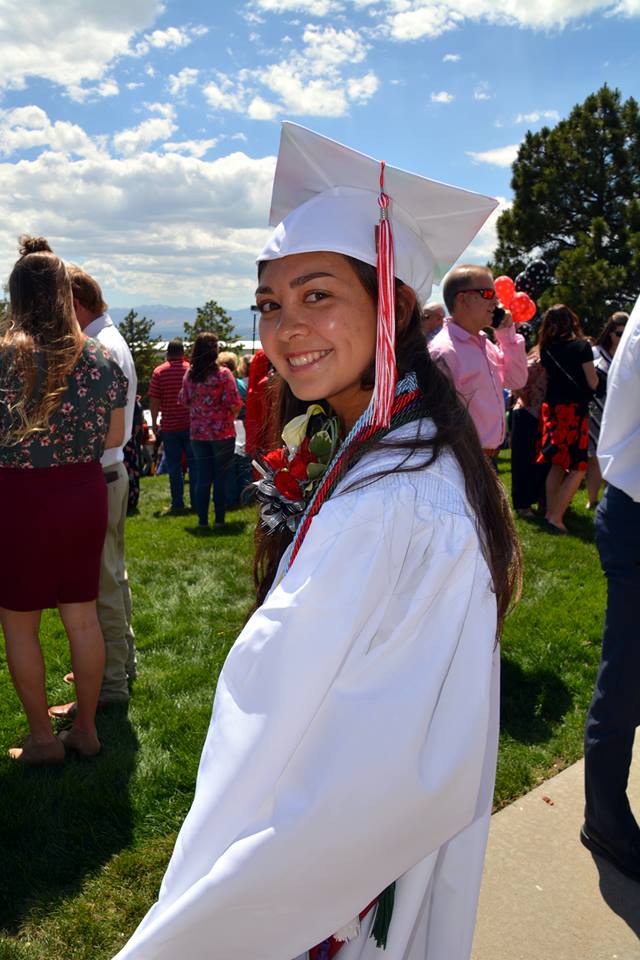 My youngest daughter, at graduation
With my youngest child graduating valedictorian from high school, I have been reflecting on our family's journey. Over the course of eight years, our three children attained high goals during their secondary education. Our oldest was salutatorian, our second had a 4.0 GPA while serving in student government, and, as I mentioned, our youngest was valedictorian. Two were General Sterling Scholars. They were all accomplished student athletes, artists and musicians. All earned substantial scholarships for college. Best of all, they turned out to be kind and loving adults.
My husband and I didn't decide early on that we would raise our children to such standards while still maintaining a well-rounded lifestyle. But there were several things that may have contributed to this outcome.
HIGH EXPECTATIONS
When I was a little girl growing up in the Philippines a visit to someone's house made a huge impression on me. After we took our shoes off at the door as is customary there, our hosts led us into a living room where there was a huge framed shadow box of medals and plaques.
It obviously made an impression on my parents as well. Most of our young lives, they explicitly or subconsciously told us that getting on the honor roll was important. They always looked on proudly when we received medals at the end-of-the-year scholarship event. They bragged to our friends and family whenever we got an award or good grades.
Although this came with a lot of pressure to achieve, I believe my parents meant well. To Filipinos, doing well academically meant you would get ahead in life. You could get scholarships and good jobs. It was a good pressure to have.
When my husband and I married and had our kids, I knew how important it was to not tie in my children's self-worth to their academic / extracurricular performance. Still, I am sure my upbringing reared its head. My children have all expressed feeling the pressure of getting perfect grades and awards.
Though that came with its potential negatives, my children seemed to regulate themselves. They set their goals and figured out the steps to achieve them. Living up to high expectations helped them achieve more than they would have otherwise.
WORKING WITH TEACHERS
Early on in our children's schooling, one of their teachers said something I wouldn't forget. He said, "Let your children tell their teachers what their goal is, and they will be able to help them."
Keeping their 4.0 was always important to our children. Our oldest lost hers to an A minus her senior year, but they each worked with their teachers to make sure they had everything turned in. They checked their grades regularly to make sure they were hitting the benchmarks and they didn't accept status quo. If they needed to do any extra work to get that A, you bet they did it.
My husband and I also attended parent-teacher conferences to make sure our kids were on track. This helped open channels of communication and a supportive relationship between us, our children, and their teacher.
EXTRA-CURRICURAL ACTIVITIES
Early on, having a piano was non-negotiable in my home. I grew up wanting to play the instrument but my family could neither afford the lessons let alone the piano. So it was my dream that my children would learn how to play. They all played the piano, all still do to this day, where they accompany choirs. Our youngest also learned the flute. I firmly believe that musical training and discipline helped them succeed in other areas of their lives.
In the summers, I drove the children an hour away to take art lessons from a wildlife artist. When our children expressed interest in sports, we signed them up for soccer, track, and basketball. This allowed each of them to shine in their own unique way.
When our children wanted to go on service opportunities, we expected them to help raise the funds. This experience taught them the value of hard work. Traveling opened their eyes to the world and made them appreciate their blessings.
Finally, all our children participated in the 4-H program. If anything helps a kid master hard work and patience, horses will do this. We made memories as a family and they completed ranks as long as they could. Their detailed 4-H portfolios came in handy when it came time to apply for scholarships.
CHURCH & FAMILY
My husband and I are both active in the LDS or Mormon church. We raised our children in the church, with the expectation that they would participate and attend the meetings. Luckily, it was never a struggle. Family time in and out the home revolved around church and the children seemed to have fun. We were always busy but strove to make time for family dinners and vacations.
In our church, we believe in the Word of Wisdom, which teaches that we are not to take in harmful substances like cigarettes, alcohol and illegal drugs. Our children's success in school and sports hinged largely upon this clean living and the influence of friends who held similar values.
INSTILLING CONFIDENCE
I believe that all children are born with an abundance of natural talent and intelligence. It's up to their parents to give them the chance to discover their natural abilities. It also comes down to instilling confidence in them. I once tutored some fourth graders in math. In many cases, the ones who struggled, didn't think they could do it. Once I encouraged them and they experienced success, they wanted to keep going.
Success in physical activities also helped our children know that they could achieve something hard through practice and commitment.
LOTS OF BOOKS, LITTLE TV AND NO VIDEOGAMES
That's how we raised our kids, pretty much, in a nutshell. We took them to libraries. The kids always maxed out my 30 book selections, leaving a little portion for me. But it certainly paid off. My children have always scored high in the reading portion of the ACT. They read wonderful books which expanded their vocabulary and comprehension.
We watched a lot of Disney movies and other movies, but hardly watched TV. If we did, it was usually the Olympics or professional basketball. We have no TV in our main living area. Especially on Sundays, our house is usually quiet save for soft music in the background. We didn't get video games for our young kids; as they grew up, they didn't ask for any.
—-
The path to valedictorian may be different for other families. And certainly, valedictorian is just one measure and definition of success. I am curious to see what has worked for others. But those are some things that have worked for us and our children.