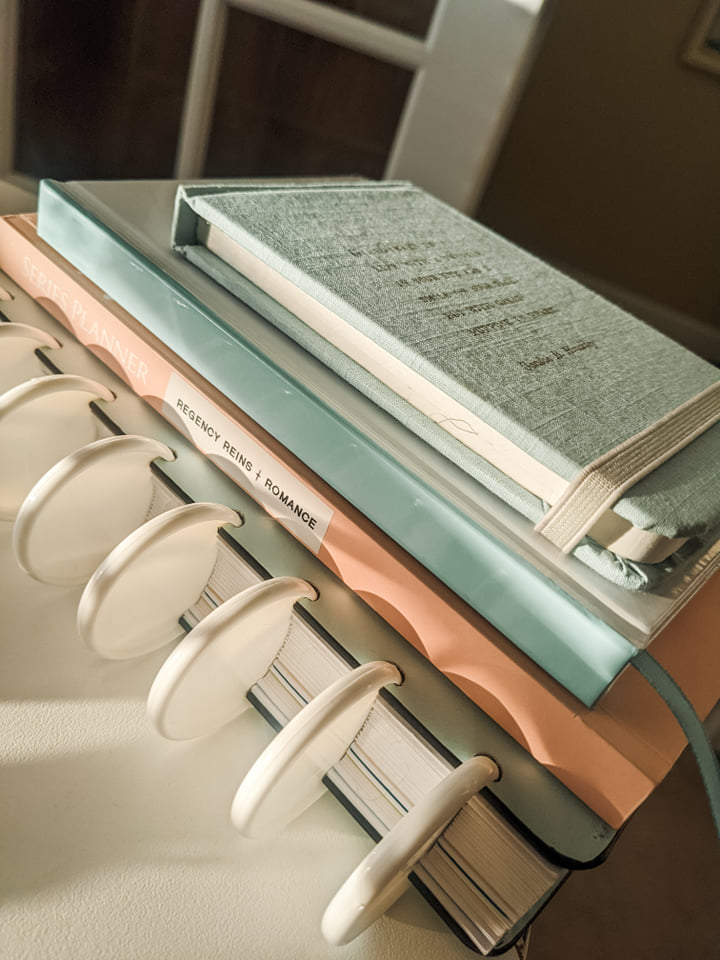 I used to be a one of those gadget-lovers, especially when I started using the calendar on my phone. It just seemed so nice to have all my books, my scriptures, and notes digitally.
And then Mom's health started declining in August 2020.
To keep up with all the doctor appointments, I decided to go back to a paper planner. A discbound-style planner with a faux leather cover by Talia has worked for me since then. I rarely take or switch out pages but I could if I wanted to. I also like the smaller size so it can fit in a purse but still is big enough for entries. Some time, I will write a post about this because I have become very passionate about how journals and planners helps my productivity.
On my desk right now are four planners/journals. My main discbound planner, my Regency Series Planner, an Ideas & Intentions journal and a little notebook where I am tracking my habits.
Now here's the fun thing for today. I had been looking for a notebook for my ideas (story, business, life, you name it), I came across this one that I already owned. I opened it up and found a sketch my late mom had given me showing the layout of the house she grew up in. I had forgotten all about it! What a find.
The house floor plan made me smile because her mother sold bananas at the market and they had two rooms in their house for banana storage. I wish I could have gotten to know my lola but I didn't have the opportunity. By all accounts, she was a strong lady with good business sense who taught her children to work hard.
---
Writing Stats today: 3 hours, 1,612 Regency words written to salsa music (I know, funny huh? Since the lyrics are in Spanish, which I cannot understand fluently nowadays, the words are just like background noise, but I get the benefit of the beat keeping me awake. and feisty.).