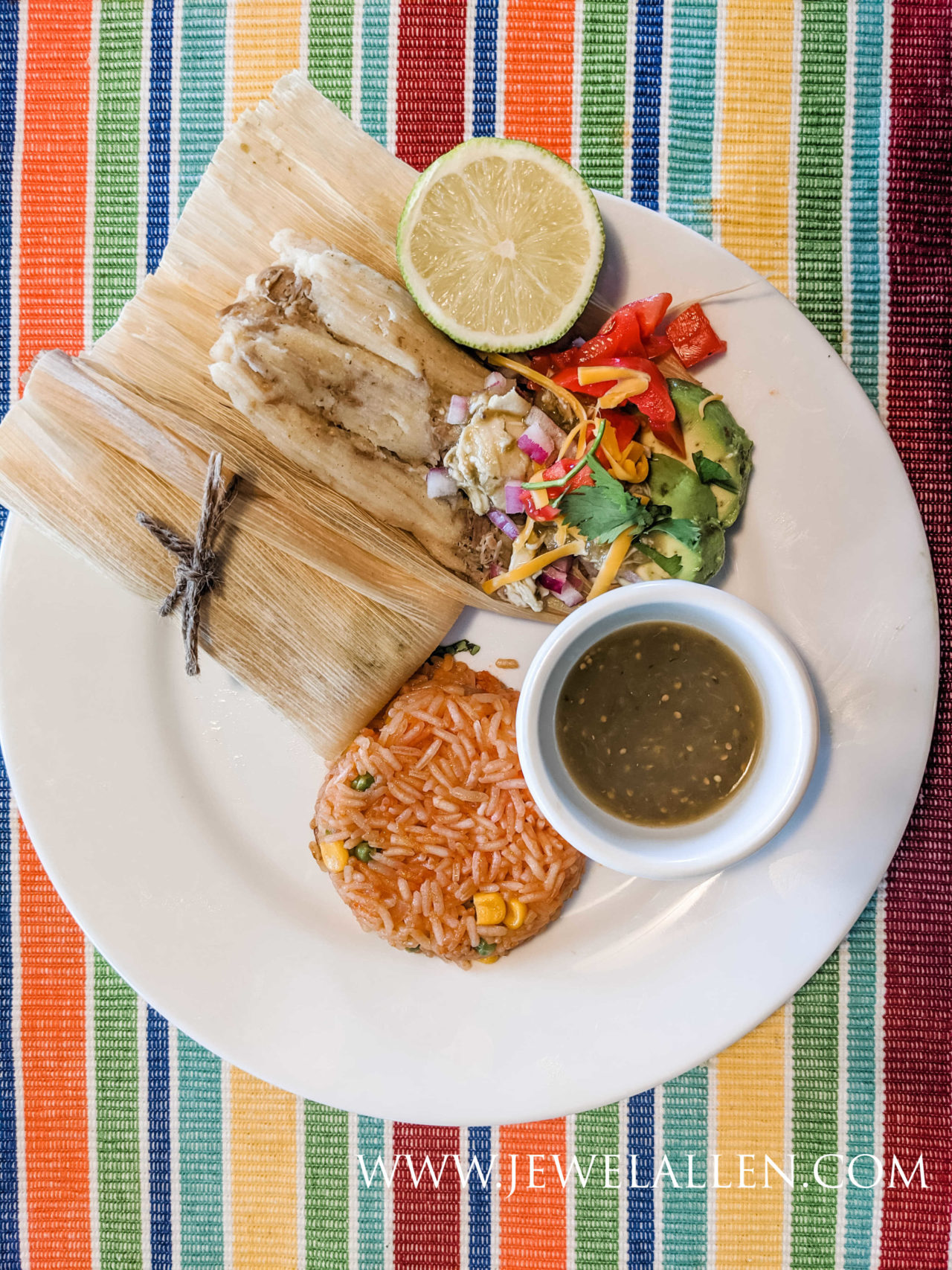 When I was campaigning for city council re-election last fall, I came upon a residence which had the most amazing aroma outside. Turns out the mom of the house was making tamales. I asked if she would sell me some, and she did! It was a great ending to a night of door-knocking in the cold.

I am still on cloud nine for successfully making tamales from scratch tonight. Thanks to you all for your advice! The process had always been a mystery to me and I thought I would need mad skills, so I had not dared try in the past. True story: the reason I even wanted to make tamales was because a friend gave me a bunch of cans of cream of corn, so I had an idea to make cream of corn tamales. I ended up making tamales without cream of corn. Go figure.

Was it hard? Not really. Just a little time-consuming. It took me about four hours from when I started simmering the pork for the filling and sitting down to a feast. Making tamales and having the aroma for hours in our house on Fast Sunday was a bit of torture, but the wait only added to the sweet anticipation. At the last minute, I whipped up Mexican rice as a side.

My plan was to make just a "small" batch of tamales, like a dozen. I ended up with 30 or so. I worked off of three recipes online and in the end got confused so I just kind of threw things in and hoped for the best. Herdez salsa verde was a lifesaver because even though I had spices from the Latino market upon the suggestion of the friendly store owner, I had no idea how to use them.
By the time I made two kinds of meat fillings from the recipes I'd chosen, I could have made at least double the amount (plus the resulting kitchen mess), so these recipes and amounts have been scaled down for what I consider "reasonable." We enjoyed some for dinner and still had leftovers to freeze and share with family. To designate which ones were chicken, I tied string around them.

I started out using half the amount of dough as one of the recipe says. My hubby asked that I make the dough portion larger, which was a great idea as I also like my tamales fat and hefty. At first I slathered the masa on daintily with a pie server, but was like, forget this, and just used my hands to pat the dough about ¼ inch thick. For the masa dough I used bacon drippings for the pork tamales and regular shortening for the chicken, and I didn't think it was dramatically different. But bacon was more exciting!
My hubby guessed that this would be a family production today, but it actually didn't work out that way. I could have had my family help me assemble the tamales, but it would have been like the blind leading the blind. Once I figured out what worked best I was almost done. No biggie as making tamales was quite relaxing for me, especially once I got into a rhythm. I did let my hubby cut string and cheer me on. He and our daughter definitely helped with the eating part. And the clean-up (thanks, dear hubby!).
---
Tenacious Tamales
8 cups masa harina (Maseca is a good brand)
6 cups broth (pork / beef / chicken or vegetable broth)
4 tsps. Baking powder
2 tsps. salt
2 tsps. cumin
2-2/3 cups lard (I used bacon drippings from 1 lb. bacon and the rest shortening) or shortening
8 oz dried corn husks (about 40)

Filling:

1 lb. pork butt roast and 2 cups rotisserie chicken or double the amounts if using only one kind of meat
16 oz. Herdez Salsa verde

Soak the corn husks in hot water for 30 minutes.

Prepare the desired filling. For pork: Cut up 1 lb. pork butt roast and simmer for 2-1/2 hours in 10 cups water, quartered onion, 3 cloves garlic, and 1 tsp salt. Save the broth. For chicken: shred 2 cups rotisserie chicken. Add half a 16 oz bottle of Herdez salsa verde in each meat.

Masa dough:

8 cups masa harina
2 tsps baking powder
2 tsp salt
2 tsp cumin
6 cups broth from pork.

Make the masa dough. Fry 1 lb. bacon. Save the bacon for another meal and the drippings for the dough (about 1 cup). Mix dry ingredients. With electric mixer, beat in bacon drippings and the rest in shortening to make up 2-2/3 cup until crumbly. Adding in a little broth at a time, beat in until the consistency of peanut butter.

Assemble the tamales. Drain the husks. Lay a corn husk with the wide side up and pat on ¼ cup masa dough in a square on the top half. Line 2 tsp filling in the middle. Fold right side of the dough over the left like a brochure and tuck closed securely, folding the bottom half of the husk over the tamale.

To delineate different fillings (and make it prettier), you can use package string, but it's not necessary; the tamales should stay closed. Stack in steamer with the open side up. Check at 45 minutes. Tamale is done if the dough separates from the husk easily. If not, you can add another 10 or 20 minutes if you are multi-tasking like me.

Top with salsa verde, avocado, tomato, red onion, grated cheese, sour cream and cilantro. Serve with Mexican rice. Makes about 30 tamales.

To freeze: cool and put in freezer bags. Steam or microwave with damp paper towel to reheat.