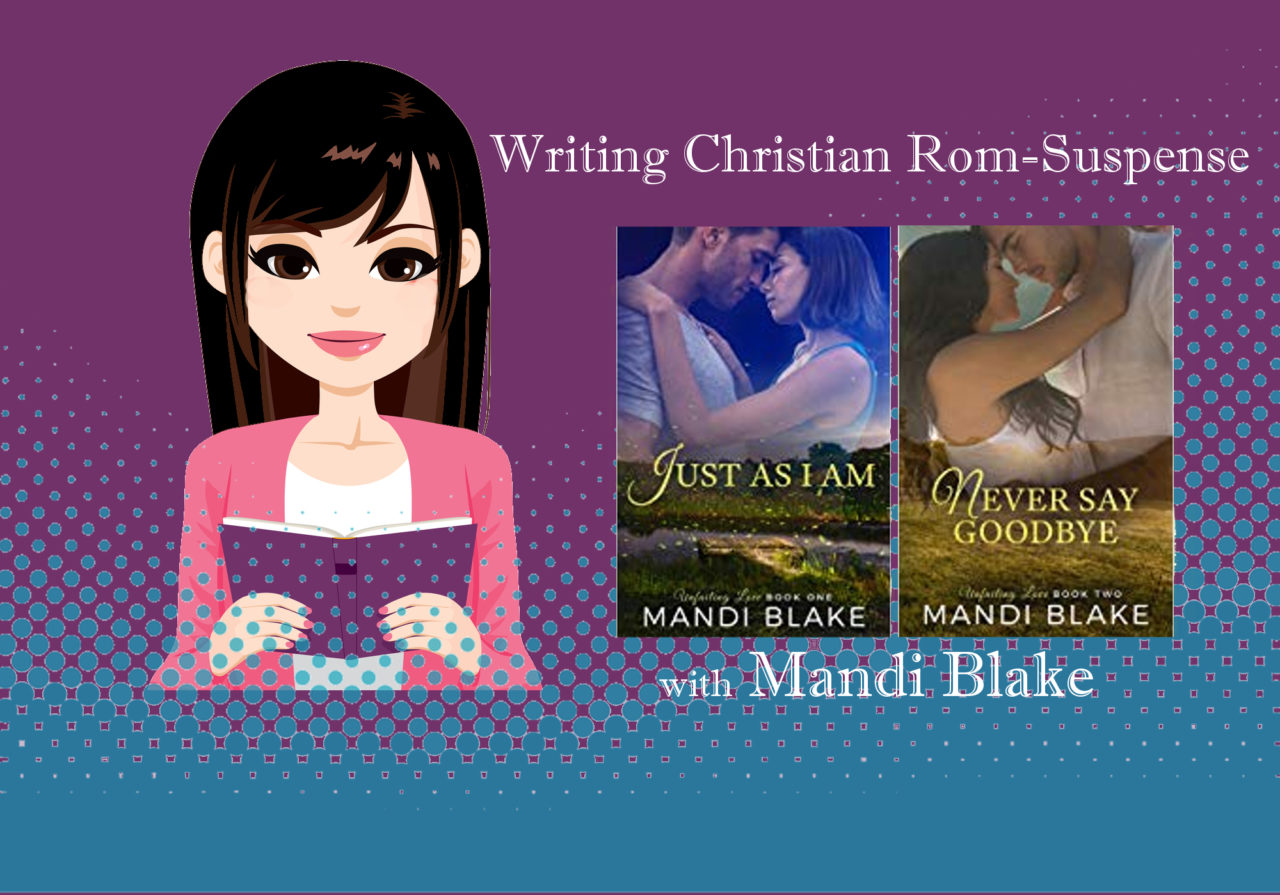 Mandi Blake is the author of Christian romantic suspense novels. She will chat about the rules she broke with her first book, how she researches her suspenseful plots, and what Christian romance readers are looking for.
---
Q. From your Facebook pics, it sounds like you are having a fun weekend with your young daughter.
A. I am! My husband had some business in Chattanooga, Tennessee at the end of the week, and he called and said, "Why don't you meet me up here and we'll make a weekend out of it?" So we packed up and went! We've had a blast so far.
Q. How fun! I love that name, Chattanooga. If it is anything like Nashville, it probably has a lot of character. Where is your hometown?
A. I live in Jasper, Alabama. I grew up there. I moved to Birmingham for college for a few years, and got a job at the Barber Motorsports Park working for Porsche straight out of college, so I stayed. I met my husband who grew up in the Birmingham area, and when we married, we decided to move back to Jasper because he liked the rural area. We both still drive an hour to Birmingham and back every day for work.
Jasper is a small town, and lots of people know each other. My husband still thinks it's funny that I always see someone I know when I go anywhere in public.
Q. Jasper sounds wonderful. A small, southern town. I have known you for a bit now on social media; it's been fun to know you. Recently, I beta read a fantastic manuscript for you. I want to ask you about that. Can you tell me its working title?
A. The one you read will be the third in the Unfailing Love series, and it's called Living Hope.
Q. So this is part of a series you started publishing in May of 2019, correct? Do you have other titles out under other pen names?
A. That's correct. These are my first books to be written and published. I started writing them a few years ago, but I took it seriously starting in about November 2018. I don't have any other pen names. Mandi Blake is my pen name. My real name is Amanda, so it isn't very different.
Q. Wow, well you could have fooled me. Your writing is mature for someone who only started indie publishing. You said you started writing them a few years ago. Tell me about that time. Were you in a different line of work, and then you wanted to write, or…?
A. I started just playing around with the idea of the first book when I was on maternity leave after my daughter was born. Then she didn't sleep for the first 13 months, so I was up at night a lot, and I would make notes on my phone. It wasn't anything more than ideas at that point. When I went back to work, I put it aside.
Q. So what happened that you "took it seriously" starting in about November 2018?
A. I have a full time job as a paralegal, and I'm happy working where I am. However, I know it's a possibility he might retire soon, and I just thought I would love to be able to write while my daughter is in school in a few years. I decided to get it going so that maybe by that time I could really make something of publishing books when the time came.
Q. How cool. Paralegal. So do you run across a lot of potential John Grisham-type cases?
A. I'm not in criminal law, so the work I do is mostly paperwork. It isn't very exciting, but I'm good at paperwork, so it suits me!
Q. Ah, okay. One of the things that jumped out at me with the story I beta read for you is that you seem real familiar with police procedure. How did you prepare yourself to write this series?
A. Jake is the main character in Living Hope, but he has made his appearances a few times in the first two books of the series. Early on in the series, I started talking to my aunt who is a deputy where we live. I would ask her about the procedure for a certain situation, and she was great to help me.
With Living Hope, the details became much harder to manage with the story because it's more up close with his job. I quickly found out that if I included every detail of every call included in the story, it would bog down the romance. I chose to include some, but leave others out just to keep the reader's interest in the important part–the romance and connection between the characters.
I think Georgia has a law against talking on a cell phone while driving, and that law is broken at least once in the story. I chose to keep it because it was an emergency. Things like that.
Q. Yes, I can see that. You definitely give the flavor of his occupation without bogging down with details. You write Christian love stories, set in dangerous situations. For example, in the description of book 1 in your series, you open with, "Adeline Rhodes has spent years locked away in a New Orleans apartment controlled by her criminal boyfriend." How do you manage to keep to the expectations of sweet romance while being real?
A. I wrote that book before I knew anything about what sells and any expectations in the genre. So it breaks a lot of rules!
Q. Although, at 30-something nearly 5 star reviews, your readers don't seem to mind. Tell me what rules you broke.
A. I didn't set out to make it a romantic suspense, but it ended up being just that. Once it was finished, I realized it was a little dark for the genre. I just hoped there would be an audience for it, and it turned out well!
Q. So an audience that likes it "a little dark," is that what you mean?
A. I wanted it to be a story about hope, and I think it hit that mark. The female main character is running from a controlling relationship she found herself stuck in after her parents died when she was 18. Years later, she makes her escape, but she fears he will come after her. Right now, the only three star review correctly states it was a little too violent, and I agree that it may be that. I included an author's note to make that point clear before the beginning of the book.
Q. Yeah, I can see how managing readers' expectations will help there. What kind of market are you seeing for clean romantic suspense? Feel free to decline, but can you share a general overview or specific sales numbers?
A. She's in her mid twenties and just learning how to be a contributing member of society. Her journey is finding love and knowing when to trust after being hurt in the past, but it's also her coming of age story in a way. She takes control of her life for the first time.
I started this without an audience, so I had low expectations for my first release. I think it went better than I expected. The first book hit #1 in the Contemporary Christian Romance category, and I saw it at #3 in Christian Mystery and Suspense romance. It hit #1,811 in the overall store. That was MUCH more than I anticipated.
I also sold more paperbacks than I expected. I sold 50 paperbacks through amazon and 60 of the Author copies I ordered.
Q. Wow, those are awesome numbers. What kind of paid and unpaid promo did you do to get those numbers?
A. Everything was a test for the first book. I have a list of the paid promos I used, but Fussy Librarian, Faithful reads, Book Sends, and Christian Book Heaven seemed to be the ones that had the best return for me.
Q. What about Facebook or Amazon ads?
A. I didn't do any ads on the first book until it was a month old. Then I started some low spend Amazon ads after I bumped the price up to $2.99. It's still selling some.
By the time I released my first book, had a newsletter list of 1,000 because I put my first book in a Bookfunnel promo for the month of April for free. Then I did about 20 newsletter swaps for its release, and I really think the swaps were a huge part of the reach it achieved.
Q. So you launched at 99 cents the first month?
A. Yes. $.99 for the first month. With the second, I launched at $2.99, and it did nothing. It didn't sell at all for 4 days. I changed the price to $.99 and it shot up to #6 in the Contemporary Christian romance category, and I think I'll stay with the $.99 release for a while.
Q. For newsletter swaps, did you swap specifically with Christian romance authors?
A. I swapped with both Christian and clean.
Q. Your main characters' Christian faith plays a pivotal role in your stories. What would you advice someone who wants to break into the Christian romance market?
A. My first book deals with two characters who have gone sort of complacent in their faith for different reasons. It's a renewal of faith story. The second is the same. The third book is my first with a main character who isn't familiar with Christianity, and it was tougher to write.
The books didn't start out with the Christian themes. In the first draft, it was a clean romance, but it was lacking something. I prayed about it, and when I added their Christian growth to the story, it felt complete to me.
Q. That gave me the chills; what an inspired process. Christian romance seems to have a voracious readership, would you say? What are they looking for?
A. I've been reading Christian fiction for years, and Denise Hunter is one of my favorites. I was reading one of her books and I saw that her characters are often struggling. That was the moment I knew I wanted to write Christian romance.
I think it's wonderful that there are some readers who are starving for the next book in this genre. Christian fiction isn't quite as saturated as some other genres, in my opinion. I think reading something new in the genre helps long time Christians feel a renewal of faith sometimes. At least I feel that way as a reader. It makes me more aware of things I don't always think about.
Q. As a writer of romantic suspense, how do you plot your stories?
A. Christians struggle too, and I like to see books that don't ignore that, and that's why I chose to write it. My second book has a main character struggling with alcohol dependency. I was afraid it would be torn apart by the readers, but the reviews have been better than the first so far. His struggle is real, and his repentance is something I think others can relate to.
Q. How long does it take you to draft your books? And how long are they on average?
A. My books have been around 60,000 words each. The first one had no structure, and it was rewritten many times. The second, third, and forth took about a month and a half each to write the first drafts.
The first, second, and third were pantsed (not plotted in an outline). The forth was outlined, and it was much easier to write. I think I'll be sticking with outlining from now on. As for the suspense, I often think "What could go wrong here," and write in a scene with lots of adrenaline.
Q. Do you have beta readers read them first and then an editor? Or the other way around?
A. I often have beta readers read first. Then I have them edited. Then I will sometimes send to a proofreader to see what I've missed. My ARC team catches things a lot of times. Sometimes it's just wording that sounds better if it's changed just a bit, but sometimes its typos, and I'm grateful for everyone who points those things out to me.
I'm always looking for ways to make the books better, so I'm listening to everyone. As a new writer, I think it would be unwise to just be stuck in my ways and not heed advice if it makes sense.
Q. Great attitude. What advice has resonated with you the most as you have launched your publishing career?
A. I've been lucky to have some amazing writing friends, and they've taken me under their wings in a way. I had a wealth of information just waiting for me when I started. It was sort of like drinking from a fire hose. I see a lot of those authors who help me testing things and rolling with the punches as the industry changes, and I think that's important.
I haven't done a pre-order yet, but I might do it with my next release to see if it works better for me. I tested the $2.99 release last time, and now I know for the future.
Q. Like drinking from a fire hose. So true! So I guess to close, how do you keep yourself from getting overwhelmed as you've started out? What are some must-dos if you had to pick and choose a few?
A. As far as the content I write, I think including tropes is important. I chose a few more subtle tropes, but I think I need to amp them up.
I think spacing out my releases has been the best thing for my schedule. I'm releasing one in this series every 2 months, and I don't think I could do more than that right now without sacrificing my job or my family time.
Q. Smart! Mandi, thank you so much for chatting with me. I really enjoyed it. And have so much fun the rest of your vacation.

A. Thank you for giving me this opportunity! I've enjoyed talking with you too! I'm off to watch an IMAX movie about the Great Barrier Reef and then see a baseball game! Have a great weekend!
Q. Fun!!
---
Check out Mandi Blake's Amazon page.
Subscribe to my newsletter for Q&A alerts, writing tips and publishing news. Check out my books here.