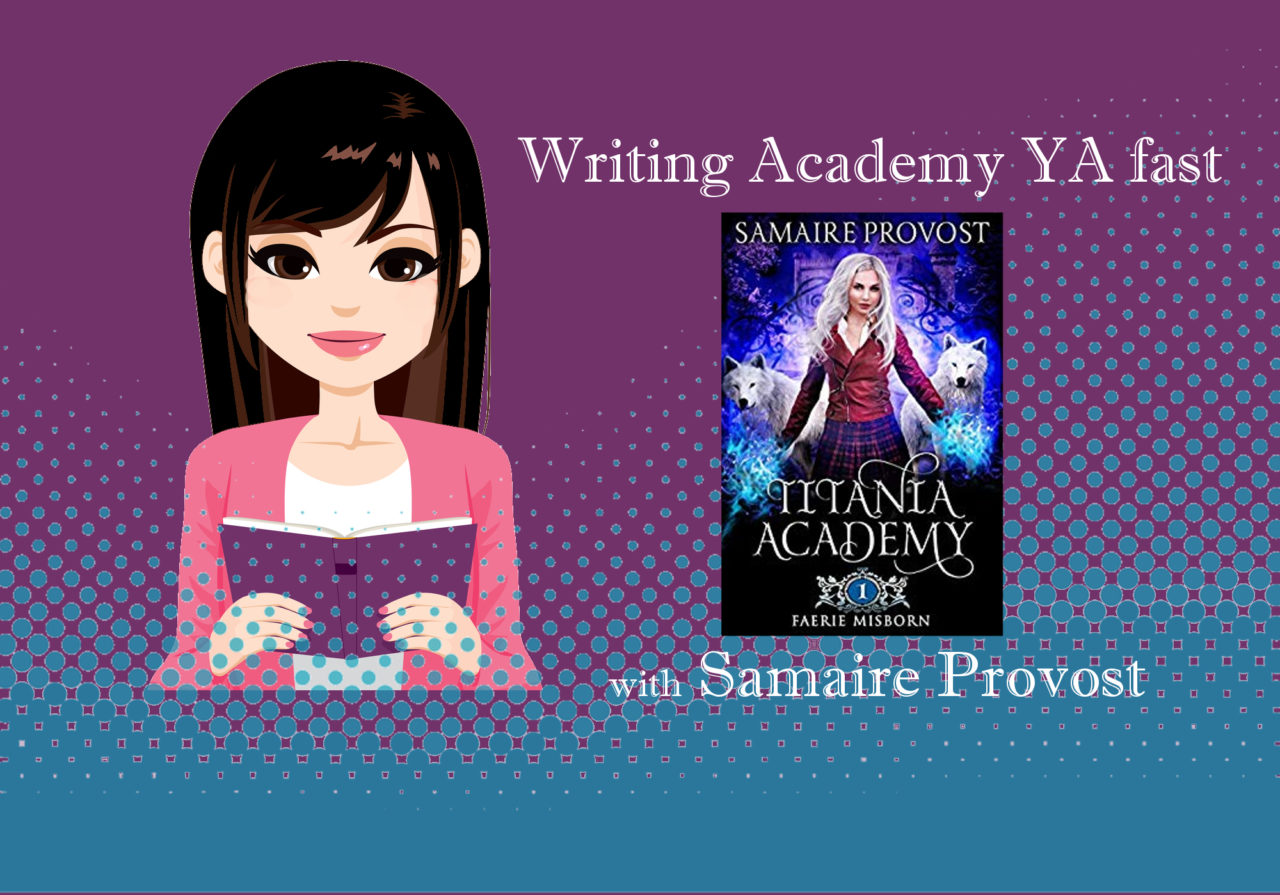 Samaire Provost is the author of horror, vampire adventure/romance, and YA fantasy. She will chat about how she writes 8k-11k words per day, how she outlines her 75k-word stories, and her Academy Young Adult book (on pre-order and is already a #1 new release).
---
Q. Samaire, thanks for doing this Q&A with me. I read about your productivity post on Facebook (with your outlining technique) and so I will be asking you some questions about that. You write 8k-11k words per day, correct?
A. Yes that's correct.
Q. And you explained your process quite extensively. How did you achieve that?
A. I outline in great detail, so that when I'm actually writing the story, it's already created, I don't have to stop and think about what I'm going to write, I can just write. Kind of like having a road map, so stops to check a map are unnecessary.
Q. How long have you been published, and what kinds of books do you write?
A. My first 2 books were published in 2012. Then a third in 2013. Then I spent 3 years writing a 4th, and trying to get an agent for a year — unsuccessfully, so I published it myself in January 2018. I write horror, vampire adventure/romance, and YA fantasy. I just started writing full time and rapid releasing this summer.
Q. I read the first book in your Paladin Princess series. A pirate one called The Pirates of Moonlit Bay. Is that YA fantasy then?
A. Yes.
Q. Oh, and btw, I enjoyed it and reviewers seem to enjoy that adventure series, too.
A. I am glad.
Q. When you say rapid releasing, how often?
A. July saw 2 released, then 2 in August. I'm hoping to get the first in my new series out by the end of September. I caught a cold and it slowed me down.
Q. Fairie Misborn, book 1 of your Titania Academy series, has already earned a #1 new release tag as a pre-order. I will be asking about that…hold the thought. But first. Which series did you release in July and August?
A. Books 1—4 of The Paladin Princess. I have 4 more planned for this fall. Book 1 is called The Pirates of Moonlit Bay.
Q. Ah, okay. So how do you get the ideas for your stories?
A. I'm a huge daydreamer. Used to get in trouble for it in the second grade. I've got notes on more than a dozen potential books in my files, just waiting to be written. Of course I have a different answer to that question on my website. Would you like me to copy it here?
Q. Sure, if you'd like.
A. "Where do you get your story ideas? There's a little shop on a damp alleyway in Schenectady, NY. I visit once every other year, and in the basement I roll the bones at midnight to see what the brownie that appears has for me. It usually works, and he hands me a sheaf of papers full of ideas, bound in goatskin."
Q. Oooh…I love that. My theory is people who live in New York have no choice but to be creative. Lots of things to stimulate creativity there.
A. We might possibly move to upstate NY in a few years.
Q. More creativity! You said you switched to full-time writing recently. What had you been doing before?
A. Before this summer we moved from CA and I had been writing and creating different art and tutoring.
Q. How did you come up with the pirate series? What inspired it?
A. Well, as a woman, I am personally sick to death of male heroes always "saving" the females and being the heroes, so my book, The Pirates of Moonlit Bay, has a strong female protagonist who does not get stupid and girly over a man. I just daydreamed up the story, I wanted to show a princess who was a bit spoiled etc. go through a really rough time, and her trials bring out the fierce warrior in her. Also, each of the books in that series, which takes place in an alternate earth, has an underlying theme of an issue our modern world is currently going through.
So book 1 deals with slavery.
Book 2 deals with xenophobia.
Book 3 deals with the pollution/poisoning of the oceans.
Book 4 deals with global warming.
The series is set on earth maybe 1500 years ago, but an earth where gunpowder was never invented, and magical creatures are the norm.
Q. Wow, nice! How old is this protagonist?
A. Charlotte is 18 in book 1.
Q. And I liked the comparison "Jack Ryan meets Princess Bride."
A. Thanks. So book 1 has an Arabian Nights quality about it. The princess bride really needed to rescue herself. Book 1 takes place in northern Alkebulan, which is the ancient name of Africa.
Q. Huh, for real? I did not know that about Africa. Talking about your YA protagonist is probably a good segue to your new series, Titania Academy. Academy is a hot niche right now. Has it been for a while? I imagine you've done some research into it.
A. I'm just trying to emulate one of my hero writers. That's why I got into writing fast.
Q. Let me guess. Yumoyori Wilson?
A. You got it. She's the best!
Q. Yep, she's pretty fab. So before you wrote fast, what was your output like?
A. Hmmm. Maybe 2k-4K a day. Lots of wasted time.
Q. And she showed you the possibilities, eh? What exactly is an Academy book, and what are readers looking for?
A. An Academy YA book is about students in a school. Usually a magical school. Sometimes there's romance. So for instance, Harry Potter could be called an Academy school series. Loosely.
Q. What do you think brought on the popularity of this genre?
A. I think people love magic and love reliving the school years but in a more exciting light than the normal mundane world.
Q. Ah, that makes sense. And how many words are these books usually?
A. Oh they vary a lot from book to book, depending on the author, I think
Q. What are you aiming for, personally?
A. Excitement. The unexpected. Magic. A dash of budding romance. The main character growing in strength.
Q. Oh, ha ha. I mean word count.
A. Oh lol.
Q. Though that is cool, too.
A. This year I've become very fond of 75k. Puts the book at 400 pages. The way I format.
Q. Nice! Which goes back to the outlining question. For a book of 75k words, how long does it take you to outline it, and how closely do you stick to it?
A. I stick pretty close to it. I brainstorm a cool story, then outline, after the story is in my head the outlining comes quick. Less than an hour.
Q. Typing it in Word or by hand or some other way?
A. MS Word.
Q. This involves world building, obviously. How do you outline something like that? Do you brainstorm the world first? Because I imagine there would be some imagination of terms as you outline.
A. All my stories have so far existed in a magical version of earth, either present day or long ago.
Q. You mean interconnected?
A. I have been told I world build like a champion. No. Not connected. The series books are all connected though.
Q. What do you think helped you with that? What kind of amazing childhood did you have?
A. My childhood was full of daydreaming and climbing trees and imagining all sorts of magical worlds. I was a total tomboy and I'd climb a tree and look down and imagine what it would be like if a unicorn appeared. That sort of thing. Except I wrote unicorns into a book this summer and they were deadly lol.
Q. As I read your first Pirate book, it made me think of C.S. Lewis.
A. Oh! Thank you! Someone else said that too. Would deeply appreciate a short review. (Shameless begging)
Q. Yes, for sure. * sheepishly agrees to something she wishes more readers would do for her own books * What have you learned as you have been writing in the last ten years? What would be your top three tips to an author who wants to get better at their storytelling or branding?
A.
1. Read a lot, of everything. Read every day. You will soak up the skills.
2. Write a lot, too. Write every day. Do not stop to edit, do not critique your own stuff until it's done.
3. Finish things.
I am very fortunate in that I can do this full time, AND in that I am married to a professional journalist/editor. He works as fast as I do.
Q. Love that. Ah, so does he read your stuff?
A. Yes. He's my editor.
Q. Who does your beautiful covers?
A. The Paladin Princess series covers are by Ravven. Melody Simmons does my Titania Academy covers.
Q. I have some pretty covers by Melody. Nice! I have been meaning to ask, is Samaire Provost your real name? Or a pen name? Because it is lovely. And what does it mean?
A. That is my real name. It is Irish Gaelic and means "Rising Sun".
Q. You are killing me. Your life sounds like a fairy tale. What is your meet-cute with your professional journalist/editor husband? And how do two writer-types avoid professional jealousy?
A. He writes mostly nonfiction. Meet-cute?
Q. (Meet-cute…sorry, romance novelist here.) As in, how did you two meet?
A. Ah! We actually met online. We were Facebook friends, I lived in San Diego CA – he lived in Fresno CA. I was dating a bunch of different guys, looking for love, you know. I started flirting with him, and he was receptive. So we met halfway. He'd drive down to spend his weekends with me.
Q. I can imagine two writers can really connect by…writing. So how does he edit your fiction? I am a retired journalist, and I had to make a mental switch when I started writing fiction.
A. Oh cool! He and I work well together. He reads it and copy edits and tells me to fix things like pacing and story etc. He was a newspaper editor for 30+ years in CA. On my 3rd book in 2013 he had me remove a 3,000 word chapter because it didn't flow with the rest of the story. Lord that was traumatizing lol.
Q. Ha ha ha, he sounds brilliant. Those crusty newspaper editors.
A. He's really REALLY good.
Q. But so good for your writing.
A. Yes.
Q. Wow…our time is up. That went by fast, and I really enjoyed getting to know you better. So in parting, how often will you be releasing in your new series?
A. I'm going to go for twice a month. Wish me luck!
Q. Good luck! You will do great, I'm sure. Thanks, Samaire.
A. Thanks a million! You're awesome.
---
Check out Samaire Provost's Amazon page here. Read her sample outline here.
Subscribe to my newsletter for Q&A alerts, writing tips and publishing news. Check out my books here.