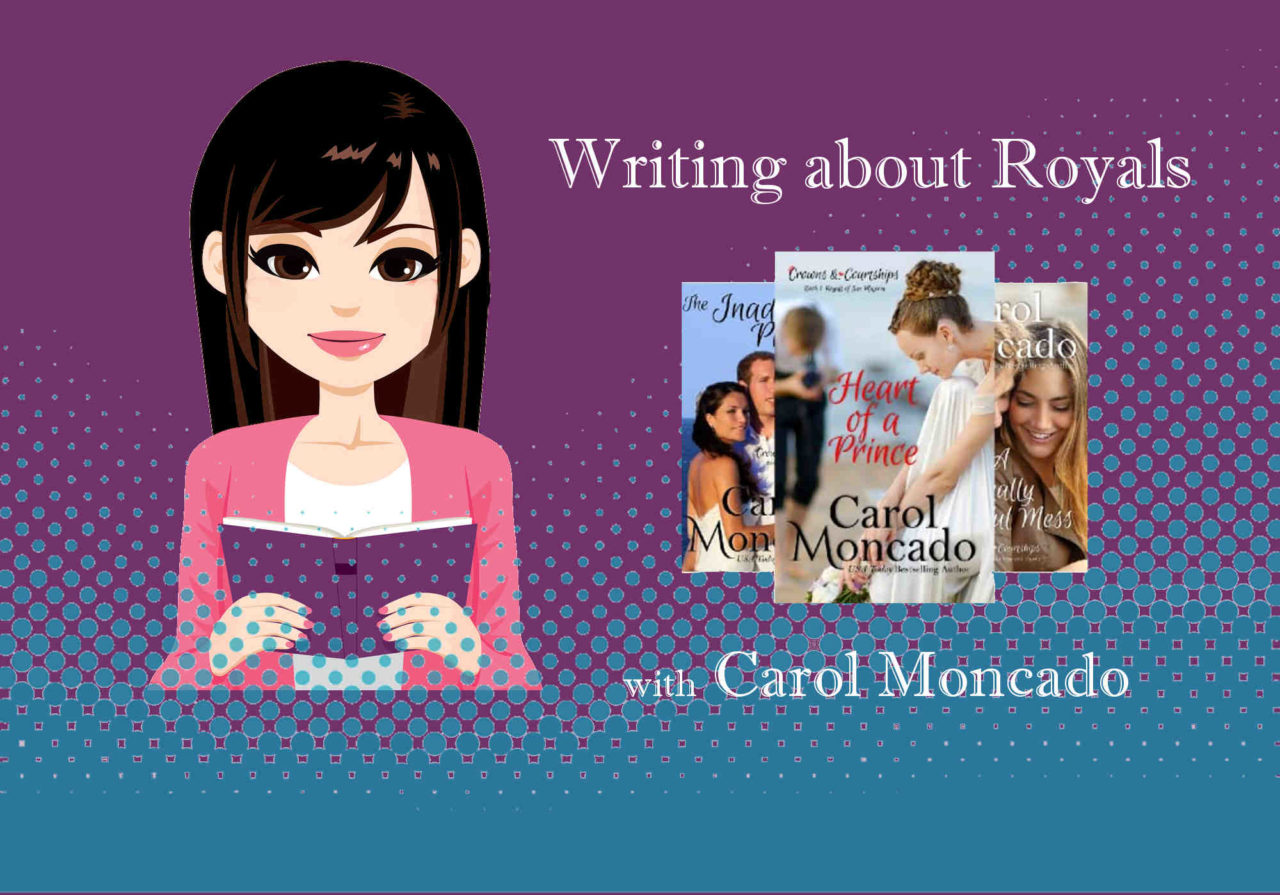 Carol Moncado is the USA Today Bestselling author of contemporary Christian and royal romances. She will chat about how she creates her kingdoms, how she drafts to publish, and what royal romance readers want.
---
Q. I am so happy that we are able to chat today…we've been wanting to do this for a while. And then life happened. Still is happening. You're doing this Q&A while shopping for a sax. Your family sounds very musical.
A. They are! We have nearly 30 instruments in the house now. I play the radio… on a good day I can get Amazon Music to cooperate!
Q. 30 instruments! That's amazing. Among how many people?
A. 6 if you count me.
Q. How did that happen?
A. Well, see, I misunderstood a flyer that came home in 5th grade. I thought it said 6th graders had to take band or choir. I knew choir wasn't a good option for that kid so I sent her towards band. Turns out it said band or music appreciation. I totally would have gone for music appreciation because, well, it's free…
Instead, my now-18yo found her life's passion. She plays tenor saxophone as her primary instrument but owns two tenors, three altos (one pro level she just got today, one from 1928 that is playable, and one that needs work but was free…), a clarinet, a keyboard, and a cello – because why not?! She's starting the music Ed program next month and plans to be a band director someday.
Then her siblings followed… a flute player/color guard, a trumpet player (2 trumpets), and a trombone player (2 trombones).
Plus we have a couple more keyboards, three acoustic guitars, one electric guitar, three ukuleles, a piccolo, a tenor recorder (like the annoying elementary ones but a lot better), and a Slavic double flute.
I run all of the band booster side of band camp, our social media, and food for competitions. My husband is currently the band booster President.
All because I misunderstood a flyer…
Q. Wow. You have about as many instruments as published books. I bet the books are more. How many have you published so far?
A. Forty! Number forty came out last month! I can still hardly believe it!
Q. Awesome. How long have you been publishing, Carol? And what types of books would you say you write?
A. I've been writing seriously since 2009. I sought traditional publication for a number of years, including signing with an amazing agent, then finally went indie in 2014. I write contemporary Christian romance, mostly with Royals or royal-adjacent.
Q. I write Royals too and love it. How did you get started writing Royals?
A. I know! I think that's how we first met! Honestly, I'd read a royalty book back in about 2009 or 2010 that I didn't love how some of it went so I started one that I never finished (I'll be reworking it in the next year or so though). I wrote a couple more before going indie. I hadn't planned to do more than two series (though I later combined them into one long series), but they kind of took off so that's where I've stayed for the most part.
(Did that make sense? I didn't like how the one went so I wrote my own to "fix" it so to speak…)
Q. Yeah, that makes sense. So how did you research a royal romance when you were starting out? What made it fun for you?
A. Mostly I sort of made it all up in the beginning. It was right around the time William and Catherine got married so I started watching the British royal family a lot more closely. From there, I started watching other European families and researching some of their histories. Plus Hallmark royal movies – for their accuracy of course 😉.
Q. Hallmark…of course! Did you write about fictional kingdoms? And if so, how did you come up with them?
A. Yep! They're all fictional! For my first three, I carved out parts of Europe and turned them into my countries. The geography, etc., is at least kind of accurate for those regions. Since then, I've added island nations – near Iceland, halfway between Bermuda and Puerto Rico, near Greece, and most recently, near Australia and New Zealand.
Q. Ooh…nice! How fun is that. Did you always think series? How do you prepare to write one?
A. I don't know if I ALWAYS thought in series but I do now – usually siblings or friend groups. I'm a total pantsed. Usually I have a vague idea of what's going to happen but that's it.
Sometimes I know more. The Big Thing In my last book, I knew about the hero for years – I just didn't know who his heroine was until last fall.
I know the big secret the Crown Prince in my next series is hiding, but even I don't know all of the details about it. He'll be book 4 and I'm almost done writing book 1 so it'll probably be a while before I know. He hasn't told me yet… 🤷🏻‍♀️
So I just start writing and see what happens.
I have a shirt that says "I became a writer to give the voices in my head something productive to do" – and it's true. People are like "you're the writer. Don't you control the characters?" After I finish laughing, I try to explain the voices in my head without sounding crazy – but it doesn't always work.
Q. Love it! How long are your books on the average, and what is your draft to published process? How long does it take you to do each step?
A. For a long time I wrote "trade length" of 75-90K words. Those generally took 3-4 months to write. With the last series I moved to "short novel" length of 50-55K. Those I can write in 4-6 weeks and focus more on the main characters and less on side stuff, which I enjoy.
My plot is usually pretty good by the time I finish the first draft – or I at least have notes on what to fix. I do 2-3 rounds of edits to fix that stuff and anything I catch as far as grammar and punctuation go. My last round I listen while reading. My kindle says what I said not what I think I said.
Then I send it off to my proofreader. When I get it back from her, I spend one long day fixing her edits plus formatting etc. By then I'm usually several chapters into the next book.
Q. Lucky you to write clean drafts! How did you prepare to be an author? Did you always dream of being one?
A. It took a LONG time for my drafts to be that clean! They weren't always, believe me!!! I always loved books and wrote stories, but never really thought about "writer" as a career. I wrote for fun through most of the 2000s then decided to get serious in 2009.
I still read A LOT, but my degrees are in secondary education/social studies (B.S. and M Ed). I taught one semester of middle school social studies and then at a community college for about 15 years – mostly US History and American Government/Politics.
Q. I think we have time for a couple more questions, if that is okay with you. Your life revolving around band and a house full of teens sounds crazy busy. How do you pull off your publishing schedule?
A. Lol! Yep! It's kind of crazy but wouldn't have it any other way! (I might have been shopping at Walmart for tubs to put garment bags in and cheap hangers to send to the cleaners while doing this interview… thank God for helpful teens who drive!)
This IS my day job which helps A LOT! It offers me the freedom and flexibility to have a crazy schedule with my teens while also bring in a decent income to help pay the bills that comes from having four teens (well, the youngest will be a teenager at the end of the month).
My husband is also crazy supportive and always has been. He's on board when I need to go away for a few days to a local hotel or Airbnb to get a book finished or when I go to conferences, etc. If he wasn't, it would be SO MUCH harder.
Q. You're right. I can see that flexibility. More power to you! Last question…you've been at this indie publishing since 2009. What have you seen has shifted since then to now, in terms of what readers want and what kind of marketing works? (Walmarting and Q&A'ing at the same time. Wow, you must be super-human. LOL)
A. I didn't start indie publishing until 2014 which was the end of the first big wave. Readers want good, clean (error free) content. They don't mind suspending disbelief if you give them a good enough reason to. I don't think that's changed.
That said, it's harder to get in front of readers without using paid promos of some sort. Facebook and Amazon are much more "pay to play" than they used to be. Plus there's a gazillion more books out now – and more every day. It's easy to get lost in the avalanche.
More and more readers are gravitating to KU. Many of my readers are "whale readers" – the voracious readers who read a book or more a day many times. They're KU readers so that's where I need to be. It's about knowing your audience – where they are and what they want. My readers, by and large, want Hallmark type stories. Escapism. Fortunately, that's what I like writing 🙂. In that sense, things haven't changed, but how you find the readers and they find you is much harder.
Q. Fantastic, Carol. Thanks so much for multi-tasking with me today. 🙂 You are awesome, and I wish you continued success!
A. Thank you so much for having me! I appreciate it and am looking forward to the next Jewel book!
Q. Aww…thanks so much for enjoying my books, Carol!!! I will admit, I look up to you and get freaked out (in a good way) when you say you've read them. LOL
A. Aw!!!!! How sweet!! Because back atcha! (Welcome to writer insecurities right?!) So glad we connected!
---
Check out Carol Moncado's books.
Subscribe to my newsletter for Q&A alerts, writing tips and publishing news. Learn how to write & publish fast for profit in my Rapid Release publishing series.