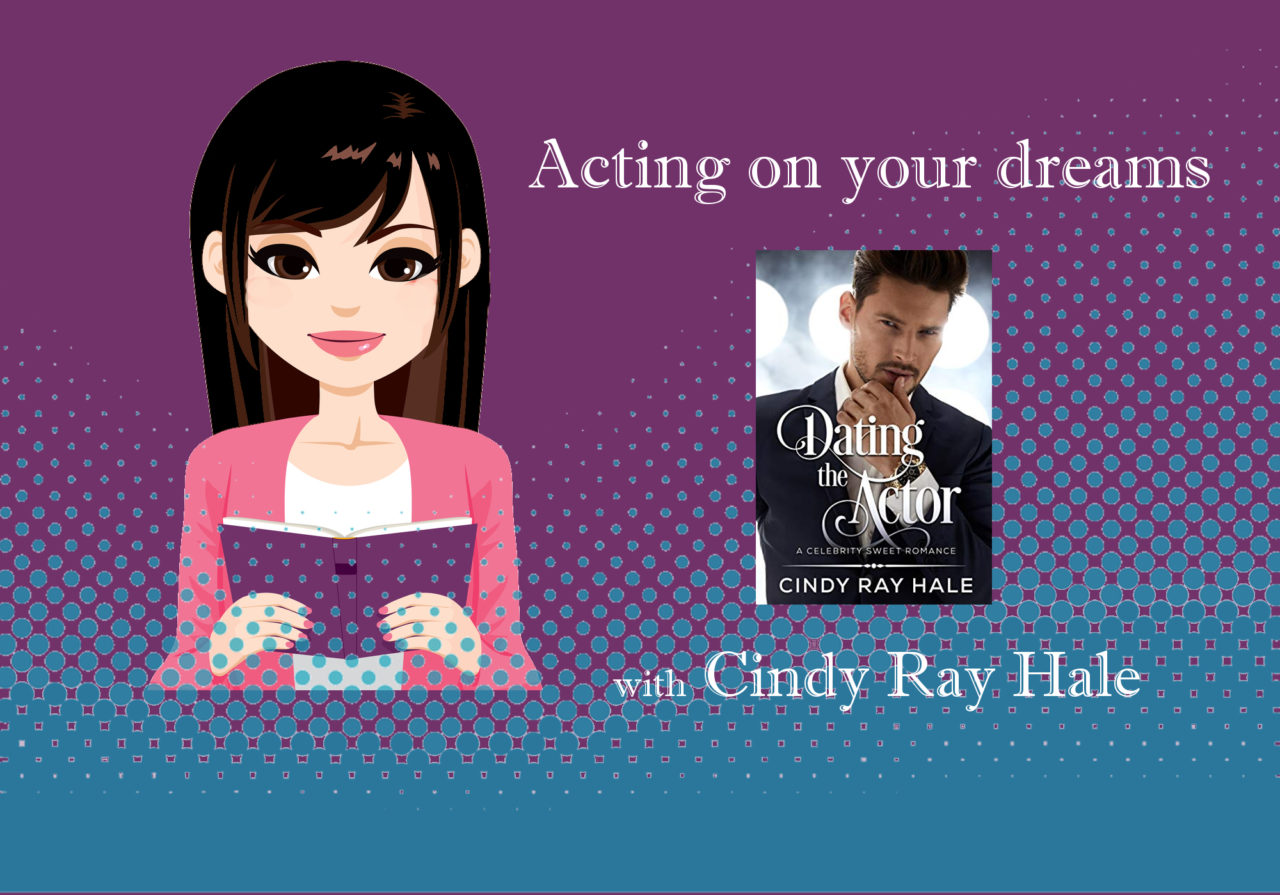 Cindy Ray Hale is the author of contemporary adult and young adult romance novels. She will chat about how she got to act in movie sets, what celebrities are really like, and what makes for compelling young adult fiction.
Q. Thanks for chatting with me Cindy! Are you having to chat while the baby is napping?
A. Nope. Right now my older kids are watching the baby. They're a huge help with him.
Q. That is great. So to start off I wanted to ask you about one of the reasons I invited you to chat. You had said in a book backstory that you did background work in movies for a time, which inspired your novel. What years were those?
A. I worked from 2014-2016.
Q. So what exactly were you doing at the movies those years? Maybe remind us which movie sets you were on.
A. I've been in Ant Man, Allegiant (Divergent #3), Vacation, The Vampire Diaries, The Originals, and a bunch of other network TV shows. I was doing mostly background work. So I would appear as an extra on the set. Usually I didn't actually appear on the camera, but if I did I was blurry or shown for just a flash. I did end up speaking on camera once, which was a HUGE deal and very lucky. That was for an HBO series called Mosaic that filmed in Park City, Utah. The director picked me from a group of extras and sent me to hair and makeup. They put a fake tattoo on my neck and then stuck me in front of the camera with two other chosen extras. Then they told us to speak on camera, like improv. That automatically made us eligible for the Screen Actors Guild (SAG), which is almost impossible to do unless you get very lucky. You can't get roles on SAG films unless you are a SAG member or a director picks you. So it's basically up to sheer luck. That was one of the best and most shocking nights of my life.
Q. Ant Man! What scene were you in there, and did you get to talk to Paul Rudd or any of the main actors? Oh, and of course Michael Peña.
A. Yes! I was filmed several scenes in Ant Man. Two restaurant scenes. One with Evangeline Lily where the lighting is all blue. One of the guys at my table saw her walk by and she was so tired she was spilling her coffee. He told her, and she thanked him. The other scene was the wine-tasting that is when Michael Peña is telling a story. I wasn't shown in either restaurant scene, but I was shown in the birthday party scene with Paul Rudd and Judy Greer. My twin boys were in that scene too, but they never made it into the scene. Paul Rudd talked to my son and gave him a gum ball. We met and spoke to the director as well. It was a ton of fun! Especially having my boys there. They were eight at the time. You can see me standing by the food table by the window. Back then my hair was a bit red.
Q. What does it mean to work on movie sets with your children? I am imagining that you are on call, but homeschool during the down times? (I will be watching for you when I do a re-screen of Ant Man here. 🙂 )
A. They actually only filmed two days with me, so they stayed in their regular school. We just pulled them from school those two days. We haven't gotten too serious about their acting career. I just saw a casting call for twins and submitted them. They needed twins so they could swap the boys and get longer filming days in.
Q. Before I lose sight of this…I know you in author circles. So were you an actor or writer first?
A. I was a writer first. I had already released two books before I ever stepped onto a film set.
Q. You wrote Young Adult, correct? How did you get started on that path and how did you make that leap into publishing?
A. Yep! I started out with YA Contemporary. I loved reading YA at the time and so it seemed like a natural choice for me. I started writing a historical middle grade with my sister but she got pregnant and had to stop. So I decided to write what was calling to my heart, which was YA Contemporary romance.
Q. What year was that when you first published?
A. I started writing Destiny in 2012 and went through the entire editing/cover design/launch process. By the time I had my rewrites finished it was 2013. I published that November.
Q. So acting happened after that? How old were you when you decided to go into acting, and how did that come about?
A. I was 32. My book cover photographer is actually a talent scout and she taught me some modeling. She got me in contact with a talent agent and the rest was history.
Q. How interesting. So you mean you had commissioned a book cover and she looked at you and was like, "Cindy, you have amazing cheekbones."
A. Haha! Not exactly. I was basically the one begging her to teach me modeling. I haven't done it in a while but I really loved it. It made me feel like a super hero.
Q. 32 is an interesting age. I was about that age when I decided to audition to front a garage band. LOL So what was going on in your life then that helped / hindered a choice to go into modeling? Did you have any acting background?
A. I didn't have any acting background, but my life was shifting in a huge way. I could feel something big coming for me. It really started with my books. I kept having this gut feeling that they would become these huge bestsellers and be turned into films. So I did everything I could to learn about the film industry. 2014 was a pivotal year for me. I exited an abusive marriage of 13 years. That was why writing, acting, and modeling was so important to me. It gave me empowerment when I'd been trapped for the best years of my life. The Destiny books haven't become optioned for film. I can't explain it, but I have this feeling that it's still coming.
Q. Kudos to you Cindy, for that inner strength. Did you re-marry then? You just had a baby…
A. Yes! I did remarry. My husband is my best friend and a great guy. And I'm sooo happy for this little boy. We've both been through a lot so our son has been a huge miracle for us.
Q. Happy for you! It's been super hard to write through the pandemic. I can't even imagine what it would be like writing when you're going through such a rough time personally. How did you power through all that?
A. It was pretty much impossible to write for many years for me. So I did a rewrite of my Destiny books to help ease me back into writing. Then I found the strength to finish the trilogy. I wrote Dating the Actor in 2017. I had joined an anthology so it pretty much forced me to write. That helped a lot. There's definite power in the support of fellow authors writing alongside you. That's how I have been able to get new books published this year.
I now have all nine books of the Destiny Clark Saga out and I'm moving on to a sweet romance series.
Q. Ha ha, you read my mind. I was going to ask you exactly what you answered. What did you learn as you've been involved in filmwork that might have helped you in writing your books? Other than giving you plot ideas.
A. Well, I definitely got some plot ideas. My new sweet romance series is about celebrities and the YA book I have coming out July 9, My Best Friend Prince Charming, is about a guy who is cast in a big Hollywood Cinderella film as Prince Charming. I think it helped me understand that celebrities are actually just normal people doing extraordinary things. We can all get there. I'm a huge believer of dreaming big and achieving goals. It's how I've been able to blast through all the huge blocks holding me back.
Q. Love that. I have published mainly adult romance but I want to write a YA series. I am trying to figure out how best to capture that YA voice. Sometimes I think I am trying too hard and it's stifling my creativity. Any advice? Do authors just have a knack or not for writing YA? Can it be learned?
A. I think the YA voice is actually more of an adult voice than you realize. I worked so hard on my YA voice. I started befriending teens at church so I could get an idea of how they act and talk. I even watched Disney Channel with my kids to work on my teen voice. In the end, I realized that adults were the ones reading indie books and they really just wanted the characters to think and act like adults. When they acted childish, readers got turned off. Even teens.
Q. Good to know! Oh my goodness. I believe I have gone 15 minutes over the hour. Sorry! I seriously have NEVER done that before. This conversation has been so fascinating to me. Do you have time for a wrap-up question or two?
A. Sure!
Q. Did you figure out the million dollar question…what does it take to get your book optioned for film?
A. Haha! No. If you ever figure that out let me know. I have a feeling it's one of those things that the universe just orchestrates for you.
Q. Ha ha, probably! And finally, are you just on temporary break from acting? Why did you stop in 2016?
A. Great question! Once I became SAG eligible it kind of ruined background work for me. It's a lot of long hard hours. Sometimes hours spent in extreme heat or cold. But also there was just this voice in the back of my mind that said I was done with background work. I may pursue some speaking roles in the future, but I suspect I may end up behind the camera in the future as well.
Q. Thank you so much Cindy! This was so fun and I appreciate your sharing with me such inspiring thoughts. I wish you continued success and the best for your family
---
A. Thanks!! I appreciate the opportunity. It was a lot of fun for me too.
---
Check out Cindy Hale's Amazon page.
Subscribe to my newsletter for Q&A alerts, writing tips and publishing news. Learn how to write & publish fast for profit in my Rapid Release publishing series.