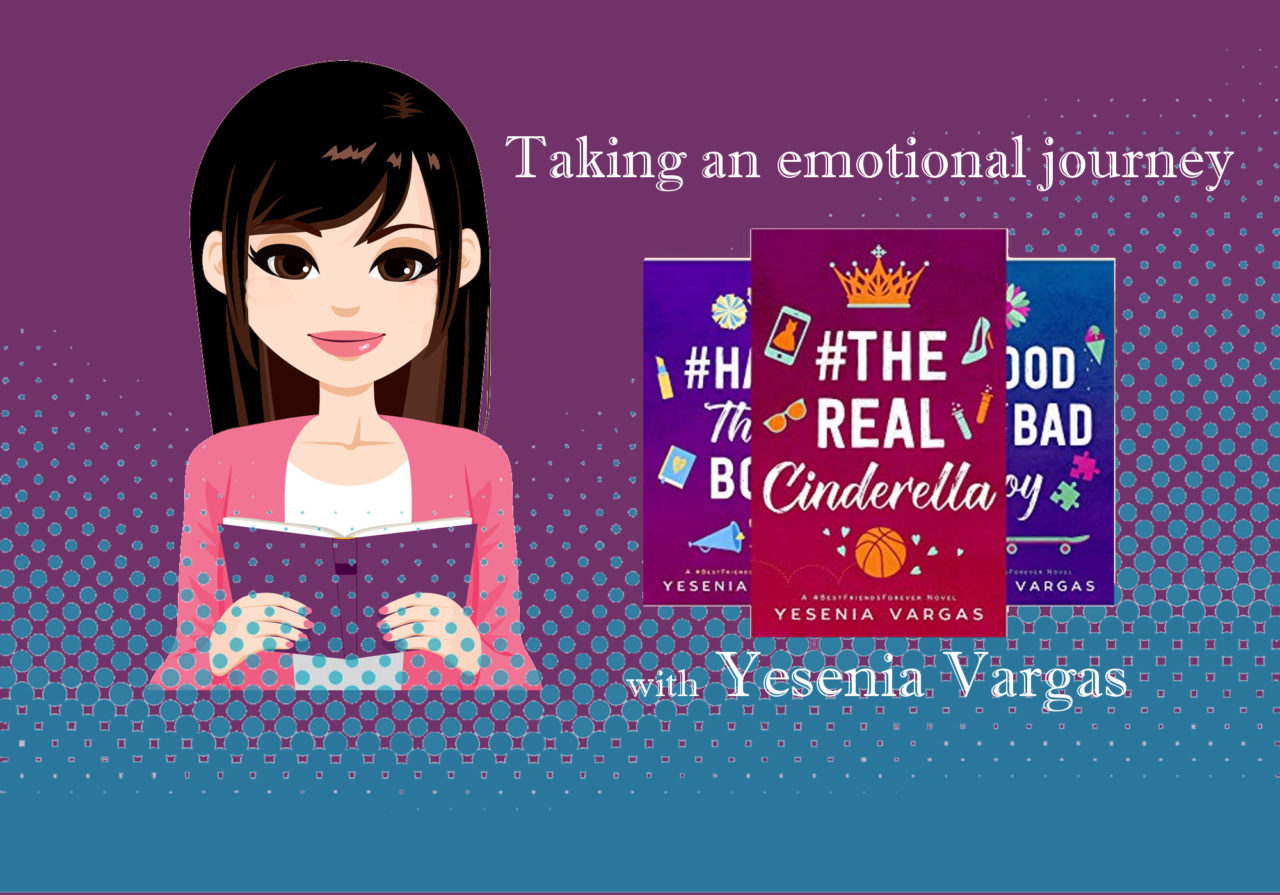 Yesenia Vargas is the author of sweet young adult romance novels. She will chat about how she fast-drafts compelling short stories, how she achieves balance as an author, and how she makes her readers "feel."
---
Q. I'm going to start by saying…you almost made me cry this morning.
A. Aww. Why?
Q. I checked out your free anthology on Amazon and read your short More than a List.
A. I'm glad you liked it! It's a special story, for sure.
Q. Four chapters, girl! Then waterworks already.
A. Haha! I've had author friends tell me to turn into a novel, but I don't know. I like to move on to the next thing.
Q. Well, it's up to you, but I think it's perfect as is. You sucked me in from that first sentence. "I sat on the living room couch, staring at my phone and wishing I was the one going to the Demi Lovato concert tonight." Tell me more about what inspired this story.
A. I have to be honest. I don't even know. Definitely not a personal experience. I'd say the story really just found me. Weird, I know. I started reading Big Magic, and the author talks about a phenomenon of stories finding writers and even moving on to someone else if it's not written.
Q. Wow, that's amazing then. Because it felt so real. How did you draft that one? You just sat down, and boom or…?
A. I believe I wrote it over a couple days. Since it was a short story, I wanted to draft it as quickly as possible.
Q. And it came out fully formed?
A. Yes. I definitely got some feedback and made some tweaks but no major changes. That's really the type of writer that I am. Some people like to just get the story onto the paper and worry about edits and getting it right later. I very much so like to take a little extra time with a draft (including outlining) but try to get as much of it right as I can the first time. I don't like doing edits. And I like being closer to hitting publish by the time I'm done drafting.
Q. What a great process. So I guess let's go back a bit and talk about how long you've been publishing sweet young adult romances. And how you got started doing that.
A. Sure. I wrote my first book ever in 2011 during Nanowrimo. I was pregnant with my oldest and was like now or never on the writing thing. I found out about self-publishing, put away that first book forever, and got to work on a YA book. I published it New Year's Eve 2013. By January 1st, 2014, I was a published author.
Since then I've written like 16 books? Not all of them are still published. Only about half. I've always written YA romance, but I've only been writing to market since April 2018, which is when I finally began making some good money. For years, I made about $8-9K a year.
Q. I'm gonna be nosy (and feel free to decline) but what is good money in YA romance? And other than writing great books, did you do some promos?
A. Hehe. Feel free! I guess good money in general? A full-time income is different everywhere, but I went from making $400-$1000 a month the first few years to $2000-$3000 a month last year writing to market to now making about $6000-$7000 a month with FB ads.
Q. That is fantastic. What per cent of that monthly would you say do you spend on ads?
A. I use the slow launch/slow release method and mainly FB ads now, but I've also used Bookbub and Amazon ads in the past. Plus my mailing list. I don't use the newsletter services like ENT that much anymore, although I've had one US & international BB Featured Deal and a couple of international ones. I double my money on average.
Q. Best guess, what per cent of your readers are young adults versus adults? And how do you think do they find your books?
A. Oh, I can tell you for sure that most of them are adults. I have a survey in my autoresponder. I haven't looked at it recently, but it's always mostly adults. And that's actually pretty normal for YA. I actually ask them how they found me too! Let me go look.
Q. That is interesting! Well, having read your YA this morning, I am part of that demographic that appreciate your kind of stories.
A. 40% find me through browsing on Amazon.
Q. Thanks for looking that up! I don't read a ton of YA but I have browsed through, and some are pretty edgy. You describe yours as sweet. Was that a deliberate decision on your part? And why?
A. It was a deliberate decision when I began writing to market. Like author Anne-Marie Meyer says, spicy readers are more likely to read sweet than the other way around. I also wanted middle school and high school teachers as well as librarians to feel 100% comfortable putting them in classrooms. I used to be a middle school teacher myself and am all about encouraging students to read. Plus I have two daughters. I want them to read these if they like when they're a little older. There's definitely a place for edgy YA, though.
Q. Smart! Speaking of kids, yours are cute. I've seen your Instagram feed and newsletter invitation. How does a busy mom like you balance a full-time writing career and everything else?
A. That is a great question. I am all about focusing on the 20% of things that bring in 80% of the results or income. I don't track my hours, but I'd say I work about 30 hours a week. Sometimes more. I've actually found that, for me personally, I tend to burn out more from all the mom stuff! Lol! I'd much rather work on my ads or books than do dishes and laundry. 🙂 But yeah. Here's what I do: outline/write/edit (so I can publish consistently), launch, run ads, send out my NL (1 a week or two on average), post or go live in my FB group a 2-4x a month (but I also have some scheduled recurring posts), and learn from courses and such. I don't do much beyond that. Anymore. Lol.
I actually take the mornings for myself and my self-care. We do not spend enough time on self-care in the self-publishing community. I make sure to get enough sleep, meditate, write out my goals, plan my week & day, read, walk, drink water, and eat good food. So important.
Q. Great philosophy. How often do you publish and on average how long are your books?
A. On average, I publish every 2-3 months. This month, I had two releases, but that is definitely not the norm for me 🙂 I spent a long time publishing twice a year, though. My books are about 45-55K on average.
Also, I am not someone who can write more than 2-3K a day. My sweet spot is more like 1500-2500 words a day, depending on my writing muscle. I have to build it back up if I haven't been writing. I also focus on one stage of the writing process at a time. Outlining, then drafting, then editing. I might work a little on another book at the same time, but I'd rather batch and gain some momentum.
Q. Your self-care sounds wonderful. Is that something you figured out on your own or is it something you read/learned from someone else?
A. I've definitely learned and picked up on the self-care. I feel so much better now and am on my way to losing a little weight too. I've been doing my morning routine for a year or two now. It's made all the difference. I also focus a lot on leveling up my mindset.
Q. I love that. How do you get that pitch-perfect first person YA voice as an adult?
A. Well, thank you, first of all. 🙂 I'll take that as a compliment! Haha. It helps that I have a lot of teenaged nephews and was a middle school teacher for a few years. I think I'm also still a teen at heart in some ways.
Q. You look like you are barely out of young adulthood yourself. What did you discover in your quest to write to market? What do YA readers or readers in general want nowadays?
A. Haha, thanks! I just turned 28. I basically followed Chris Fox's Write to Market book step by step. It's all in there. I did market research, took notes, all that jazz. For YA romance right now, I feel like a lot of the popular tropes in adult romance work great! Except fake marriage. Haha. But more like fake relationship.
Also, what's hot on Netflix or in movies/TV.
Q. One of your reviewers praises your books because you made them "feel." What do you do as you write your stories to make readers feel?
A. I guess you have to make sure to go deep with your conflict and why. Why they can't be together, why a character is a certain way. And I always know that if I tear up or laugh while I'm writing, the reader will too. If I'm bored or am not wanting to write a scene, I should probably cut it out. Reading a lot in and out of the genre or watching movies/TV helps a lot with craft and making sure you've got that emotional punch to the gut.
I really pay attention when I'm watching something or reading something. I just finished watching Stranger Things 3, and that's inspiration for characterization, romance, how they moved along the story, made me tear up, etc.
Q. Emotional punch to the gut! Yes. Last question. Your covers are fun and eye-catching. Unique. Who designs them and did you have much input in the concept?
A. Jenny from Seedlings does them! She is so talented and great to work with. I basically went to her in the beginning with a Pinterest board of that colorful/big font type of cover, and she took it from there. I wanted my books to look like YA trad and just be PRETTY.
Q. They are great covers. Actually, I lied. I have one more question from your Stranger Things comment. How do you get sleep and feed a Netflix habit?
A. Hahaha! I let myself binge for a few days when a new season of a fave show comes out, but I still sleep! Whether it's hitting pause and lights out or sleeping in. And Stranger Things only had 8 episodes. 😞 Watched it in two days 🙂
Q. Thanks so much Yesenia for chatting with me. It was so fun to get to know you better. Truly, you've inspired me.
A. Thanks! Means so much. 🙂 I read and really enjoyed your book on rapid release. I'm always impressed by high word count peeps! That is just not my forte (and I'm okay with that! LOL).
Q. Thanks! Glad you enjoyed it! And you are doing just fine.
---
Check out Yesenia Vargas' Amazon page.
To get alerts on my Q&As and other publishing news, subscribe to my newsletter. Learn more about my books.