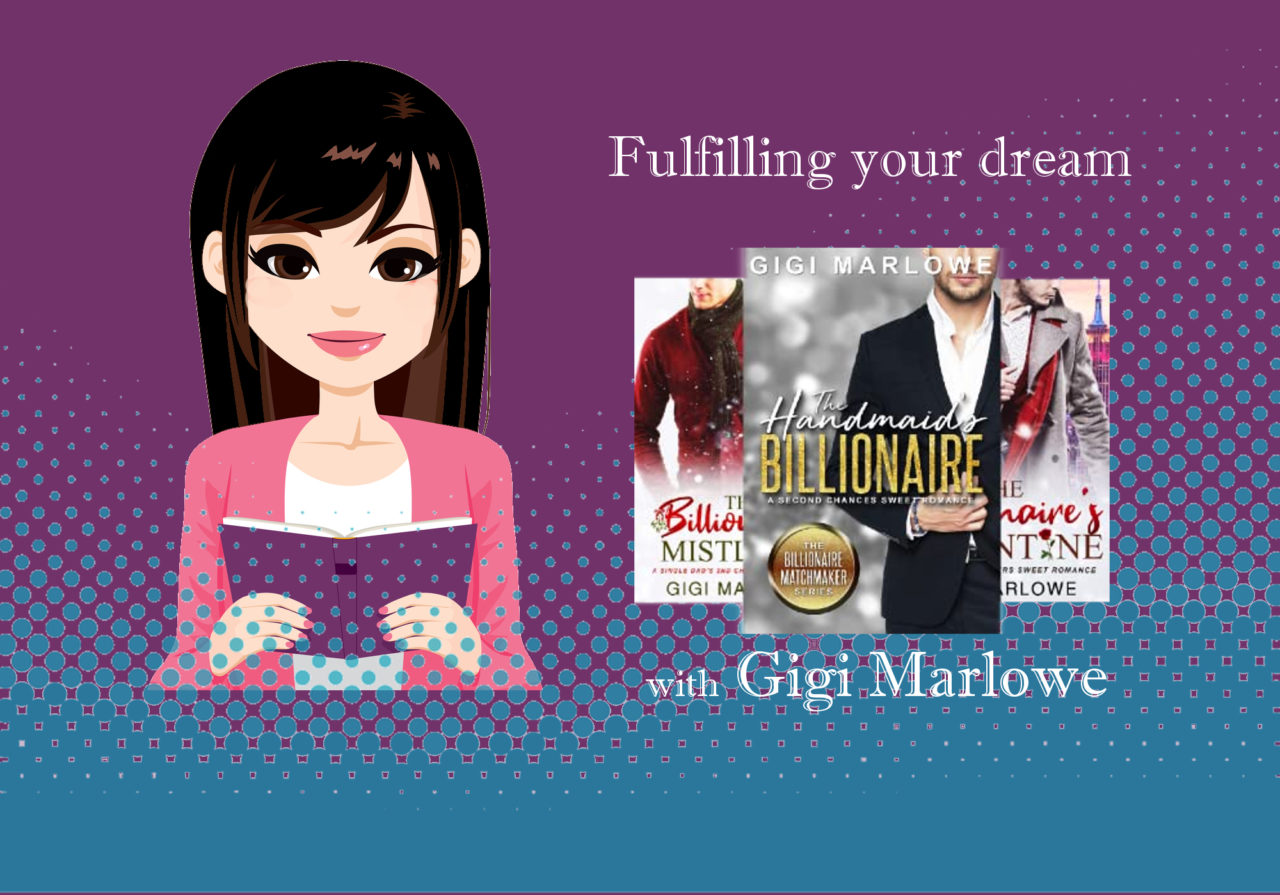 Gigi Marlowe writes sweet, contemporary inspirational stories. She will talk about how she went from law school (and lots of steps later) to author, what inspired her to rapid release contemporary romances, and how her sweet mom makes her Creole-esque rice/cornbread dressing.
---
Q. Thanks for chatting with me, Gigi!
A. Thank you for chatting with me, Jewel.
Q. I've always admired you and your work ethic as we have interacted in groups, but I was especially intrigued about your comment on my post today. You mentioned your mom makes the best Creole-esque rice dressing. Are you from the south?
A. Although I was born in Texas, I haven't returned since I was a toddler. My father's family was from Louisiana.
Q. Louisiana…how fun. And your mom?
A. She was born in San Antonio, TX, like me. Remember the Alamo!
Q. I stayed at a hotel next door to the Alamo once. Startled me at 4 pm or whenever they did their cannonball demonstration. I love that area. How does she make the rice dressing? (cutting to the chase here of what is important, yes?)
A. OMG…you really want the recipe. Well, I just scratched my wooden head…and realized I just know the ingredients, well, at least most of them. Saute green onions, bell peppers, and celery in loads of butter. Season with salt, pepper….omg, I've gotta call her.
Q. I can always add it in later. 🙂 That's fine. Maybe tell me what made that dressing special. Did you help fix any of that stuff?
A. It's the flavor….everyone that tastes it loves it. She seasons with the broth she makes from the turkey neck and giblets, adding the broth and bits of neck meat – giblets too if you like.
Q. Yum. So…tell me about your publishing journey. When did you first dream about being an author, and why?
A. At a very young age I loved words. My idea of fun was reading a dictionary during my preteen years. My innate curiosity, love of knowledge and communication predisposed me to words.I don't remember what I was writing in those early teen years other than diary journaling, but I also wanted to be a singer then.
Q. So what did you end up doing?
A. Getting a degree in philosophy, what else? hahaha
Q. I have never met anyone in my life that actually majored in that, except for my Philosophy professor in college. You went on to law school?
A. First year only….contracts, criminal and torts.
Q. But law wasn't for you?
A. I was a dabbler in many things – that darn curiosity! I ended up in support & sales positions in printing, newspaper advertising, and eventually real estate.
Q. Okay, cool. Sounds like great material for an author. How did you make the leap into publishing?
A. I was looking for a home-based business…almost pulled the trigger on getting a product from China to sell, then discovered the world on self-publishing on Amazon Kindle. That was it! It was time for me to create something new out of a very old dream of being a writer. I found myself in the middle of the PERFECT storm! My desire to make my dream a reality, combined with the new economic realities that the internet along with the likes of Amazon/Kindle have given us. So that the dream of being just a writer…I can now take to the next level of self-publishing and creating a business.
Q. Nice! What year was that, and how did you pick the genre to launch with?
A. I found a successful publisher in Sept. 2018 who was offering coaching. She'd been publishing since 2010, or 2012. Her students were primarily in contemporary romance – which I balked at. I wasn't even a reader of romance, I wanted to write non-fiction. But she assured me that her process was applicable to any genre. I did my research to find a genre I could resonate with and frankly, stumbled across one of your posts on writing a billionaire romance. Eureka! I could do that – right off the bat thinking of some of my interests, cryptocurrency and technology. Bingo, my Billionaire Tech Tycoon & Titans series was birthed. Thanks Jewel! 😉
The Winklevoss twins were the inspiration for my lead magnet, first book: Her Billionaire Dilemma: A Clean Romance.
Q. Aww, that is great! I am glad I could spark something! I feel like a godmother. Lol. How many books do you have out now?
A. My 10th released today…coinky dinky!
Q. Nice! Congrats!! How rapidly are you releasing your books?
A. Every other month this year. I'm not fully comfortable with any of the major ad platforms – once I do, I'll release monthly.
Q. What three things do you wish you had known when you were starting out?
A. I'm a Leo, so it's been important to me to do things my way….I might've been better served monetarily to see what's selling like hotcakes…and compromise a bit.
Q. What sets your books apart, do you think?
A. Gee…that's a good one. My first series featured innovators in technology and space – who inspite of wealth and fame – have the same need for love and connection that we all do. My current features a larger than life matchmaker, Valentina.
Q. Fascinating! Thank you so much, Gigi! I had fun getting to know you better and I wish you the best with your newest launch and continued success with your publishing career! If you could please send me your mom's rice dressing recipe when you can, I will add it to the Q&A.
A. I will send that recipe. Thanks for the opportunity, Jewel.
---
Mary Splane's Thanksgiving Rice (Cornbread) Dressing

My mother got this recipe from a friend in Arkansas in the 1950s. Every year since, she makes a batch of the rice, and a batch of the cornbread to satisfy the preferences of her very large family (10 children, 13 grandchildren, 13 great-grandchildren). She no longer uses exact or even approximate measurements – it's all automatic now. No, that's not right. She'd say it's by the Spirit.
Ingredients: 10-12 servings (I've tried to approximate the measurements, adjust to suit your family's palate.)

3 cups cooked rice (or cornbread)
1 Turkey neck (giblets are optional) – simmer in approx. 4-5 cups of water til tender enough to pull meat away from bone. Set aside the broth

1 cup chopped green onion
1 cup celery, chopped
1 bell pepper, chopped
Salt & pepper to taste
¾ teaspoon of sage, or to taste (most important seasoning)
Instructions:

Pull meat off the neck bone, shred or chop into small bits – set aside.
Saute vegetables in oil for about 5 minutes.
Add the cooked white rice and the neckbone meat to the rice mixture. Add salt, pepper, sage, and some turkey neck broth (enough to moisture mixture into a rice pudding consistency).
Transfer rice mixture into a baking dish. Pour enough of the remaining broth over the entire rice mixture, it should submerge the rice, but not drown.
Add several dollops of butter on top of the mixture.
Cover pan with foil and bake at 350 degrees for 35-45 minutes
---
Check out Gigi Marlowe's books on Amazon.
Subscribe to my newsletter for Q&A alerts, writing tips and publishing news. Check out my books.