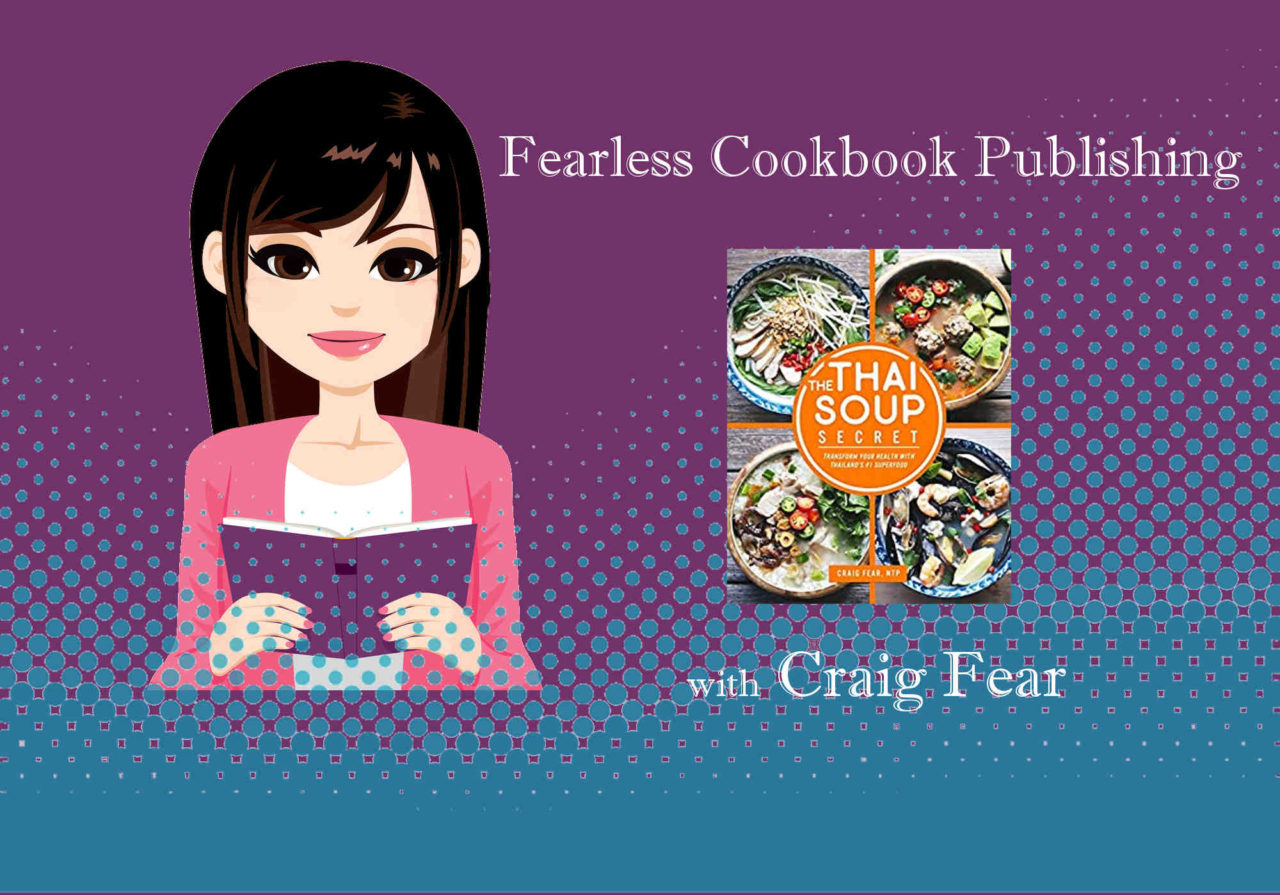 Craig Fear is a cookbook author and the blogger behind Fearless Eating. He will chat about how he built his cooking platform, how he prepared his cookbooks from draft to indie-published, and how he tests his recipes.
---
Q. You have a dog, correct? What's his name?
A. I do! Her name is Lipton and she's an English golden retriever.
Q. Oops…a she. Okay! I saw how you gave her a Quarantine-haircut. And she was still happy.
A. Yes, it's a good thing dogs don't care. Because I totally butchered her haircut. "Butchered" is an understatement.
Q. Well, butchering seems fitting for someone who preps food. My question to a cookbook author like yourself who tests recipes all the time…how do you co-exist with a dog who probably wants to eat everything?
A. Well, she gets fed a raw food diet, most of which is meat, so she stays pretty happy. 🙂
Q. Wow, really? That's interesting. So…let's go back to your roots for a minute. What does NTP stand for and what did it take for you to earn those letters?
A. It stands for Nutritional Therapy Practitioner and it required an intensive one year certification program through the Nutritional Therapy Association.
Q. Cool. Most cookbook authors start out with a blog. Was that your journey too? I guess tell us where your videos and books began.
A. Correct. I started blogging as a way to grow my practice. Then I wrote a digestive health book, The 30-Day Heartburn Solution. Then I wrote a cookbook about broths and soups and eventually found myself enjoying that a lot. Then I wrote another one with a focus on Thai cuisine. And eventually I transitioned into writing full time. It all happened very organically and somewhat accidentally. I never intended to be a food writer! But here I am.
Q. That is awesome! I have a fondness for Asian cuisine. I am originally from the Philippines. And one of our go to restaus locally is Thai. Did you live there?
A. I've never lived there but I've made three trips to Thailand as well as three others to neighboring countries. I have a great love and affinity for southeast Asia. Especially the food.
Q. Are you still practicing as an NTP then?
A. I'm not. I gave up my practice several years ago to focus on writing cookbooks.
Q. Makes sense. Tell me about your experience producing your first cookbook. What year was that and what did you learn from that experience?
A. My first cookbook, Fearless Broths and Soups, came out in 2015. I really enjoyed the process of writing it and testing the recipes. I actually found it more enjoyable than writing my first book which was heavy on scientific info and thus, more the left brain rationale. Sometimes that can get heavy and overly analytical. I enjoyed the creativity and freedom of expression when writing a cookbook.
Q. I love your handle. Fearless Cooking, right? How did that come about?
A. Fearless Eating. My friend made an off the cuff comment that I should call my blog that and when he said it, I immediately knew he was right.
Q. Yes, it is perfect. What is your process of testing a recipe? Do you track your grocery receipts so you can write it off at tax time?
A. When testing recipes I use a combination of my own intuition and experience as well as researching similar recipes. I look at different variations, write down different possibilities and then test out a few versions, making tweaks along the way, until I hit on something that I think is unique but of course, delicious too. And yes, I track all my receipts.
Q. Who gets to taste-test with you? Who gets to enjoy all the bounty of your delicious meals?
A. Often it will whoever is around – friends, family, etc. But sometimes I host taste-testing parties, where I'll make 4-5 different things for a group of friends and ask for very specific feedback. They're a ton of fun, albeit a lot of preparation and work (and clean up).
Q. Nice! I wondered if you liked to entertain. I enjoyed your Fearless Broths and Soups book, and noticed there were no photos. I am a self-published author wanting to branch out into cookbooks, and I'm a little hung up on trying to incorporate photos into my e-books. Was that a hard decision for you to make a cookbook without photos?
A. Not for the first one. I wanted to keep it simple and I wanted to get it out into the world quickly. I knew photos would take a lot more time and money. You also make a lot less when there's photos because the cost of printing in color is so much higher.
But for the second one, my Thai soup book, I did include photos.
It's funny but most of my favorite cookbooks don't have photos.
Q. I will have to check out the Thai soup book. Huh, I would have thought the opposite. Why do you say that? What books are you thinking of?
A. Personally, and I realize I'm in the minority on this, I find a lot of modern cookbooks too photo-rich. They're almost too simple. It's all about the photos. I feel like the voice of the writer gets drowned out. I like to read stories and learn about the context and history of recipes. My favorite all-time cookbook is The Provincetown Seafood Cookbook by Howard Mitcham. It's funny. It's educational. It captures the essence of Provincetown as a fishing village before it became a tourist trap. And the recipes are fantastic. And there's no photos.
Q. I will be adding that to my TBR pile. Yeah, I hear you. The stories behind the recipes are always compelling to me. What was your process of producing The Thai Soup Secret Book, from draft to published?
A. The idea came to me when I was in Thailand. I started researching and documenting soup recipes everywhere I went. And then it was figuring out which recipes could be presented in a way that most Americans could make from scratch. I decided to exclude the more complicated things like coconut curries.
Because most people are not going to make a curry paste from scratch and I didn't want my recipes to be about using a lot of canned ingredients with a lot of chemicals, like curry pastes.
I also emphasized broth-based soups for their gut-healing properties. So most of the recipes include herbs with anti-inflammatory benefits like lemongrass, galangal and kaffir lime leaves. All of which are easy to find in most Asian markets. Or online.
Q. How long did it take you to draft the book?
A. Probably 2-3 months once I got back from Thailand. And then another 9 months or so of creating it all. So about a year from start to finish.
Q. That must have taken a lot of faith that all that travel and work would pay off into a viable cookbook. How did you take that leap of faith? What gave you the confidence to self-publish? (Versus going trad)
A. Well self-publishing was all I knew at that time. My two previous books sold pretty well so I just had the faith to keep going. I didn't even consider traditional publishing at that point. However, with my latest cookbook project, I am making an effort for a traditional publisher.
Q. Oh? How come?
A. I just feel the time is right. I'd like to work with a team of people to help me bring the book to life in a way that I can't do on my own.
Q. In your current cookbooks' copyright pages, you credit Archangel Ink for helping with the publishing process. How did that work?
A. I paid them to do the cover, editing and formatting. They're not a traditional publisher. But they do great work for self-publishers.
Q. Do you have plans to branch out into other cuisines anytime soon? Why or why not?
A. My current project is a cookbook on New England seafood soups, which is my heart and soul in the realm of soups.
Q. Ah, I see. For an MA guy, you are in a great place for that. (And I looked up Mitcham's book. Looks fascinating!) What did it mean for you to go full-time as a cookbook author? How have you expanded your brand to include several revenue streams?
A. I do some affiliate marketing but most of my revenue comes from book sales and advertising on my blog.
Q. I wish we had more time to chat. I feel like I just got done with the soup course. Do you have time for one last question?
A. Sure thing!
Q. Awesome. What would be your advice to someone who aspires to be a cookbook author?
A. I'd say learn as much as you can from others. There's a lot of resources today and ways to connect with people. Do some market research on your topic. There's a lot of pros and cons with both self-publishing and traditional publishing. I'm just learning about the latter and it's a completely different ballgame than self-publishing. Not sure that answers your question very well. Again, I came into it somewhat accidentally. I'm learning as I go, like most people.
Q. That makes a lot of sense. Great advice, Craig. Thanks so much for chatting with me today! I look forward to seeing more of your recipes and trying some out for myself.
A. Thanks for having me, Jewel! Great to chat with you too.
---
Check out Craig Fear's books and website.
Subscribe to my newsletter for Q&A alerts, writing tips and publishing news. Learn how to write & publish fast for profit in my Rapid Release publishing series.