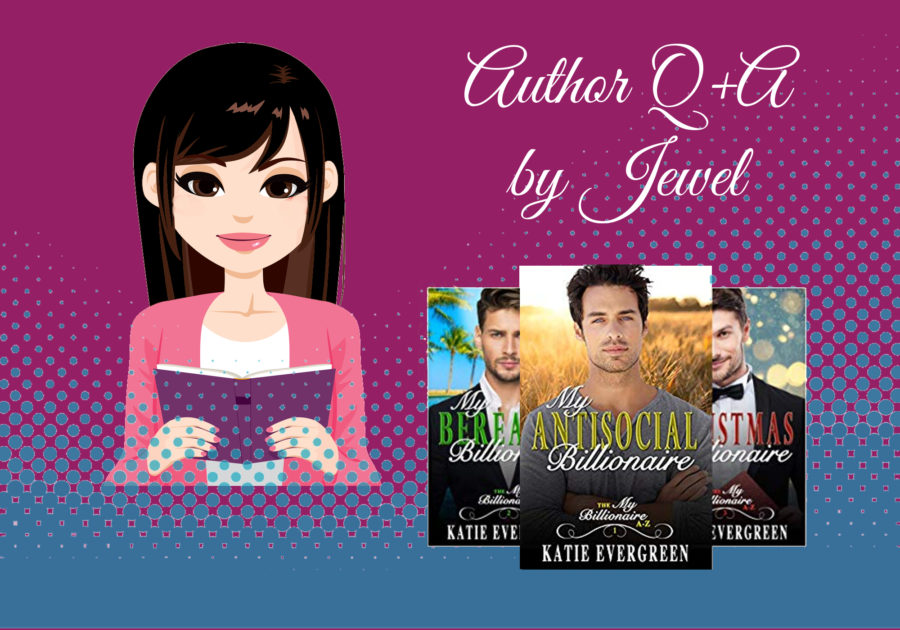 Katie Evergreen is the pen name of a British writer who started rapid releasing a clean billionaire romance series, My A-Z Billionaire, in October 2018. She releases 50k-word novels every month. Check out her series here.
---
Q. Are you in England? Or where…?
A. I am in Norwich, England
Q. No way! My aunt lives there. Norfolk.
A. Yeah!! No way.
Q. So…first, can you tell me a bit of how you ended up a writer?
A. I started writing when I was a teen, but never really pursued it because I didn't think I was very good (probably not a great endorsement for my books now!). I picked up the pen again in my mid-twenties, so about ten years ago and started writing scripts with my brother. They were horror scripts and we won quite a few awards for them. I wrote a couple full length women's fiction novels and a thriller and have since turned my hand to clean, sweet romance which I absolutely love writing. It's only part-time though as I also work as a therapist for Social Services.
Q. Horror! Interesting background. What were your takeaways from writing award-winning horror scripts? What do readers respond to well?
A. I think I took away from the awards the feeling that I was a good writer, and that it was something I should keep pursuing. Those readers were all industry professionals, so it was a boost that they liked the work as they had no reason to say good things just to be kind.
Q. Let's talk about your billionaire series. How did you come up with that one? It's brilliant, I think.
A. It has been brilliant fun. I write a draft then get help with blurbs, and covers, and editing. I concentrate on the marketing myself, so it's a lot of work, but very enjoyable.
Q. Can you describe your process?
A. I wanted to write billionaire as it was a trope that was doing well— I did a lot of research. It is also a fun trope to write. I also knew it was going to be clean as writing anything other than that with family members reading it would be awkward! The idea for an A-Z came to myself and my brother—who does a lot of the editing, blurbs, and designing—in a brainstorming session about how we would link the series and we were surprised and thrilled that no one was already doing it.
Q. * thrilled that no one was already doing it * Yes, that's a great feeling. How do you come up with your story ideas? You have cute titles.
A. I have quite a good prompt with the A-Z letters, I think. I come up with the word starting with that letter first, and make the story fit around the word. It's great for getting the creative juices flowing.
Q. That would be so fun. My hubby tries his best to be a sounding board, but he's not really into it, you know? 🙂
A. I know, there are some people who try to sound keen but you can just tell!
Q. How long does it take you to draft a novel, and what is your average wordcount?
A. It takes around a month to write, then another few weeks to edit. We always have the cover and blurb done first. To help me picture the ideas. That really helps, I find. All of the books are around 50k in length.
Q. So with rapid releasing, are you a few books ahead?
A. I started with two finished books when I released in October, just to give myself some breathing room. But as I only made the decision to start this series in August it was a lot of work. I'm now one book ahead and try to keep up with that. Otherwise it could get a bit nail biting with Amazon pre-order dates.
Q. So you do pre-orders on all.
A. Yes, it's a good incentive to write and edit quickly.
Q. No kidding. I hear you. I am also on pre-orders and it can be a killer but great motivator. 🙂 So we mentioned royalties. Do you mind if we talk numbers? And feel free to decline if you'd rather not answer. How much are you making and spending right now with your series?
A. I'm more than happy to talk numbers, it's also been a great incentive reading about how much other authors have been earning, and if I can help another author kick start their dream then I'm all for that. Let me just change Bookreport to dollars! Hold on BRB.
Q. Ha ha ha. British author problems. LOL Great, thank you.
A. Haha yep! In October we made $213 but had spent about $250 in business set up fees, bulk image packages for covers, and websites etc. November we made $750 and spent about $50 in ads.
Q. Nice expense line. Obviously you can keep costs low because you do a lot of it yourselves. That is great.
A. December we made $1390 and spent about $200 but we did release our January book early so we had 2 releases in Dec.
Q. Wow, nice jump there!
A. January we had no releases and made $1061 and spent about $300 in expenses. I was pleased with that as I thought it might stagnate with no books out.
Q. $300 in ads? What kind of advertising did you do?
A. I am running Amazon AMS ads with not great return and FB ads which I really want to try and master as my CPC is only 0.08p
Q. Ah, okay. Yeah, I have been trying FB ads, too. I hear that's the way to go nowadays. It will be nice for you to compare.
A. January spend was also an ENT and a Book Doggy, Fussy Librarian and Just kindle. I do a free day with stacked advertising and they seem to be great for sales afterwards.
Q. Okay, great to know. About your British background, do you find yourselves writing differently for an American audience? Or are you writing for a British audience and snagging American readers anyway?
A. I am aiming for an American audience. This was a very steep learning curve as there are SO MANY differences in our languages that seem small but make huge differences in the meaning! Marquee, Pinny, Wake… to name a few!
Q. So do you have American readers beta for you?
A. I didn't, I do now.
Q. And this is the last question. Thanks for giving me so much of your time! Do you have any special advice to someone who is starting out writing or rapid releasing?
A. To anyone starting out writing, go for it, and don't expect to be outstanding from the get go. Although some people are, it's the minority. You wouldn't expect to sit down at a piano and be able to play Beethoven immediately. It takes practice. Lots and lots of practice. Make the most of fantastic writers groups found on Facebook and start to chat to like-minded people. Everyone is so supportive and helpful.
For rapid release, I'd say read and know your market inside out before starting. Try to have a few books to start with to ease the pressure, because there is way more marketing than I realised and that takes up a lot of time. Writing sprints are a great way to get words on pages. They have been the main technique for me to be able to write 50k words a month. And lastly, don't put too much pressure on yourself, and have fun.
---
Check out her series here. Visit Katie Evergreen's website here. ♦ Want to learn how to write and publish fast for profit? Check out my Rapid Release how-to book here.