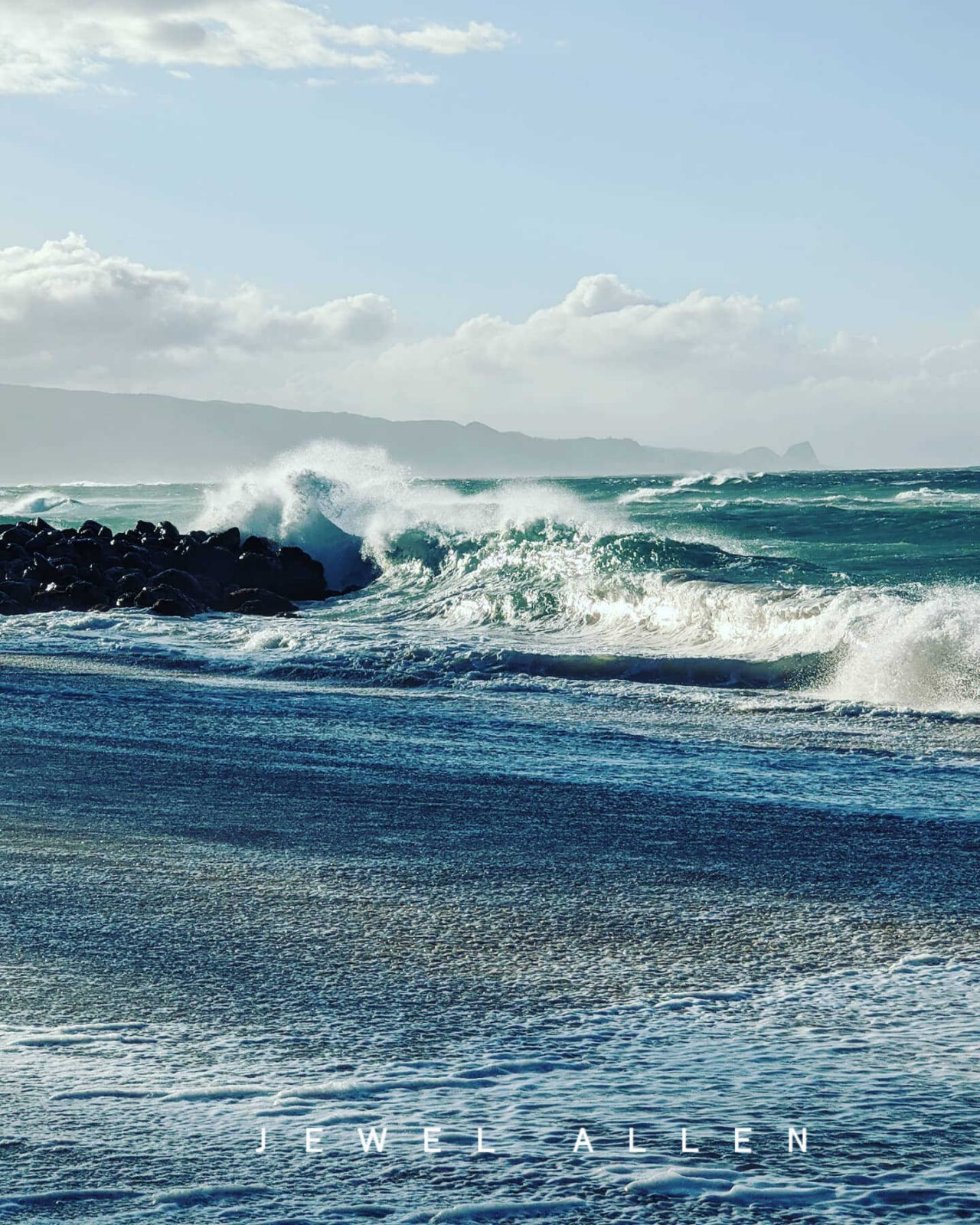 I always thought I would be able to smell the sea.
But standing there on Paia Beach our last day on Maui, I couldn't. Nor could I smell that constant fish scent that has marked my trips to other beaches in the world. Maybe because of the constant wind.
This was Maui's north shore—where the waves rose to at least twice the height of a grown man, swallowing and spitting out the few surfers still at it nearing sunset.
This was the wilder coast of Maui, the rebellious sibling of the still vivacious, but more civilized other coast.
Today, we had gotten up early this morning to await word about whether or not we were going to go skydiving.
Alas, the word was no. I had a feeling this would happen. It had already been postponed from Monday, Wednesday, and now, we'd run out of time.
Too much wind still. The company rep apologized several times, but we thanked him for not sacrificing our safety just to make our dive happen. It was both a disappointment and a relief. I had been anxious about skydiving, and now I was off the hook. Someday, Drew and I will have to skydive closer to home.
So instead, we went to Ulua Beach, a compact beach flanked by volcanic rock on either end, which made for good snorkeling. Yesterday I had experienced FOMO, seeing Kaanapali beach. I could get one more snorkel in.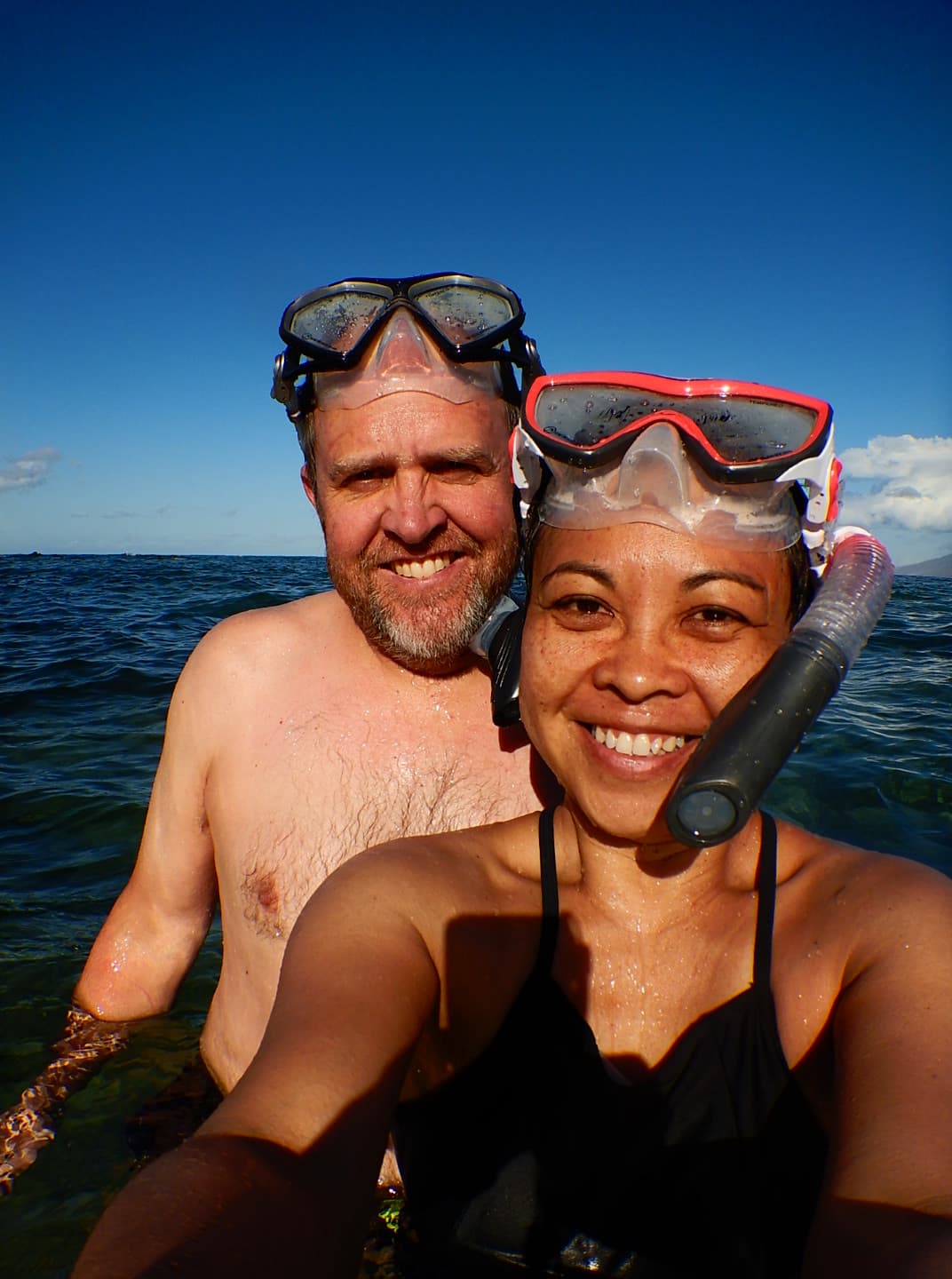 A couple coming out of the water with their gear said they saw a turtle, but we never did see it. I am counting my lucky stars now that we had seen that turtle on the beach our first day.
The currents were strong, and I could easily see a swimmer being swept out to sea. I had to fight to swim back several times. A few times, exhaustion started to set in and I started to eye coral that I could step on while still avoiding sea urchins.
Because we didn't have skydiving, we were able to shower back at the condo. Fresh, clean, and reveling in the Maui sun, we ate brunch at Ohana Seafood & Bar. Drew had fish tacos. I ordered Seafood Eggs Benedict which was not on the menu, but the cook was able to indulge me.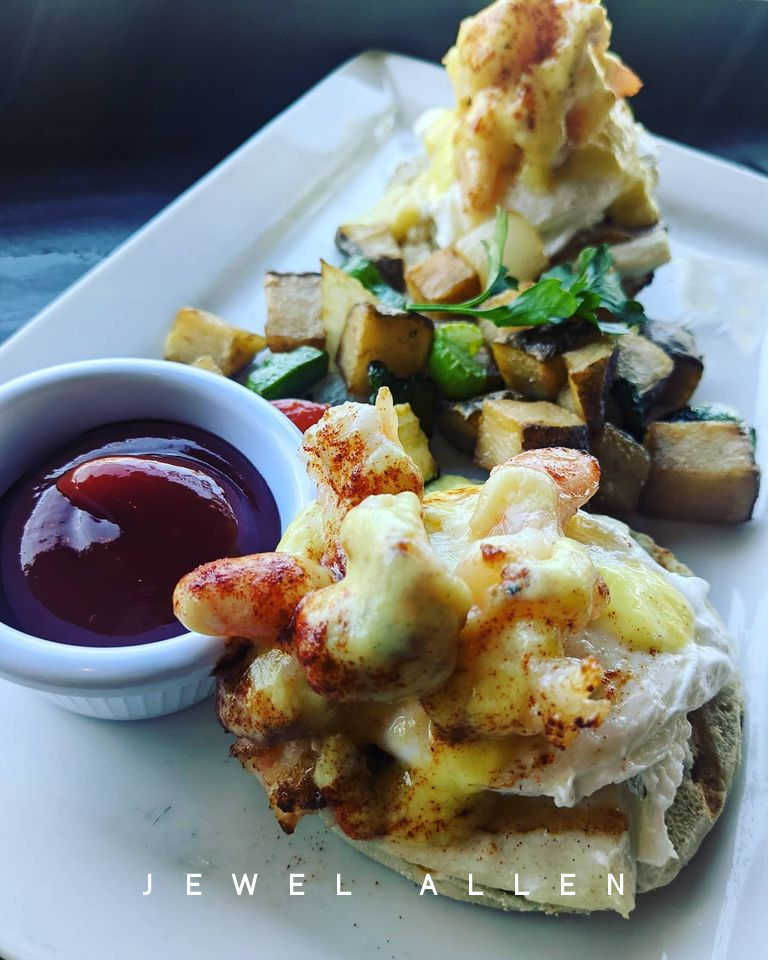 After this nice sunny interlude, we went up to Haleakala National Park, which was 10,000 feet in elevation and 45 degrees F. And where the sun couldn't warm me too well. Brrr. The sensation coming from lowland to highland was like night and day. The views were breathtaking, but I was anxious to get back to "beachy" Maui. We went on to drive to Paia, so we could start working our way closer to the airport. Boo.
We found parking and walked down their Main Street in a brisk wind.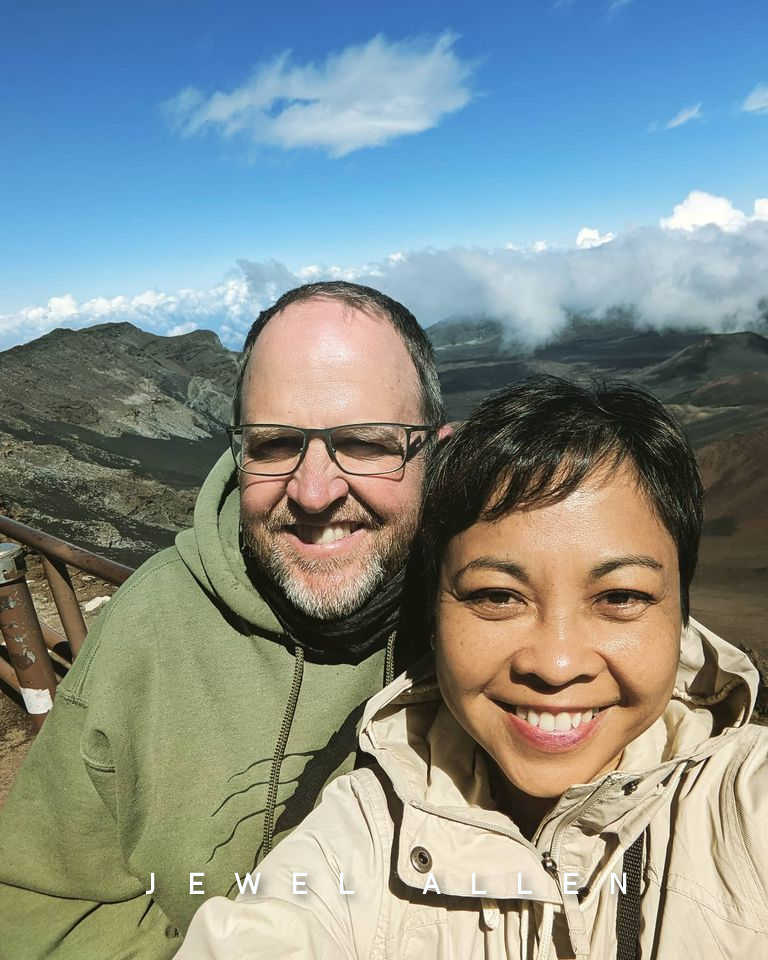 Then my husband said, "Look."
And there, over the cute little beachy town of Paia on the island of Maui, Hawaii, was a rainbow.
In the few seconds I watched, it seemed to grow brighter, spreading like a thin, upside down smile over the highway. Seconds later, I merely looked down to walk around a pole. When I next glanced up, the rainbow was gone, poof.
The incident made me think of the late Hawaiian singer Israel "Iz" Kamakawiwo'ole's beautiful rendition of Somewhere over the rainbow.
We don't always have to take photos of moments of happiness, but beauty is all around us. What a wonderful world we live in.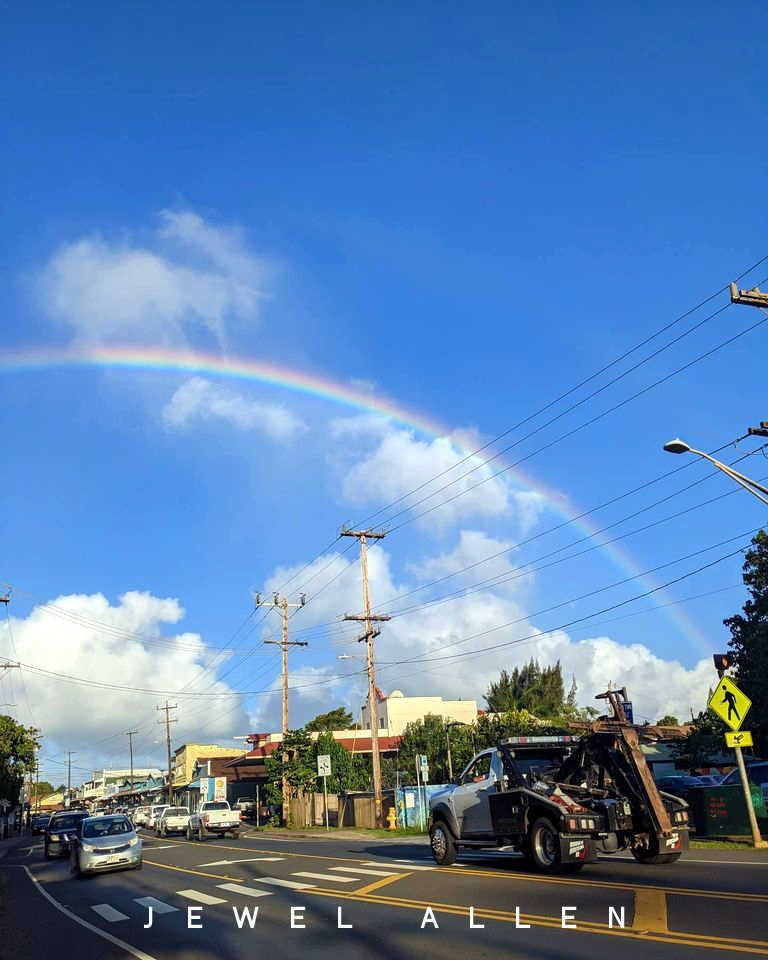 At Paia I was finally able to check off some things off my Hawaii food bucket list.
The first was Suicide Poke (raw ahi with wasabi and tobiko fish eggs). It was light and refreshing, but not my fave for texture. It was like chewing gummy fish, literally. But hey, I get bragging rights.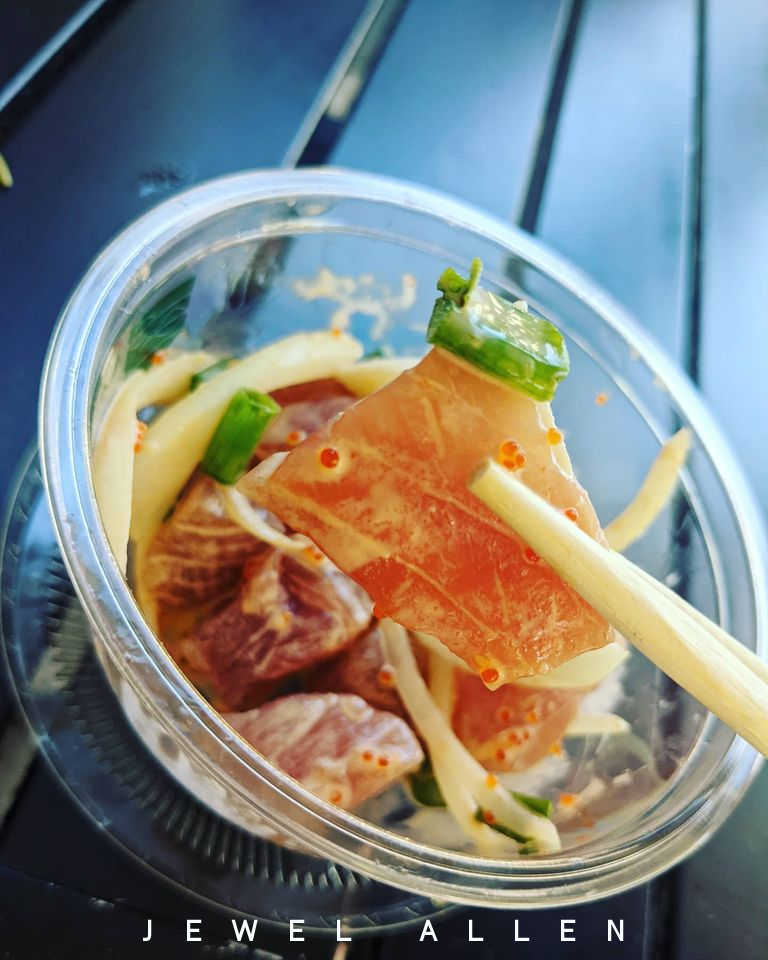 The second was pickled mango shaved ice at Ululani's. Finally, I was hungry and warm enough for shaved ice. The concoction consisted of a scoop of ube ice cream topped with shaved ice and three toppings—pickled mango (which was a nice amount of sour), calamansi (Philippine-style key lime), and lilikoi. (Hawaiian passion fruit) Mind-blowingly good, y'all.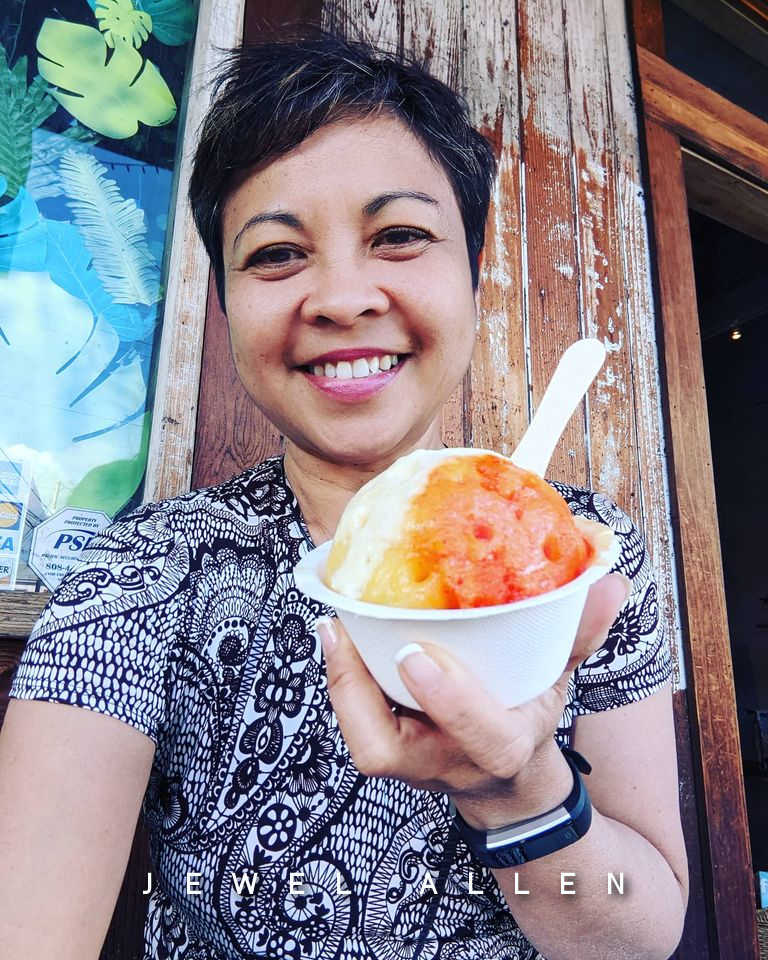 If you are looking down–and who does at a shaved ice store?–you will notice this mosaic beauty at the threshold at Ululani's.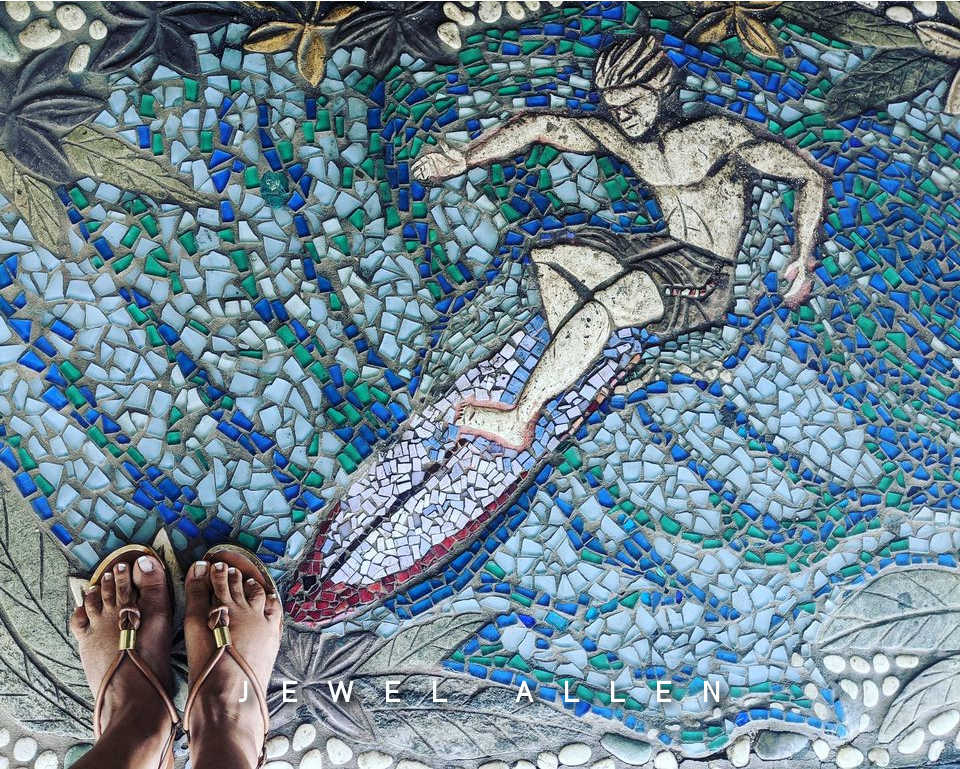 Drew tasted a spoonful and left me the rest to enjoy. And then we went down to Paia Beach, with young people from a beachside youth and cultural center launching themselves into the giant waves. One of them stood in perfect silhouette, and then started to move. I cajoled him to pose for me.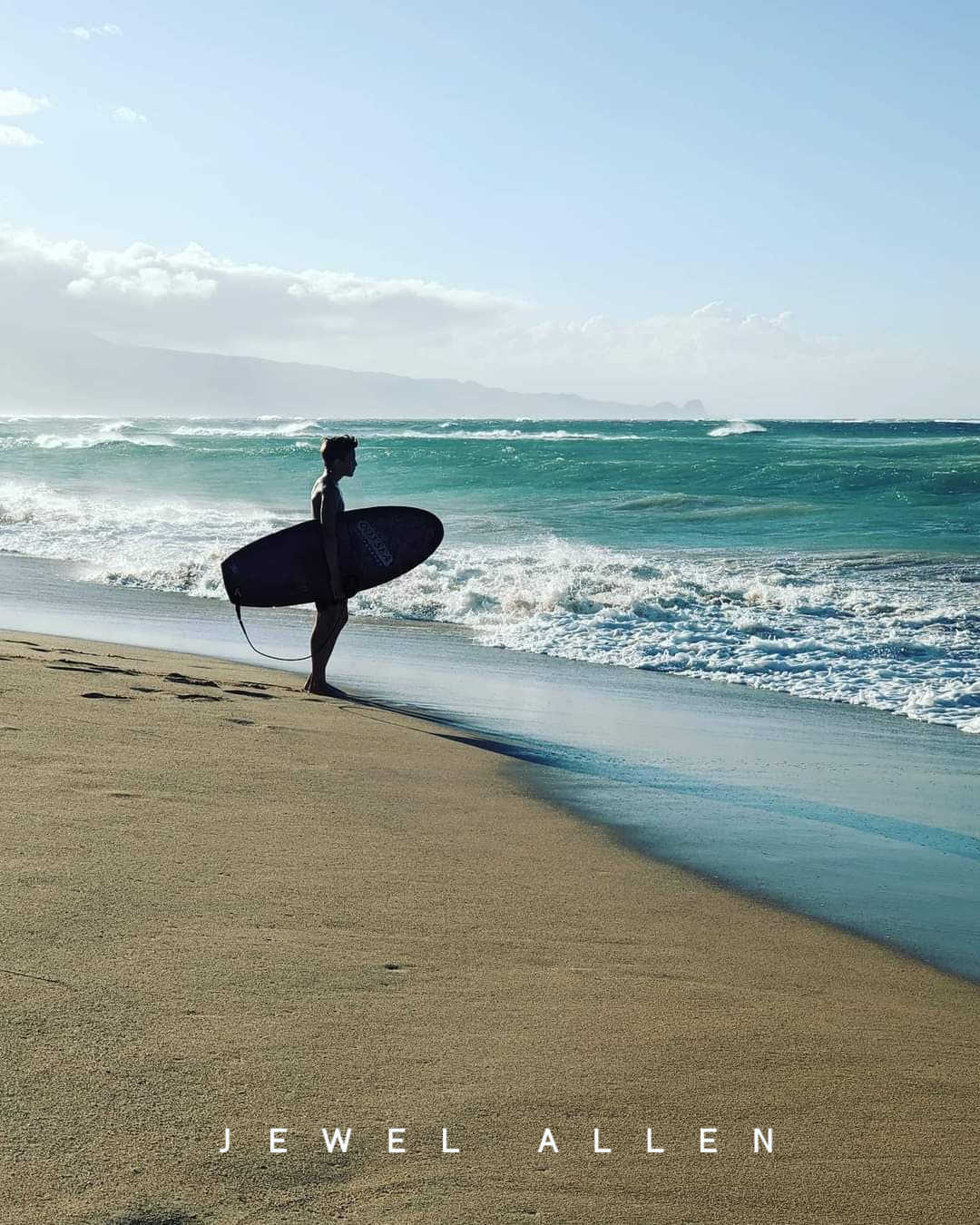 I tried to take some photos of the turquoise waters but my cell phone couldn't capture the images right. I just have to carry the memory in my mind: turquoise waters curling like a hand over the young surfers and crashing over their heads, wiping out everyone. The water churning and foaming as it spread inland. The kids, happy to repeat the process over and over again, brown from days in the sun.
We left Paia for Kahului so we could dine at the popular local joint Poi by the Pound before heading for the airport.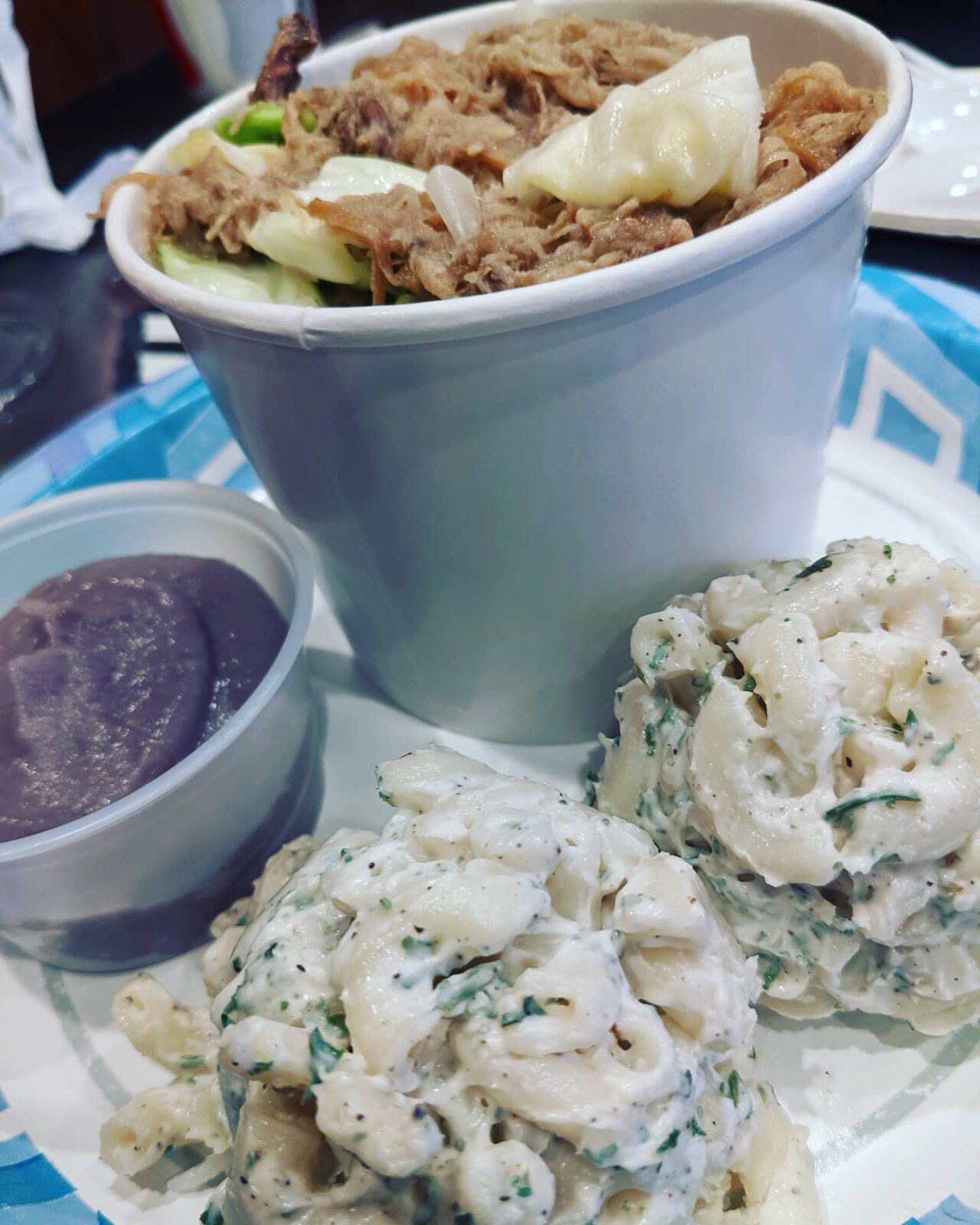 I had the Kahlua pork with cabbage, poi (the pale purple side), macaroni salad, no rice. I was obsessed with mac salad and had it every chance I got. Drew had fried breaded mahi-mahi, which was a flavorful, light fillet. Because it looked so much like my favorite purple sweet potato ube, I expected more of the poi. It was, simply, a bland paste, but made for a good counterpoint to the Kahlua pork's saltiness.
And then it was time to go. As the sun sets over Maui, most activities come to a standstill anyway. There was nothing left for Drew and me to do but head for the airport.
I had stayed in a summer dress and sandals, reluctant to let Hawaii go. Two hours into our wait for our flight to Seattle and then eventually Utah, I finally layered on long pants and a sweater only because the cool temperatures in the terminal compelled me to do so.
But around my neck, I still wore a black cord with a hibiscus pendant. When I trace the delicate ridges with my finger, I will remember the memories on the shores of Maui. The pounding of the surf. My sun-starved winter skin soaking up the warmth like a thirsty plant. The feel of the fine sand between my toes. The powerful recklessness of both waves and surfers. And yes, even the mountainous cold temperatures which had me shivering.
In Maui I might not have been able to smell the sea, but I could close my eyes and remember the fragrance of the exotic blooms along the pathways, brushing against my sun-kissed skin.
🌺🌺🌺 That's a wrap, friends. Thanks so much for reading along our Maui adventures. 😘
---
If you'd like to read my other travel adventures, check out my Travel Journals.