Wednesday felt like the perfect Hawaii day. (Which was good because, due to wind, skydiving had been postponed yet again, this time to Friday.)
Not that the other days hadn't been great. But they hadn't been all that warm on the jungle-y Hana side. Kihei, however, was full-on tropical. No threatening storms. Just sun, sun and more sun. I even broke into a sweat.
Meanwhile, I saw pics from my neighbors back home that we had snow on the ground. I couldn't even remember what winter felt like anymore.
After the church bells next door tolled ten o'clock, we set off to find a good beach to snorkel in. But first, we stopped at a local market with plenty of vendors and restaurants, like Kihei Caffe. I loved KC's fun colors and casual atmosphere.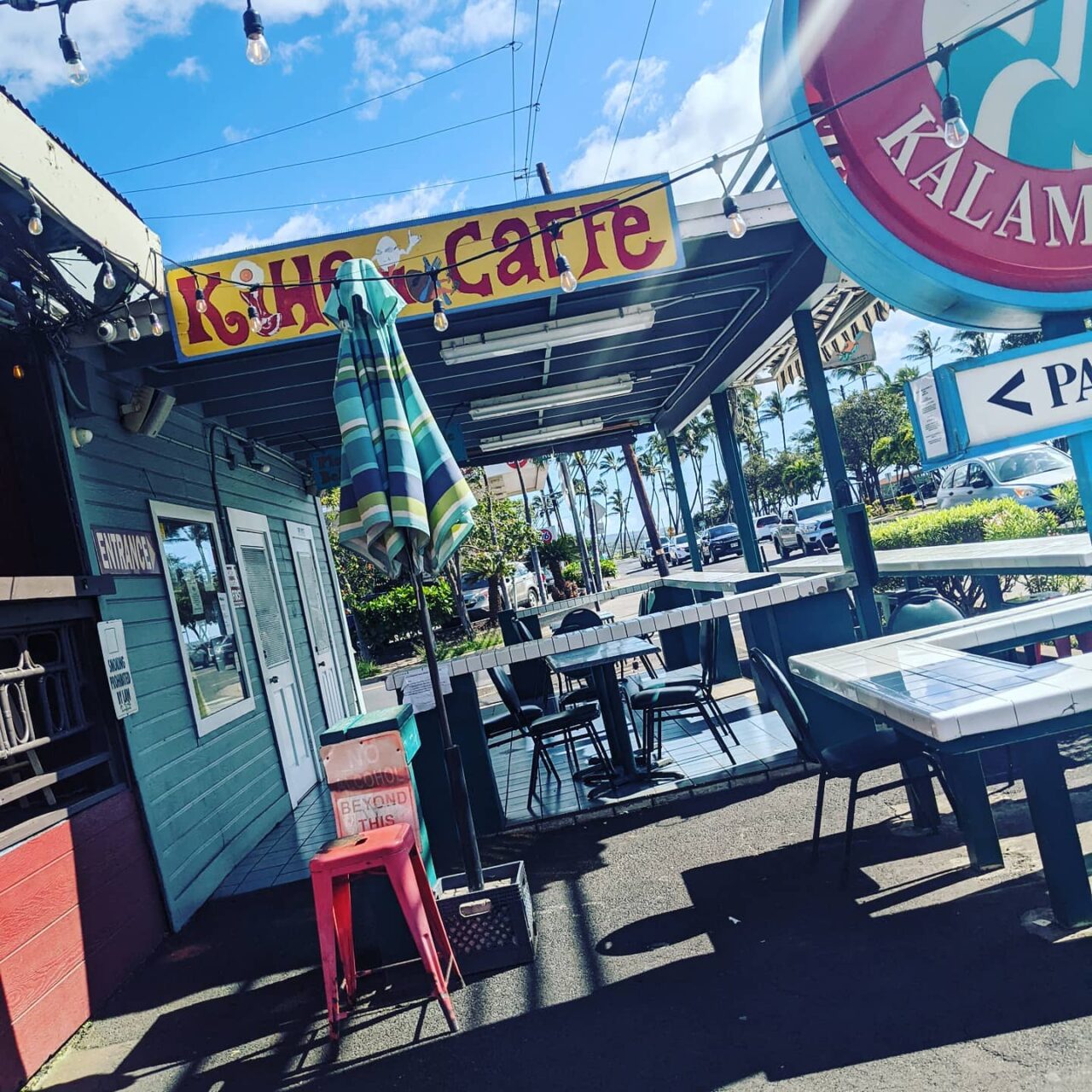 As there was a bit of a wait for a table, we opted to-go and enjoyed our food at a beach park.
Drew had Loco Moco—a beef patty, two fried eggs and rice, smothered with gravy.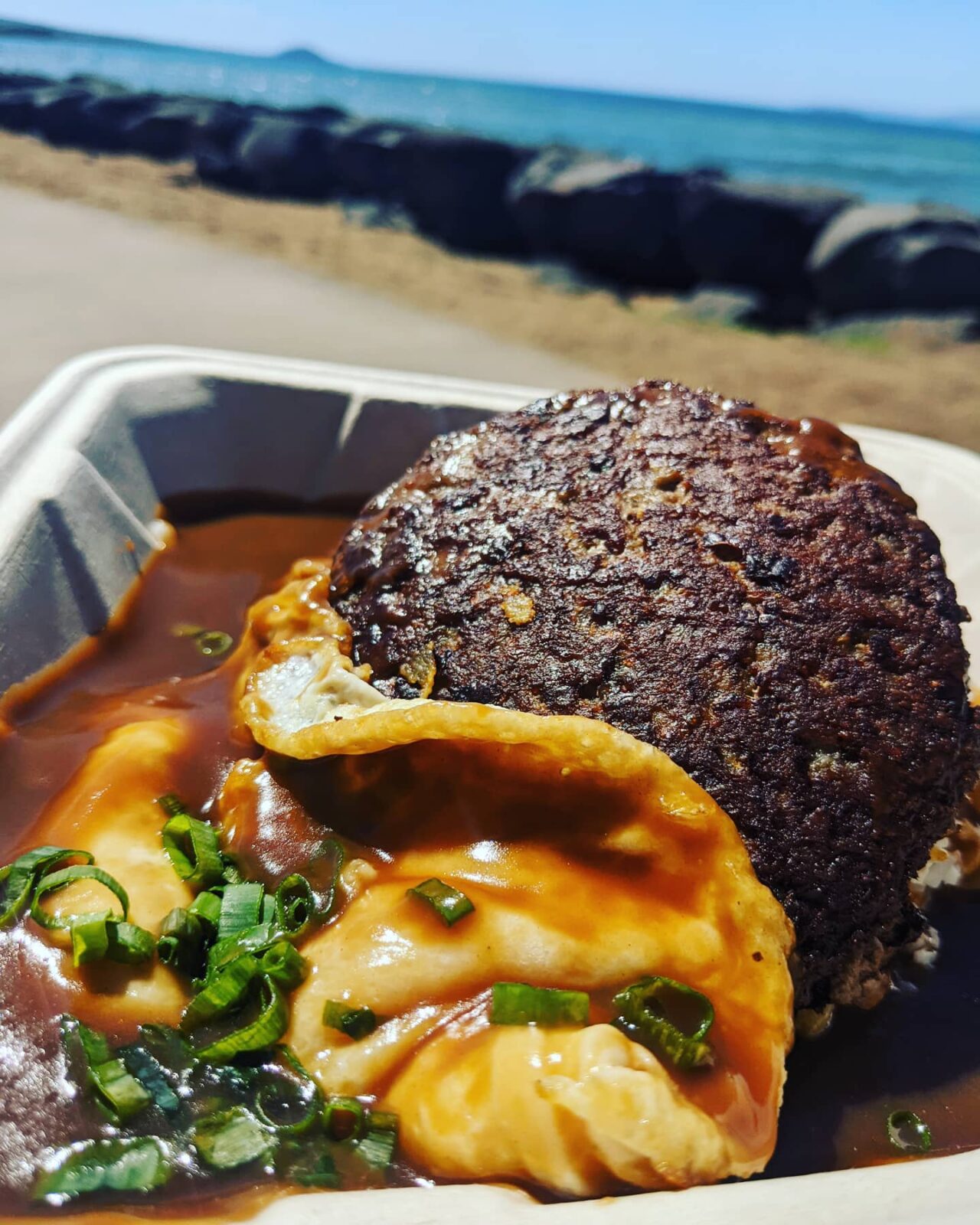 I had French toast with macadamia nuts and bananas with coconut syrup.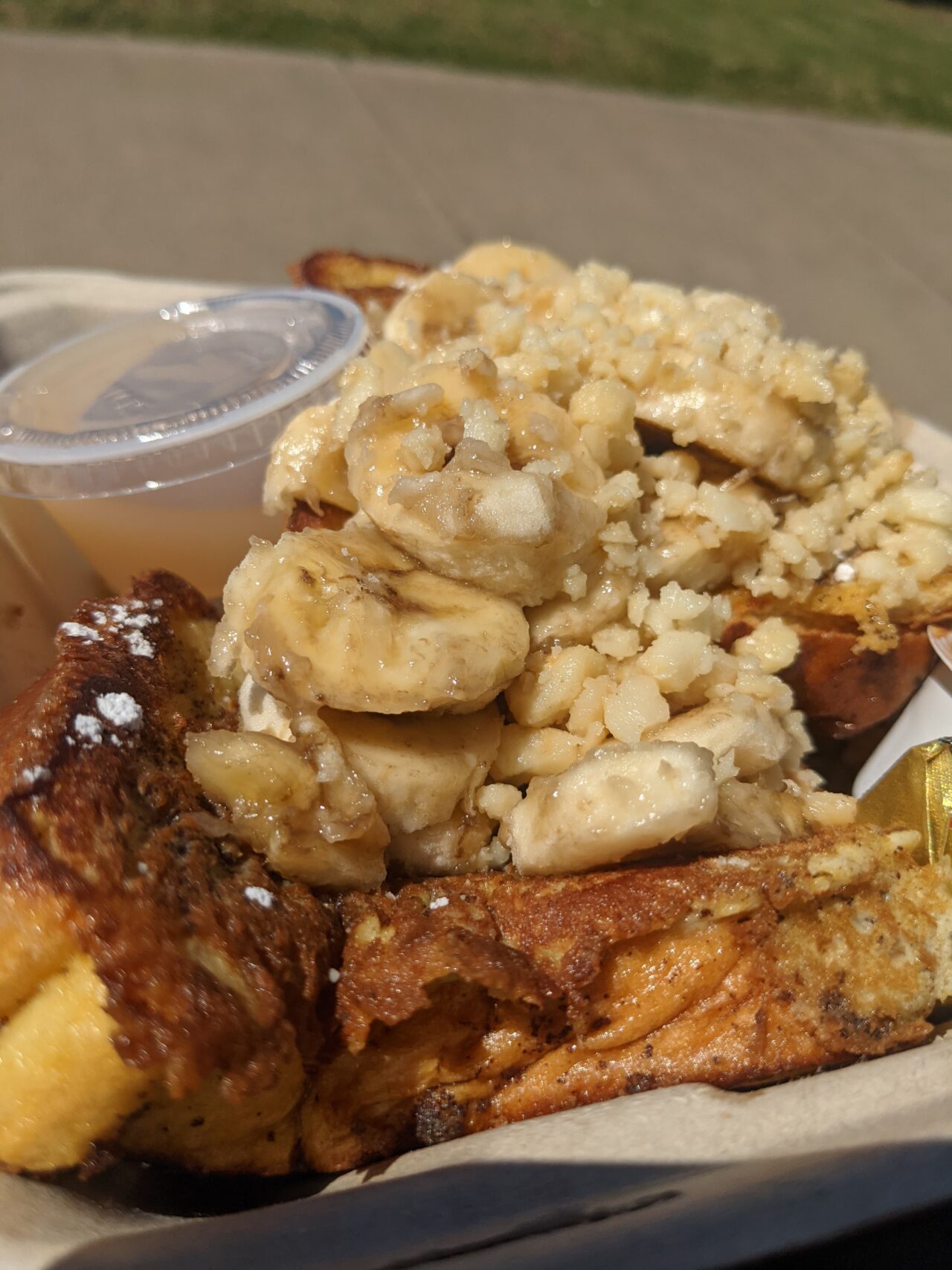 They were both very delicious, a nice counterbalancing combination of savory and sweet.
With that delicious start to our day, we drove to Kamaole Beach Park III (Kam III). It was a bit crowded, but still had plenty of room for everyone. That's the beauty of Hawaii beaches—they are all public and there's so many of them! This one was perfect for some simple snorkeling.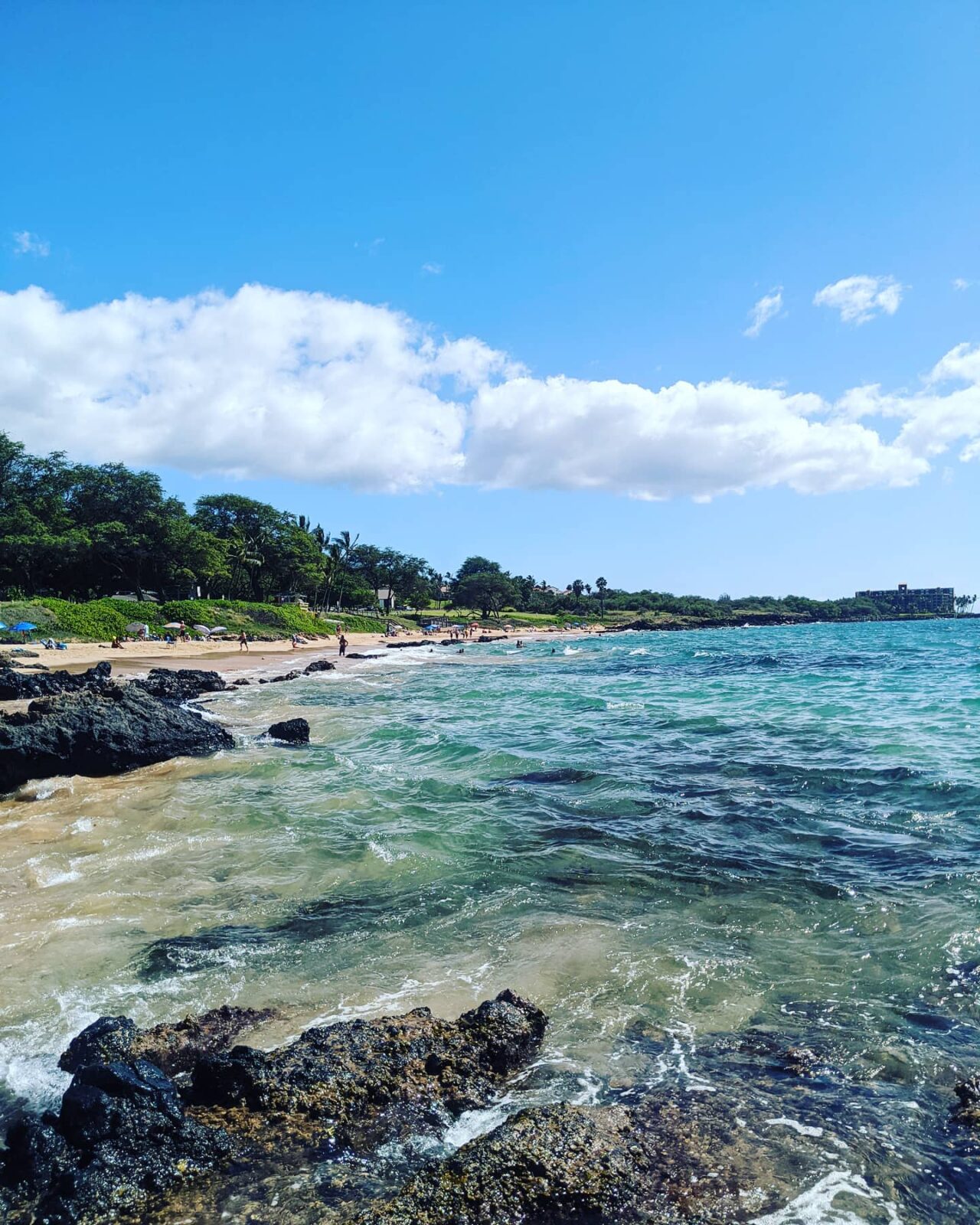 Drew and I had brought snorkels and goggles from home, mainly so that we didn't need to use a rental in a pandemic. We stayed close to the rocks and saw lots of black and white and silver fish, with the occasional, goofy-looking colored fish. (One of these days I need to learn to ID fish, but I am pretty sure I saw Trigger fish.) Some needle fish hovered near the surface. There were sea urchins tucked everywhere so we had to be careful where we stood to rest without getting shoved around by the waves.
The past few days, I've been chilled to get into the water, but today, it actually was warm enough that getting in felt great. We soaked up some sun. At the start of the trip I was kind of pasty from winter, but not as much anymore. The reef-friendly zinc oxide sunblock was messy, but we used it to try to help protect the reefs.
As with other trips, it takes me a few days to relax, and I hit that sweet spot today.
Laying out on the beach mat. Walking up and down the beach. Playing on the swing set by the park. I know there will be work to do when I get back to reality, but I won't worry about it now.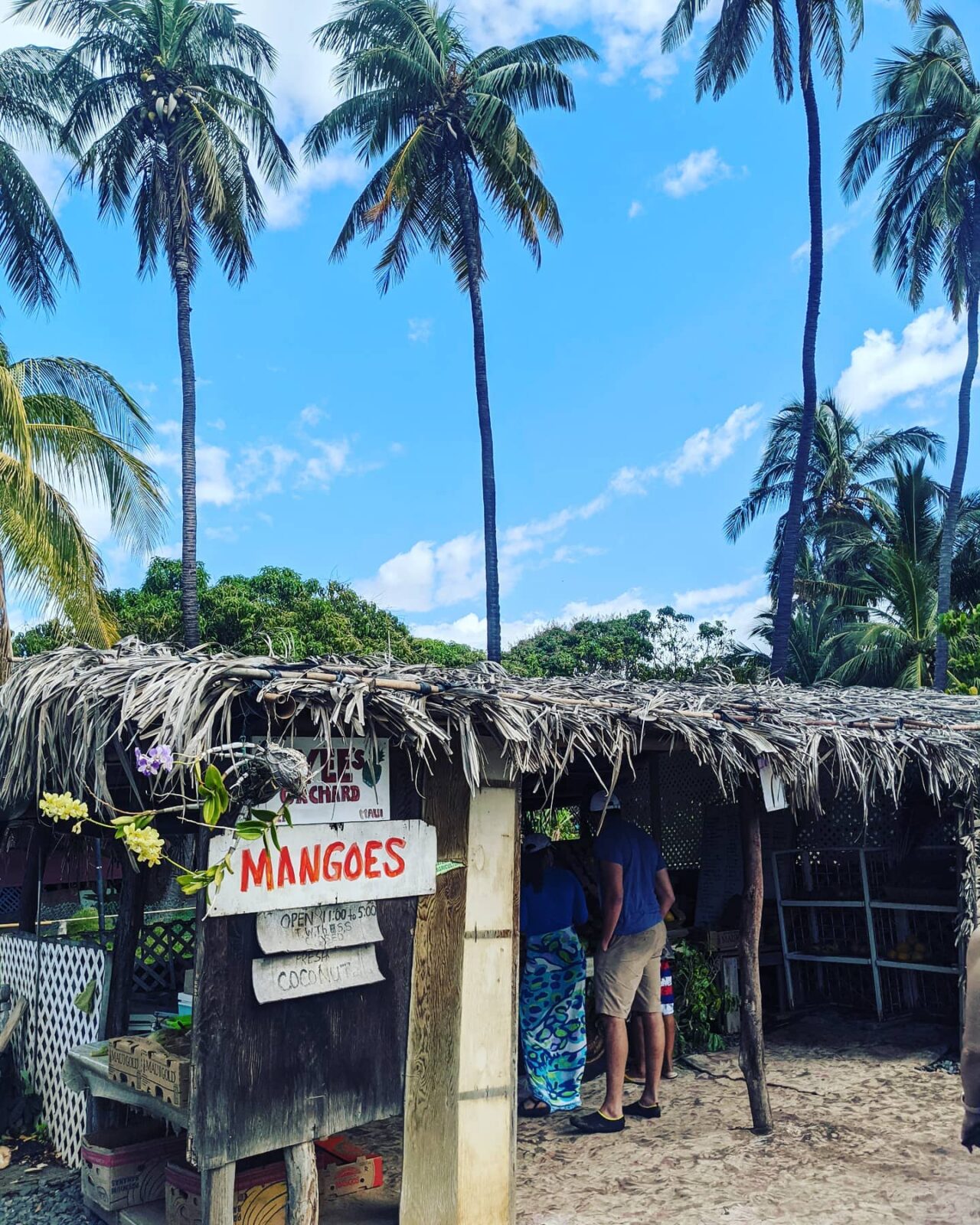 If we hadn't been paying attention, we would have missed Yee's fruit stand, a famous Kihei stop comprised of a small unassuming lean-to in a sandy lot.
I fangirled all the fruit, including mangoes (four different varieties) and oranges. I squealed upon sighting chico and star apple–fruit I'd grown up with in the Philippines and have missed so much. We also got mango bread and coconut candy. The vendor was Filipino, like most of the workforce we'd encountered so far in the area. (Our whale watching captain said Filipino is the second most widely spoken language in Hawaii.)
With excitement back at our condo, I got the fruit ready and took them out in a plate for us to share on our balcony. Each sweet, juicy bite brought back memories of my girlhood.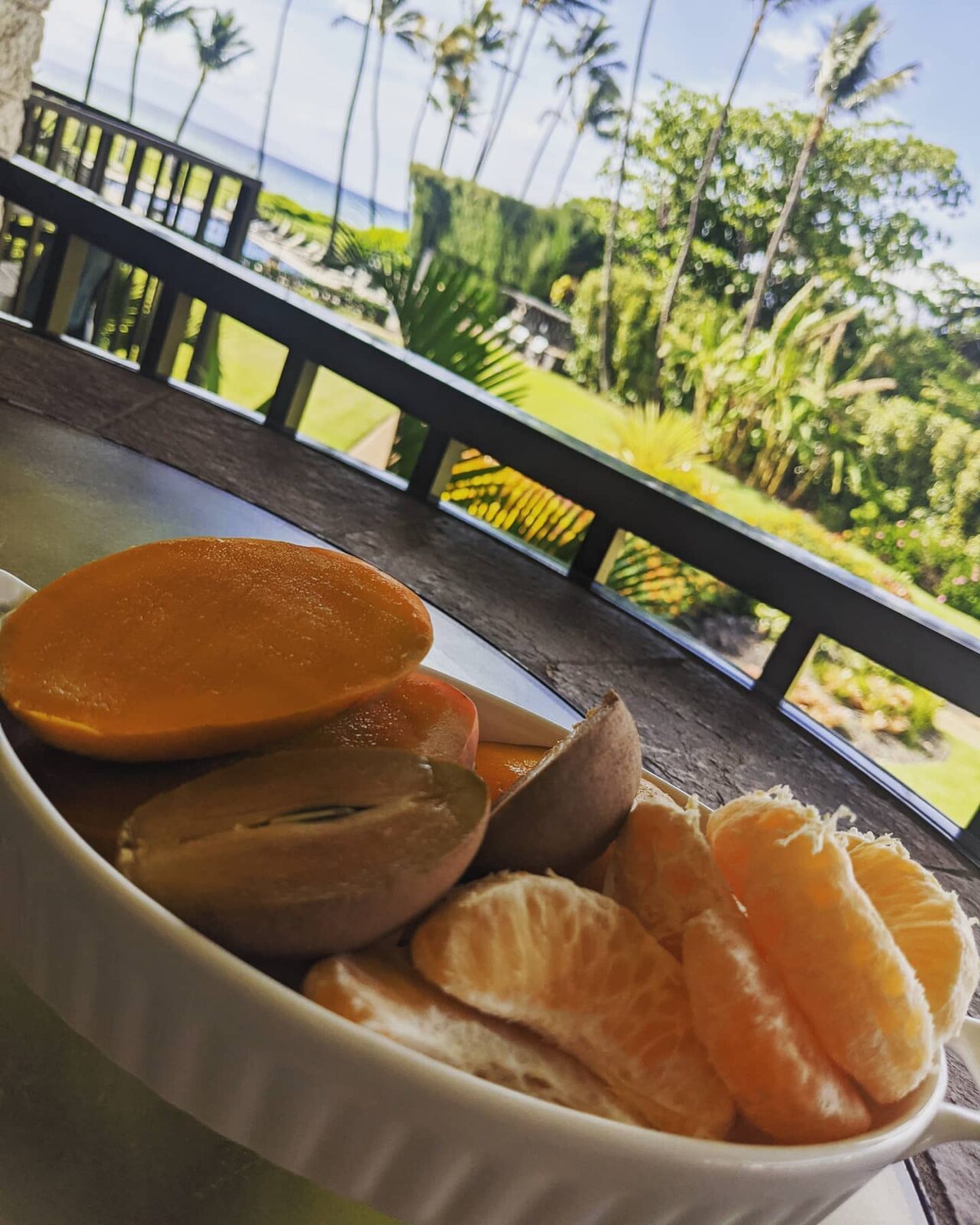 We headed back out to Lahaina early evening. I really liked the vibe of the small harbor town. Colorful, unpretentious, not outrageously expensive. Plus, we checked another item off our Maui food bucket list: eating lobster at Betty's Beach Cafe while watching the sunset.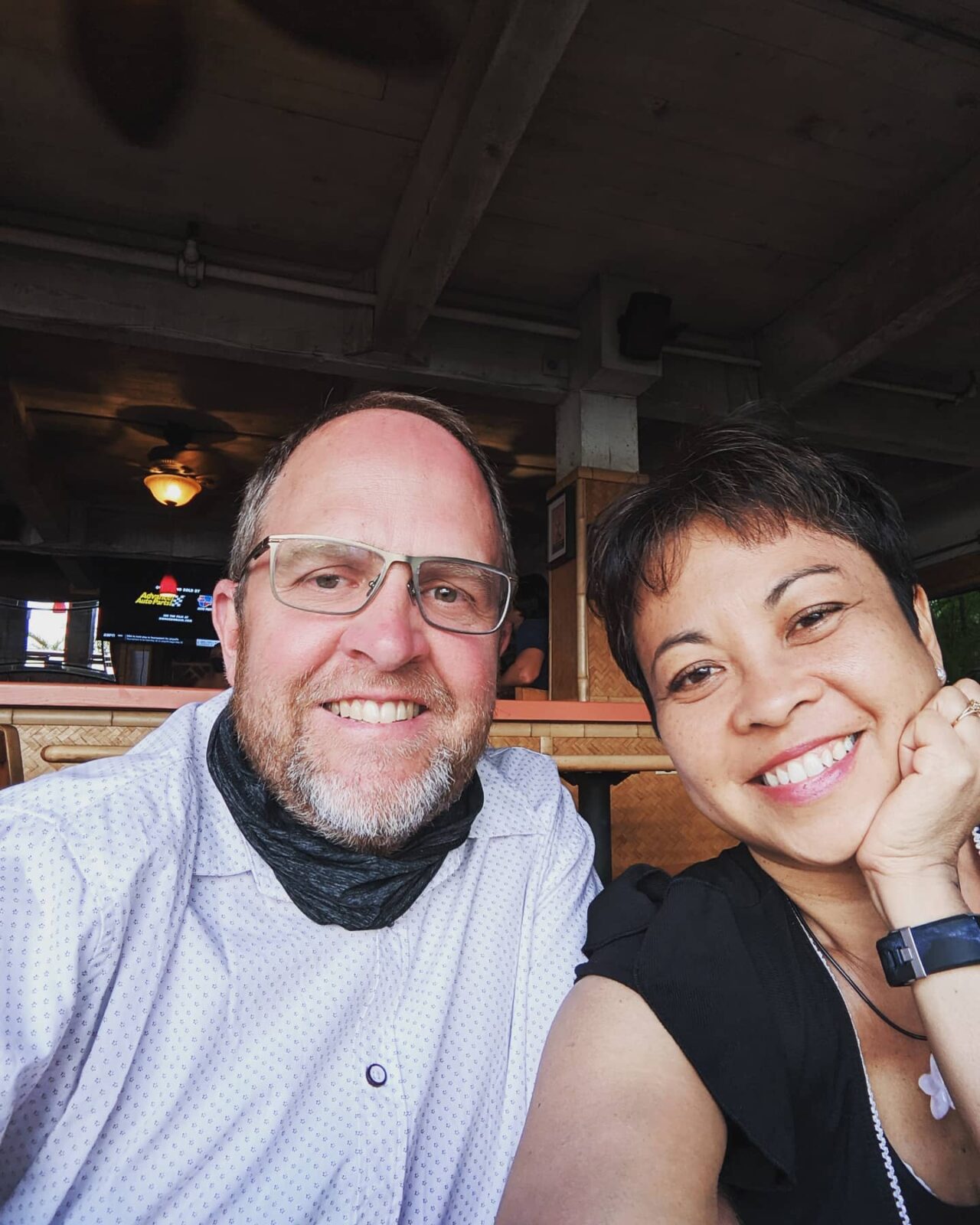 Drew had the lobster special.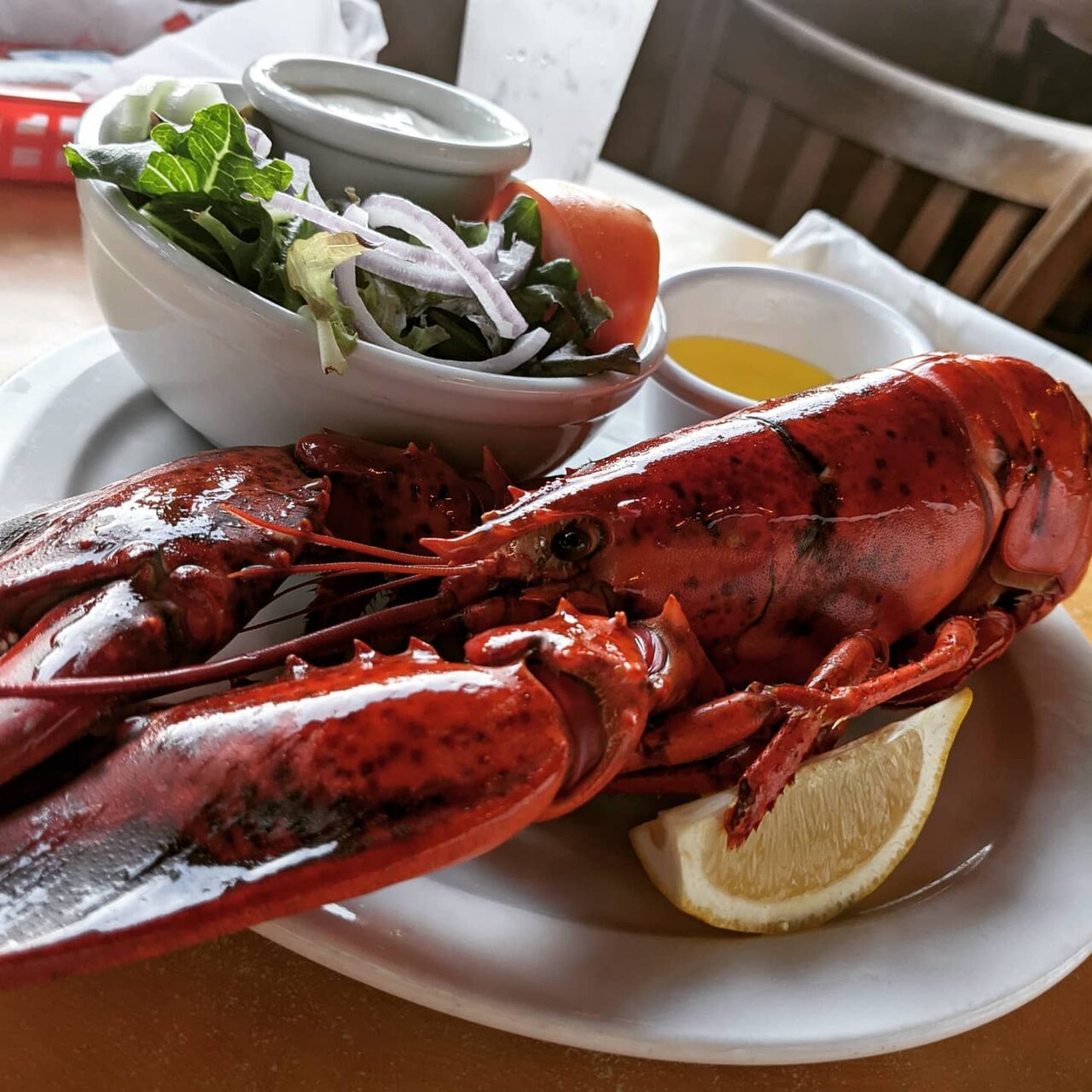 I had the Kahlua pork nachos with Virgin Lava Flow (pina colada with strawberry sauce).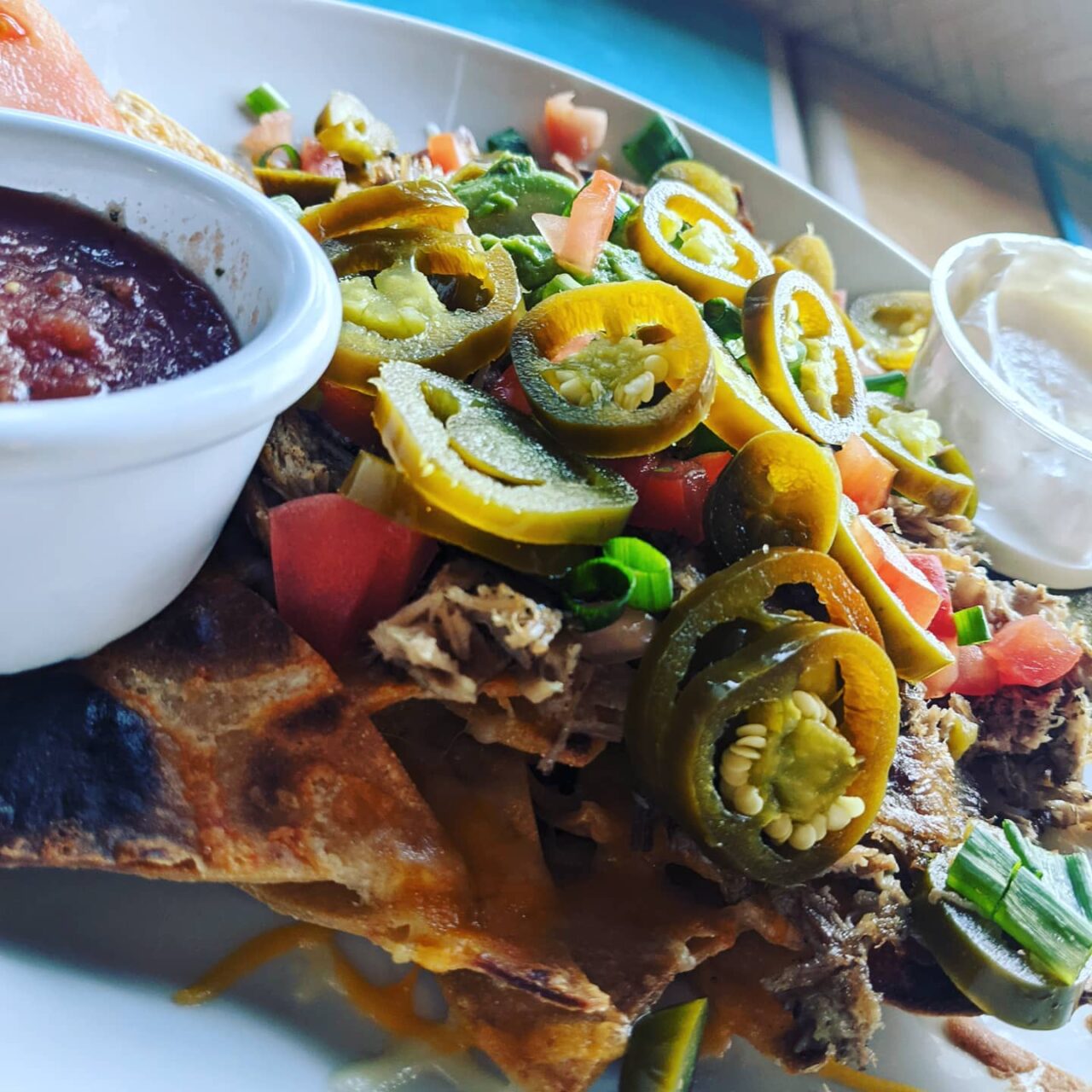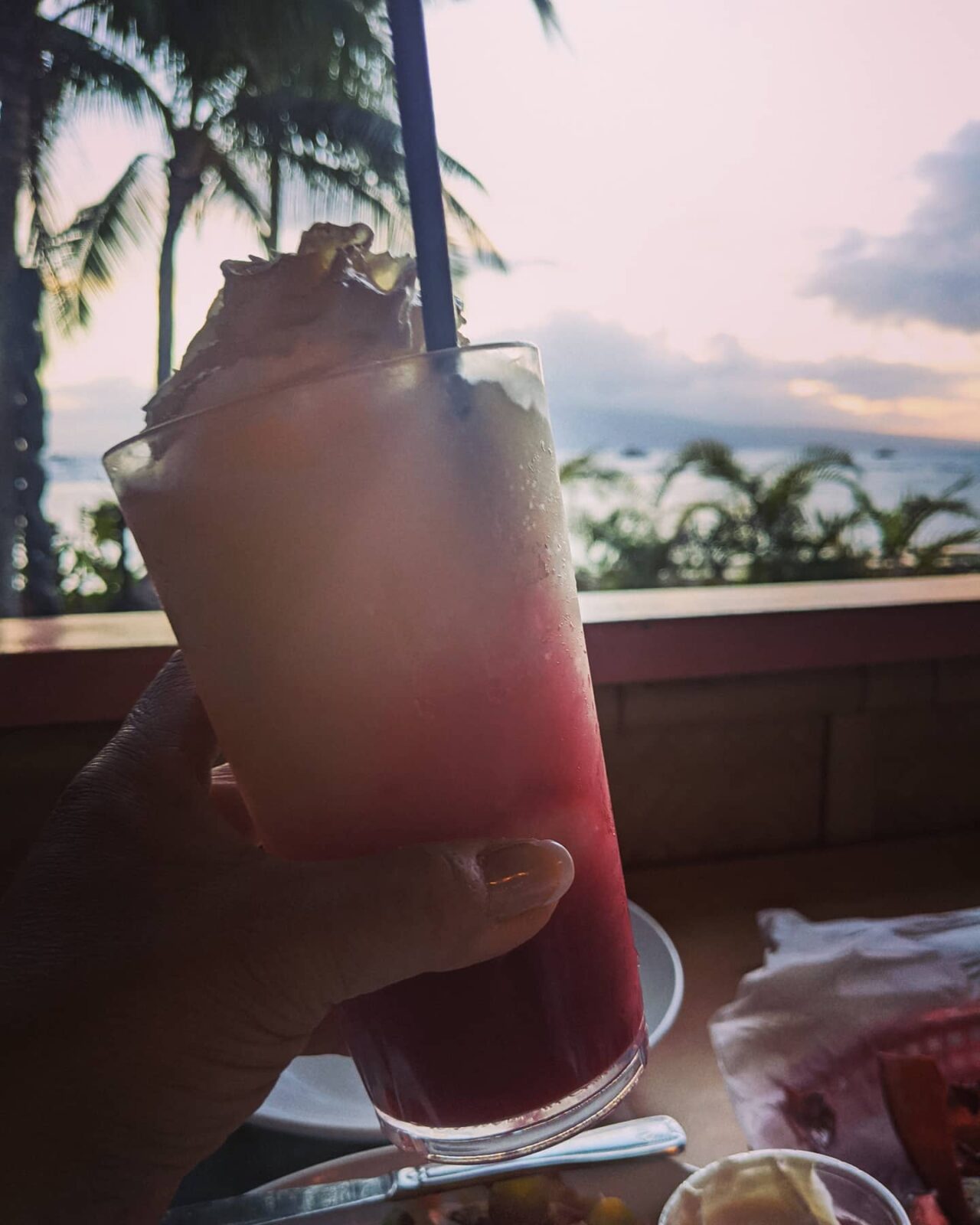 Luckily for us, they had started serving dinner again the week before but since the word was slow getting out, it wasn't crowded. Their Wednesday lobster special was so fresh and good, I was jealous of Drew's choice of entrée. But I'd been wanting the Kahlua pork, and I'm glad I chose to have them on nachos. I also had the Virgin Lava Flow (pina colada with strawberry).
As I watched a couple the next table over savor a fancy dessert, I almost ordered something similar. But I don't know, it just didn't feel right. We even considered a pizza cookie and went up to the shaved ice line before they closed, but those didn't sound good either. Instead, we went to the grocery store, bought a package of Toll House chocolate chip cookie dough and baked us each a couple. Warm and fresh from the oven, that hit the spot.