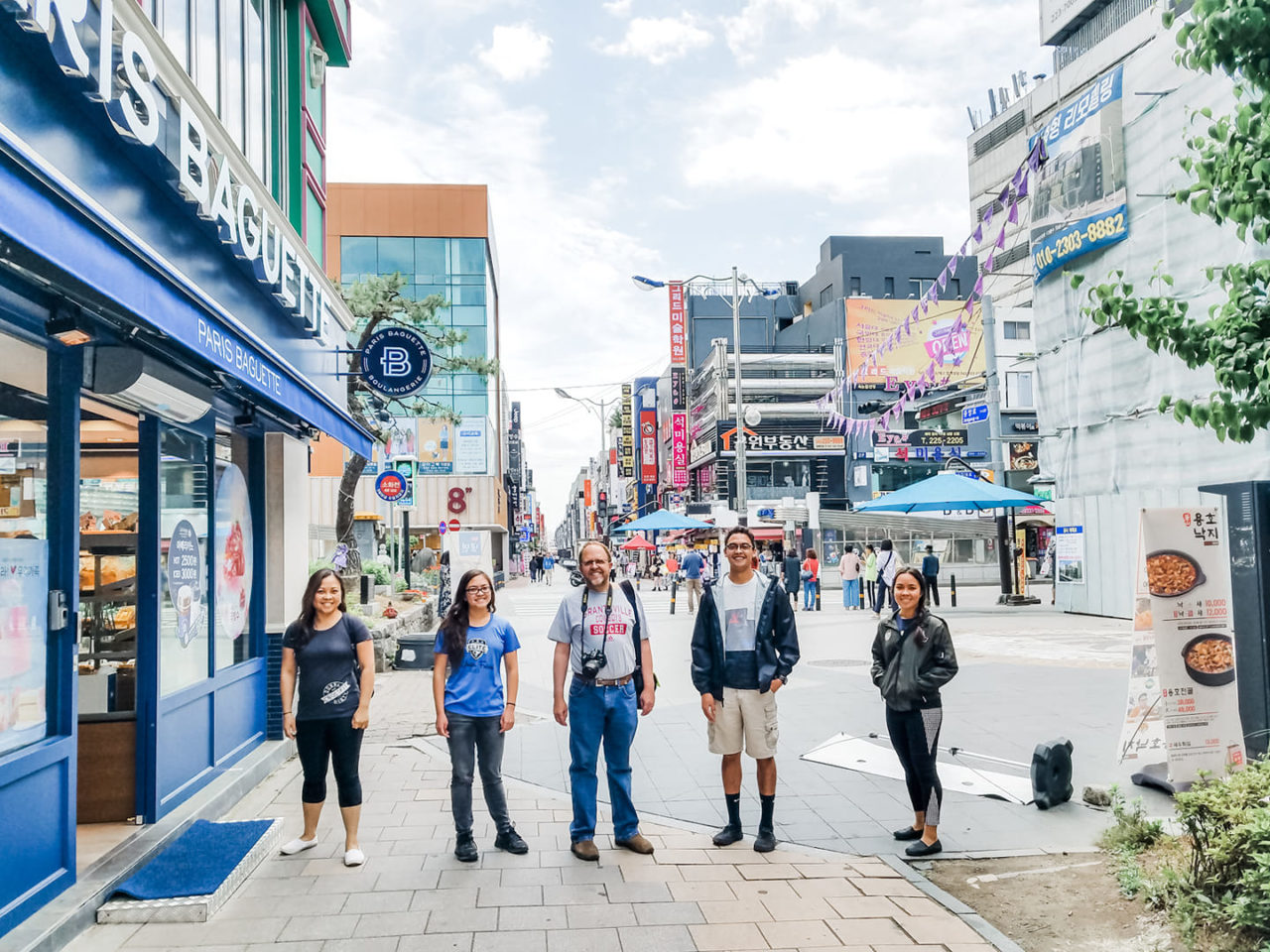 It was good to be out and about today.
After checking out of our Airbnb this morning, we picked up our car rental in Cheongju. Our conversation went like this:
Drew: This is the only country so far outside the US where we could get a second driver on the rental for free. Mom could have driven, too.
Kids: * blink blink *
Jewel: There will be a lot of screaming and getting lost. That would have been exciting.
Sabrina: Maybe too exciting.
---
My husband was pretty brave to drive downtown in Cheongju. What a trooper. Wesley sat in the passenger seat and helped figure out the GPS which lagged terribly but somehow he got us where we needed to be.
Afterwards, we went to downtown Cheongju and had lunch at Yogi, one of Wesley's favorites in the area. I had kogi guk soo (meat noodle soup) and vegetable man doo (pot stickers). The rest of the family had pogumbap (fried rice), dukbogi (fat cylindrical rice cakes) in a spicy sauce and fish cake soup. I learned how to ask the all-important question, "Where is the bathroom?" (Wajang sheen odi eeseyo?)
What followed was a fun but surreal experience of going to Raccoon Cafe, a place where you could pay to pet puppies and raccoons, and which my son had visited a couple of times before.
Yes, it's a mother's nightmare an adventurer's dream. We had to wear slip-on shoes that were already pre-chewed by puppies and were warned to not wear glasses and to empty our pockets. Luckily, the raccoons weren't especially rowdy today. The puppies were adorable.
On our way back to the car we stopped for some fried ice cream. And other shenanigans.
fried ice cream

A floor-to-ceiling bookstore

My heart will go on…
Tonight we are staying with a member at his apple orchard turned private estate in the nearby foothills of Bouen. He had us taste the apple juice he produces and sells and it was delicious.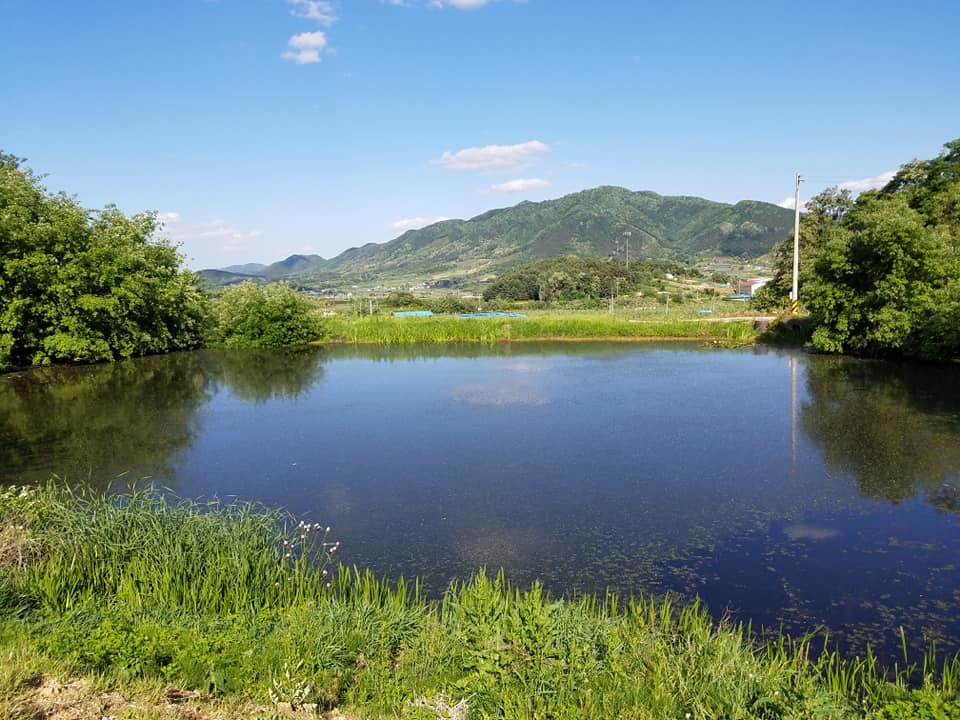 For dinner, he served us quite a meal–pork belly, red bean paste, lettuce, cabbage-tofu soup, purple rice and buchimgae (Korean pancake). Afterwards we walked around his property and he regaled us with stories of ghosts but spared having us pass graves. 😮 The sky was clear tonight and the moon was full. Very pretty.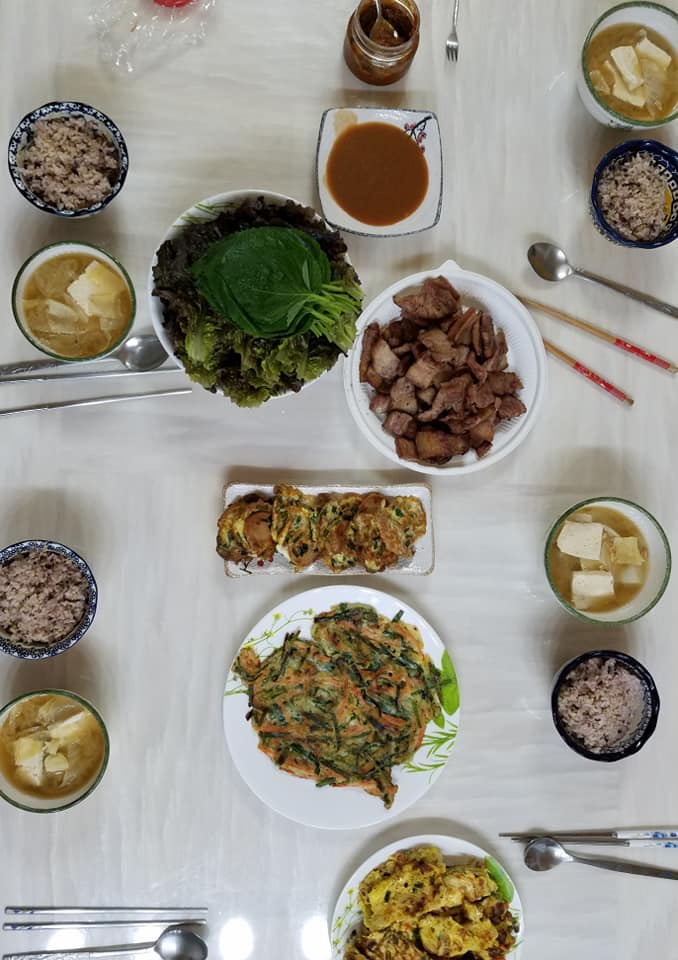 We also went to a Buddhist temple at Songnisan National Park that deserves its own post. Read about it in Part 2 here.