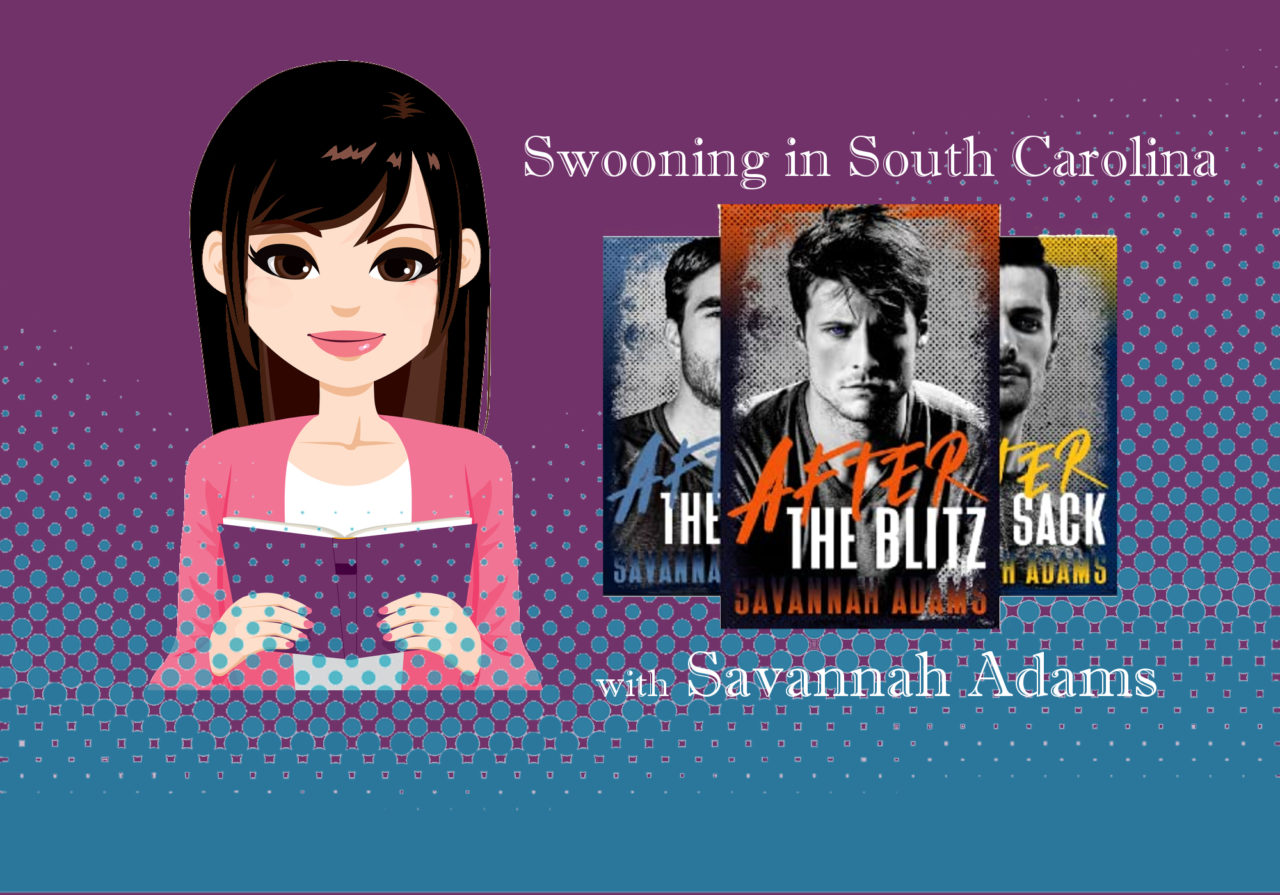 Kris Loomis is a nonfiction and short story author who also writes contemporary romance novels under the pen name Savannah Adams. She will chat about how living in Ecuador jump-started her publishing career, how she decides what genre to write, and how she met-cute her husband.
---
Q. Hi Kris! Thanks for chatting with me. How is the weather in South Carolina?
A. Today is beautiful! Seventy-five degrees and not a cloud in the Carolina blue sky.
Q. Nice! I love South Carolina. Such a graceful, romantic place. Were you born and raised there?
A. Yes, I'm a Carolina girl through and through!
Q. Does it factor in pretty heavily in your books? That charming southern setting?
A. Every book I've written (both under my name and my pen name Savannah Adams) has been set in South Carolina. Write what you know, right?
Q. Ahhh, I would too if I lived there. So tell me some of the fun things that you have been able to include in your books from SC.
A. Definitely the flowers and the trees. The beach. And the quirky characters that are so prevalent here. I love exploring the relationships of people from the south…they can be, shall we say, interesting!
Q. Yes! I love the flowers. One of my favorite memories on an anniversary trip there was sitting with my hubby at an outdoor cafe. I must have been glowing with happiness because a southern gentleman offered to take our photo, saying, "This is worth remembering." It was kind of a sweet gesture.
A. That sounds about right! People in the south are really friendly.
Q. Yup! So before I ask you about your own sweet novels, tell me how you got started publishing?
A. I was living in Ecuador at the time with my husband. We lived there a little over three years. When we decided to move back, I realized life would get back to being hectic like it had been before we left the states. So I took the last six months in Ecuador to begin to build my author career. I thought if I got it started then it would be easier to keep going once we got back home. I was afraid if I waited until we moved back to start writing I'd never do it. So I took the plunge!
Q. That is so awesome. I bet not many Americans can say, "I built my author career in Ecuador." Thirty days in Quito — what a fun title under your real name, K. Kris Loomis. What is that book about?
A. Thirty Days if Quito is a humorous first-hand account of our first month in Ecuador. All the trials and tribulations (of which there were a LOT). I'm here to tell you that culture shock is real!
Q. Have you also set any books in Ecuador then? And what brought you guys there in the first place?
A. I have not set any of my books in Ecuador, but I did write a short story based on expat life in South America. We went to Ecuador because my husband had just retired and it had always been his dream to live abroad for a while. It was a fun, eye-opening romp and I am so thankful I had the opportunity to really get to know another culture. We made many lifelong friends there.
Q. Your husband had just retired and it was his dream to live abroad…ohmigosh. I have been asking my hubby for a similar experience. On my bucket list. Good for you! What did your hubby retire from? I am guessing military?
A. My husband is 20 years older than I am, so it was just time for him to retire!
Q. Okay, so you obviously write about yoga, your travels, mysteries, and short stories under your real name. How did the pen name come about? How did you pick it…it seems so challenging to find something unique? And what is it like balancing both names?
A. The fiction I write under my name tends to have a dark underbelly, so I wanted to have a vehicle to lighten things up. I decided it would be fun and challenging to write romance, and that's how the pen name developed. I wanted a name that was soft, feminine, and Southern. I played around with a few names, but Savannah Adams seemed to fit the bill and I've loved having her as my alter ego!
Q. That is great! So how did you make sure the name wasn't taken yet? I mean do you do some major sleuthing?
A. I checked Amazon, of course, and did google searches. There are some Savannah Adams out there, but none of them had claimed a website domain with that name, so I grabbed it and haven't looked back.
Q. Nice! An alter ego. Does that mean when you write SA books you kind of write or feel different…?
A. Not really. My process is the same. I write in the same environment, and the cats stomp on my notes regardless of whether I'm Kris or Savannah that day.
Q. Ha ha, those funny cats. Good to know as I have been toying with the idea of using pen names as well. I am intrigued that your hubby is 20 years older than you. How did you guys meet and fall in love?
A. We met at a play reading! I had gone through a divorce the year before, and the last thing on my mind was getting involved again. But he kind of swept me off my feet and we've been happily married for eleven years now.
Q. Sigh! A swoony romance. Love it! So tell me about your Savannah Adams books. I saw that you launched a book today, congratulations! A sports one? How did you get into sports romance.
A. Thank you! I decided to write a sports series because I'm a big football and basketball fan. I love the action on the field, but I also like following the announcers/reporters and what happens off the field, too. Who can resist a hunky quarterback, right?
Q. No kidding! How many books do you have out now as SA? And how often are you publishing?
A. Seven. Five are in my Love Stories from Magnolia Grove series (sweet small-town romances), and the book you just mentioned is the second book in my sports romance series. I try to publish every six to eight weeks.
Q. Good for you. You write bodyguards too, right? My first book written to market had a bodyguard hero. What did you do to prepare to write in that rom-suspense genre?
A. I read a lot in the genre. I loved the uncomfortable moments, those were my favorite. The book I had the most fun researching, though, was the second book in the Magnolia Grove series, Love Comes for the Army Ranger. My husband worked with a Marine who served in Afghanistan and Iraq and he let me ask him whatever I wanted. I had so much respect for him after our interview and tried to convey his strength through my character. I hope I did him justice.
Q. What an amazing opportunity! Now that you have written in a few different genres, what would you say has been the most profitable one for you under normal circumstances? (Recognizing we are in kind of a new normal…) What aspects are resonating the most with your readers?
A. My most profitable books right now are my Savannah books. But I have been very careful to stay on brand with her. My K. Kris Loomis books are all diverse standalones, and I use that space to explore tougher subjects. They are my "for love" books. Savannah's books are my "for profit" books.
I think inspiring books are especially important these days, so I think sweet and clean authors stand to weather the storm.
Q. Smart. And I hope so! What kind of paid and unpaid marketing are you doing?
A. I run AMS ads and use paid promos to showcase a free book about every two months. And I just dipped my toes into FB ads. It's true what everybody saying about FB being happy to spend your money lol. I also love getting to know other authors by swapping with them. I've met some lovely people doing swaps.
Q. What percent of your revenue do you spend on ads on the average
A. I'd say the first quarter of 2020 I spent about 35-40% of my revenue on ads.
Q. When you say "free book" is it that free option on Kindle Unlimited? Free days, I think, is what it's called. Or are your books widely published outside of Amazon?
A. All of my books are in KU, so I pick a book every six – eight weeks and set it to free for the five days we're allowed through the platform. I use the paid promo sites to get eyeballs on the book.
Q. Great strategy! Kris, I have really enjoyed this chat, but alas, it's time to wind down with a couple of last questions. I am a foodie and I love to cook, do you have a favorite Southern recipe that you love to cook or your family loves for you to cook? And would you care to share the recipe?
A. My favorite growing up was a sinful sweet potato pie my grandmother used to make. One thanksgiving I gained ten pounds just looking at it! I'd love to share the recipe, but my Mimi took it with her to the grave.
Q. Noooo! I love sweet potato anything, especially pie. Well, what a sweet memory. I will have to google a good recipe. Lastly, I think all of us are struggling with the challenging times right now. What are some things you suggest we do for self-care?
A. I breathe a lot. Seriously. When I start feeling heavy, I turn everything off and just pay attention to my breath. There are so many things that are out of our control right now, but I think we need to focus more the things we CAN control. I can call and check on my friends. I can still play with my cats and hold my husband's hand. So I've been trying to keep focused on things that bring joy with them, not the things that I can't do anything about.
Q. Love, love that. Thank you for chatting with me Kris! I loved getting to know you better. Your life is so interesting, and I wish you more power in all you do.
A. My pleasure, Jewel! Thanks for all you to support and promote other authors. You're awesome!
P.S. I ended up getting a mini sweet potato pie a few days after this interview and was so excited to eat it, I forgot to take a pic! It was yummy.
---
Check out books by Savannah Adams here and K. Kris Loomis here.
Subscribe to my newsletter for Q&A alerts, writing tips and publishing news. Check out my books.