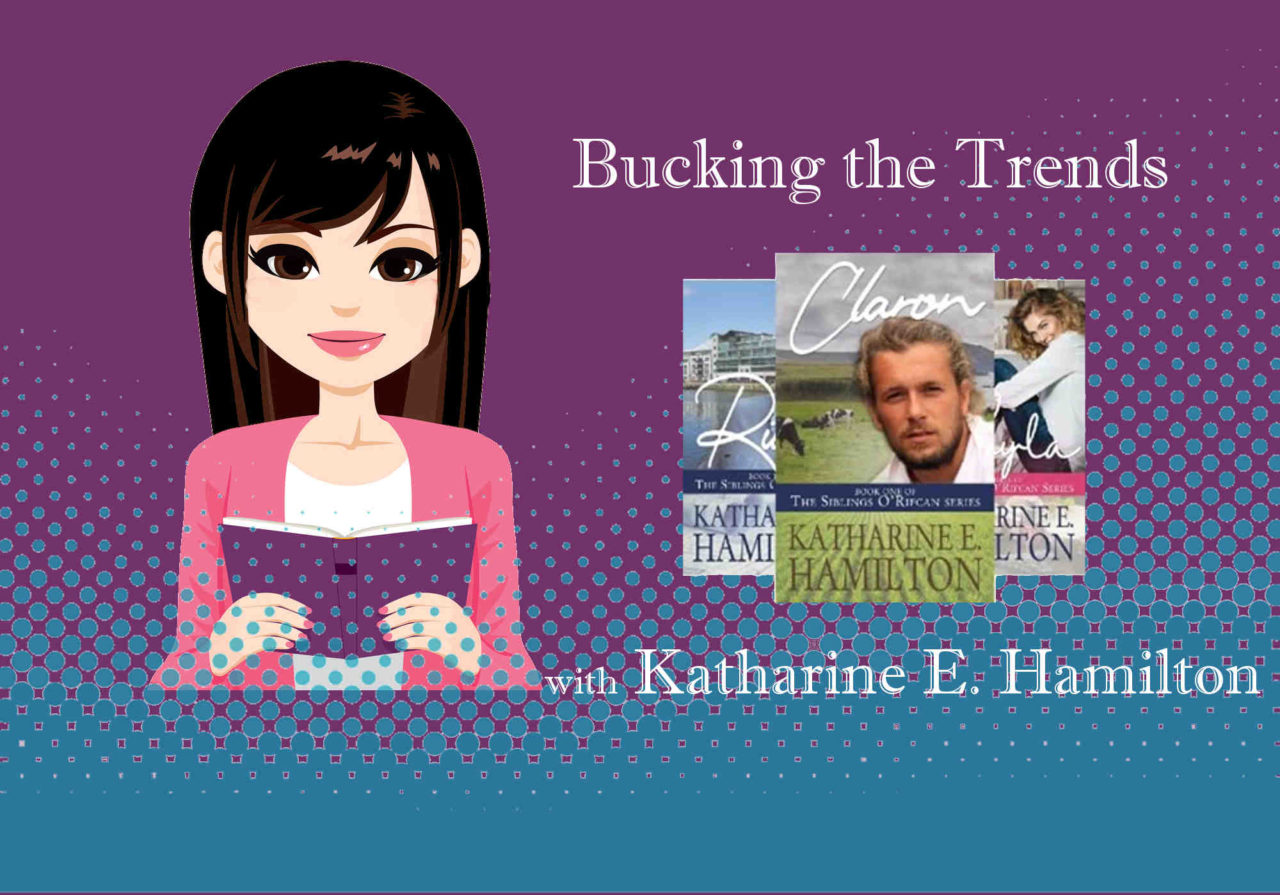 Katharine E. Hamilton is a contemporary romance author. She will chat about how she created and researched her wildly popular Irish romance series, how she ranked well despite bucking popular publishing trends, and how she advertises her books.
---
Q. Good morning, Katharine! I love your first name, btw. I don't see that variation of that name too often and makes me think of the legendary actress Katharine Hepburn.
A. Good Morning. That is actually where my parents got the spelling! My mom's favorite movie was African Queen.
Q. I love that! Ha, so I was right. Did you learn much about Katharine Hepburn? She seemed like a strong woman. Did that influence how you grew up?
A. I have a bit over the years. She always seemed like the kind of woman that once she set her mind on something, she saw it through to the end. And I like that quality and definitely tend to be that way most of the time.
My husband would sometimes call that stubborn… but I'm okay with that. haha
Q. Of course, he's named Hamilton… LOL So first of all, I wanted to compliment you on your Irish romance series about the O'Rifcans. I read the first, Claron, and loved it. And then I discovered you are not Irish. My first thought was, how can that be? My sister is married to an Irishman, we have visited there and he is a darling as Irishmen can be, so how did you nail it?
A. Well, my family is actually 50% Irish and 50% Scottish. Hamilton is actually my maiden name. I was published before I was married, so I kept my pen name as my maiden name. But my mother's side of the family is Irish (O'Neal), and we are proud of our roots.
I love the Irish culture, especially the family dynamics of a close, large family.
When it came time for me to pull my research all together, I made sure I had actual Irishmen on my beta team. Four of them actually. From all different areas of Ireland. One helped me tremendously with dialogue and one with the actual Irish language. I wanted it to be as authentic as possible, and it worked out great.
Q. That is wonderful! And thanks for clarifying about your last name being your maiden name. What was the process like for you to give manuscripts to these Irishmen betas? Did they already read books like you write? How did you find them?
A. I'm in a group of international authors. We've written anthologies together, beta read for one another, shared ups & downs over the years, shared marketing methods, publishing methods, etc. I've been with them since 2015. The great thing is we are from all around the world, and that's how I was able to find a couple of them. The other two are friends of friends, so to speak, and they were excited to help out. They didn't necessarily read sweet romance, but I was only using them for the Irish technicalities. I have a separate beta team for reading the story as a whole and giving me feedback.
Q. What a great support group. So was 2015 when you started publishing? And how did you get into that?
A. I started publishing in 2009. I started in children's books. I have 3 published children's books. I started out there to basically get my feet wet and learn the industry a bit. But in 2015, I branched out and began writing adult fiction, kicking off with my epic fantasy series The Unfading Lands (also has some sweet romance in there)… I wanted to write adult fiction from the beginning, but it took a few years of learning, writing, and confidence building to just up and go for it. Once I did, I haven't looked back. I love where I'm at now and that I'm able to write what I want.
Q. Yeah, I was just browsing your books on Amazon and saw the children's books and the epic fantasy. Interesting mix of genres there. Was the O'Rifcans your first adult series? How did you come up with that series idea? And did you plan it out as a series or just the first book?
A. Unfading Lands was my first adult series. I then wrote Chicago's Best, Montgomery House, and Beautiful Fury. Those were what opened the doors to the Sweet romance genre for me. Meanwhile, I had drafted out the plans for the O'Rifcan series and had even written a rough draft of Claron early on, but I wanted to make sure I really captured that family like I wanted to. It took me a few years to let that one go because it was my baby. haha. But once Claron released, and took off, I knew the rest of the series would follow. Thankfully it has. Turns out other people love them as much as I do, and that's a great feeling. They've become household names for my family, as if they're real people. Amazon has backed the series for me as well, which has been a blessing.
Q. Could you explain what you mean by Amazon backing the series for you?
A. In 2018 they offered to run Claron in their Prime Reading Program for several months. They adjusted the subgenres for him based on what they thought would work best for the book, and it did well. They've since run several books in the series in their Prime Reading programs for other countries besides the U.S. market, and each time has been beneficial for the series.
Q. Nice! So by then, did you already have great stats? I guess I am wondering how you got in the Zon's radar?
A. I have an amazing group of readers. When Claron released, sales were great. I also market heavily for him, so he's pretty steady in his rankings. That's all I can think of that would put me on their radar.
Q. Do you mind sharing what are "great" sales? Like, what kind of ranking did it get? And what kind of marketing have you done for the book and series?
A. Sure. When Claron released, he reached the top 10 in all his subgenres and reached Top 2000 in the Kindle store. He hung around the Top 5000 for almost a year and a half. He typically lingers between the top 10K-40K in the Kindle store now that I've released the box set, but that's a visible and decent rank for him. He does well there.
Marketing wise I lean heavily towards Facebook ads and Amazon Ads. I really enjoy Facebook ads more, because you can actually interact with people. My facebook author page is where I tend to mostly interact with my readers, so I like that I can invite people from my ads to that page so that I can interact more with them there.
I've done a couple of blog tours in the past and promotional sites, but really the marketing game changer has been advertising.
Q. I came across your sponsored posts on Facebook. (I think that's why I even clicked on Claron. ) And I agree, FB advertising is fun with that chance for interaction. I ran an FB ad on one of my books and have had more likes on a post than I have in a while. Inviting them to like my page has been fun too.
Can you give us some tips of what seems to be effective marketing on Facebook?
A.Oh man, there is a lot I could go into on Facebook Ads. I used to teach a course. haha. But the biggest tip I can give is really finding the right target audience. Focus on ads and not boosting posts. Ads are where you can really nail down your targets. Assuming you have your book matter on point with your Amazon sales page, and your ad copy down, a good target audience will get you great results.
Q. I wish you still teach that class! Maybe you should write a book about it. Have you thought about writing how-to books?
A. I have thought about it, but there are so many out there, that I don't see how I could cover a topic that hasn't already been covered.
Q. Sure, I get that. So you live in Texas, right? I was kind of wondering as I read that scene in Claron where they are milking cows in the muck if that is from personal experience on a ranch?
A. Well, my grandparents were actually dairy farmers for 39 years. And based on my memories I wrote some of the scenes, but I also sat down with them and interviewed them. We walked through the old dairy and my grandpa shared stories and how things worked, the process, etc. The cat in Claron, Holstein, is based on their barn cat that is one of my biggest memories from the dairy days. I was young, and I was always in the milk room with my grandmother. I'd sit to the side and play with Holstein until it was time to feed the calves.
The ranch I live on now is more geared towards cattle and hunting. My newest series, The Brothers of Hastings Ranch, actually tends to mirror more of my real life now than Claron does.
Q. How fun! How has the reception been for your newest series?
A. It's been great. Book one: Graham has taken off much like Claron did, which is encouraging to see. Book two : Calvin released in June, and Book Three: Philip will release in August. The plan is to write a book for each of the seven brothers.
I always said I'd never write about cowboys or ranching because it was too close to my real life, but here I am. haha.
My husband has been instrumental in helping shape those stories. After watching a few corny romance movies based on ranching with me, he was adamant that I show the "real" side of ranching. He was highly offended that most books and television shows only focus on "mending fences." haha. Which, don't get me wrong, there is a lot of fence building and repair in ranching, but there's definitely more to it than that. So my hope is to show various aspects of the industry while also having fun and sweet romances in there as well. There's nothing better than a strong cowboy falling in love. And in the series, one aspect of the love story of Graham and Julia is having Julia to learn to love the ranch as much as Graham does. That's a little reflection of my own life for when I married my husband. It's an adjustment to live on a ranch in the middle of nowhere… especially when you come from living in a city for a while.
Q. I love that!! Wow, an hour flies so fast! For my last question, I wanted to refer back to something you once said on a Facebook post. That you didn't write the typical bestselling book, and yet your sales have done really well. Can you explain that a bit more, how the O'Rifcan series didn't necessarily "fit the mold"?
A. When I released the O'Rifcan series it was in the midst of the great billionaire rush as I'd like to call it. In the Clean and Wholesome genre on Amazon, Billionaire romances were huge and that was what swamped the market. I do not write to market as some authors do. So even though the market was hot for billionaire romances, I went another route and decided to write about a dairy farmer. haha.
I wasn't sure how Claron would do because he was faced up against all the billionaire books, but in a way I think that helped him. He stood out because it was a different read than the rest. It focused on romance, yes, but the biggest focus of the O'Rifcan series is family. The O'Rifcan family is a strong force and focal point throughout the entire series, and I think that makes it a bit different. Readers want to keep reading to find out more about the family, not just Claron and Rhea. So I think that helped the series take off like it did.
I like going against the mold a bit, writing what I want and what I love, and if it works, it works. If it doesn't, it doesn't. I don't get too upset if something doesn't work, because I'm still proud of the story. It's what I wanted to write. And with the right marketing, I can find its true audience down the road. I'll never sacrifice what I want to write for what I think will sell.
Sales are great, it's how I make a living, but at the end of the day, I want my books to be more about the story than how much money they can bring me.
And now that the hour is over, my 7 week old FINALLY falls asleep. haha.
Q. I love that philosophy so much. Ha ha, on your baby…that's how it usually works.
Thank you so much Katharine! Congrats on all your well-deserved success. It's been fun getting to know you. You are inspiring!
A. Thanks for reaching out to me! I could talk books all day long. haha.
---
Check out Katharine E. Hamilton's Amazon page.
Subscribe to my newsletter for Q&A alerts, writing tips and publishing news. Learn how to write & publish fast for profit in my Rapid Release publishing series.