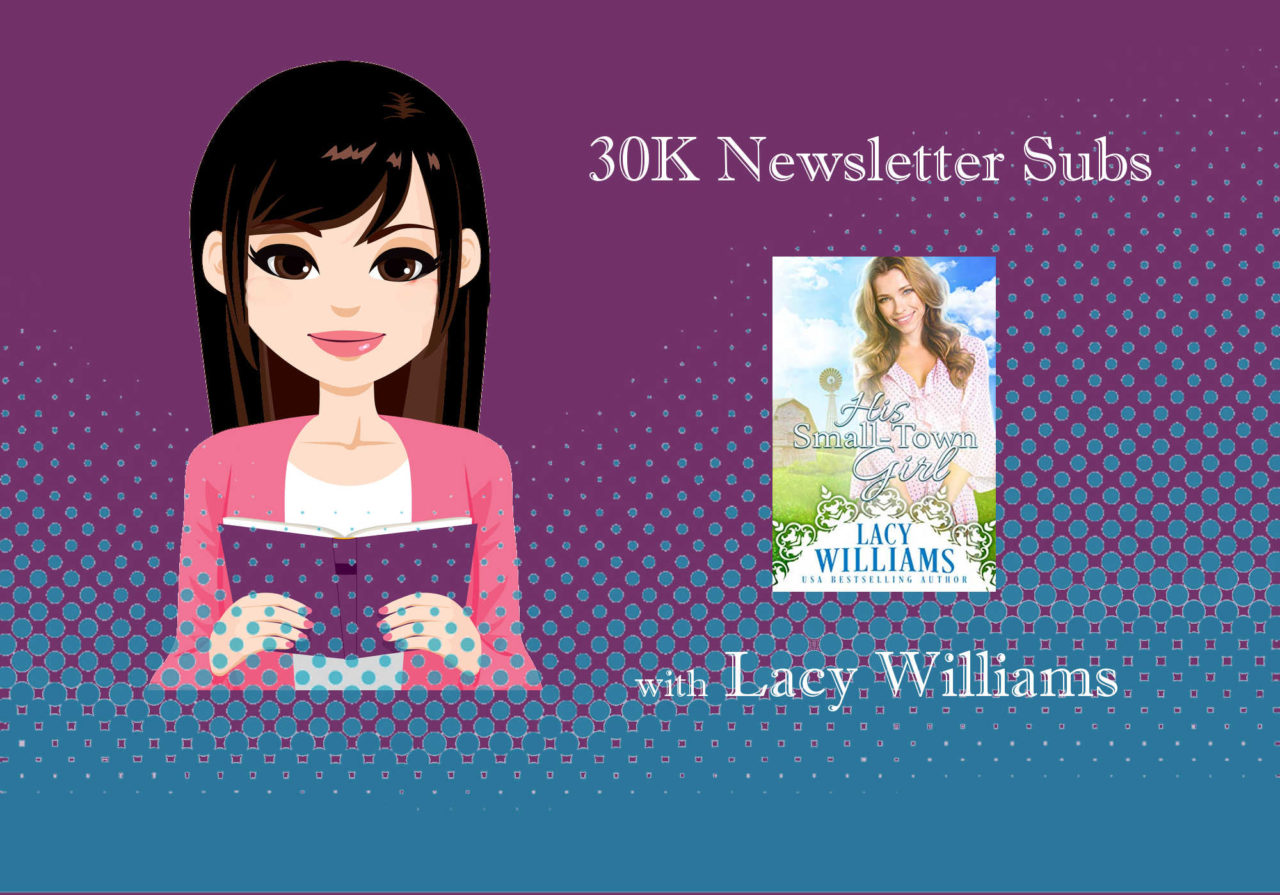 USA TODAY bestselling author Lacy Williams is devoted to bringing her readers heartwarming love stories about cowboys and the women that tame them. She will chat about how she's built her 30K newsletter subscriber list, what she does to engage them, and how she plots her romances.
---
Q. I'm so glad you can chat with me tonight. In your profile, there is a cute dog. Who is that?
A. That is Junior. He is an 18-month-old Cavalier King Charles Spaniel. He is a charming, ornery, snuggly boy.
My seven-year-old daughter was dressing him up today.
Q. Aww…those are handsome dogs. Based on your books, I am imagining that you live on a farm with lots of pets. Do you?
A. No, I don't! I grew up on my grandpa's land in west-central Oklahoma. He ran a few head of cattle and it was a great place to grow up. Lots of space to run and play and fish and picnic and imagine. We also had horses for a short time. I currently live in the city, but my family likes to get away to state parks for hiking as much as we can.
Q. Well, your success with cowboy romances made me think otherwise. So let's step back a minute and talk about what caught my attention about you today. You have 33K (or is it 35K) subscribers to your newsletter. Is that right? And…how???
A. I've been at this a long time. My first book released from Harlequin's Love Inspired Historical line in 2011 (same month my son was born!). I connected with a lot of authors and knew building a newsletter list was going to be very important to my career. I've had good success using reader magnets (something special you give the reader to get them to subscribe) and recently using short stories to welcome readers to my email list.
Q. Nice! (So many questions are jumping all over in my mind, but I will take a stab with) so on your reader magnets. Do you change it up every so often?
A. I have certain ones that go with certain series. (Like catching up with the series characters at a later date, a snapshot into their lives). So those are series-specific. I have a "main" one on my website and that one does change every once in awhile.
I also give them to my current subscribers, who love getting the bonus content.
Q. Ah, I get it now. What kinds of things other than the bonus content do you do in your NL to engage your subscribers? And how often do you put an NL out?
A. Multiple per month, usually two or three. I try to interact and tell a personal story about what's going on with my kids or share a picture of my dog. I also share other books I've enjoyed and think my readers will like.
Q. Puppy and kid pictures are always a good idea. How did you get started in publishing, Lacy?
A. After college but before kids, I got serious about publishing and joined a national writers' group. I learned a lot for several years and entered some contests and when I was ready, I won a contest for unpublished books. From that win, I connected with a couple of publishers and an agent and went on to sell my first book to Harlequin. I did eleven books with them and have been all indie since 2016.
Q. Why that pivot in 2016?
A. I had always wanted to write books (since childhood). Someone important to me pushed me in a different direction than an English degree, so I ended up with an Accounting degree. The business background has really helped my author career with contracts and finances. But my real love has always been writing.
It's kind of fun now because my older kids like writing and I get to share that with them.
Q. Awesome. I love your covers. Are they your originals, or re-covers? Because for someone writing for that long, they don't feel dated.
A. I have made several updates. Some of my first indie covers were DIY and I quickly found that cover artists can do a much better job than I can. And of course, on the trad published books, I had no rights to the original covers, so those are second edition covers.
I'd love to shout out to Josephine Blake at Covers & Cupcakes. And Jenny at Seedlings Designs. They are both wonderful designers.
Q. I love J. Blake! She designs for me too! How has your writing changed over the years? What have you learned in the craft of writing cowboy romances?
A. Back in the beginning, I tried to plot too much. For me, an important part of the creative process is letting the story unfold on the page. I go into it knowing some of the major plot points but not everything that happens along the way. I think I've grown as a writer doing deeper point-of-view and getting into my characters' heads a little better than when I started.
Q. How do you prepare to draft a story, and what is your process? How long does it take you? Do you shoot for a wordcount? Outline?
A. One of my favorite resources is Susan May Warren's Story Equation (it's a craft book). She is a fantastic teacher and does a deep dive into creating a story around your characters. I usually do a lot of brainstorming about my characters, who they are and what their pasts are all about. I'll plot out some main points in the story and then get going. I will take a few weeks to let all the character stuff percolate. I usually end up with several notebook pages of notes. I don't have a formal outline or mini-draft.
Q. Do you find yourself rewriting quite a bit or are you a clean drafter?
A. I usually rewrite most of the first 1/3 if it is a longer book. Novellas (20,000 words-ish), I don't usually have to rewrite that much. Rewrites are my worst enemy, so I try to keep the first draft as clean as possible. It doesn't always work.
Q. Yeah, rewrites can be a bear. Thankfully they eventually work out. Well, they have to. Kudos to you on your "USA Today Bestselling Author" title. How did you achieve that?
A. Thank you! I was part of a multi-author collection in 2015 that worked really hard to hit the list. It is no longer available for sale (contract was up), but it was a fun collection to be in. It was called "Mistletoe Kisses".
Q. How fun! I love your titles too. How do you come up with them, considering you have multiple series?
A. A lot of times I'll have the title before I have the book. Mostly it is brainstorming a lot of possibilities and then putting different combinations of words together until magic is made. Every once in a while I will get a lightning strike where the title just pops in my head. Not that often.
Q. How do you organize your series? Names, etc. Do you have a notebook, or something else?
A. This is actually on my to-do list for 2020. Wait, we're already at May? For my first long series, I have an Excel file with all the important character details. I need to do series bibles for the other long series. I'm having trouble keeping track of names I've used for main characters so that will be a motivation for getting this project done!
Q. So you started out with historical romance, correct? What time period and setting, and why?
A. The book I pitched to my editor had a female town marshal for a heroine and I thought it needed to be set somewhere in the Wild West, so I put it in Wyoming. It was late 1800s. The historical series built around that book (and actually ended up two series but loosely connecting). That publishing line was acquiring and I wanted to be published, so that was what I pitched. I did contemporary western as an indie and also loved that. There's a lot of fun in researching but I can also get distracted by it. So many interesting things about the past!
Q. For sure! Let's talk about reader expectations. What do readers crave in contemporary cowboy romance? Has it changed over the years?
A. Readers want romantic tension, characters with real problems, and a perfect happily ever after. I don't think that changes for romance readers. They can genre hop or go with different heat levels, but ultimately they want a satisfying, emotional story.
Q. So true. How about marketing? What are some things you have done that have been particularly effective and on the flipside, not as effective? How much of your revenue are you putting back into paid ads and what kind?
A. Publishing new books regularly. Not necessarily fast, but putting enough books out there that the reader can remember me. The newsletter list has been my #1 effective tool. Also building an ARC team and working to get early reviews out there. It is time-consuming but worth it. Not as effective: spending too much time on social media. With four young kids, I have to be careful with my time. I put about 30-35% of my revenue back into marketing.
Q. How did you build your ARC team?
A. I started by hand-picking a few of my most dedicated readers. I have also created a questionnaire that I sent to part of my newsletter list (not the whole thing) and asked some questions to see if they would be a good fit and then added a few more people from that.
Q. So how big is your ARC team now?
A. About 30. I have also solicited reviews for my newest release by contacting bloggers for my genre.
Q. As for marketing, did you mean AMS ads and Facebook? What have you found to be more effective between the two?
A. They both work. Just differently and you have to watch spend.
Q. Makes sense! I feel kind of bad that I have been asking you question after question…but you are a fountain of knowledge and I feel like I am running around with a little cup trying to catch drops here and there.
I noticed you have a non-fiction book on Audiobooks and other streams of income for the indie author. Are you planning to write more how-to books?
A.Not at this time. I have cut back on teaching gigs and as I wrote those, I discovered I much prefer writing fiction. The non-fiction is a different animal and maybe when my kids are older I may have more time to give to that.
Q. I can't believe how the time just flew, Lacy. I have really appreciated your taking the time to chat with me. One last question…what would you advice an author who wants to level up on their success?
A. Thank you for inviting me to chat! It's always fun to talk publishing. My advice is to connect with a writing mentor, if possible. Someone to encourage you and give you advice. Writers' groups are fabulous and you can often find so many wonderful people in them. Find someone you really connect with and maintain a good friendship.
Q. Love that. Thanks so much Lacy!! You are awesome and I wish you continued success! Also, I just read the blurb to your newest release, His Small-Town Girl, and I want to read it now!
A. Aw, thanks! I am excited to share it with readers.
---
Check out Lacy Williams' books.
Subscribe to my newsletter for Q&A alerts, writing tips and publishing news. Check out my books.