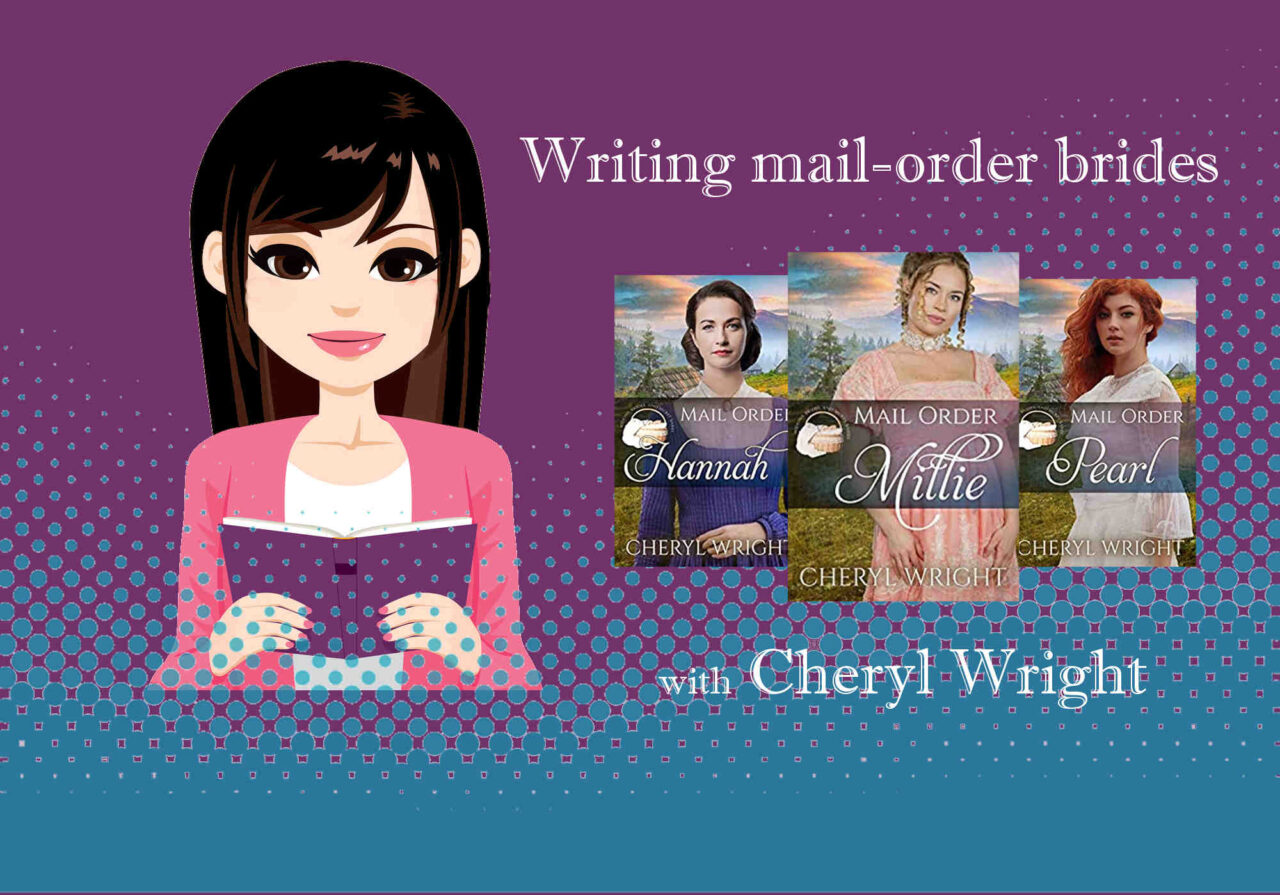 Cheryl Wright writes western historical and Christmas romance novels. She will chat about running successful multi-author projects and writing Christmas books year-round. This fun interview took place on August 3, 2020 in the middle of lockdown in Australia.
---
Q. What time is it over where you are, Cheryl…Australia, is it?
A. It is 10:10am here. Yes, I'm in Australia. Currently in lockdown for the next six weeks.
Q. Okay! Glad it isn't some crazy hour like 3 a.m. I am excited that the stars are finally aligned for us to chat. Yes, I heard. Melbourne declared lockdown. Will that be changing your lifestyle in the next six weeks?
A. It really changes nothing much for me. I am a hermit anyway. (lol) I have a lung disease and an immune deficiency and steer clear of people anyway. The main time I leave the house is to walk our Whippet x German Shepherd dog Bindy (with hubby) every day.
Q. Yeah, I hear you. I have been a hermit too. I was looking at your Amazon author page. Very impressive lineup of books. That's a lot. How many and what kinds of books have you published now?
A. I have a book coming out on August 11 – it is #34. I've actually published more than that. I had three books through publishers from a few years ago. They were a different genre – I used to write romantic suspense. They were long books (32k, 40k, and 75k) and took me on average a year to write.
When I began self-publishing 3.5 years ago, I decided to try my hand at westerns. My publisher refused to let me change genres. <sigh>
I was born in a tiny country town called Bright (at the foot of Mout Buffalo), which is one of the reasons I write about small towns. My father was a ranger on Mout Buffalo, and my uncle, his brother, a "groomer". He looked after the horses and took people on trail rides. I insinuated myself into some of those rides when there was a spare horse.
My father's first job was in a rodeo. Just doing the menial stuff, but it meant we kids got to go to rodeos as we grew up because it was in his blood. As you can see, I was bought up with horses, around farms and wide open spaces. It's helped tremendously with my stories.
As to the types of books, I began writing romantic suspense, as I mentioned above, then moved into contemporary western romance. I was approached to join a multi-author project (MAP) for western historical romance. I was reluctant because I'd never written that genre before, but found I liked it, and was good at it.
Oh, and I do write the occasional contemporary romance (not western). With those, I tend to add a little comedy.
All my books are squeaky clean. I had three publishers over 13 years and they all tried to force me to add some steamy sex scenes. I'm not comfortable with that, and refused. When I began self-publishing I wrote squeaky clean. Most of my books are what I call light Christian. I don't shove the bible down people's throats, but my characters are all Christian. I've had reviews from readers who like that style.
Did I mention I removed those romantic suspense books from Amazon? They were a few years old, and I felt they weren't up to the standard I demand of myself. I tend to add a bit of romantic suspense into some of my current books. I don't seem to be able to help myself. lol
Q. Love it, Cheryl! Your life would make for an engaging read! I admire you for trying a new genre (western historical) and rocking it. I get that you know about small towns and horses, but how did you approach learning to write about the historical aspects?
A. Research, research, research!! I admit I was terrified when I was asked to join that historical MAP (Multi-Author Projects). In fact, I refused.
It was run by a friend, and she refused to accept my refusal. (lol) She asked me to at least give it a go then if I hated writing historical, or thought what I wrote was terrible, then and only then would she accept my refusal.
Turns out I'm good at historical romance. Despite that, after that book, I went back to contemporary. It was totally accidental that I began writing my first historical series. I had decided to try writing a Christmas story after years of friends urging me to do it. So I wrote a contemporary romance. It sold really well. Then I wrote a contemporary western romance. Again, it sold really well, and I made them into a series. So I thought I'd add an historical romance. When I contacted my cover artist (at the time) who is also a friend, she told me I couldn't do it. That you can't mix historical and contemporary in one series.
Remember, at the time I was pretty new to this self-publishing gig. This was only about nine months after I began self-publishing.
Anyway, she convinced me, and the Mail Order Brides of Dayton Falls series was born. That book was so popular, and I found myself writing another, and another, and I haven't looked back.
Q. Contemporary and historical in one series? How does that work?
A. Well, it doesn't. And my friend made sure I knew that. If she hadn't refused to make the cover for that book in that series, I would never have written the five-book series (mostly Christmas stories) that is the Mail Order Brides of Dayton Falls. It's funny how things happen.
I should point out the contemporary Christmas series was dismantled last year. Readers told me they expected the books to be related, which they weren't, so I made them stand alone books instead.
Q. Ah, okay. Let's talk Christmas novels for a minute. We just got done with Christmas in July, and authors swear that it's a "thing." Is it? Do sales spike for you in July? And if so, by how much?
A. That's an interesting question. Last year, around May, I was asked to join in a Christmas in July MAP. I was almost unknown and making very low sales. May last year (2019) I made a whole $78 for the month, and that was huge for me. Most months I was lucky to make $40.
I was to write one book for the series, mine was to be #2. Then another author had to pull out, and I was the only author with time to write another book, so I did. My royalties that month were $486. That was huge for me.
I should point out it was the first time I would use a professional cover artist, and that was scary for me. I nearly pulled out of the series, but it was the best thing that ever happened to me. (She is now my regular cover artist.)
Last month was rather disappointing to be honest. There were few Christmas in July books last year as I recall, but this year Amazon was flooded with them. I'm not sure, but I think there were either far too many Christmas books available or too many promotions. There were a ton on BookFunnel. My readers tell me they mostly have set budgets, and once it's gone, it's gone, so there's that as well.
That said, my books are in Kindle Unlimited, and in historical western romance, the majority of readers seem to have it. But still my Christmas revenue was down this July. That said, my overall revenue was up.
Q. Interesting! You had mentioned on FB that your Christmas books made up a bulk of your sales last month or the previous? Is that right?
How many Christmas books more or less do you have on your backlist?
A.My Christmas books sell all year round, but mostly in July and November/December. Knowing we were doing this chat, I checked my stats. A few months ago, when we first chatted, I had I think 32 books with 11 being Christmas books. Those 11 books were 50% of my income.
I know have 15 Christmas books (including two boxsets) and they make up about 40% of my income now.
I've only written two Christmas books this year so far, so excluding the boxsets, I have 11 on my backlist.
Until a few months ago, my Christmas books were 50% of my income. Earlier this year I released some books for a MAP of my own, and they have taken off like wildfire and have overtaken all my other book sales. I'm still reeling from that.
Q. Thank you for sharing your stats. And that is exciting with your MAP results. I will ask about that in a minute.
You end up writing Christmas all sorts of times in the year I imagine. How do you get in the mood for Christmas down under when it's not very Christmassy? And what do readers particularly enjoy about Christmas stories?
A.I do write them all year round. I'm currently 6k into a Christmas book, and when that's done, I'll start work on another Christmas book. They are both for MAP (that I own). Then I'll start on a brand new series of my own that I am doing to rapid release. I will write six Christmas books between now and end November.
I think the fact I write Christmas books all year round means I can write them anytime. I will admit it was difficult at first, and I used to play Christmas music when I wrote. Now it doesn't bother me, and I prefer to write when it's quiet now, so no music.
It was also difficult because I was writing stories set in another country where there was snow (I set my stories in Montana) and where I live there is no snow at Christmas. It's usually the opposite, and the aircon is working full blast! But where I was born it is a ski resort area, so I do know snow and what it is like.
I actually polled my readers about what it was they liked about Christmas stories, and they mostly said the fact they are heartwarming is what draws them in. Which is good, because that's what I write. lol
I'm big on polls and use them a lot with my readers to suss out story ideas.
Q. You poll them via…how? And how fast do you draft? And on the average, how many words are your books?
A. I am in a few tightly target reader groups for my genre. In fact, I am an admin for three of the four.
I set up polls asking questions. One poll I did, for example, and this was in a group specifically for readers of clean Christmas romance (mix of contemporary and historical), was ask if they prefer contemporary or historical romance. The response was pretty even between the two.
But if I'd run that same poll in one of the historical groups I'm in, I know exactly how it would have gone.
You ask how fast I draft. I am an organic writer, pantser if you prefer. I write 20-25k novellas, and they take me about two weeks.
Q. As we wind down our chat, tell me about heading up a MAP. Any tips for someone wanting to head one up? What sorts of steps would you recommend they take?
A. I've done a few now, all in historical romance.
I start out by working out the premise, making sure it's unique. If something similar has been done, I give it a twist. For example, the MAP I mentioned earlier that's overtaken all my other books is a mail order bride series. There are a gazillion mail order brides books around. What I decided to do though was to have those brides turn up to marry their groom with a baby or child (up to age two) unbeknownst to the groom.
Then I invite a group of authors I know and trust. There's a FB page for historical authors where we can put out a call. I did that once, and it was good, and I found a couple of new authors, one of whom I mentor, but now I only do them by invitation only. That way you know who you will get.
I always invite my own cover artist to do our covers for the series, and they are always stunning. I've already put together next year's MAP and my team, and it's going to be amazing.
I set up a FB page, and a concept and calendar sheet, and everyone chooses a date and off we go.
I won't lie, if you don't have a good team, it can be hell. That's why I now only invite authors in.
Q. Those are terrific tips! PS Who is your cover artist??
A. My cover artist is Virginia McKevitt of Black Widow Books. She's busy making all my MAP covers for next year right now! I will be running four MAP next year, which will be very exciting.
I have 12 authors in each MAP and we're doing them almost back to back. It's an experiment really, to see if having them run almost continuously yields more sales. To be honest, the last one, which is still running, has yielded phenomenal money. I'm getting at least $1k a month from the three books, which is amazing. This is the MAP I mentioned about with the secret baby. Readers are loving it.
Q. Amazing! Thanks so much Cheryl for the fabulous chat! You are always so helpful in groups, and I appreciate knowing you better.
A. Thanks so much, Jewel, you are very welcome.
---
Check out Cheryl Wright's Amazon author page.
Subscribe to my newsletter for Q&A alerts, writing tips and publishing news. Learn how to write & publish fast for profit in my Rapid Release publishing series.