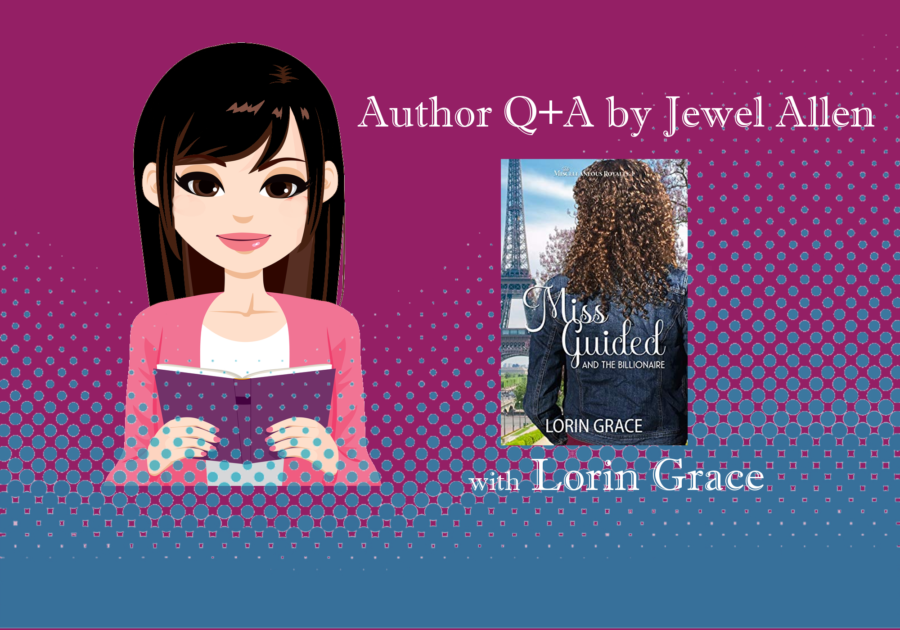 Lorin Grace is the author of historical and contemporary romance novels. Today she will reveal the truth about the rich and famous, whether or not all bodyguards look like cover models, and the key to successful covers.
She was born in Colorado and has been moving around the country ever since, living in eight states and several imaginary worlds. She graduated from Brigham Young University with a degree in Graphic Design. She lives in northern Utah with her husband, four children, and a dog who is insanely jealous of her laptop. When not writing, Lorin enjoys creating graphics, visiting historical sites, museums, and reading.
---
Q. I noticed you seem to be an author after my own heart…you write in several genres (contemporary billionaires, bodyguards and more). Let's make sure I cover all of them.
A. Historical and contemporary romance would be the broad categories.
Q. Which came first for you?
A. My first published book was a historical romance. My first (and still unpublished) MS is a YA.
Q. What year did that first book come out?
A. Well my real first was Laura Ingalls Wilder fanfiction in 3rd grade…but not counting that.
Q. Oh, sure. That counts.
A. Waking Lucy was published in December 2016.
Q. How many books do you have out now, total?
A. 12. #13 went to editor today.
Q. Congratulations! So let's go back to Waking Lucy for a minute. Publishing for that matter. What led you down the path of being an author?
A. I always made up stories. However I can't spell. I didn't learn until my sophomore year of high school it was a learning disability called Dysgraphia. Because spell check wasn't a thing I chose a college career that kept me far from writing. (I imagined a computer that you could speak to in 1980….if only I could have produced it I would be a real billionaire.)  Anyway the stories kept coming and at some point around 17 years ago I stopped fighting them and put some of them in my computer. Where they still hang out in folders…
Q. I think that is amazing that you persevered despite that.
A. Prior to moving to Utah I had a couple of other careers in action. When we moved my husband asked if I was going to continue one of them.  I told him I thought of trying to get indie published.
A. Careers: Graphic artist for 30 years.  Before moving I was also publishing a magazine and was chairman of a board of directors for a corporation that I do not include in my bio.
Q. Wow, Lorin! That sounds very interesting. So what happened?
A. Anyway I took the next couple of years polishing a story I had started in Texas. And sent it to a couple of publishers. They liked it but said that Early American was too hard to sell and asked for Regencies. About that time my husband lost his job. I thought, "I'll publish myself and get the family money easy peasy."  Insert laughter here…

Of course one book led to another and now I make enough to take my family out to McDs once or twice a year and not eat off of the Value menu.
Q. But you have a ton of reviews! What is the secret to getting a lot of reviews?
A. I have a very small team less than 80 ARC readers. I didn't get them until about 14 months ago. That is why the books I published before October 2017 have so few reviews.
Q. Since you brought up being chairman of a board…did you find your past experience useful in writing about billionaires?
A. Yes. I was able to meet a few of the rich and famous and see a bit of their life style up close and personal. I saw the safety precautions they took to lead normal lives. How they could make a million today and lose it tomorrow.
Q. What were some interesting things you learned about the rich and famous? About their safety precautions?
A. The first is the need for bodyguards. Ever present figures in the background.  Being spontaneous is a pain. Keeping children out of the limelight. Insane safety precautions at schools. The need for a private school. Never going anywhere alone. Having to vet everyone you think you know before you let them in your house. Being vetted is entertaining, too.
Q. What does "being vetted" involve?
A. Background history questions. I am not sure how much they dug into me…being a BYU (Brigham Young University) graduate and never committing a crime, there wasn't too much there.
Q. They asked you that before you came in the house? Or…how?
A. Not sure how to answer that. I knew the person for 3 or 4 years before I went to their house. I had been vetted for business reasons prior to that.
Q. Do all bodyguards look like romantic suspense cover models?
A. No. Many of them blend in. The nanny probably knows 20 ways to kill a man while changing a diaper.  There is a reason to use the ex-Navy SEAL type in public. The intimidation factor works. But the family will have ones that look like they belong—shopping for groceries with mom or attending the soccer game.
Q. That's cool to know. Tell me about your bodyguard book. Not the bodyguard's baby came out in March. Why did you decided to write that trope and how has the reception been for your readers?
A. Most of my Artists & Billionaires  series have bodyguards as supporting characters  as I can't picture them without them.  One of the ongoing bodyguards is Abbie. She ended up in a fake marriage trope book (Mending Images) and I introduced 3 more of her brothers. Readers started asking me for their stories. So I did. The book was probably my best launch although it started out shaky.
A. I didn't put "sweet romance" in the subtitle and readers who wanted something spicy gave me 2 stars on Goodreads. The title  and cover could have gone either way. Clean authors need to be careful.
Q. I see. What kind of paid advertising or marketing do you do?
A. I have tried AMZ ads, Facebook ads, and paid newsletters as well as swaps. I do a hybrid approach.
Q. What kind of spend do you do on either kind of ad and what have you learned from advertising?
A. As a graphic designer who got her start in the marketing end of the industry, I've always known the importance of ads. Navigating the indie book market has been a new adventure because what worked 3 months ago  doesn't work this  month. It is a very volatile market and the outlets for marketing can change policies quickly.
Q. Billionaires vs. Historicals. What do you enjoy writing in either genre?
A. I love research. I just finished my last billionaire for the year (editor today) and I am going to write a couple of historicals. I have missed them. They do take longer because there is nothing more annoying than inaccuracy, such as Regencies where they do a Viennese style waltz or inventions before their time.
Q. How long does it take you to draft a billionaire one? A historical one?
A. I can do a contemporary in  3-4 weeks (fastest was 15 days).  A historical depends on if there is travel involved and if it is around a specific event.  Healing Sarah took 6 months on research and a trip to Boston to comb through old libraries because much of the plot had to do with real events. Then 3 months to write.
Q. That trip to Boston sounds fun. Last question/s…my guess is you do your own covers? What is your advice to someone who wants to catch a reader's attention (in a good way) with their cover?
A. Less is more. It is an old design adage but always true. The hardest person to design for is always yourself because you are so  married to the idea. Having someone else to bounce your designs off of is a good idea.  My worst designs are always the ones I do for myself.
Q. Great, Lorin! And that's a wrap. Thank you so much for your time. It was fun to get to know you better.
---
Check out Lorin's Amazon page here.

To learn how to write and publish fast for profit, check out my book 
Rapid Release
.
 Read the clean billionaire romance series I rapid released here. Subscribe to my newsletter here.